Cost of Restoring Wooden Flooring
This wooden floor restoration guide covers everything you need to know about refurbishing old wooden floors, including how much it costs, the different types of restoration, timescales, advantages and disadvantages, while also offering advice on how to restore wooden floors yourself.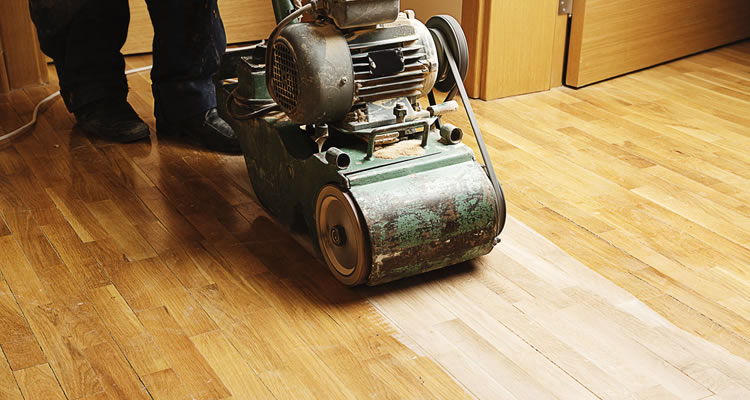 Average Cost of Restoring Wood Flooring:
Depending on the complexity of the job, it usually takes: 2 – 3 hours
£240
How Much Does Restoring Wood Flooring Cost?
The average cost of restoring wood floors is normally around £4 to £25 per square metre, although this will depend on the type of restoration required. For instance, sanding a 10 square metre space costs around £120 to £160, while the price to sand a 30 square metre room ranges from £360 to £480.
For a complete floor refurbishment, you may also want to have it sanded and oiled which costs around £18 to £23 per m2 while sanding and varnishing is typically priced at £15 to £20 per square metre. Other options include staining to improve the colour of the wood, which ranges from £4 to £8 per square metre, while gap filling costs anywhere from £4 to £25 per m2.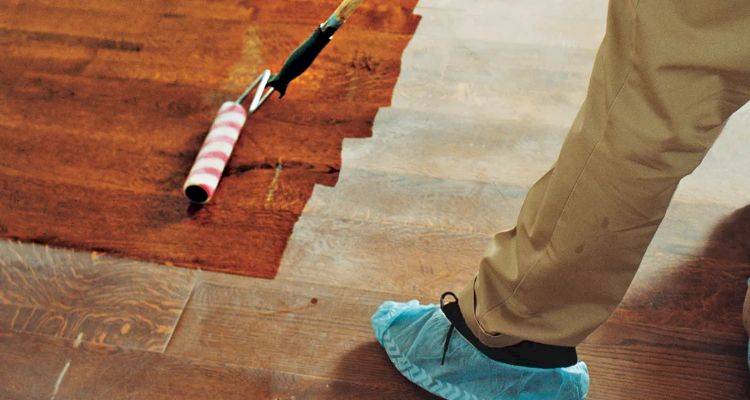 A typical wood floor restoration cost will vary depending on the type of wood floor you have, with straight flooring being much more straightforward than parquet flooring restoration. The type of wood may also determine the cost with the most popular options, including oak, pine and walnut.
Restoring Wood Flooring Prices
Here is a price breakdown of the various types of wooden floor restoration practices for different floor sizes.
| Job Description | 10 SQM | 20 SQM | 30 SQM |
| --- | --- | --- | --- |
| Sanding | £120 to £160 | £240 to £320 | £360 to £480 |
| Sanding and oiling | £180 to £230 | £360 to £460 | £540 to £690 |
| Sanding and varnishing | £150 to £200 | £300 to £400 | £450 to £600 |
| Staining | £40 to £80 | £80 to £160 | £120 to £240 |
| Gap filling | £40 to £250 | £80 to £500 | £120 to £750 |
Supply Costs Only
If you wish to restore your wooden floor on a budget, then you could always purchase the supplies yourself. To help you understand the supply costs, the below table sets out the prices for different wooden floor refurbishing products.
| Description | Supply Cost |
| --- | --- |
| Wood oil | £18 to £30 per litre |
| Wood stain | £9 to £50 per litre |
| Wood varnish | £11 to £33 per litre |
| Floor sander | £160 to £980 |
| Floor sander hire | £44 to £56 per day |
Additional Costs
There are several other expenses you may want to consider when calculating your overall restoring wood floor cost
Carpet Removal Cost
If you wish to restore the wooden floor underneath a carpet, then you will need to have it removed. You can pay a qualified carpet fitter to do this for you, which will cost around £1 per square metre.
Painting Skirting Boards Cost
Another great way to enhance your floor's aesthetic is by updating and painting the skirting boards. You can do this yourself or hire a professional who will charge around £200 to gloss skirting boards in an average-sized room.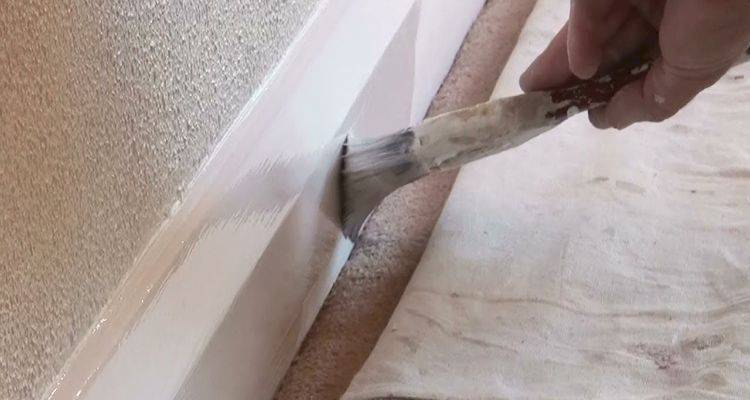 This will not only make your floor look tidier but will also complement your wood flooring, especially if you use white gloss paint which will stand out against a wooden floor.
Skirting Board Heating Installation Cost
To improve the heating in your living space, you may want to try something different by installing a Thermaskirt which is a skirting board heating system. This is a great space-saving solution in comparison to radiators which tend to take up a lot of wall space. In contrast to underfloor heating, it is much easier to install and is also more affordable as it only costs around £40 per square metre.
Removing and Hanging a Radiator Cost
If you wish to remove your radiator to make up space, then you can hire a professional to do this for around £80 to £120. However, if you would prefer to keep your radiator but want to move it elsewhere, you should expect to pay around £200 to remove and re-install the radiator.
Labour Costs and Timescales
The majority of floor specialists tend to charge per square metre depending on the job; however, some prefer to charge around £100 to £200 for the day.
The time frames for each job will vary with a sanding and refinishing job usually taking about 2 to 3 hours, while oiling, staining and varnishing normally take around 1 hour for an average-sized room. The timescales will, of course, increase for a larger room which could take a full day to sand and treat.
Cost Factors of Restoring Wood Flooring
There are various cost factors you need to consider when calculating the overall cost of wood floor restoration, including:
Type of Wood
One of the most critical factors you need to consider is the type of flooring that you wish to restore, as some are harder to sand than others. For instance, parquet flooring usually takes a lot longer to polish as extra care is required to ensure the pattern is not ruined. You also have to add additional protection to untreated wood or engineered wood to ensure it is long-lasting.
Size of Flooring
Another important factor is how much flooring you have, as the more you have, the more expensive the restoration will be. For example, the cost of sanding and varnishing a 10 square metre room only costs around £150 to £200, while a 30 square metre room is generally priced at £450 to £600.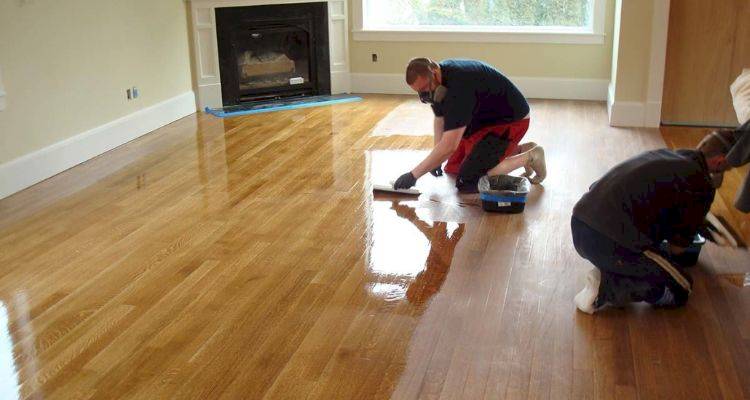 State of Existing Wood Flooring
The condition of the floor itself is also a considerable element, as the state of the floor will determine how long the job will take. If you're lucky, your wood floor won't need a lot of work done to get them safe, but some installations with neglected floorboards will need to have a lot more work done.
If your floor is in bad condition, then you should double-check whether floor restoration is worthwhile or you are best opting for a brand new wooden floor installation.
Location of Property
Where you live is also an essential factor, as labour rates will vary depending on your location. For instance, tradespeople in London tend to charge around £220 per day while companies or labourers in the surrounding areas tend to set their daily rate at about £180.
Ease of Access
Some tradesperson may charge more if they have limited access to the floor, so they usually add costs on for clearing out furniture and items from the room to make the job easier. If you wish to save a bit of extra money, then you should consider clearing out the space yourself if you are capable.
What's Involved in Restoring Wood Flooring?
To help you understand the process of restoring a wooden floor here is a step by step breakdown:
Cleaning the Floor
Before the tradesman restores your wooden floor, they will clean it. This will involve removing everything out of the room, including old carpet and furniture. Once this is out the way, they will then vacuum and mop every corner of the floor to remove any dirt and debris.
Sanding the Floor
Once the floor is immaculate, they will then put on their protective eyewear and use a specialist sander to refinish the floor.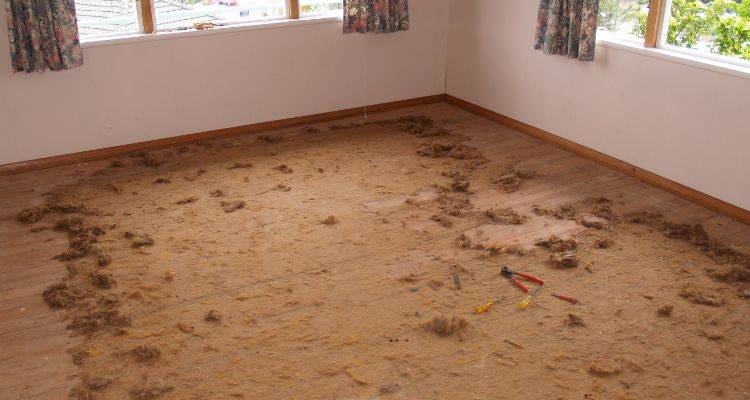 This will involve manoeuvring the sander in the direction of the grain until every inch of the floor has been sanded down. They will then use a lighter grit sander or sandpaper to get an even finish across the entire wooden floor.
Staining the Floor
After the sanding is complete, the tradesman will then vacuum the floor once again to remove any dust. They will then start to stain the floor (this step should be skipped if you prefer a natural aesthetic.
Although, before applying the wood stain, they will test it on the floor to check, you are happy with the colour. If you are happy for them to proceed, they will then apply the stain across the floor.
Oil/Varnish the Floor
Once the stain is dry after around 24 hours, the tradesman will then finish off the floor with either oil or varnish. This should be applied and then left for approximately 4 to 5 hours before another layer is applied.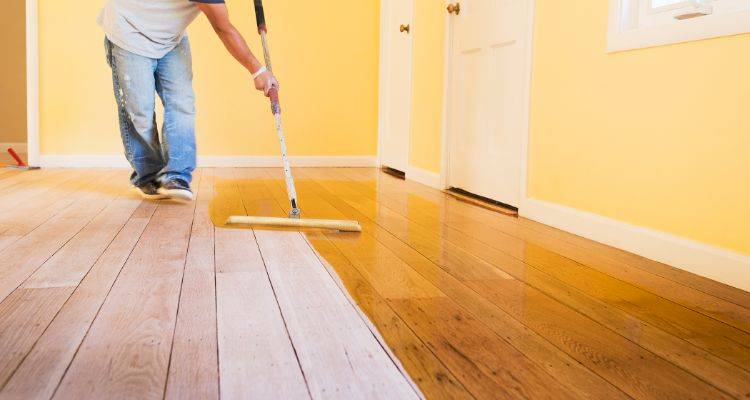 Can I Restore Wood Flooring Myself?
You can restore your wooden floor yourself, but we recommended to get a professional in to avoid any mistakes and safety hazards, such as splintered rough surfaces which could cause an accident, especially if you have children or pets.
Hiring a professional will have many years of experience in restoring old floors and will save you a lot of stress along the way.
Although we recommend getting in a professional to restore your old wood floors, it can be done yourself. For a DIY floor restoration, you will need the following equipment and supplies to bring those floorboards back to life successfully:
Electric floor sander
Varnish
Oil
Brushes
Sandpaper
Hammer
Types of Wood Flooring Restoration
There are various ways to restore your wooden floor, so to help you decide which type of restoration is right for your floor, here is a breakdown of the different types of refinishing jobs, along with their costs and pros and cons.
Sanding Wood Flooring Costs
One of the most basic types of wooden floor restoration is sanding, which involves the use of a sander machine or sandpaper and costs around £12 to £16 per square metre. By sanding down the surface, it can fix any scratches or scuffs while also smoothing out the floor.
The main benefit of sanding your old wooden floor is that it can easily remove any slight wear and tear, while also helping to repair a tired appearance. It also helps to remove the existing surface, which is ideal if you prefer a different aesthetic.
A downside of sanding your wooden floor is that it may remove the natural wood appearance, so you may not get the aesthetic you are looking for. You also need to be very careful when sanding an old wooden floor, especially if it is engineered wood, as this will require at least 1.5mm of wear layer to be sanded; otherwise, it may damage the floor permanently, and you may need to pay to replace it.
Staining Wood Flooring Costs
If you wish to enhance or change the colour of your wood flooring, then you should consider applying wood stain which costs around £4 to £8 per m2. Wood stain is a mixture of dissolved or suspended colourants which are used to alter or enrich wood flooring.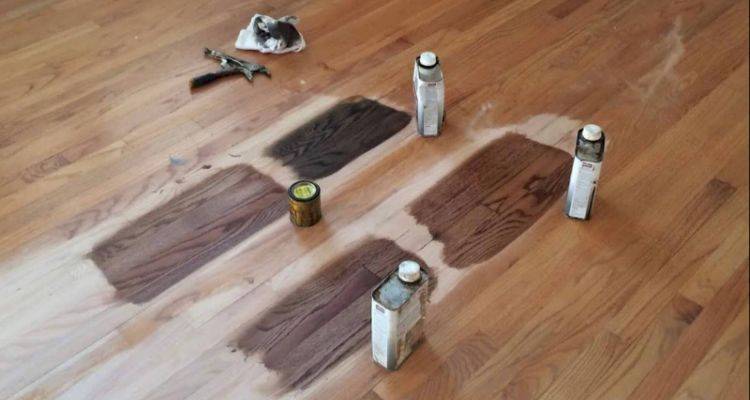 One of the main advantages of staining your wooden floor is that it provides overall protection from rot and sunlight while also preserving its natural beauty. It can also replicate different types of wood depending on the shade you choose, which can save you a significant amount of money on floor replacement.
You should avoid staining your floor if it is made from maple, pine birch or any other coniferous woods as these are very difficult to stain evenly. Staining can also highlight sanding marks which can be unsightly, which is why it is best to seek a professional's help when refurbishing your wooden floor as they know exactly how to avoid problems like this.
Varnishing Wood Flooring Costs
Wood varnish is a hard-wearing and transparent finish which is usually applied to wood flooring after it has been sanded and stained. To have your wooden floor sanded and varnished, you should expect to pay around £15 to £20 per m2.
Wood varnish is the strongest of all wood flooring finishes as it provides a permanent seal which helps to protect the wood from further damage while also prolonging its lifespan. It is also extremely low-maintenance, so there is no need to clean it excessively.
The main downside of varnishing your wooden floor is that it once it is applied, your floor cannot be spot repaired, so therefore it any damage occurs you will need to have your floor replaced. You also need to be careful about spilling anything on your floor, as any spillages that are left can cause permanent damage.
Oiling Wood Flooring Costs
Oiling is another finishing technique which is used on the majority of wood flooring and costs around £18 to £23 per m2. Wood oil is typically made from natural oils such as linseed, Danish and teak, which all provide a nice sheen.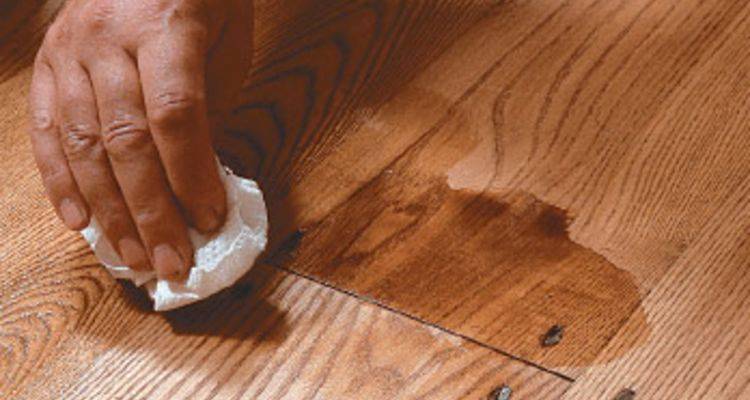 The great thing about oiling your wooden floor is that it provides the most natural aesthetic which just enhances the natural beauty of your wooden floor. It is also very easy to repair even after it is applied, so there is no for a complete replacement for small surface scratches.
In comparison to wood varnish, oil is not as robust and will therefore not protect the wooden floor as much. They are also susceptible to water damage as they are made of non-porous materials which causes liquid to leak through the floor, which can have a detrimental effect on the floor's lifespan.
Benefits of Restoring Wood Flooring
To help you decide whether restoring wood flooring is right for you, take a look at the following benefits:
Enhanced Aesthetic
One of the most obvious benefits of restoring your wooden floor is that it can instantly improve the look of your home. This is especially true if you are removing your old carpet to rejuvenate the wooden floor underneath or you are just merely sprucing up your old hardwood floor.
Money-Saving
Restoring old wood floorboards is a cheap way to update and is an excellent alternative to putting down new flooring or carpet, as well as keeping up with the minimalism, rustic look that original floorboards boast.
Environmentally-Friendly
Restoring your wooden floor is great for the environment as instead of having a new floor manufactured and fitted you are breathing life into your old one. While it may not seem like you are making a difference to the planet, your choice to renew your floor could even save a tree.
Increased Safety
Having your floor sanded can help to make your floor safe and prevent any sharp pieces of wood from injuring anyone. A wooden floor refurbishment can also help to reduce allergies, as the floor will be cleaned and finished to ensure to prevent a build-up of dust.
Low-Maintenance
Looking after a wooden floor is a lot easier to maintain than carpet, so you can save yourself a lot of time hoovering and wiping up any stains. Instead, all you need to do is vacuum and mop the floor to ensure it is kept clean and free of dust.
Kerb Appeal
As well as refreshing your home, wooden floors will be an attractive feature when it comes to selling your home. This is because wooden floors are a great selling point, especially for homeowners or tenants who appreciate the natural wood aesthetic. It will also entice buyers as wooden floors are much easier to clean, and they also provide better air quality inside the property.
Does My Wood Flooring Need Restoring?
If you have had your wooden floor for over 20 years, you may start to notice some scratches or dents in the floor that may not be irreparable, so instead of having a new floor installed, you may just need to have your wooden floor sanded and refinished.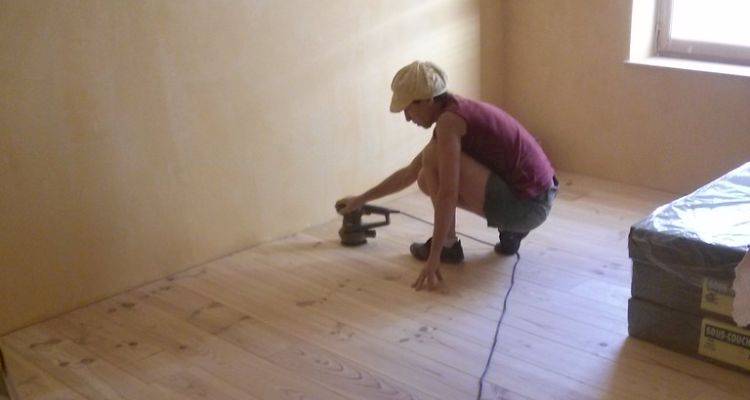 Other signs that you may need your floor restoring include discolouration which can easily be remedied with sanding and a colour stain application which will bring life back into your old wooden floor.
However, for this to be possible, you need to make sure that your floors have not been sanded more than eight times and have at least 1/32 of an inch of wood at the top of the floor for the restoration to be successful.
Cost of Removing Wood Flooring
If your wooden floor is far too damaged to be restored, then you may need to have it removed by a professional floor specialist which generally costs around £100 to £200 per day. Once the old floor has been ripped up, they will then be able to fit your new wood flooring.
You can also do it yourself, although this may take a lot longer and you need to be careful when removing the floor as you do not want to cause any damage to the subfloor. You will also to pay for waste disposal, which typically costs around £70 to £290.
Hiring Someone to Restore Wood Flooring Checklist
The following checklist will help you choose the right person to restore your wooden flooring:
Check to see if they have official qualifications such as a Level 1 award in flooring operations or basic construction skills.
Ask about their previous restoration experience and try to hire someone who has at least five years' experience refurbishing wooden flooring.
Check if they are a member of an accredited association such as the National Institute of Carpet and Floor layers or The Floor Industry Training Association.
Look at reviews from their customers and if possible ask for photographic evidence of previous wood floor restoration projects.
FAQs
What is the best wood floor for a bathroom?
If you wish to lay wood flooring in your bathroom, one of the best options available is engineered wood flooring, especially if it has a solid wood or plywood bottom as this will allow it to be highly-resistant against moisture.

However, if you live in a household with children, you may want to rethink having a wood floor installed in your bathroom, as it does not stand up in high traffic areas where it will be exposed to a significant amount of water.
What is the best wood floor finish?
Varnish is known as one of the most hard-wearing and durable finishes for wood flooring which will protect it from rot and sun damage. It also provides a permanent seal which helps to prolong the lifespan of the floor, while also preventing water damage.
How much will it cost to restore wood floor?
The average cost of restoring wooden floorboards ranges from £4 to £25 per square. However, this will vary depending on the size of the room, the condition of the wood, the complexity of the job, how many rooms with wooden floor are being restored and how long it will take. Always get a few quotes for your job to get the best deal.
Do I need to remove the carpet myself?
Although it might save money removing your carpet yourself, tradespeople will offer to do this for you for a small charge. If you are going to remove the carpet yourself, just make sure you let them know to avoid having to pay hidden costs.
Shall I empty the room for the fitter, or will they do it?
If possible, you should completely empty out the room before the fitter arrives. Not only will this save valuable time when restoring your floors, but it'll also help you save money.

If you do not have time or the furniture is too heavy for you to move on your own you can get the tradesman to move it for you. However, If they get there and have to clear out a room before starting the job, they will add the labour time on to your bill.
Can I restore wooden floors myself?
You can restore wooden floors yourself, although this can be extremely time-consuming and can be a tricky job. If you are not an experienced DIY enthusiast, then you are best leaving the job to a professional floor layer, as this will ensure that the job is completed to a high standard.
Sources
https://www.loverenovate.co.uk/advice/expert-advice-restoring-parquet-flooring
https://www.stepflooring.co.uk/pricing/
https://www.factory-direct-flooring.co.uk/solid-wood-flooring/restoration
https://www.woodfloorwarehouse.co.uk/advice-inspiration/faqs/can-i-sand-my-wood-flooring
https://www.amazonhardwood.ca/hardwood-floor-staining-benefits-and-drawbacks
https://www.wood-finishes-direct.com/blog/wood-oils-best-used/
https://handyrubbish.co.uk/prices/

Last updated by MyJobQuote on 29th October 2020.