Cost of Restoring Wooden Flooring
This guide covers everything you need to know about restoring old wooden floors, from how much it costs to how to restore wood floors yourself..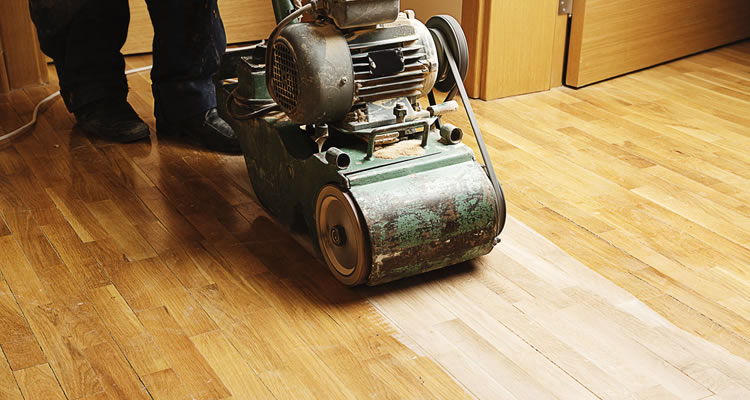 Average Cost of Restoring Old Wood Floors is
Depending on the complexity of the job, it usually takes 1-2 days
£410
Original wooden floor is increasingly becoming a desired feature that's often already in our homes hidden underneath dated carpet. Restoring old wood floor boards is a great way to save money on putting down new flooring or carpet, as well as keeping up with the minimalism, rustic look that original floor boards boast.
Looking after wooden floor is a lot easier to maintain than carpet, proving to be an obvious advantage to those who suffer with allergies from dust. As well as refreshing your home, wooden floors will be an attractive feature when it comes to selling your home.
The floor will first need to be cleaned using hardwood flooring cleaner and sandpapered by hand with grit-sandpaper. The wood will then need to be buffered and left until the powder has settled. The floor will need to be varnished and stained.
You can restore your wooden floor yourself, but we recommended to get a professional in to avoid any mistakes and safety hazards. There will be splintered rough surfaces that could end in an accident, especially if you have children or pets. A professional will have many years of experience in restoring old floors and will save you a lot of stress along the way. This article will highlight the cost of restoring your old wooden floor as well as some things to consider.
To save time finding a trusted tradesperson, simply fill out a quick and easy form with details of your job and you'll be connected with up to 3 reliable and verified professionals to help with your new floor. We have a network of 100's of tradespeople specialising in a variety of areas. To receive some quotes for your job, get connected with Myjobquote today.
Cost of Hiring a Flooring Specialist
| Job Description | Duration | Material Cost | Labour Cost |
| --- | --- | --- | --- |
| Remove Carpet | 1 hour | £40-£110+ | £100-200 per day depending on labourer. |
| Floor Sanding & Refinishing | 2-3 hours | £25+ per m2 | £100-200 per day depending on labourer. |
| Stair Sanding | 2-3 hours | £35+ per step | £100-200 per day depending on labourer. |
| Floor Stain | 1 hour | £6+ per m2 | £100-200 per day depending on labourer. |
Things to Consider When Restoring Old Wood Flooring
There are a few things to consider when restoring old wood floors. If you haven't already, you will need to remove the carpet to reveal your original floorboards. Whilst you could save money doing this yourself, it'll be quicker and a whole lot easier to let a professional do the hard work.
If you're lucky, your wood floor won't need a lot of work done to get them safe, but a lot of the time the floorboard has been neglected for many years. If you decide you want to replace the wood completely, it's worth noting that tropical hardwoods such as mahogany are not recommended unless they have been certified by the FSC.
You should clear out furniture and items from the room to make it easier for the fitters as well as avoiding you extra costs if they must do this themselves. There are likely to be nails, splintered wood and gaps after the carpet has been taken up, so we advise to leave this to the professionals. It's also worth getting quotes from 3 tradespeople to compare prices for the job.
Doing it Yourself
Although we recommend getting in a professional to restore your old wood floors, it can be done yourself. You will need the correct equipment and supplies to successfully bring those floor boards back to life which will quickly see the price add up.
You will need an electric floor sander, varnish and the right sized brush, sandpaper, hammer and a bucket and mop
To begin, you will need to carefully remove the old carpet or flooring. Once this has been removed, it's important to hammer down any nails that are sticking out. Next you should fill in any gaps in the floor with the same original wood.
Fit your floor sander with the sandpaper and begin to sand down the original floor boards. Once the dust has gone, clear this up and apply white varnish to the wood. Leave to dry and begin to coat the floor in varnish. Remember to start in the corner that's furthest away from the door to avoid messing up your work.
This will take you a considerably long time, it will take away stress saving you time and money if you hire a professional.
If you are interested in getting this job done by a professional but you are unsure about the cost then you should use an online calculator. All you need to do is add in the measurements and type of flooring you currently have and then they will provide you with a calculation of the cost of getting the job completed. Using an online calculator is a great way of getting accurate cost estimates.
Hiring a Wooden Flooring Restoration Specialist
Find out if they will remove your carpet and how much they will charge
Ask if you need to be in the house whilst the floor is being restored
Enquire about how you can maintain the wooden floors
Remember to let the professional know how many rooms need doing
FAQ's
How much will it cost to restore wood floor?
The cost of restoring wooden floor will vary depending on the condition of the wood, the complexity of the job, how many floors are being restored and how long it'll take. Always get a few quote for your job to get the best deal.
Do I need to remove the carpet myself?
Although it might save money removing your carpet yourself, many tradespeople will offer to do this for you. If you're going to remove the carpet yourself, just make sure you let them know to avoid having to pay hidden costs.
Shall I empty the room for the fitter, or will they do it?
Yes, you should completely empty out the room before the fitter arrives. Not only will this save valuable time when restoring your floors, it'll save you money too. If they get there and have to clear out a room before starting the job, they'll add the labour time on to your bill.
Can I restore wooden floors myself?
You can restore wooden floors yourself, but to avoid any accidents we recommend hiring a professional to do the job properly.
Last updated by MyJobQuote on 7th May 2019.