Cost of Installing Electric Garden Gates
Typical Prices for Having Automated Gates fitted.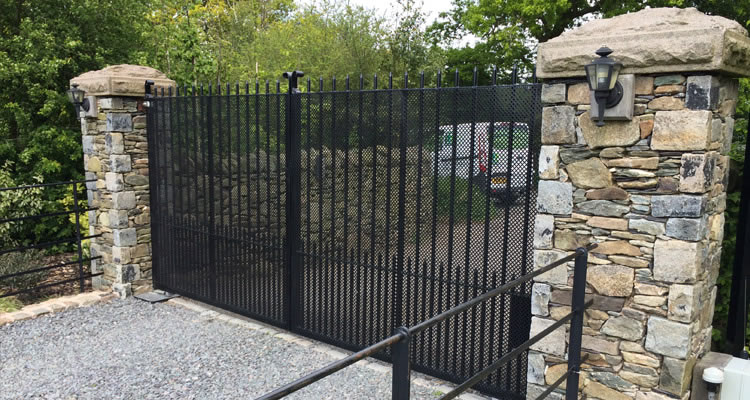 Average cost of supplying and fitting electric gates
This type of job normally takes around a week to complete
£3000
One of the first things any visitor will notice about your property is the entrance, first impressions count and buying electric gates not only makes a statement, it is also an investment. Electric gates provide you with security while enhancing your property and likely adding value to your home. The main advantage of electric gates is the increased security, electric gates is an effective first level of security to deter intruders trying to access your vehicles or your property (they can also help keep children and pets in to stop them venturing out onto busy roads).
The other main advantage of electric gates is the convenience, using a remote gate transmitter or a GSM system means opening and closing your driveway gate can is as easy as a click of a button, or sending a message from your mobile phone. A good security system is always a worthwhile investment which can also increase the appeal of your home to a potential new owner. To find a reliable tradesmen or specialist company to install an electric gate system please use the free quote service on this website.
Typical costs for hiring a specialist company to supply and fit electric gates
| Job Description | Duration | Material Cost | Labour Cost |
| --- | --- | --- | --- |
| Custom made swing metal gates galvanised and powder coated automated 24V supplied and fitted | 5-7 days | £5500 | £1500 |
| Hardwood timber swing gates fully automated with underground power supply | 5-7 days | £5700 | £1500 |
| Hardwood timber sliding gates fully automated with underground power supply | 6-8 days | £6000 | £1700 |
| Custom made sliding metal gates galvanised and powder coated fully automated | 6-8 days | £6300 | £1700 |
Things to consider when fitting electric gates
When considering having an electric automated gate installed, you need to think hard about which type of gate would best suit your needs and look the best with your property. For example, if you will likely walk through the gate more often than driving through it, a separate non-automated pedestrian access makes a lot of sense even though it would add to the cost initially. Automated installations are not trouble free, the more technology you have the more stuff there is to go wrong! Paying for a better quality motor and overall installation is usually worthwhile in the long run, it less likely that something will go wrong when you get better quality gates and automation, plus the companies that sell these higher-end systems will be happy to offer ongoing maintenance plans at a modest cost.
There are a number of different types of automation systems available for gates, the main ones being swing opening, sliding, ram and swing arm and underground systems. Swing gates are the most common where two gates simply swing out to allow access. Swing gates are the cheapest and work best on flat road surfaces, but are not suitable if your drive is on a steep slope. Sliding gates can only be used if you enough space to the side of the gate. It is possible to reduce the amount of space required by having two sliding gates opening in opposite directions, but this requires two opening systems so will cost more. Ram and swing arm openers are attached to the gatepost to open or close the gate and are highly visible, whereas underground systems are more discreet as most of the automation equipment for the gates are hidden underground, but underground systems are also the most expensive type of electric gates.
Planning permission will be required if the gate is close to a public road or footpath or if the gate is one metre tall or higher. If the gate is over two metres tall then you will need planning permission in any case. In addition, there are special requirements for listed buildings in the UK. You should always double check with your local planning department in any case as the responsibility for planning lies with the homeowner, not the company fitting the gates!
Doing it Yourself
Are you are considering installing your own electric gates, then unless you have previous installation experience, the majority of electric gates really need the services of a professional installer. However, there are simpler DIY electric gate kits which can offer a budget alternative. These kits feature polarity free connections with colour coded terminals which couldn't be simpler. But before you get started, you need to take into consideration the weight and length of the gate and how often you expect it to be opened every day. You also need to consider other limitations such as the width of the entrance, any slope on the driveway, plus the amount of clearance you have either for either a swinging or sliding operation.
If adding automation to an existing gate, then you need to ensure that the gate is in good condition and functions well when manually opened and closed. The gate must be able to move freely without obstruction or hesitation. You should also carry out a risk assessment to protect against potential hazards. Most electric gate kits come with sensors that stop the gate closing if they sense an obstacle in the way, but you should also consider safety edges to guard against possible crushing and to trigger an automatic stop when they detect any contact.
If you have a construction background and are comfortable with some electrical work, then you may be able to install a quality electric gate system yourself, but even then it would probably be worth discussing the job with a professional installer as a consultant to clarify the installation process. Another DIY option is for you to do all the groundwork and install the equipment, the get the installer in to do the final electrical wiring and calibration.
Electric Gates Bullet Points
The market in gate automation is increasing by 30% a year
Automatic gates alone will not prevent a determined burglar
A full site survey for a new installation is usually provided free of charge
Electric gate systems can sometimes be integrated with your existing gates
FAQ's
How much does an electric gate cost?
Electric gates vary greatly in cost depending on the size of the gate, the material used, the integrated equipment/accessories, and the installation requirements.

What about the costs of ongoing maintenance?
Gate service plans are often available from your gate installer, the costs will vary depending on the type of gate and the usage. But expect to pay around £130 per year to cover maintenance on the gate for a private home, or up to £500 per annum for a high use gate which will require more maintenance visits per year.
What should I choose, metal or wooden gates?
Solid timber gates usually offer more privacy as they are light enough to be solid, but they do require more maintenance to avoid potential warping and rotting. Metal gates are very popular and don't need so much ongoing maintenance, but are too heavy if solid so offer less privacy.
Will automated gates add value to my house?
A lot depends on the area, trying to sell a luxury home in an exclusive area without automatic gates will be difficult. For certain properties in the right areas, electric gates with entry systems are seen as merely bringing a property up to an expected standard. So gates that are in keeping with the property and the area may well help to sell it more quickly or even increase the value. However, electric gates with a video entry system on an ex-council house will probably not affect the price.
Will my driveway be disturbed when fitting an automated gate system?
Yes, don't install a new drive and then decide to install electric gates afterwards, as the drive will likely have to be dug up to lay cables and access!.
Last updated by MyJobQuote on 14th May 2020.