Imprinted Concrete Driveway Cost
Want to discover the cost of an imprinted concrete driveway?
This complete cost guide covers all the costs included in installing an imprinted driveway - such as labour fees and price per m2.
To learn everything about imprinted concrete driveways - read below!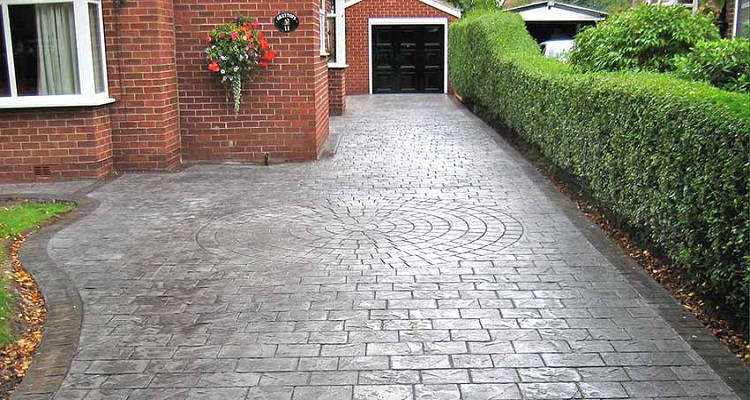 Average Cost of an Imprinted Driveway
This job should take 5 to 7 days to complete.
£3800
How Much Does an Imprinted Concrete Driveway Cost?
If you have a driveway that is showing signs of wear and tear, then you may want to consider going down the route of having a concrete drive installed - or more specifically an imprinted concrete drive.
Imprinted concrete driveways are one of the most popular outdoor home improvements homeowners are currently doing, as it is durable, low maintenance and affordable. The style of the imprint will also add a stylish and personal touch to your driveway, as there are hundreds of patterns to choose from as well as a number of interesting and exciting colours available.
Having an imprinted driveway can add a bit of personality to your home, whilst also relieving you of any maintenance headaches that may come with other driveways such as tarmac for example.
As mentioned, a concrete driveway by itself is always a solid option when choosing to redo your driveway. This is because it is usually an affordable option, as well as being low maintenance and durable, meaning it will last for years to come. Especially compared to something like block paving, which can be quite high maintenance with weeds and the fact that they are prone to sinking.
For DIYers, we would advise you to not tackle this job by yourself. It is better to hire the skills of a trained specialist to carry out this type of work. This is due to concrete being quite an unforgiving material to work with - once it's done, it's done. You can't go back and correct any mistakes.
It will be worth your time and money to hire a specialist, you can start by entering your details on MyJobQuote and be instantly connected with and receive quotes from 3 local tradesmen.
Installing Imprinted Concrete Driveway Prices
| Job Description | Duration | Material Cost | Labour Cost |
| --- | --- | --- | --- |
| 40m2 Coloured Patterened Drive | 5 Days | £1125 | £2625 |
| 60m2 Coloured Patterened Drive | 5 Days | £1500 | £3570 |
| 100m2 Coloured Patterened Drive | 7 Days | £2400 | £5500 |
Things to Consider When Installing an Imprinted Concrete Driveway
Imprinted concrete is a solid choice for a driveway as it ticks all the boxes; it's durable, low maintenance, affordable and will add a dash of personal style to your home. So if you are considering a concrete imprint for your driveway, then you will need to consider a few things first, especially before hiring a specialist to come and carry out the work.
The best thing about a patterned drive would probably be the fact they are entirely customisable as there are hundreds of patterns to choose from, including the main pattern and the border and edging pattern.
Along with a large number of colours to choose from as well, the possibilities are endless. Whether you are hiring a sole tradesman or a specialist company, many will have a range of their own unique patterns. You can also buy the pattern mats yourself, as it may turn out cheaper to do so.
After a number of years, some concrete surfaces do have a tendency to crack, this is due to general wear and harsh weather conditions we can sometimes experience in the UK. However, the risk of this can be reduced by adding inadequate crack control joints, which are cut into the concrete.
These reduce the risk of cracks, but in the even of cracking, will guide in a direction that won't ruin the overall appearance. Make sure when hiring a tradesman, that they are aware of this procedure and that it will be carried out correctly.
Before renovating your drive and laying down some concrete, you will need to be aware of any utility services that may be running beneath the area which you want to pave over, such as gas and water. There are a number of reasons for this, the first being if at any point in the future you or anyone else may need to gain access to these pipes or cables.
Because you are essentially laying down a solid piece of concrete several square meters in size, it is going to make it impossible to reach those utilities without having to crack open the concrete. Likely leaving you with the headache of having to redo it all again.
The other reason to check will be before you start excavation of the current driveway, as you don't want to damage anything and end up with some hefty costs on top of the project.
As concrete is not a permeable material, you will have to apply for planning permission from your local authority. Anything non-permeable and over 50m2 will need permission, anything less than this will not. If you are not sure, always check with your local council office.
Doing it Yourself
Even for an experienced DIY enthusiast, concreting a drive is a task they will probably struggle with and should probably leave to a professional. You can take on the challenge, however, you are likely to encounter some problems.
For example, if you have a sloped driveway, then there is the risk of the concrete 'puddling' at the bottom, creating a basin which won't allow adequate drainage.
As for the concrete, for a typical sized single car driveway, you will still need a considerable amount of concrete – much more than the typical bag mix you can purchase. If you are only experienced in handling smaller quantities of concrete, or if not at all, we would recommend hiring a specialist.
What you can probably do yourself, is reseal the driveway with a sealant every few years. When installing a pattern concrete driveway, an acrylic based sealant is often laid on top very added protection.
After a couple of years, this will start to wear, so it will need resealing as a form of maintenance. You can do this by purchasing an acrylic based sealant and applying it yourself. Start this by cleaning your driveway quite thoroughly, ensuring anything from dirt to grease and oil is cleaned up and your driveway is rinsed with clean water.
Once completely dry, begin applying the sealant, ensuring you only use a thin layer so that it doesn't pool in the imprinted joints. It will also be easier for thin layers to bind to the old sealant.
Imprinted Concrete Driveway Checklist
Check for any underground utilities such as gas or water pipes before starting any work.
Enquire with your local authority for planning permission if you're not sure.
Choose from hundreds of patterns for your concrete driveway and a handful of colours to create a personal style.
Imprinted concrete is low maintenance, however, a sealant will need to be re-applied every few years.
Specialist tradesmen and specialist companies will offer varying prices for the same job - be sure to shop around for the best deal.
FAQs
How long does it take to lay an imprinted concrete drive?
For a specialist, installing a patterned concrete drive should take about 5-7 days to complete. The job will include excavation of the current drive and ground beneath, laying a new sub-base, laying the concrete and then imprinting the pattern.
How long does it take for a concrete driveway to dry?
For you to be able to walk on the concrete driveway, you will need to leave at least 24-36 hours for the concrete to dry. However, you will need to leave atleast 7 days for concrete to dry completely before you park any vehicles.
Can installing a patterned concrete driveway be done as a DIY project?
If you have the necessary experience and know-how, especially with concrete, this could be a rewarding task. However, because of the nature of the job, which includes precision and timing, we would not recommend taking this on as a DIY project. Leave this to a professional to ensure you get the best results.
Do you need planning permission for a concrete drive?
Concrete is a non-permeable material, meaning water cannot escape it, therefore you will have to apply for planning permission from your local authority. However, if your drive is under 50m2, you will not need to apply. If you are still unsure, always check with your local council.
Last updated by MyJobQuote on 5th August 2022.