Cost of Fitting Pet Flaps
Price guide for having cat or dog flaps installed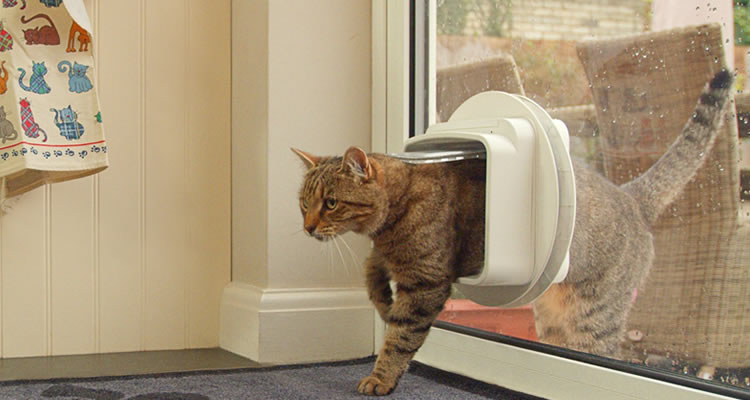 This job normally costs around
Expect this job to take about 2 hours
£100
Is your dog often gets locked out or you are sick of draughts because the back door is nearly always open - then fitting a dog or cat flap could be the asnswer to yoru problems! Thses flaps are fantastic as you no longer have to worry about letting your cat or dog in or out at all sorts of inconvenient times! Plus with modern technology and things like microchip detecting cat/dog flaps available, you dont have to worry about other animals getting access to your home!
Cat or dog doors can vary tremendously in price depending on the size, construction, quality, technology and manufacturer - so any potential buyer is advised to do their research before making a decision. But buying the product is the easy part, the installation can be tricky, especially if you have a glass door or are looking to place the cat/dog flap in an external wall.
To find a local tradesman to do the job for you, please use our free service. Simply provide brief details about the job and how to get in touch with you, then sit back and have up to three reputable local tradesmen contacting you to offer advice and a written quotation.

Typical quotations for installing dog/cat flaps
| Job Description | Duration | Material Cost | Labour Cost |
| --- | --- | --- | --- |
| Dog/cat flap fitting on UPVC door panel | 1 hour | £40 | £49 |
| Replace glass door panel with upvc panel and fit dog flap | 1.5 hours | £80 | £70 |
| Dog flap fitted into external wall | 2-3 hours | £120 | £120 |
| Dog flap fitted into glass French door | 3-4 hours | £80 | £40 |
Things to consider when fitting a pet door
It is well worth reading online reviews before making a purchase or hiring a tradesman. Depending on the type of door or wall and your pet, the cost of the pet flap and the installation can vary greatly. The range of dog and cat flaps on offer is incredible these days, they have bite-proof doors, secure microchip reader doors and fully insulated doors.
The size of the pet door should be sized about two inches larger than the pet in height and width for easy access. The basic, manual, dog or cat flap simply has a flap on a spring for entry and exit. This basic type of flap is the most affordable but there is no control or regulation over which pets can enter using the door.
So if you fit the basic pet flap, there is nothing to stop the neighbour's cat or dog coming into your home! However, an automatic pet door can be specific to your pet as the door opening is activated by a chip or transmitter on your pet's collar. In the UK some sort of a weather seal on the pet flap is highly recommended for energy conservation.
Doing it Yourself
Installing a cat or dog flap into a wooden or uPVC panel is not terribly difficult if you area competent DIY enthusiast. However, if you are considering installing a pet flap into an exterior wall or glass door, this is a job that is definitely best left to professionals. But even on a basic easy DIY installation, you have to be very careful about the position, make sure a burglar cannot reach through the flap and access the door latch or key.
Consider also that dog flaps for larger dogs may even be big enough for smaller burglars to crawl through! Consider adding pet-friendly movement detectors if you have a home security alarm system fitted.
To install a dog flap into a wooden door just cut a suitably sized hole using a jigsaw according to the manufacturer's instructions, paying special attention to make the installation weathertight using a good sealant. If your door has a metal reinforced panel or is glass, do not attempt this as a DIY job or it could end up costing you even more money when you get it wrong!
Pet flap installation tips
Standard manual pet flaps are affordable but lack security
Microchip recognition flaps offer the ultimate security against unwelcome pet guests
Chew proof pet flaps are available for dogs with destructive behavior
Even manual pet flaps should be locked at night for security
Hiring a Tradesman Checklist
Always get at least 2 quotes before hiring.
Never pay the full amount upfront.
Get the quote in writing.
For any payment you make, always get a receipt.
On more expensive jobs, ask for references.
Check if the tradesman is a member of any trades associations.
Make sure the tradesman has public liability insurance.
FAQ's
Can a pet flap be installed into a glass unit?
Yes, it is possible depending on the size of the flap/pet required. But an easier and cheaper solution is to replace the glass unit for a flat uPVC panel into which the dog flap will easily fit!
Can I install a dog flap into a uPVC panel?
Yes as long as the panel is totally flat, then there is no problem.
Which size pet door do I need?
Pet Doors come in a variety of sizes that fit different pets. There are 3 measurements you should take when choosing the right size of door for your pet: width and height (adding a couple of inches onto each) plus the rise, which you want to be as low as possible if you have a short-legged or older dog.
Can I lock my pet door?
Yes, and you should always do this when going out or at night. Various manufacturers have different types of locking mechanisms for their pet doors allowing you to lock them for added security.
Recent Jobs
Items to be repaired, bird table, lounge chair, plant pot, bedroom drawer.
Submitted by Beverley
Plastic Cladding a brick garden shed.
Submitted by Brian
Flatpack assembly, light bulb change. An air vent in bathroom repair. General repairs required.
Submitted by Barbara
Bathroom tiles need re-grouting, bath edges need re-grouting, there are also 20 black tiles need taking out and replaced with different tiles, and lino bathroom flooring laid, and walls and ceiling painted. Bathroom cabinet and blinds need fitting. My bathroom is not too big.
Submitted by Tyrone
Washing machine and tumble dryer installation. Disposal of the old washing machine and tumble dryer.
Submitted by Rohan