Cost of Replacing Garden Fences
Cost guide to the supply and fit of domestic fencing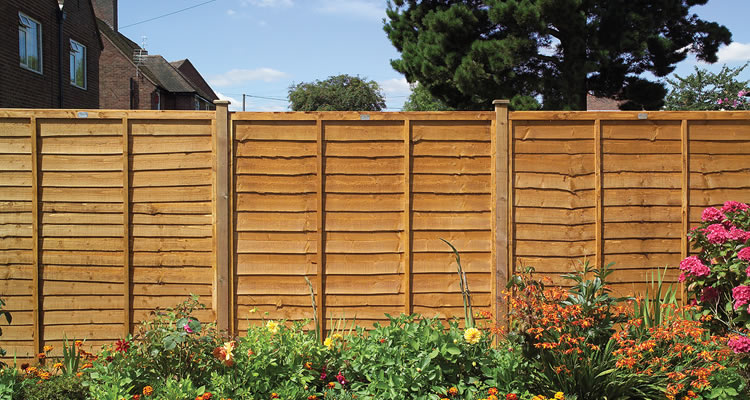 Typical cost to supply and fit fencing
On average this type of job takes around 3 days
£900
Traditionally garden fences are made from timber so even with proper maintenance, eventually, they will need to be repaired or replaced as they rot and/or get damaged by severe weather. Obviously, it is best to carry out any minor repairs as and when required to prolong the life of the fence, but this article details what happens when the fence is beyond repair and needs to be completely replaced. Removing an old fence and erecting a new one, is well within the scope of the average DIY enthusiast, but it does involve a lot of hard work, particularly if concrete needs to be broken up and removed, so many will hire a local landscape gardener or other tradesmen to take care of the fence for them. Whether doing the fence yourself of hiring a contractor, you need to discuss with your neighbours as the law regarding boundary fences is not particularity helpful and boundary disputes are a major cause of problems. Putting up a new fence can be pretty expensive as there are a lot of materials required plus it is a labour intensive job, you can, of course, save some money going the DIY route, but you need to be prepared to put in a lot of time and hard labour!
When hiring someone to remove and replace fencing, take care to get a reputable tradesman that will erect a fence which will last many years, hiring a cowboy that will do the job cheap is no good and will work out much more expensive if the fence needs replacing every few years! You can, of course, scour the Yellow Pages or local Thomsons directory, but you have no way of knowing how reliable or professional these tradesman are. It is much easier to use the simple form on this website to post a job and have tradesman get in touch with you, as you can check their reputation online on this website from other customer reviews from people just like you!
Typical Costs
| Job Description | Duration | Material Cost | Labour Cost |
| --- | --- | --- | --- |
| Lap fence panel fence 8 x panels | 3 days | £450 | £500 |
| Close board fence panel supply & fit | 3 days | £700 | £500 |
| Larch lap panel per square meter | NA | £35 | £15 |
| Close board price per square meter | NA | £50 | £15 |
Things to consider when replacing fences
The issues of property boundaries and fence ownership have been the cause of many neighbour disputes. There are some rules which can help clarify who is responsible for the boundary fence, but they do not always apply. The legal responsibility for a fence is dependent on which property it was assigned to at the time of parcelling the land off, there are no hard and fast rules in this regard, but sometimes the situation can be clarified by looking at the conveyance deed where responsibility for the boundary fence is given a "T" mark on the side of the fence of the owner, but this is not always shown. If the ownership of the fence cannot be verified from the deeds, then it is up to the owners of the adjacent properties to come to an agreement, but you cannot force a neighbour to contribute to the cost of fencing in this case. Of course, this problem only arises with fences erected right on the property boundaries, if you erect a fence which is clearly on your property then there are no major issues and you can choose colour, style and height (as long as under 2m) of the fence without reference to your neighbours or anyone else. If there is an existing fence which is in need of repair but is owned by your neighbour, there is little you can do to force repairs or replacement, the best option may be to erect a parallel fence on your side of the boundary.
There are many different types of fencing to choose from, but the most popular types are wooden fence panels or pickets. Picket type fences are best in areas which often get heavy winds but are more time consuming to erect, whereas panel type fencing is really quick to erect but will struggle to cope with heavy winds. Panel fences do also offer better privacy, but you will generally need to have the panels delivered if doing the job DIY as they will not fit in the average car. Trellis fencing is another good option in windy areas and will offer privacy (eventually) if used in conjunction with climbing plants. There are a number of different post fixings to choose from, with steel spikes and concrete being the most popular. Steel spikes are driven into the ground and the timber post is inserted into them, whereas with concrete a hole is dug and the wooden post is inserted right into the concrete. If in a windy area, best to use concrete (and lots of it)!
Doing it Yourself
Replacing a wooden fence is a straightforward though labour intensive DIY job, though best left to the professionals if not physically fit! Assuming a typical panel type timber fence, begin the removal of the old fence by using a pry-bar to lever back the fence panel away from the post until the nails are exposed, then remove or saw through the old nails with a hacksaw and hammer in any protruding nails that cannot be removed. Repeat at each side of every fence panel that needs replaced. To remove the fence posts, use a shovel to dig out the base of the fence post and remove any concrete foundation. If a lot of concrete has been used, you may have to break it up using a sledgehammer.
To erect a new fence, it is important to be certain of the boundaries of your property and if in doubt consult an expert to check the deeds to your property. If digging new holes for concrete first double check the position of underground cables and pipes before you begin. There is no need to stain or treat the wood first as pressure-treated wood for outdoor use is already treated with preservative. Put new fence posts in using concrete or one of the easy mix type concrete products such as Post mix, which is a pre-blended, quick-setting concrete mix available from most DIY stores. Make sure the posts are dug along a straight line and correctly spaced apart for the new panels. Set the posts around 2 feet into the ground for stability following the instructions provided on the bag of concrete mix. When using ready mixed quick-setting concrete products it is possible to erect posts and panels on the same day, simply screwing the panels onto the posts ensuring the top of each panel is level.
To save money it is possible to do part of this job DIY, but at the same time get a professional tradesman in to ensure a great and long lasting job. The removal and disposal of the old fence is simple (if backbreaking) and does not need a great deal of skill, so you could ask for quotes just for erecting the new fence while you can take care of the unskilled work by removing the old one.
Replacing a fence checklist
Have you checked the deeds to see who is responsible for the fence
In windy areas a picket or palisade fence will last better than a panel fence
For maximum privacy a closed panel fence works best
Cedar and Pine fences look great and last well but need regular ongoing maintenance
Talk to your neighbours before doing any fencing work to avoid disputes
Hiring a Tradesman Checklist
Always get at least 2 quotes before hiring.
Never pay the full amount upfront.
Get the quote in writing.
For any payment you make, always get a receipt.
On more expensive jobs, ask for references.
Check if the tradesman is a member of any trades associations.
Make sure the tradesman has public liability insurance.
FAQ's
Do I need planning permission to build or replace a fence?
Any fence higher than two metres will require planning permission and this includes trellises, but not plants growing along the top of a fence. Planning permission is also necessary if the fence will be over 1 metre high and next to a road or footpath, if there are planning conditions set in your neighbourhood by the local council or if your house is a listed building or if your property is joining a listed building. However, even though planning permission may not be required.
What happens to the old fencing, do I need to hire a skip?
Taking rubbish away and disposing of it responsibly using approved commercial waste sites is usually part of the service offered by responsible contractors, but you do need to ensure they have included this cost in any quotes you receive.
Do I need to tell neighbours or need to get permission to replace my fence?
It is highly recommended to talk to your neighbours prior to starting any major works which may affect them to prevent problems arising. But in the case of a fence which you have verified is on your property, there is no requirement to notify them. In addition, contrary to popular belief, you are not legally obliged to erect a fence with the "good" side (the flush side without fence posts and rails) facing the neighbour's property.
Recent Jobs
Need replacing of 2 garden panel of 1.52 meters and 1 pole to keep panel in place.
Submitted by Catherine
I would like someone to supply and fit a new fence and two wooden gates one single and one double.
Submitted by Clive
Replace fence post and panel. Post has completely snapped off from concrete base. I have post, panel and filling to replace just need the job doing
Submitted by Theresa
Require a quote for wood only, for to erect a 40 feet fence long approximately. At this stage, I would also like to know how much it would cost for erecting the fence including labor, Two separate quotes, therefore, thank you.
Submitted by Mike
Remove and replace 2 standard wooden fences that slot in between concrete posts. Thanks
Submitted by Anthony