Security Lights Installation Cost
If you are planning on installing security lights at your home, you may be wondering how much it will cost.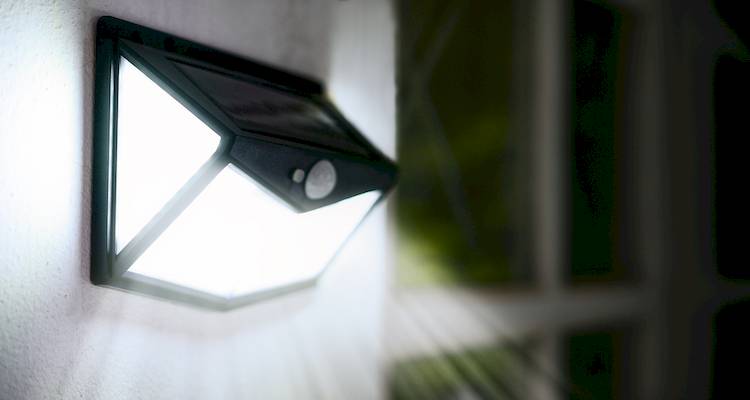 With this type of work, it is always best to hire a qualified electrician to ensure that the work is carried out effectively and safely.
So how much does a security light installation cost?
Average Cost of Installing Security Lights:
Depending on the complexity of the job, it usually takes: 2-8 hours
£300
How Much Does It Cost to Install Security Lights?
The cost of installing security lights will depend on the type of light that is being fitted. For example, floodlights will cost around £80-£180 to install, whereas motion sensor lights can cost about £90-£500. On average, you can expect to pay somewhere between £80-£1100 for outdoor security lights.
Security Light Installation Prices
The table below indicates the average costs that you can expect when it comes to installing security lights:
| Type of Light | Average Cost |
| --- | --- |
| Outdoor security lights with sensor | £90-£150 |
| Floodlights | £80-£180 |
| Spotlights | £80-£500 |
| Landscape lights | £80-£1100 |
Supply Only Costs
If you plan to buy the light yourself before the installation, you may be curious about how much you can expect to pay for a light. Below is a list of the prices for the light alone without the cost of labour:
| Type of Light | Average Cost |
| --- | --- |
| Motion sensor lights | £10-£50 |
| Floodlights | £4-£80 |
| Spotlights | £8-£400 |
| Landscape lights | £2-£1000 |
Additional Costs
When it comes to installing security lights, there are several additional costs that you may need to consider. Below is a list of those extra costs that you might need to think about:
Security Alarm
When installing a security light, you may also want to accompany the light with a security alarm for added peace of mind. Alarms are great for notifying you when intruders are near and can be very helpful at deterring potential burglars.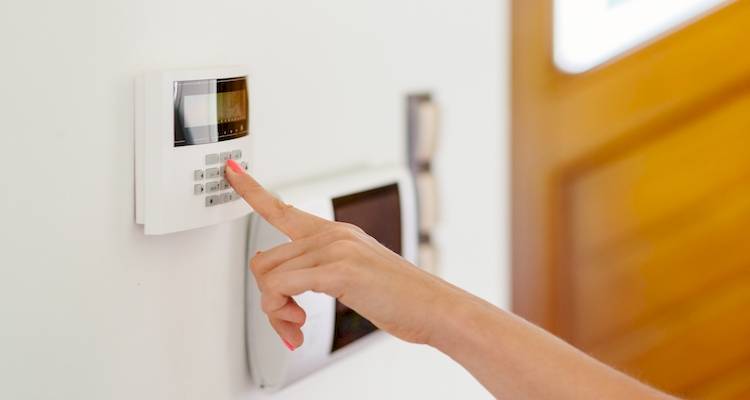 The average cost for fitting a security alarm is around £125-£500. The overall cost will depend on the type of alarm and your location in the UK.
CCTV System
If you are interested in adding even more security to your home, you may be interested in installing a CCTV system. The costs for installing this type of system will depend mostly on the number of cameras you wish to have installed. The average price for installing a CCTV system is around £350-£2500.
Labour Costs and Timescales
Installing security lights is not a hugely extensive job; therefore, an electrician will usually work alone when completing this type of work. One security light can be fitted in around 1-2 hours. If you are installing multiple lights, it could take a few hours or up to a day to complete.
Most electricians will charge around £150-£200 per day for the labour costs. They will usually charge a minimum of half a day's work, so you can expect to pay a minimum price of around £75-£100 for the labour costs.
Cost Factors of Installing Security Lights
You may need to consider several factors when working out the overall cost that you can expect to pay for your security lights. Below is a list of the main cost affecting factors that you may need to consider:
Type of Lights
One of the main cost affecting factors is the type of light that you choose to have installed. For example, if you are on a tight budget, you can choose to have landscape lights that cost as little as £2. However, some more luxurious lights can cost up to £1000 or even more.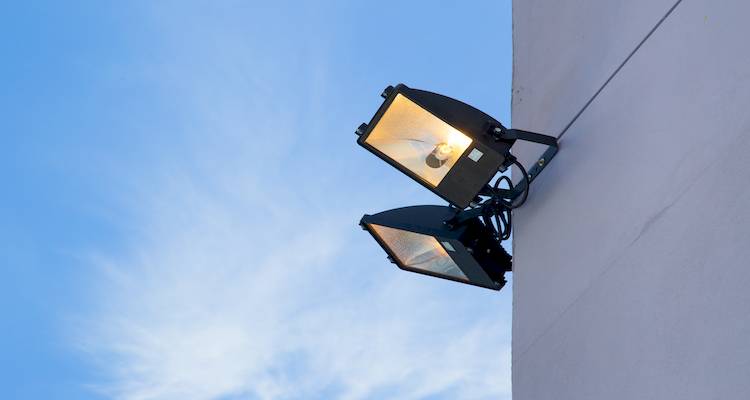 With this in mind, the type of light you choose is a huge factor in the price you can expect to pay.
Positioning of Lights
The positioning of the lights can affect the overall cost of the job. The place you choose to have your light can affect how easy the job is to complete.
For example, there may be more wiring needed depending on where the light is place. The ease of access to the area can also affect the cost. The more difficult the job is to complete, the longer it will take, so the labour costs will increase.
Location of Property
The location of your property can also play a role in the overall amount that you pay for the job.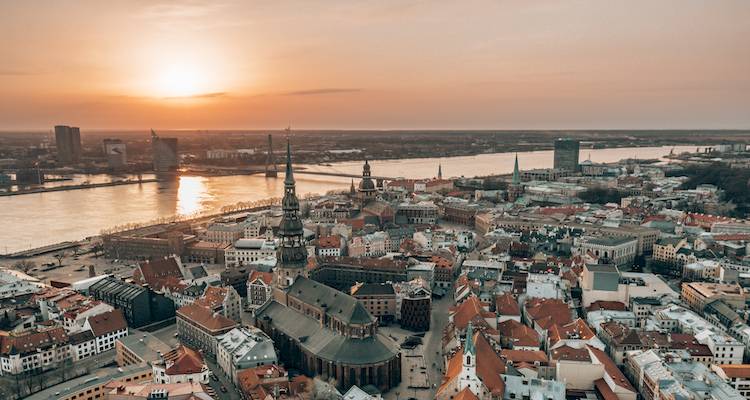 Those based in and around the London area can expect to pay around £30-£100 more in labour costs for fitting security lights than homeowners based in the North or other parts of the UK.
What's Involved in Security Light Installation?
You may be curious about what's involved with installing a new security light at your home. Although light installations can differ, your electrician will most likely take the following steps when installing your outdoor security light:
The contractor will begin by ensuring that all of the power is cut off so that the job can be completed safely.
The area will then be prepared by drilling holes where your lights are being installed. They will then line the holes with plastic conduit before feeding the appropriate cables through the holes.
Once the cables have been fed through, the contractor will connect the cable cores to the appropriate terminals.
They will then secure the cables with PVC electrical tape.
Once the cable work is complete, the installer will fit the light in place and add sealant.
Once the light is in place, the contractor will install a light switch inside the property by feeding the light supply cable back into the property.
Once all of this is complete, the installer will then test the light to ensure that it is working properly and that it is safe.
Can I Install Security Lights Myself?
If you are on a tight budget and looking to reduce your security light installation costs, then you may wish to install the light yourself. This can save you a good chunk of money.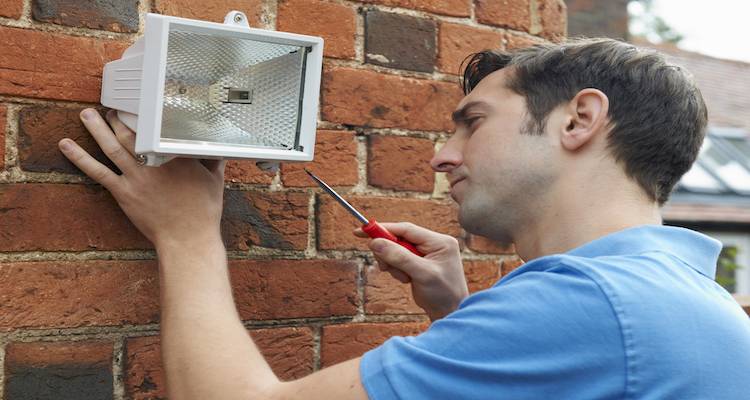 However, you must have some knowledge about electrics to ensure the light installation is safe.
If you don't have any previous experience with installing lights, then it is not recommended that you attempt to install a security light yourself as it can be very dangerous if you don't install the light correctly. You or your family may be prone to shocks, or the light could be a fire hazard if not installed correctly.
If you are competent at DIY projects, you may save some money by preparing the area for the installer. You can do this by removing any previous lights or removing any obstacles, and drilling the holes ready for the installation.
If you complete the entire job as a DIY project, you will need to ensure that all of the work complies with the building regulations rules.
Types of Security Lights
There are several different types of security lights that you can choose from. To help you decide which type of security light is right for you, we have created the following list with information about each type and the pros and cons of each:
Motion Sensor Security Lights
Most properties in the UK choose motion sensor security lights because these lights only operate when there is movement around the vicinity of your home. The average cost for motion sensor lights is around £10-£50 each, although this can vary depending on the style and variety of the light.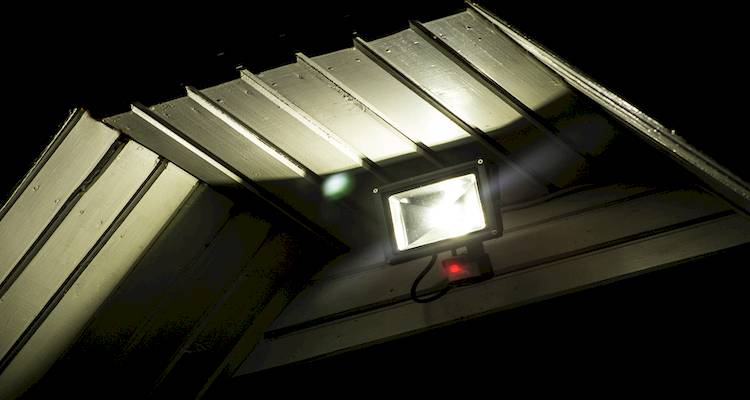 Motion sensor lights are great for reducing your energy bills as they only come on when they need to. However, the problem with motion sensor lights is that they are hard to control as they can sometimes come on when it's not needed, such as if a neighbour walks by your home or if leaves are blowing around.
The lights also don't stay on for very long, which is not great for when you're sitting out for long periods.
PROS
✔ Cheap price
✔ Energy efficient
✔ Provide adequate lighting
✔ Come on automatically
CONS
✖ Hard to control
✖ Not great for if you need lighting for long periods
Floodlights
Floodlights are another popular type of security lighting. The average cost for floodlights is around £4-£80 per light. However, this will depend on the size and style of the light. Floodlights are great because they are very long-lasting, especially when they have LED bulbs.
They are also very safe as they feature weatherproof qualities. This can help to reduce any risks of fire or electrical accidents. Floodlights are not the best option for properties with a large external area as most of them do not exceed 200 watts and won't reach very far.
PROS
✔ Low priced
✔ High intensity
✔ Long-lasting
✔ Weatherproof
✔ Reduced risks of fire or electrical incidents
CONS
✖ Not great for covering large areas
✖ Multiple lights can cost a lot
Landscape Security Lights
Landscape security lights come in various styles, such as pathway lights, LED ground lights, and decking lights. The price you will pay for these lights will depend on the style that you choose.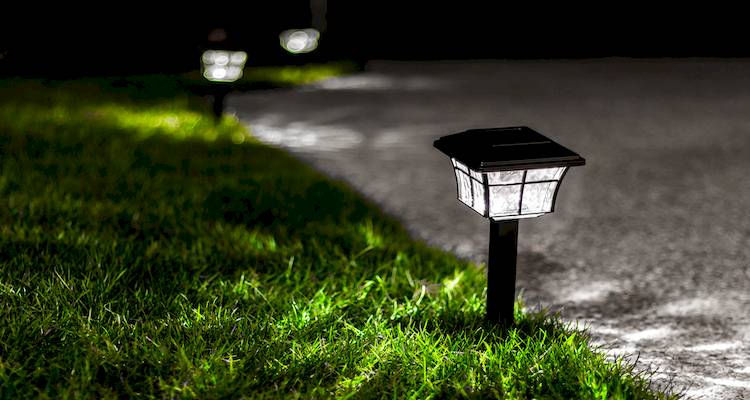 The costs can range from around £2-£1000+. One of the main benefits of these lights is that they really light up the outside of your property, making it much more secure and safe and less appealing to intruders.
The downside of these lights is that they can be quite difficult to install and can also increase your electrical bills by quite a lot. This is because there tend to be many lights installed, and they are usually on for long periods.
PROS
✔ Many styles available
✔ Provide a lot of lighting
✔ Increase security and safety of your home
✔ Many styles are aesthetically pleasing
CONS
✖ It can be difficult to install
✖ It can be expensive to buy
✖ It can be costly to run
Spotlights
Security spotlights are narrow beams of intense lights usually installed along walkways or exterior walls for an aesthetically pleasing look. This type of light tends to cost around £8-£400 for the lights themselves. The main advantage of these lights is that they are very long-lasting and very durable.
The only problem with these is that many of them use regular bulbs, which can be prone to blowing. With this in mind, you may want to pay extra for LED bulbs to ensure the lights are long-lasting.
PROS
✔ Provide a lot of light
✔ Very long-lasting
✔ Durable
✔ Waterproof
CONS
✖ Bulbs can be prone to blowing
✖ May have to pay extra for LED bulbs
Solar-Powered Security Lights
Solar-powered lights are a great option for outdoor lighting as they use power from the sun and don't require any electrical wiring to work. These lights tend to be very affordable and cost around £1-£20 per light.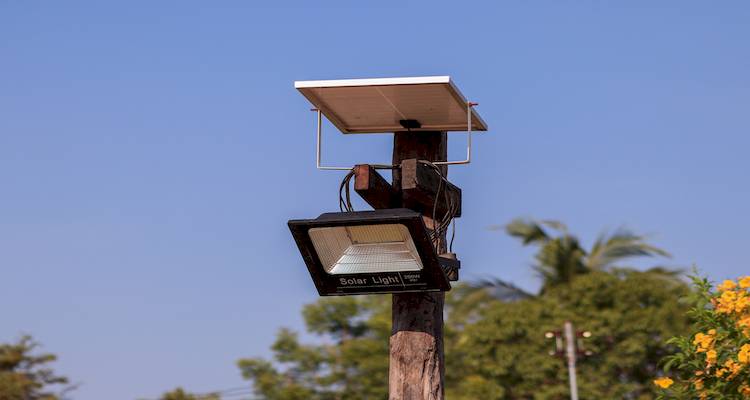 The main advantages of these lights are the fact that there is no running cost and they are very easy to install. Most people can install these lights themselves as a simple DIY job.
One downside is that they have a much lower output, so they don't provide much light on their own. This means that you may need to buy quite a few of these lights for them to make a difference.
PROS
✔ Low prices
✔ Easy to install
✔ Free to run
CONS
✖ Don't provide much light
✖ Must be placed in direct sunlight to work
Building Regulations & Planning Permission for Security Light Fittings
If you plan on getting security lights fitted to the outside of your home, you won't need to worry about planning permission. However, you will need to follow the new building regulations rules that have been put in place for this type of work.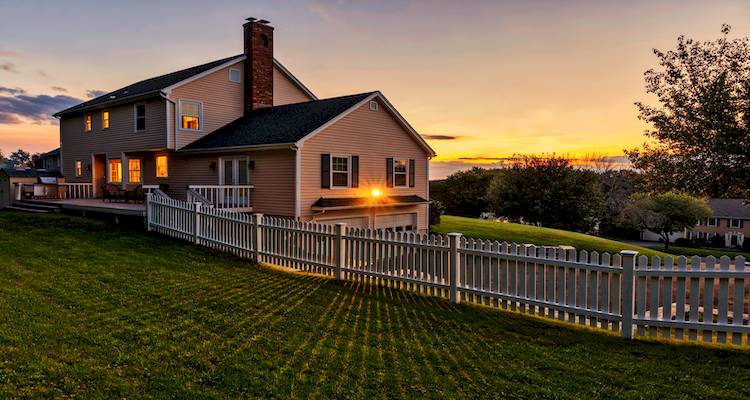 You should try to hire an electrician that is registered with the competent person scheme. If you do not do this, you will need to make an application to your local authority's building control department or approved inspectors to come and look over the completed work.
You are required to install energy-efficient lighting in your house in most circumstances as the general aim is to make buildings as energy-efficient as possible. You should either install lamps where the capacity exceeds 150 watts per light fitting, and the lighting should automatically switch off when there is enough daylight.
The light fittings should have sockets that can only be used with lamps that have an energy efficacy that is greater than 40 lumens per circuit watt.
A competent electrician should have the knowledge needed to carry out the work according to the building regulation rules. For more advice on planning permission and building regulations, you should get in touch with your local authority for some advice.
Hiring Contractors to Install Security Lights Checklist
You will need to consider a few things before hiring contractors to install outdoor security lights for you. Below is a list of some of the main things that you should consider when looking for the right contractors for the job:
Does the contractor offer any guarantees with their work?
How much is the work to complete? – Ask for a breakdown of costs so you can ensure you are paying a good price for each element of the job.
Is the contractor experienced in installing the type of outdoor security lights that you are looking for?
How many years' worth of experience does the contractor have in installing outdoor security lights?
How many contractors will carry out the job?
Will the contractor fix any issues that may arise?
Will the contractor take care of any relevant waste removal?
Do you need to hire any additional contractors for different parts of the work?
Will the contractor follow all of the relevant building regulation guidelines?
FAQs
How do you adjust the sensor on security lights?
Start by aiming the head in the right direction so that it is centred in the area that you want to cover. Next, set the on switch to the test mode. This will allow you to determine the detection zone. Walk in the field of vision to ensure the light comes on.

If the light is aimed too high or low, adjust it until it's in the right position.
You can make finer adjustments using the range dial on the light. Start with the dial on the maximum range and then reduce it to shorten the zone.
What are the best outdoor lights for home security?
The most popular outdoor security lights are sensor lights, as these will come on suddenly whenever someone walks in front of the sensor. This will effectively alert you that there is an intruder outside and will also help to deter the potential intruder.
How do motion sensor lights stay on?
When someone walks by, the motion sensor light triggering it to come on. It will usually stay on for around 20-30 seconds before turning off again.
Will security lights protect me from burglars?
Security lights are well known for deterring burglars. Even just one security light can be enough to prevent someone from wanting to intrude on your home. Homes with security lights are much less likely to be burgled than homes that don't have any outdoor lights at all.
How much does it cost to remove security lights?
If you want to remove security lights, this will usually cost around £75-£290 on average, including the cost of waste removal.
Sources
https://www.expertelectric.ca/blog/the-benefits-of-outdoor-security-lighting/

Last updated by MyJobQuote on 8th March 2022.