Tarmac Driveway Cost
Trying to find out how much it costs to tarmac a drive? In this article we look at tarmac prices for different driveway sizes and condition. This makes it easy to calculate the cost of a tarmac driveway for any homeowner.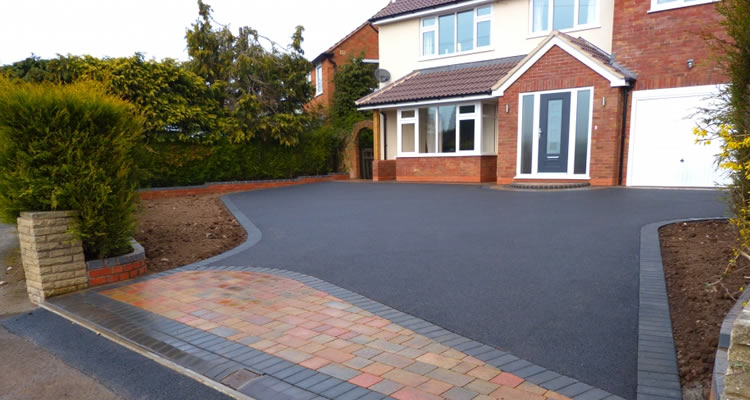 Average Cost of Tarmacing a Driveway:
Depending on the complexity of the job, it usually takes: 3-4 days
£2200
How Much Does Is It Cost to Tarmac a Driveway?
On average, you can expect to pay £45-£65 per m² for the cost of tarmacing a drive. Prices can vary as with most home improvements - from the size of the job, the type of material used, the price of the tradespeople per hour or for the complete work and your location (London and the South East being typically more expensive).
Tarmac driveway prices drop in cost per m² for larger driveways and also the conditions in which the work is carried out. For instance, if installation happens during heavy rain, this can cool down the tarmac prematurely and may not offer the best results. Tarmac is a sturdy substance, but it's preferable not to complete the work in torrential rain!
Typical scenarios that may increase the cost can be down to the accessibility of the driveway, i.e. is inaccessible to larger vehicles. If there is any preparation work needed before the project starts, for example, the removal of any obstructions, existing vehicles, creating an access point to allow for labourers to get to the site, or whether any additional work is needed to meet the current drainage requirements. Surplus to that is an aesthetic choice such as selecting the tarmac colour can alter the price further.
Tarmacing a Driveway Prices
Based on an average of £45-£65 per m², the price per m² will vary on the job and your location. While a larger drive will cost more in terms of labour and time, the cost per m² will decrease based on a larger area to work with.
On the other side of the scale, smaller drives aren't as practical for smaller quantities, so the average price per m² will cost a little more, though the labour cost and duration will be less than say a 50m² driveway.
| Size of Driveway | Cost per m² | Driveway Cost |
| --- | --- | --- |
| 10m² | £45 pm² | £450 |
| 10m² | £50 pm² | £500 |
| 10m² | £55 pm² | £550 |
| 10m² | £60 pm² | £600 |
| 30m² | £45 pm² | £1,350 |
| 30m² | £50 pm² | £1,500 |
| 30m² | £55 pm² | £1,650 |
| 30m² | £60 pm² | £1,800 |
| 50m² | £45 pm² | £2,250 |
| 50m² | £50 pm² | £2,500 |
| 50m² | £55 pm² | £2,750 |
| 50m² | £60 pm² | £3,000 |
The above table is a guideline only as there can be a multitude of other factors to consider with the tarmac drive cost, such as being an irregular shape, needing to remove existing materials can add to the duration and cost. Additionally, the price can lower if overlaying an existing tarmac drive.
Do note that the cost of cold lay tarmac can be expensive in bulk and is intended mostly for repairs. The driveway cost will escalate this way, and it is advised to use hot mix tarmac. Hot-mix tarmac cost per tonne equals to £45 on average, and this provides 8m² coverage.
The price of tarmac per ton remains the same, but the less you buy isn't cost-effective as you will likely have to pay £100-£150 for delivery costs, have a place to store the hot mix tarmac and be ready to lay it almost immediately. Although tarmac drives costs seem cheaper by buying the supplies only, you need to take into account the labour, storage, equipment… it makes sense to have professionals do the job!
Labour Costs and Timescales
Driveway professionals can charge within the region of £150-£200 per day and will rarely quote a fixed amount. The cost to tarmac drive, at the very minimum, is 1-2 days to complete for the smallest driveways, taking up to 1-2 weeks for larger jobs.
On top of this, you need to consider that the site is consistently accessible to prevent delays and that the weather conditions remain the same throughout to complete a thorough job. Though one person can complete a small driveway of 10m², these specialists tend to work in pairs to get the job does efficiently. On that basis, expect to pay within £300-£400 per day in labour costs alone.
A single driveway within the region of 10-20m² can take two people 1-2 days to complete and for a more substantial area up to 80m², around 4-5 days. This is on the assumption that the existing drive is in an acceptable state, that the weather conditions are relatively dry and that no other additional work is completed such as a dropped kerb or landscaping. These are just some of the criteria that can add to the cost of tarmac driveway prices.
Supply Costs
If you wish to obtain the materials separately, cold lay tarmac, in particular, is readily available at most DIY stockists. A standard 25kg bag will cover approximately 0.2 m² with around 5mm of depth.
When calculating per m², it comes to about £75 per m²; much more expensive than the average cost of having it completed by a specialist. With that in mind, this option is best suited for repair work rather than a new driveway. However, some trade prices drop to as little as £7 per bag if bought in larger quantities, meaning the cost can be as low as £35 per m². Again, material costs will lower with the size of the driveway.
| Type of Tarmac | Cost |
| --- | --- |
| Cold lay tarmac | £7-£15 per 25kg |
| Hot-mix tarmac | £45-£60 per tonne |
Hot-mix tarmac is much cheaper compared to cold lay tarmac, which can be purchased in high street stores and doesn't require specialist transport. However, hot-mix tarmac is sold by the tonne and needs to be delivered. What is the price of tarmac per ton? The cost of this can vary based on location and how much you require. Coverage is approximately 8m².
For a 30m² drive, you will need 4 tonnes costing £180 plus a delivery cost of £100-£150. You would then need to consider where to store the materials in the meantime.
Additional Costs
| Additional Work | Cost |
| --- | --- |
| Landscape gardening | £20-£30 per hour (depending on the work involved) |
| New front door (UPVC) | £550-£600 |
| Painting of the house exterior | £800-£1,200 |
| Single car port | £2,500-£3,000 |
| Security lighting (x1 outside) | £100-£150 |
| Driveway gate (metal) | £250-£300 |
| Skip hire (4 – 5 yard) | £110-£240 |
| Roof cleaning | £300-£500 |
You may also want to consider dropping the kerb by your driveway. The cost for this on average is around £600-£1,000 but entirely dependent on your local authority. In some cases, they may provide this service for free, or even much cheaper than the average cost. Regardless, a representative from your local authority will need to inspect the area first.
Window cleaning could be an oversight but considering all the other work that is being completed, it might be worth your while having this completed after the driveway is finished. The average cost £25 for a typical 3-bedroom home, but can increase with any additional buildings, floors and access issues.
Cost Factors of Tarmacing a Driveway
There is a multitude of circumstances that can increase or decrease the cost of tarmarcing a driveway from the usual aspects of sizes, accessibility, tailored options to the appearance of the tarmac and new draining systems.
The Size of the Driveway
As touched upon earlier, with larger work areas come more labour costs and the time involved to do the work. While a larger area will cost more in the long run, the material costs will decrease.
A driveway with an approximate size of 10m² will cost on average £60 per m² and take 1-2 days.
As a rule of thumb, two specialists charging a day rate would cost within the region of £600-£800 labour costs.
For a larger driveway of 80m², the cost of tarmac will drop to an average of £45 per m² but will take 4-5 days.
The average cost for two workers is likely to be £1,200-£2,000 again, depending on the complexity of the job.
Poor Access
Driveways that could potentially cross over on to a public footpath or grass verge may pose a problem, not just with planning permission, but also access to the job in question. For example, if a public footpath crosses the driveway, it may be difficult for the contractors to work on without getting permission to continue.
This can be remedied by contacting the Highways Agency and/or your local authority. In some cases, the driveway may be shared with a third party so you will need to gain consent from them before continuing with work.
Odd Shaped Driveways
Oddly shaped driveways won't necessarily be affected with the tarmac process as it's laid as a liquid, meaning it will form into the shape it's poured onto. There are two areas to be aware of, however. The first is to ensure that there is a slight slope so water can run off the driveway into adequate drainage facilities, away from the home.
The second key area is that you will need to apply edging to the driveway. Initially, this is to ensure that the tarmac does not move or crack, but it adds an aesthetic quality to it as well. The common material is timber or concrete - the former is more for budget purposes. Blocked paving can be used as well. Expect to pay between £20-£60 per m² for concrete and for higher quality clay clocks, £70-£100 per m².
Coloured Tarmac Cost
Changing the colour of the tarmac means adding a dye to the mix. Red is the most common colour, but others are available such as green, grey, blue, plus many more. The cost of red tarmac increases the average price by around £10-£20 per m²; the higher price tends to be for a smaller area. An average quote, bearing in mind the size of the driveway and location comes to as much as £65 per m² for a 30m² driveway.
An alternative way to change the colour of the tarmac is after it has been laid, many sealants are coloured, making it relatively cost-effective to change from black to red if required. The average cost for some an item would be in the region of £35 per 5-litres.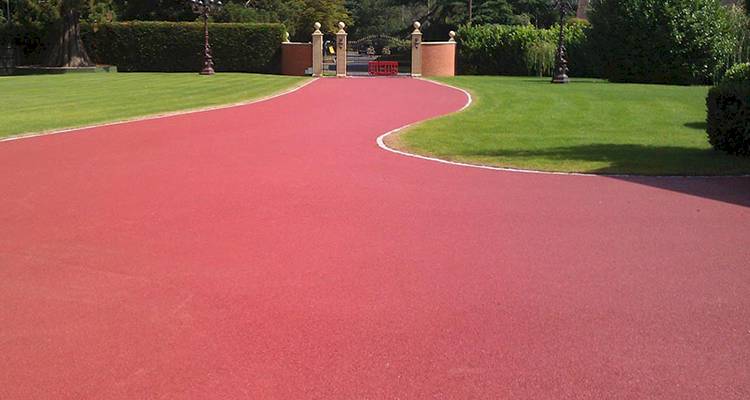 New Driveway Draining System Cost
With drainage, water needs to divert away from your property without being poured onto the street. If there is no alternative than for the excess water to go onto a public space, you will require planning permission, so the next best step would be to slope the driveway, connect to an existing soakaway or create a channel.
Unless you have access to an existing soakaway, you could be looking at a starting price of £500-£1,500 for a new soakaway or new channel, with the duration of work taking approximately 1 day.
Infrequent Slopes
The problem with infrequent slopes affects water flow and drainage and will pose a problem if not correct. As part of the planning permission with driveways, all water must be directed away from the house but not cross a public space. New channels and soakaways can be created, but if the water doesn't flow, it won't make a difference, and there will be areas where the water will reside, gradually wearing away into the tarmac surface.
To create a natural flow for the water to run, bearing in mind tarmac can be permeable, so once there's a consistent slope, there shouldn't be an issue with repelling the water, the driveway will need to be slightly raised, or regraded. One way of doing this is by adding a stone sub-base to create a slope. The average cost will be £35 per tonne. You are going to have to have the driveway excavated as this sub-base will be laid under the surface, so it's best to get a new driveway at the same time.
What's Involved in Tarmacing a Driveway?
All initial steps come with preparation, and in this case, you will need to access the driveway to see if a new one needs to be laid, or a simple resurfacing will suffice as you'll be surprised at a driveway resurfacing cost in comparison to work that requires excavation, edging and drainage.
Tarmac is a hardy substance and doesn't need as much preparation as alternatives and can be arranged on other elements, excluding lawns. The following steps will assume that excavation is required to indicate what to expect with the process.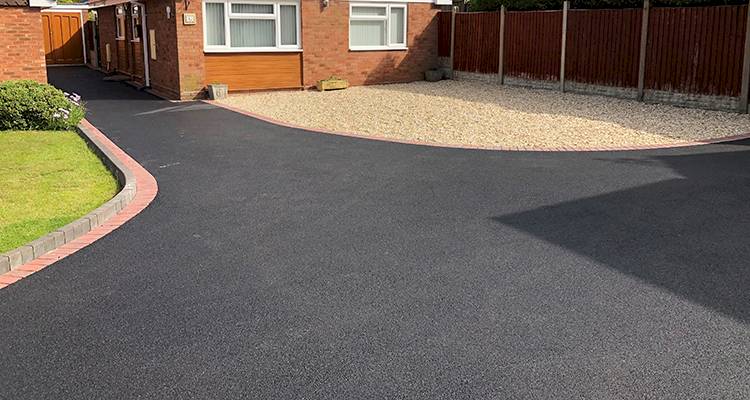 .
Excavation

With the excavation, the ground needs digging to around 175mm below the paving level. It is imperative that the ground is free from any debris or any problem areas.

Excavation can be completed by hand, but as a time factor, diggers are used to remove the top layer first of all. This will be included with the work carried out by professionals, but to give an indication, a mini digger can cost as much as £150 a week.



Membrane

Often referred to a precaution for weeds, this membrane's primary function to stop stone sub-bases from any unwanted movement as this will affect the surface and stability of the tarmac above. These membranes can work out to be quite expensive but are essential to the build. Expect to pay on average £38 per m².



Drainage

Ideally, the tradespeople you hire will be able to connect the drainage to an existing system such as a soakaway. The water needs to go somewhere other than towards the property or onto a public space without planning permission.

The best remedy when this isn't available is installing a new soakaway with sufficient piping and drainage. Expect to pay within £500-£1,500 for new drainage on average, and the duration for this work will most likely take a day to complete.



Stone Sub-base

This step involves a Type 1 MOT/crushed stone being poured into the working area to a depth of 100mm. For this to be efficient, it is levelled out as dictated to by the natural contours of the driveway. Once laid down, it is then compacted either by heavy machinery or tools to ensure to has been levelled entirely. Additionally, the driveway needs to have some sort of slope to accommodate for the drainage, i.e. rainwater.



Lowering the Kerb

For this step, you will need to have been in touch with the local authority. Each local authority will differ to one another. Usually, their offices will send someone to inspect the location. In some rare cases, they may be able to have the kerb lowered at no expense, or you may only need to make a contribution of £250 towards the cost. However, for most, the price of this is likely to be £1,000 and applying for planning permission can cost between £50-£350.



Edging

The first part of edging is for structure: the tarmac needs to have this in place to stop it from cracking and from any movement. It also differentiates if, from the garden, pavement or any other area as without sectioning off, the tarmac could crack under the weight of other vehicles. Edging should be placed approximately 75mm beneath the base using a sand and cement bond. Common materials used can be timber and concrete or block paving to give an attractive finish.

The cost of a cheaper concrete block will cost between £20-£60 per m², whereas a higher-end clay block will be in the region of £70-£100 per m².



First Layering

Sometimes referred to as the binding course, a rough aggregate is laid down of about 50mm and spread out using a rake. It is then compressed with either a roller or plate compacter, depending on availability, size and shape of the driveway and the actual budget.



Second Layering

This is the final section and is much finer. Laid shortly after finishing the binder course and spread with both a rake and sometimes a toothless lute to give a finer finish. Ideally, heavy machinery will perform a more level job than manually completing with a plate compactor, but either is an option to finish compacting the surface.



Finishing Touches

One way to accelerate the hardening of the tarmac is to use a hose and spray the surface with water as this will help cool the tarmac down slightly. The tarmac can be walked on soon after it has finished, but generally speaking, allow around 7 days for the surface to settle completely. Vehicles can be parked on the space after 24 hours, but for best practice, it's best to leave as is.

For simple overlays, however, there is no need for the excavation process, so the likelihood of the job being completed in a day or two is highly likely.
What Is Tarmac?
When referring to tarmacing a drive, the term used for the material is often referred to as tarmac, but this is, in fact, a registered trade name, Tarmac. The correct term is tarmacadam, but through usage, tarmac is commonly accepted as the material in question. But what exactly is tarmac?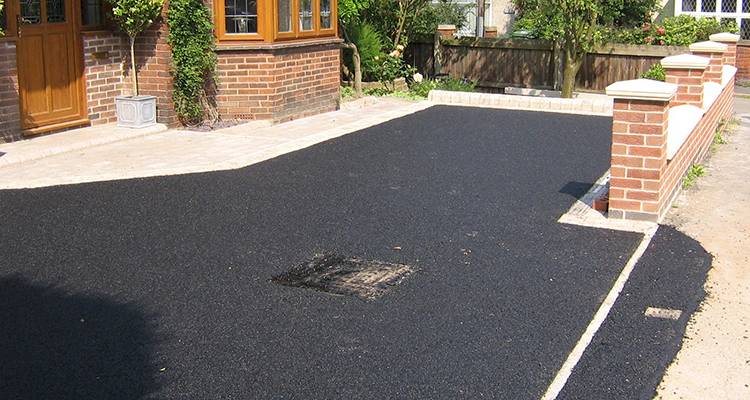 The name comes from John Louden McAdam, who pioneered the initial idea by using broken stones packed close together, then covered with finer stones to give a smoother finish.
Unfortunately, it didn't revolutionise transports systems at the time until an engineer named Edgar Purnell Hooley implemented an aggregate, cement and tar mix to create a substance called tar-mac which would eventually be compacted by steam rollers.
The idea came to him after experiencing a tar spillage on the road, and he took that design further by forming a new company.
Eventually Sir Alfred Hickman MP bough the patent and formed his company Tarmac Limited and changed the quality of roadways for good. Interestingly, today's tarmac mixtures no longer include tar.
Can I Tarmac a Driveway Myself?
Tarmacing a drive should be left to the professionals and not taken on as a DIY project. While even a basic overlay isn't too complicated, the equipment required for the job is specific, and even if competent with this, you would need to hire each item and ideally have someone assist you with the job.
As tarmac is initially a hot liquid that gradually cools once laid, the temperatures will get incredibly hot and hazardous to health if in contact with the skin. Protective clothing is required as a precaution.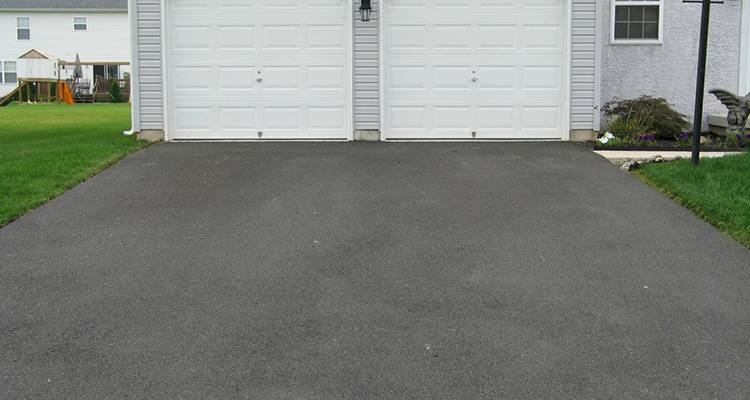 When mixing tarmac, the temperatures can get high. As a result, this can be hazardous to your health if you don't know what you're doing and is practically impossible without the right tools.
Making repairs to an existing driveway is much more practical. Cold lay tarmac is readily available from all good DIY stockists, usually in bags of 25kg. It's not unrealistic to purchase serval of these and complete the work yourself, but for larger areas, you'll need hot mix tarmac. With this method, you will need a separate delivery to your home as it is delivered by the tonne and can be very expensive for smaller driveways.
While the material itself can be cheaper in larger quantities, you still need a place to store it, the equipment hire and of course, the time to complete the work.
Below are the common tools needed for the job:
Mini digger for excavation £150 per week.
Mechanical roller at £100 per week.
Plate compactor daily hire rates are around the £24 mark.
Tarmac rake - approximately £20, the same as a lute for the second layering after the binder course.
Loading shovel - as much as £200 per day (non-tracks).
Carrying bucket £10 to own.
Taking into account these factors, it makes sense to hire professionals to do the job. Not only do they have all the tools and equipment and the experience, but they also will get the job done professionally and promptly.
Benefits of Tarmacing a Driveway
Cost-Effective
When compared to alternative materials, tarmac is often cheaper than its counterparts. It does require specialist equipment to complete the job, but for a simple setup, you could be looking at a couple of days to finish a smaller driveway.
Dries Quickly, Easy to Install
A typical installation can be as fast as 1-2 days, and one of the benefits of tarmac is it can adhere to many surfaces. It is initially laid as a liquid then compacted into shape with a roller. The drying process is swift, and you can walk on the driveway after 24 hours, but it is recommended to leave it for 7 days until you start parking your car on top of the surface.
Weather-resistant
As a weather-resistant material, tarmac repels water very well, better known and impermeable, and is one of the better options for cold conditions as well. The only issue this may raise is with drainage, so you will need to ensure that any water doesn't pass onto public spaces; otherwise, you may require planning permission.
f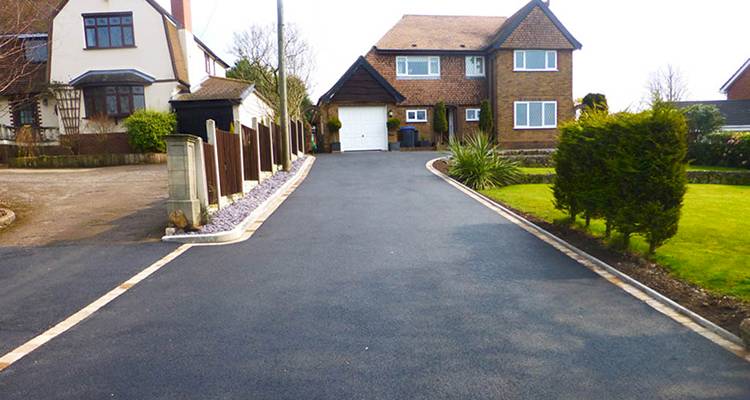 Durable and Long-lasting
Unlike concrete, tarmac doesn't crack as much, though does still require maintenance in the event of oil spillages as these can cause cracking. As a result, it is highly durable and long-lasting and can sustain a heavy flow of traffic. Considering the usage a driveway gets, tarmac almost certainly will have a long life and will only need the occasional repair here and there.
Easy to Maintain
It is recommended to review your tarmac driveway every 5 years, committing to any repair work such as resurfacing as and when required. Resurfacing isn't the same as getting the job done again and is simply a new layer that is applied. Furthermore, good tarmac paint/sealant can be used to prevent any future wear and tear or mishaps with engine oil and fluid. A good sealant can cost within the region of £3 per litre, where 5 litres will provide 6m² coverage.
Tarmac Driveway Repair Costs
A tarmac driveway can be highly resistant to the elements, but there will be occasions where repair work is necessary. Such work would include potholes.
Small repairs can be made to tarmac as it's relatively cheap to complete and can be done with cold lay tarmac, purchase by the bag at 25kg for 0.2 m² coverage. Any sign of oil and grease should be taken care of relatively early as this can wear away the tarmac surface, causing it to crack. Removal can be completed with a simple cleaner. Expect to pay around £10 for a 1-litre bottle of driveway cleaner, designed to remove oil.
Larger cracks and potholes can be repaired by yourself, again with cold lay tarmac, but this is only considered to be a temporary fix and professionals would encourage you to apply hot mix tarmac. The temperatures are entirely different, and a hotter substance is most likely to bond to the existing surface. If you have small blemishes and cracks, then these can be fixed by cold lay tarmac, costing as much as £7-£15 for a single bag.
Cost of Resurfacing a Driveway
Resurfacing is significantly cheaper than starting again and having the ground excavated, on average, this will cost £55 per m², but this can increase or decrease based on the size of the driveway and the location.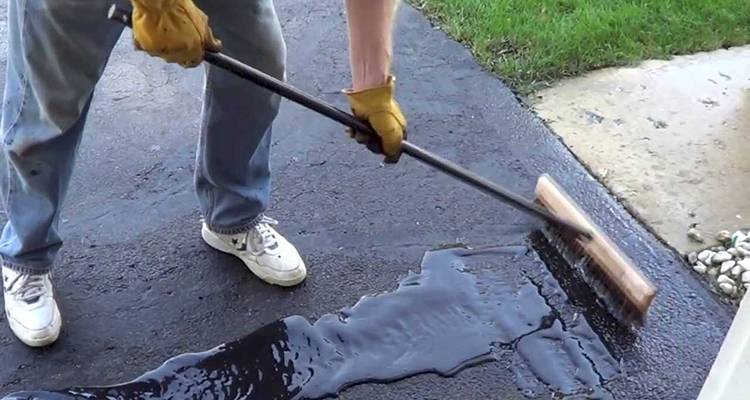 One thing to bear in mind is that you can only resurface so many times. The reason being is it adds around 30mm to your driveway each time applied. Over time this will rise so that it is within the damp proof membrane of your home and could in turn cause rising damp. As an example, two resurfacing should be enough in a driveway's lifetime, and even it shows signs of being suitable for a resurface, it's worth excavating and starting again to ensure the height doesn't increase too much.
Cold Lay Tarmac vs Hot Mix Tarmac
Cold lay tarmac is much more accessible to non-tradespeople as you can purchase from a local DIY store. Available in bags of 25kg, these typically offer a minimal amount of coverage - 0.2m² and best suited for repairs. Hot-mix tarmac is cheaper the more you purchase but requires special deliveries and additional equipment.
Cold Lay Tarmac
Pros
✔ Easily purchased and you can pack in a normal-sized car.
✔ Prices can be competitive if you buy more of it.
✔ Saves on labour costs as can be completed by a DIY enthusiast.
Cons
✖ More expensive for a smaller job.
✖ On average, you'll need within the region of 5x 25kg just to cover 1m². This may require more than one trip in an average-sized car.
✖ It's a temporary solution.
✖ Does not adhere to the surface as well as a hot mix tarmac due to the temperature.
Hot Mix Tarmac
Pros
✔ Compared to cold lay tarmac, it's much cheaper as 1 tonne will provide 8m² coverage, costing on average £45 for said tonne.
✔ Offers better coverage and a more permanent option.
Cons
✖ The added expense of delivery as sold by the tonne, it cannot be collected in a domestic vehicle - £100-£150.
✖ The mixture is kept heated in transit so ideally, it needs to be applied the moment it arrives.
✖ Requires ample storage space and will need to be laid on a tarpaulin in the meantime.
Concrete vs Tarmac Driveways
Generally speaking, tarmac driveways are more cost-effective than concrete driveways for several reasons. One of the first things that come to mind is the durability. Tarmac handles the rain and also snowy conditions very well, unlike concrete which also has the habit of cracking. However, the average lifespan of tarmac is 20 years, where concrete is double that and also does not require any sealants and minimal maintenance.
Furthermore, tarmac is a much swifter installation job as work can be carried out on various surfaces with minimal preparation work and can harden in 8-10 hours. Tarmac is unlike concrete, which requires a lot more preparation, excavation and time for the concrete to cure - typically a couple of days.
There are differences in price too. While the average price for tarmac can be between £45 and £65 per m², concrete weighs in at £85 per m² on average.
Tarmac
Pros
✔ Easy installation.
✔ Can be poured over to a variety of substances (excluding lawns).
✔ Excellent in the wet and snow.
✔ Cheaper.
✔ Can be resurfaced rather than paying out for a new driveway.
Cons
✖ Tarmac requires sealants every 5 years for maximum durability.
✖ 20-year lifespan (if looked after).
✖ Can get excessively hot in the summer.
Concrete
Pros
✔ Concrete doesn't require sealant.
✔ Lasts for 40 years if well maintained.
Cons
✖ Much more expensive.
✖ Needs additional preparation before pouring.
✖ Prone to cracking.
Cleaning and Maintaining a Tarmac Driveway
There are a variety of elements that can wear on the surface of your driveway that can simply be cleaned to make it more durable over time and offer a more appealing appearance. There are driveway cleaning services available and to clean a driveway and seal it costs around £10 per m², so a 40m² driveway would cost £400 for a job that should take around 6 hours.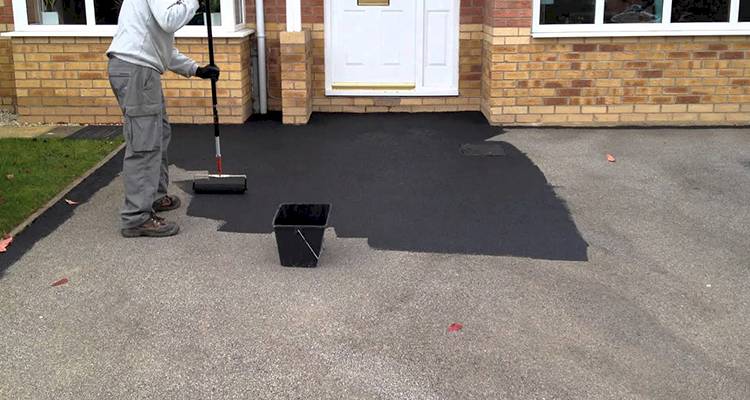 Of course, you can do the cleaning and maintenance yourself. This process will significantly save on labour costs but will take much longer, and you will need different products for each job.
Oil patches and grease - Gunk driveway cleaner, or similar, at 2L for £10 on average removed engine spills with ease.
Algae and moss - standard driveway cleaners cost around £10 for 2.5l, covering 85m².
Weedkiller - a typical household spray only costs £1.50 and works within 24 hours.
Push sweeper - instead of hiring equipment, a dedicated machine can cost within £130 and clean faster than conventional brushes. Pressure washers, though fast, can damage the tarmac.
Alternatives to a Tarmac Driveway
Tarmac is the most cost-effective driveway solution with various benefits that have already been covered. Still, there are alternatives, each with their perks and the material you use in your next project needn't be limited to just one or two options.
Cost of Removing a Tarmac Driveway
Perhaps you are in need up updating/replacing your existing driveway, have had to undertake works on drainage and as a result will have to have your driveway removed.
Tarmac is an easier material to work with and is mostly labour intensive and doesn't necessarily need skilled workers to complete. It is something you could do yourself as you don't need specialist equipment, but it will take a good deal of time and among many things, will need skip hire and removal. For a 4 to 5-yard skip, you could be looking at £110-£240, which would be sufficient for an average-sized driveway.
If you employ professionals to do this for you, it's a lot less hassle and could only take a day or two to complete. Expect to pay the same day rate as it would cost for a driveway installed:
1-2 days work, including skip hire and removal (as provided by labourers) £300-£800.
Hiring a Tarmacer Checklist
Tarmacing is an uncomplicated job, but there needs attention to detail when it comes to ensuring the driveway has suitable drainage solutions and that the tarmac is laid on good quality groundings.
As always, get a minimum of two quotes and get them in writing. Have the company inspect the drive rather than quote over the phone as you could save a lot of money if only a resurfacing is required rather than full excavation.
Check out customer reviews and testimonials. If possible, try to arrange a viewing on a current job or previous work. Sometimes tarmacing a driveway can look great on the surface, but over time shows signs of poor craftsmanship.
Ask about their range of experience as you need to ensure that the new driveway has sufficient drainage; otherwise, this can cause serious problems.
Check whether the cost of the quote includes all the equipment required, i.e. if work will be carried out by hand or heavy machinery (this will indicate timescale and possibly quality).
Also, check to see how many people will be doing the job and whether if there are any additional charges to the quote if the job goes over the proposed timescale.
FAQs
When was tarmac invented?
Though the name comes from John Loudon McAdam in the 1920s, it was the work of Edgar Purnell Hooley in 1902 who took the idea of compacting two layers of aggregate and bonding them with cement and tar to create tarmacadam.
What is tarmac made of?
Tarmac or tarmacadam is a combination of crushed stones that are fused with tar. The process has evolved into two similar alternatives, though part of the same family, so to speak.

The first is bitmac; similar to tarmacadam in that it uses a mixture of aggregate; only tar is replaced with sand and filler. A more common, cheaper option is asphalt. Much like a variation of tarmac, only is uses a semi-solid version of petroleum to bind it, rather than tar.
How long should a tarmac driveway last?
Most tarmac driveways can last for up to 20 years, with light usage and regular maintenance, some even extend to 30 years, but this is an exception. Every 5 years or so, it is a good idea to apply a sealant to protect the surface of the tarmac and to prevent any cracking.

Additionally, if you find oil spillages - in particular diesel, and also weeds, it's best to remove as soon as possible as these can damage the surface area. Sometimes a resurfacing can fix these, but if it goes too far, you may need to excavate and start again.
What is the most common material used for a driveway?
Tarmac is still the most common material for driveways due to its cost, durability and installation times. When a tarmac driveway can no longer be repaired or resurfaced, it will need to be excavated and started again, but even this is still one of the cheapest methods.

Tarmac is reliable in adverse weather conditions and less likely to crack as concrete does. With the added option to colour your driveway, tarmac still is the standard choice for many.
How often should I apply a sealant to the tarmac surface?
Ideally, you should be looking at applying a sealant every 5 years, or before any signs of wear and tear. Equally, there are various products such as colour restorers for those with red tarmac, and these can add some vibrancy to your existing setup, and available at most DIY stores.
Sources
https://www.realhomes.com/advice/how-to-update-your-drive
https://www.bestcosurfacing.co.uk
https://www.tarmaseal.co.uk/product/tarmac-restorer-red/
https://www.smartseal.co.uk/
https://www.pavingexpert.com/tarmac02
https://www.travisperkins.co.uk/decorative-kerbs-and-caps/marshalls-tegula-traditional-kerb-edging-130mm-x-160mm-x-250mm/p/838045

Last updated by MyJobQuote on 26th October 2020.