Cost to Power Wash a Driveway
Tips on getting a driveway professionally cleaned plus DIY information.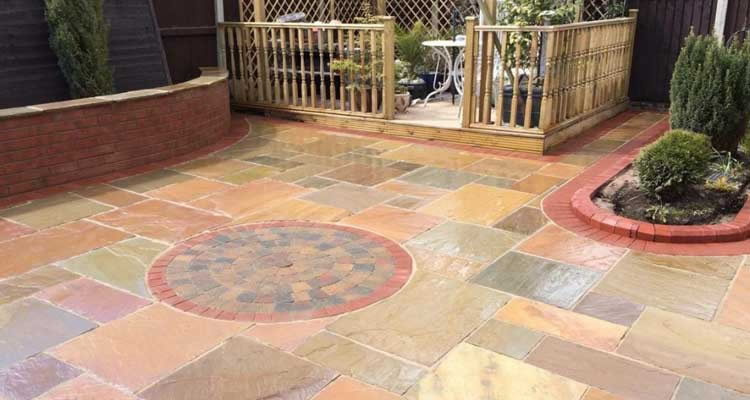 Typical cost for driveway cleaning
Typically power washing a drive will take around 8 hours
£300
If your drive is covered in moss, overgrown with weeds or has years worth of ingrained dirt. Then you will probably find that cleaning using traditional over the counter products does not work very well at all. Even if you have a pressure washer, typically the DIY type pressure washers are not powerful enough to clean deep between the joints and get rid of the moss and weed roots properly, nor can they remove years worth of ingrained dirt. But there are many professional and cost effective drive cleaning services available around the UK. These drive cleaners have powerful pressure washing machines which will get your drive much cleaner, much quicker, than any DIY job!
Getting quotes can be difficult and stressful if contacting tradesmen through the Yellow Pages or local classifieds, after all, how do you know if you are getting a professional or a cowboy? Finding a local tradesman with MyJobQuote.co.uk is easy, you can quickly and easily post your job choosing the type of tradesman, then enter your contact details along with a brief a description of the job. You can also check reviews of your chosen tradesman posted by other to ensure you hire someone that is both professional and reputable!
Average Cost Of Professional Driveway Power washing
It is essentials to power wash your drive every year or so because it takes away any surface dirt which then allows water to run off your drive easier. Reducing the risk of injury from slipping on your drive. The cost of power washing your drive can vary depending on the size of your drive and the surface. If you are power washing a concrete drive then it will not take as long cleaning a brick block paving drive. The average cost of getting this job completed is around £300. Sometimes companies also offer roof jet washing which is also helpful because if there is a bad build up of moss on your roof it could damage it. If you get both done at the same time you might be able to negotiate a deal.
| Job Description | Duration | Material Cost | Labour Cost |
| --- | --- | --- | --- |
| Cost of cleaning and sealing a small driveway | 6 hours | £120 | £180 |
| Cost of cleaning and sealing a large driveway | 8 hours | £150 | £230 |
| Cost of cleaning only for a small driveway | 2 hours | £20 | £80 |
Things To Consider Regarding Power Washing Driveways
All exterior surfaces, when exposed to the elements over a lengthy period will be subject to a build up of grime, dirt, moss, weeds and algae. Driveways are no different, so they will require regular cleaning over time. Leaving moss and weeds to grow in layers of accumulated dirt is not only unsightly, it will also greatly reduce the driveways lifespan, so it's important to keep your drive looking it's best and to clean it regularly. A good professional power wash can transform your driveway, making it look almost brand new. Commercial driveway cleaning contractors use high powered commercial graded equipment to professionally clean block paving, imprinted concrete, natural stone, tarmac or paving slab driveways. Most oil stains can be completely removed and moss or weed growth can be eradicated.
If you are considering hiring a pressure washer to clean your own drive, most pressure washers available for hire simply connect to an existing water supply, just like a garden hose. Some of the more powerful models do have accumulator tanks for storing water which is pressurised using an engine and then released at high speeds to clean and blast debris away. High-pressure water makes it easy to wash away dirt and grime, plus they can usually combine cleaning chemicals with the water to help remove really stubborn stains like old paint, oil or graffiti.
There is a wide variety of pressure washers available to hire and to purchase, and choosing the right washer for your project is important. Choosing the wrong equipment can make the job a lot harder and can even damage to the surface of the driveway. That being said, when it comes to stubborn grime and dirt, higher pressure is required, in fact, the pressure required is often higher than most domestic pressure washers can achieve. So for stubborn stains or years of serious grime, you really need to hire a commercial pressure washer or pay for a professional tradesman to do the job for you.
However, if you are not experienced using high-pressure equipment, best to just leave it to the professionals. If you do hire a pressure washer, ensure you read the instructions very carefully as high-pressure equipment can be dangerous, always wear protective gear when using and remember that each type of pressure washer can work a little differently, so read the user manual for directions on using the equipment effectively and safely.
Doing it Yourself
For dirty and stained surfaces such as mono-block drives, you really need high pressure and high flow machine, 2500psi and 10 litres per minute of flow should do the job. Using a less powerful washer may work, but will take much longer and involve a lot of extra work! Before starting always give the drive a good sweep with a stiff brush to remove any debris and loose dirt. Otherwise, any debris could become a dangerous high-speed projectile when hit by the jet of high-pressure water and could also have an abrasive effect on the surface of the driveway. While brushing inspect your drive and check for any oils stains or heavy moss growth that may need to be treated before power washing.
Don't be tempted to try and clean large areas all at once, just do 2 to 3 square meters of the drive at a time. Keep the jet lance at about 30 degrees to the surface being cleaned, if you aim it steeper you run the risk of damaging the surface, so keep the lance in a fixed position and begin at the highest point of the driveway, so all the water and dirt flows away from you. Also, try and clean between each block to a depth of approx 15mm to remove any jointing sand that has been contaminated by weeds and moss.
Once you have completed your defined area, rinse off the area you just blasted to rinse the dirt away from the newly cleaned area. After rinsing, check the area for any missed patches then start the next area to be cleaned and repeat. Finally, once the drive has dried out completely, get some kiln dried sand start sweeping the sand across the block covering all the joints with sand, gently brushing off any excess until all the gaps between the blocks are filled.
Drive power washing checklist
Always wear safety goggles when using a power washer
If you don't want to use a power washer you can do it the hard way with chemicals and a stiff brush instead
To kill off heavy moss or weed growth use some weedkiller treatment a few days prior to power-washing
Once the drive is clean use a top quality block paving sealer to maintain it
FAQ's
How much does it cost to pressure wash my drive?
Usually, this will take 1 to 3 days depending on the condition of the walls, whether they are painted or currently wallpapered, and the size of the bedroom. Existing wallpaper that needs to be removed can easily take a full day (longer if woodchip type paper), plus preparing the walls will take longer if there is lots of damage to the plaster.
My driveway is covered in moss can this be removed?
Yes, professional drive cleaning contactors will generally visit before they pressure wash to lay down some fungicidal wash to treat moss and algae. This treatment is is safe for pets and children once dried but kills the moss and leaves the drive ready for pressure washing.
What if the jointing sand is dislodged during the cleaning process?
Once the driveway has dried after power washing kiln dried silica sand can be brushed into the joints to replace any lost during the power washing and then the driveway can be sealed.
Do I need an outside tap for the pressure washing equipment?
No, industrial pressure washers actually use more water than a tap can supply so they run off a water butt filled with water. But this water butt does need to be continually refilled so access to a cold water supply is needed, but an outside tap is not required.
How long will it take to clean my drive?
This depends on how much work is required, obviously bigger and dirtier driveways will take longer than smaller clean ones! But typically a day or less is average.
Last updated by MyJobQuote on 10th April 2020.