Loft Extension Cost
Converting and extending a property at loft level.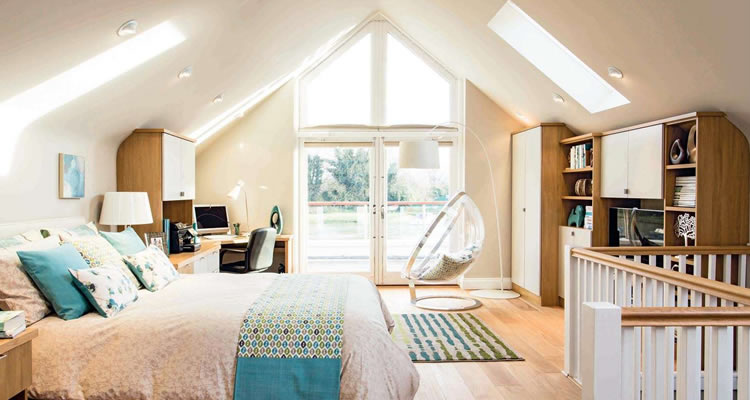 The average cost for a loft extension is around
This type of job will take around 6 weeks
£40,000
There is no doubt that not only is it easier to extend than to move, it is also usually cheaper to do so! If you've got some unused space such as a loft, it's worth thinking about building into that unused space to create useful additional living space. The exact type of loft conversion or extension that will be the most suitable will depend on the type of roof and how you intend to use the loft space, but the most common conversions are internal loft conversions and dormer conversions, though there is another type of loft conversion which involves a full removal of the existing loft and building a new loft. Internal loft conversions are the cheapest and require minimum building work so are most popular with DIY enthusiasts. But dormer conversions are the most popular type of loft conversion in the UK due to the additional space they offer by extending the property at loft level. Full removal and build loft conversions offer the most flexibility but are the most complex in terms of building work and therefore the most expensive by far.
Once you have made the decision on a loft extension, assuming you're not going the DIY route, then one of the most important decisions you have is deciding which company you are are going to entrust with the project. This can be a nightmare scenario with not only health and safety issues to consider, but also the not inconsiderable financial outlay involved. Not only do you have to avoid the cowboys and scam artists that will be happy to take your money and run, but you also want to find a company that does a great job. You can use the free service on this website to find a reputable loft conversion or building company by simply completing the short online form then having local tradesman and specialist companies get in touch with you with a view to providing written quotes for your project.
Average loft extension costs
| Job Description | Duration | Material Cost | Labour Cost |
| --- | --- | --- | --- |
| Dormer loft conversion with a double bedroom | 5 weeks | £180000 | £17000 |
| Dormer loft conversion with a double bedroom and en-suite | 6 weeks | £20000 | £20000 |
| Twin dormer loft conversion with a double bedroom and en-suite | 8 weeks | £23000 | £24000 |
| Mansard loft conversion/extension with a double bedroom and en suite | 10 weeks | £30000 | £26000 |
Things to consider before converting or extending your loft
Unfortunately, not all lofts are actually suitable for a loft conversion or extension. Before you start planning your loft project, you need to check that the roof structure is suitable and that there is enough height within your loft to provide adequate headroom. You also need to think twice if there is a chimney in the way of your proposed conversion, as the cost of moving a chimney can be considerable.
If the existing head-space is insufficient then there are types of loft conversions and extensions which can still work but they are much more expensive as they generally involve removing the old loft and fitting a new one with more headroom. Mansard loft conversions involve one or both slopes of the roof being replaced with a new structure with steep sides and an almost flat roof is placed over the top creating sufficient volume for an additional storey. Another option when headroom is limited is fitting a pre-fabricated loft, replacing the existing roof structure with a larger one that is craned into place and can extend out over an existing extension. Both these types of loft conversions will normally require planning permission.
Doing it Yourself
As long as you have a typical roof structure and no restrictive planning constraints, a loft conversion and/or extension can be one of the most straightforward methods of getting some extra space. Of all the methods of extending your home, a loft conversion is probably the most suited to the DIY enthusiast, particularly if you go for a straightforward internal loft conversion with no dormer or other windows required and just plan to use the loft as extra storage. Assuming you have in place all the relevant permissions and paperwork required, the first step is fitting the flooring. If you already have good wooden floor beams, then this step is really easy as all you really need to do is fill the gaps between the beams with insulation, then lay floorboards on top across the beams. Next, come the stud walls which are then covered in plasterboard and tacked in place using nails or screws. This is a bit more difficult, especially where your loft walls are angled. Once the plasterboard is tacked in place, you should probably hire a plasterer at this stage to get a professional finish.
To convert your loft into a living space, such as a spare bedroom, is a bit more difficult. You will probably need a structural engineer or architect to check that the added load of an additional room will be supported, plus you will need to submit plans to building control to ensure you meet Building Regulations. Windows or roof-lights will also be required, typically just roof-lights to the front and back, but windows can be added to the gable walls. Note that fire escape windows will be required with an opening large enough to meet the Building Regulations.
Converting your loft into a living area will also require a proper staircase to meet regulations. The design and position of this staircase are the key decisions in any loft conversion and the stairs must land where there is at least 1.9m of headroom with a maximum staircase pitch of 42 degrees and a useful minimum width of at least 600mm. Spiral staircases are popular in many loft conversions as they are a space-efficient option. Extending the loft space is an even bigger job, if considering this it would be wise to consult an architect or professional construction company.
Loft extension checklist
Loft conversion companies can work around water tanks and chimneys in the loft space but try and plan around them if possible
If the loft extension is to be used as additional bedroom(s) consider adding a bathroom as part of the loft conversion
When planning be careful that the loft extension does not compromise space on the second floor just to accommodate the staircase access
Consider that your boiler may not be able to cope with the extra pressure required to feed hot and cold water up to another floor
FAQ's
Does my loft have enough height for headroom to be converted or extended?
It is crucial is that there is enough achievable headroom when considering a loft conversion. Ideally, you need at least 2.3m (7 feet 6 inches) from the ceiling joists to the apex of the loft space. If you cannot achieve at least 2m of headroom then converting your loft probably is not worth it!
Do I need Planning Permission for my loft conversion or extension?
Most loft conversions are considered permitted development which means a Planning Permission application is not required. However, extending the property at loft level may well require planning consent. In any case permitted development is subject certain conditions so always get in touch with your local Planning Office before starting any work.
Where will the new stairs go?
Building regulations stipulate that fixed stairs must be put in place for safe access to and from any new rooms. The building regulations also cover the permitted staircase steepness, headroom, step sizes and rails. Therefore you have to consider the space required for loft stairs when designing a conversion and in some cases, it may be necessary to make another room slightly smaller to achieve a loft conversion with a staircase that complies with building regulations.
Will a loft conversion/extension add value to my property?
If done professionally, then almost definitely. However, you may not get back the full cost of the build when it comes to resale, particularly with very expensive conversions.
Will I need steel beams to reinforce the new floor/ceiling?
Most lofts will need beams to hang the new floor and take the load of the roof. The Building Inspector will require evidence of the structural calculations used to prove the loft conversion is safe.
Last updated by MyJobQuote on 18th December 2019.