Conservatory Roof Replacement Costs
Prices for solid, glass and polycarbonate conservatory roofs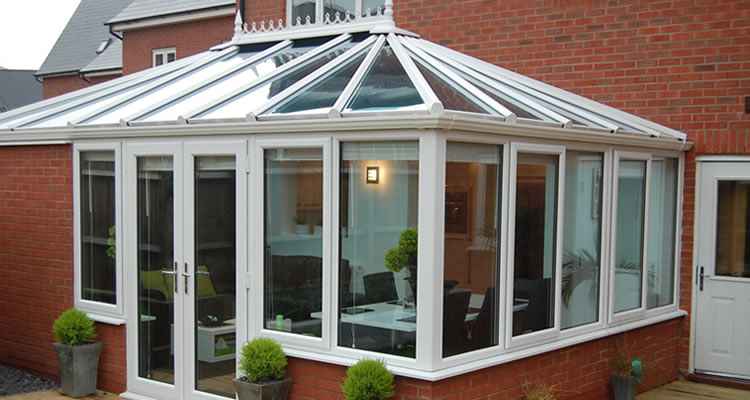 Average Cost of Supplying and Fitting a Replacement Conservatory Roof
This type of job normally takes around 2-3 days to complete
£3800
A professionally installed conservatory will last for decades and will be relatively trouble-free, however, the roofs tend to be the weakest link! If you spot any signs of leaking or water damage in your conservatory, you need to replace the roof as soon as possible to prevent any further damage. Leaking roofs are likely caused by damage that has been building gradually over the years due to slipping or warping panels, loose cappings, leaking vents or simply sealant problems around the panels. Sometimes a temporary repair can be made to solve the immediate problems, but the only long-term course of action is to either replace the roof or get a new conservatory! But even if the roof is not leaking, if you have a cheap polycarbonate roof, this can lead to condensation problems over time which in turn can cause mould which is harmful to the lungs.
Getting a new roof is obviously a lot cheaper than getting anew conservatory, but it is still far from cheap! There a number of factors that can affect the price you pay, the two biggest ones being the size of your conservatory and the type of roof material you want. Glass roofs are typically more expensive than polycarbonate roofs, but are more energy efficient and let more light in. Finding a tradesman to install your new conservatory roof is easy using the free MyJobQuote.co.uk service. By filling in one simple form online, you can get compare 3 quotes to ensure you get the best price. Always get all quotes in writing and don't just choose the cheapest price. Consider the quality and the guarantees offered, it is often worth paying a little extra for peace of mind!
Example conservatory roof replacement costs
| Job Description | Duration | Material Cost | Labour Cost |
| --- | --- | --- | --- |
| Small lean-to conservatory Polycarbonate | 1.5 days | £2200 | £450 |
| Small lean-to conservatory Glass | 1.5 days | £2500 | £450 |
| Victorian conservatory Polycarbonate | 2 days | £4100 | £600 |
| Victorian conservatory Glass | 2 days | £4500 | £600 |
Conservatory Roofing Things to Consider
Due to a relaxation of building regulations, today there are many firms selling replacement insulated roofs for conservatories. Previously, a conservatory was a room where at least 75 percent of the roof and 50 percent of the walls being glazed (otherwise it was classed as an extension), and this exempted it from Building Regulation control. This regulation backfired however and led to hundreds of thousands of homeowners being sold cheap, conservatories that were effectively glass boxes that were boiling hot in the summer and freezing cold in the winter! Under the new regulations, you can replace your conservatory's roof with something more substantial which offers better insulation. However, cheaper conservatories (which is most of them) are pretty, insubstantial structures with shallow foundations and flimsy frames – paying thousands of pounds to fit a new roof on top of such a cheap and flimsy structure might not be a wise investment.
Solid conservatory roofs have many advantages, but they are not always a good idea. Glass conservatory roofs remain the most popular roofing material in the UK thanks to new specialist glasses that are energy efficient and even self-cleaning! Specialist glass will obviously cost more than standard glass, but it is often worth the extra as it could help reduce your energy bills so is likely to make a good return on the extra investment. A solid conservatory roof will make your conservatory more like an extra conventional room in your home, but your installer will need to check that your existing conservatory is strong enough to support the new solid roof. Polycarbonate roofs are the cheapest but they are less energy efficient and let less light in than glass. Conservatories with cheap polycarbonate roofs also experience big differences in temperature in summer and winter, they can be unbearably hot in summer and far too cold in winter.
Doing it Yourself
Fitting a new conservatory roof is not really a DIY job, a team of competent professionals can fit a small conservatory roof in just a day or two, but double hipped or Victorian roofs may take even professionals up to 5 days! However, replacing a glazed conservatory roof with another roof of the same style and thickness, is usually pretty straightforward. For example, if you have a crack or leak in the roof and are simply replacing glass with glass, or polycarbonate with polycarbonate, then it's often just a matter of carefully removing the old roof and installing the new one. The most important consideration is getting the measurements right as the new roof will likely have to be made to order and could take several weeks to arrive (though sealing the new roof panels in properly is also crucially important). Replacing a glass or polycarbonate conservatory roof with a solid tiled roof is much more complex and way beyond the average DIY enthusiast! There could be a significant additional weight load with a solid roof and you need to establish that the existing conservatory frame can take this load safely. If you are experiencing problems with an existing solid conservatory roof, then it is more likely that this will be repaired rather than be completely replaced.
Conservatory Roof Replacement Checklist
Under no circumstances should anyone walk on the roof panels of a conservatory
Conservatory roofs have to comply with the current Building Regulations
Glass or polycarbonate roofs can expose the conservatory to extreme temperatures
A solid tiled roof for your conservatory is warm in winter and cooler in summer
Hiring a Tradesman Checklist
Always get at least 2 quotes before hiring.
Never pay the full amount upfront.
Get the quote in writing.
For any payment you make, always get a receipt.
On more expensive jobs, ask for references.
Check if the tradesman is a member of any trades associations.
Make sure the tradesman has public liability insurance.
FAQ's
What material should I replace my conservatory roof with?
Glass conservatory roofs let in more light and modern thermally efficient glass reduces the amount of heat loss when compared to polycarbonate roofs. You can even get self-cleaning glass which reduces the need for cleaning and works using a special coating which reacts with the sunlight to break down dirt. Solid roofs are much more expensive but are cooler in summer and warmer in winter.

Do I need planning permission or Building Control approval for a new conservatory roof?
Generally if replacing the roof with a "like for like" replacement, planning permission will not be required, though any work will have to meet the current building regulations in terms of thermal performance and safety. You need to discuss this with your installer who should be fully conversant with the requirements. If you have a listed building or a live in a conservation area you probably will require planning permission, in any case, always check with your local planning department.

Is it worth paying extra for a solid tiled roof for my conservatory?
A solid tiled roof does offer a number of benefits including the promise of energy cost savings. Solid tiled roofs can be fitted onto most existing conservatory builds as they are created using lightweight aluminium rafters and insulated plasterboards with lightweight tiles. This type of replacement conservatory roof helps to keep your conservatory cool through the summer, reducing temperatures and glare even in direct sunlight. Even better, in winter, the extra insulation helps to retain warmth.
I thought conservatory roofs had to be see-through?
Not any more, in 2010 the building regulations were changed so conservatory roofs no longer have to be 75% translucent so you are now able to fit a solid insulated roof.

Will I get less light into the conservatory if I fit a solid insulated conservatory roof?
Yes, you will get less direct sunlight, especially when the sun is directly above, but you should still get sufficient light through the side windows and you will benefit from far less glare from the overhead sun, so you can enjoy the conservatory more than you did before.
Recent Jobs
Fix leaking boxed gutters on the conservatory.
Submitted by Keith
I like to put vertical blinds in my conservatory area so please let me know if you can do the job.
Submitted by Dharmaraj
Need help with the conservatory roof.
Submitted by Arbenita
Conservatory to be installed from scratch. Thanks.
Submitted by Kis
Foundation work and approx. 2 & 1/2 foot high stone wall . Supply and erict new pc conservatory. Glass roof with volex window.
Submitted by Joe