House Repointing Costs
Trying to find out how much it costs to repoint a house? In this article we look at brickwork repointing prices for different house sizes and different conditions of pointing so that it's easy to calculate the cost for any situation.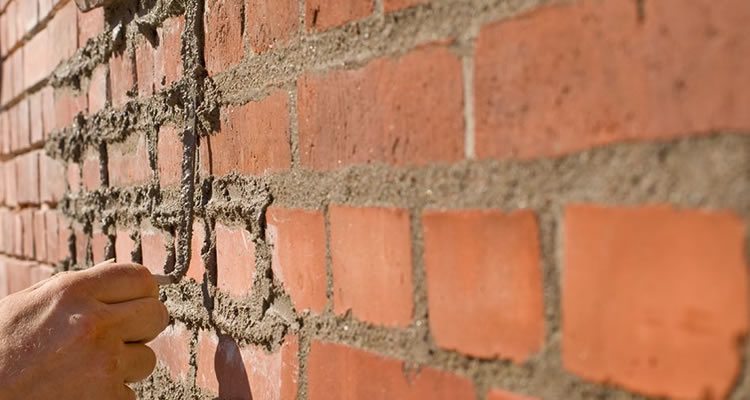 Typical cost of house brickwork repointing
This job will normally take around 1 week to compete
£3400
How Much Does Repointing Cost?
Bricks are hardy materials that will generally outlive you. But the mortar that holds them together needs regular attention to keep rain and damp from penetrating the walls of your home. The mortar in between your bricks is called pointing and this will need to be repaired or renewed at some point. The best way to check your pointing is to simply look at it and check it's all even and pretty flush to the brickwork. Then try running your finger along it and see if any mortar crumbles and comes away. You need to check in multiple areas on all the walls, as mortar quality can be patchy, so it could be great on the back wall, yet crumbling on the front.
If you can see any gaps between the mortar and the bricks, or if any mortar comes away with your fingers, then this means you will likely need to have some repairs done on your brickwork. Mortar damage can sometimes be localised in areas where there may have been a leak, but often the mortar will simply be really old and crumbling with age or have been badly laid in the first place. Re-pointing is a job that you can do yourself if you have the skills, but it is best to get a professional bricklayer to at least check it first and give advice. You will likely need scaffolding to do the upper floors of your house and professionals will have all the right tools and be able to do a more thorough job than you, leaving a nice clean finish.
Finding a good bricklayer can be difficult, many are booked up weeks if not months in advance, so don't leave things till the last minute, as soon as you find signs of damaged mortar, start trying to hire a bricklayer. If you don't know anyone that can give you a personal recommendation for a good local brickie, then you can use the free service on this website, start by filling in your postcode then a few brief details of the job you need doing, then sit back and wait for up to 3 local bricklayers to get in touch with quotes and advice.
House Repointing Prices
| Job Description | Duration | Material Cost | Labour Cost |
| --- | --- | --- | --- |
| Repointing typical semi-detached house with scaffolding and bucket handle finish | 6 days | £1450 | £2400 |
| Repointing just the front door and window surrounds using ladder | 1 day | £40 | £250 |
| Repoint gable end on 3 bed semi bucket using own scaffolding tower handle finish | 5 days | £100 | £1000 |
Things to consider about repointing
The state of the mortar in the walls will not necessarily be the same over the entire area. Typically the corners facing the prevailing winds suffer first, then areas below drips from windows or gutters etc. Mortar around window and door surrounds is often weak due to the vibration over the years. So you may not need to have the entire wall repointed. However, if you only have part of the wall repointed, the new mortar colour will stick out like a sore thumb unless you get really lucky. So, the best plan in most cases is to repoint the entire wall, raking out some sound mortar that doesn't really need pointing and repoint that as well, so the whole wall will end up the same colour.
But be wary of disturbing very old bricks such as Victorian yellow stocks or red rubbers, they are really soft compared to a more modern brick and when trying to remove sound mortar you will probably chip the bricks which will look awful. So with really old bricks best to just repoint the areas which need doing, removing the crumbling mortar and leaving everything else intact. it won't look great at first, but after it has weathered for a while it won't stick out too much.There are a number of different pointing finishes to chose from, including rubbed, weatherstruck, bucket handle and raked joints. Rubbed is where the mortar is applied then left to dry for just the right amount of time and then simply rubbed with newspaper so it is smooth with the brickwork. Sounds easy, but unless you are an expert you will make a complete mess of it, so not one for the DIY enthusiast.
Weatherstruck is a type of finish first used by the Victorians where the newly applied mortar is angled downwards to just slightly overhang the brick below to hopefully shed the water away from the joint. The Bucket Handle finish is probably the most popular today, introduced in the 1930's, this is where the mortar is rubbed up with a piece of tubing or a special tool shaped like a galvanised bucket handle. Raked Joints is where the mortar is simply raked out to leave a flat vertical finish recessed slightly from the brick face. It is quick and easy but not popular nowadays as it allows any water to sit in the recess which over time will cause problems.
The average cost of repointing a brick wall can vary depending on the style of brick and type of method used. When calculating the cost in your head you need to think about timescale, materials and labour. Most tradespeople will work on a meter squared basis and they will charge anything from £60- £100 metre squared. If they need to get some scaffolding it will also cost a little more. Most companies should provide their own scaffolding.
If you are unsure on how much you should budget for this job then I would recommend using an online calculator. All you need to do is put a few measurements in and the calculator will do the rest. I would recommend finding a calculator with adds labour cost and equipment hire to make sure the calculation is as accurate as possible. These online calculators are not always correct because it depends on the area you live in.
Doing it Yourself
Like many jobs, pointing can look deceptively simple when you watch a professional doing it. But when you first try it for yourself it soon becomes apparent that without the special knack required you can make a real mess of things! If you do decide to try it yourself, make sure you get some practice first on a wall which does not have to be pretty, such as the back of a garage.
Some will get the hang of it with some practice, but others just never seem to get it! If you don't have the knack for this sort of work, then do not even attempt the job, just get a professional for a guaranteed good finish! Bricklayers all have hilarious stories (to them) about DIY jobs they have had to come in and put right – so don't become a bricklayers horror story and just pay someone to do it right in the first place!
Repointing checklist
Pointing is the mortar that holds your bricks together
Repointing the brickwork is a very time consuming job
Mortar accounts for as much as 15% of the wall surface area
Sound mortar does not need to be removed during the repointing process
FAQ's
Do I need planning permission or building regulations approval before repointing?
Not usually, if the repairs are of a minor nature and you are replacing mortar like for like. But of course, you should always check with your local planning department before doing any works to be on the safe side as rules change over time!
Why does my wall need repointed?
Over time, weathering and decay will cause voids in the joints between the bricks which allows water to penetrate. The mortar is designed to fail eventually in a sacrificial way to save the brickwork.

What's the right mortar to use for repointing a brick wall?
A large range of textures and colours can be achieved to compliment existing brickwork or even match older mortar if just doing small area repairs. Today you can buy a range of easy mix mortar products from your local DIY store which comes complete with instructions and their own tub for mixing.
How often should I have my brick or stone re-pointed?
Repointing restores the physical integrity of the masonry and properly done it looks much better too. Repointing done well should last over 50 years, but dodgy tradesmen taking shortcuts can result in a job that looks bad and will last. All mortar joints will deteriorate over time but should last for many years, so this should be a once in a lifetime job!
Last updated by MyJobQuote on 1st May 2020.