Cost of Building a Lean to Conservatory
Conservatory guide and quotes.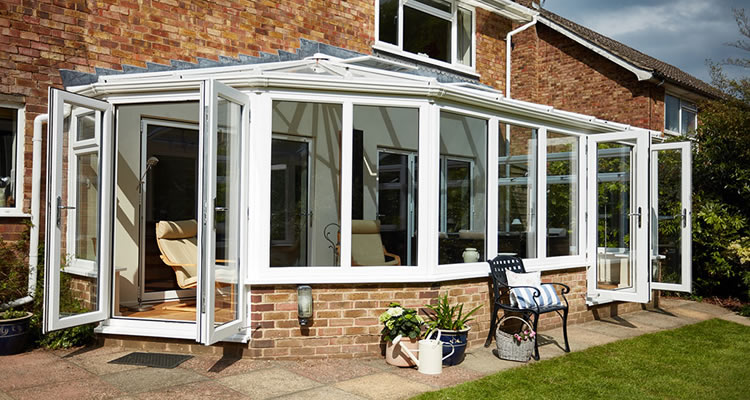 Average cost of building a lean-to conservatory is
This type of job normally takes around 7-10 days
£5000
A lean-to conservatory is an additional room which has a flat angled sloping roof that allows rain to run off. Lean to conservatories have a shape that gives them the appearance of leaning against the wall of a house, hence the name. This is the simplest and quickest type of conservatory to build, plus it works well in small spaces, so is easily the most popular type of conservatory in the UK. Although these lean-to conservatories are basic in design, you can choose from a wide range of different options for the roof and walls. The base and roof offer a lot of versatility which means this simple conservatory type can be adapted to suit almost any property.The low pitched roof in particular works well in awkward spaces and is a good choice for bungalows or small terraced properties.
A Lean-To conservatory can be used in a number of ways, most commonly as an office, dining room or second lounge. In terms of the materials used for the framework, the choice comes down to wood, aluminium or uPVC. Hardwood frames are most often used in more traditional, older homes, as many prefer wood for its classic appearance. However, hardwood is an expensive material and is not as durable as aluminium or uPVC. Aluminium is more expensive than uPVC but is stronger so can be designed with thinner frames. But uPVC is by far the most popular material thanks to it's affordability. Dwarf brick walls are also a popular choice and look great with any frame material, though they will add to the overall cost.
Example conservatory quotes
| Job Description | Duration | Material Cost | Labour Cost |
| --- | --- | --- | --- |
| Lay a good thick concrete base for a typical lean-to conservatory | 2 days | £650 | £500 |
| To add three, 600mm high insulated cavity walls | 1 day | £350 | £250 |
| 4m x 2m uPVC conservatory kit supply only | N/A | £3000 | £0 |
| 4m x 2m uPVC conservatory with polycarbonate roof and concrete base | 3 weeks | £4000 | £4750 |
Things to consider when building a conservatory
Adding a conservatory means upheaval with tradesmen needing to access your property for weeks, so it's important to be plan everything carefully to minimise any stress. Always shop around and get at least three quotes. Use a company recommended by a trusted friend or family member if at all possible, or get a local trustworthy trader with the help of MyJobQuote.co.uk. Consider whether you should go for a local or national conservatory company.
Most homeowners use a local firm as the prices tend to be much cheaper, but sometimes a national company will safer with a better guarantee and more chance of them still being around if you want to make any warranty claims! Always ask for details on exactly what is included in any quotes, so you don't get any surprises later. Some features like TV and electrical sockets, roof vents and ceiling fans, can add considerably to the price. Many homeowners complain that the final cost was higher than the initial quote, so get quotes in writing and double check the small print.
Doing it Yourself
To build a conservatory as a DIY project, you need to first make sure your measurements are accurate, both in terms of the conservatory size and for the space that you have allowed. Most conservatory frames and other parts will come with a guarantee, but this will not help you if the conservatory does not fit the base you are going to lay it on. Any alterations or modifications will likely invalidate the guarantee. Then you have to make a decision about the design you want to go for. Most DIY Conservatory kits are modular so made up of standard size parts which fit together and are often interchangeable which means that you can change the door position to suit. In some cases, a Planning Permission application will be required for a DIY Conservatory which can take up to 10 weeks for approval if making an application, even if doing a DIY build, it is recommended that you seek advice from an architect with the planning.
The actual fitting of a conservatory kit is actually quite an easy job requiring just basic DIY skills and a bit of patience, think of a big Meccano set! But most of the labour costs normally involved are for the concrete base, the dwarf wall, and all the internal finishings (flooring, electrics, insulation, plastering etc.). Most DIY conservatory kits do come with full instructions so you should be able to get assemble everything relatively painlessly. But with all conservatories, before you can build the conservatory, your first job will be to construct a solid base.
Once the base is down and had time to dry, then you can construct the dwarf walls if applicable. If you require electrical sockets, ceiling fans, phone/broadband connections plan these services out before constructing the dwarf walls. Always contact a qualified electrician for help and advice in terms of when these items can and should be installed. Once you have received your conservatory kit check you have everything and double check sizes, then layout all the frames in the right positions to begin the construction. All the fixings required should be included so just fix the frames securely in place then fit the window glass and beads. Finally, seal all joints and then finish the interior to your requirements.
Conservatory checklist
This type of conservatory is usually the cheapest design
Lean-to conservatories are often used as greenhouses and sun-rooms
A typical lean-to conservatory will have dwarf walls with glazing on all three sides
A standard lean-to conservatory on the back of a house is unlikely to require planning permission
FAQ's
Should I use wood, aluminium or uPVC frames?
Hardwood frames look better in older, traditional properties, especially in conservation areas. But wood is not as durable as an aluminium or uPVC conservatory plus requires a lot of maintenance over the years. Aluminium is a lot more expensive but is stronger so you can get thinner frames with more glass. But uPVC is by far the cheapest material for conservatories as well as replacement windows and doors. uPVC frames are almost as durable as aluminium, but require little to no maintenance.
Do I need conservatory planning permission?
Most conservatories come under permitted development so in most cases you do not require planning permission. If building a standard lean-to conservatory at the back of the house, it is extremely unlikely you will need any permission unless in a conservation area. But with any building project, you need always seek advice from your local authority and double check on the planning requirements.

What about building regulations for a new conservatory?
Building regulations apply if you want to add an extension, but conservatories are normally exempt as long as they are built at ground level, are no bigger than 30 square metres, are mostly glazed (walls and roof), are separated from the main house by external quality door, and all electrical installations are carried out by a competent registered electrician in line with building regulations requirements.

How long does it take to get a conservatory once ordered?
The average time is around 6-8 working weeks from making the order if planning permission is not required.
What do I do with my old conservatory?
The easiest way to dispose of your existing conservatory is to sell it! There is actually a very healthy market for second-hand conservatories, particularly the aluminium framed conservatories which are more-durable. You probably won't get much money for an old conservatory, but it's better than paying someone to take it away! Typically, the buyer will come and dismantle your old conservatory when it is convenient for you, so even if do sell for a rock-bottom price, it still makes sense!
Last updated by MyJobQuote on 7th May 2019.