Cost to Build a Garden Brick Wall
Want to know how much a brick wall costs to build? In this article we look at garden wall prices of different heights, lengths and thicknesses, as well as the labour cost of hiring a bricklayer to build the wall.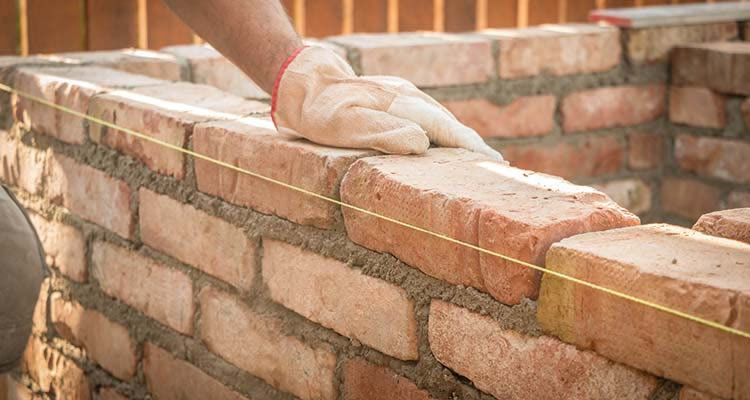 Average Cost to Build a Brick Wall
Building a garden wall takes around 1.5 days
£1,000
How Much to Build a Brick Wall?
Bricklaying is a bit more complicated than most think, yes a small decorative garden wall could well be within the scope of a decent DIY enthusiast, but jobs involving retaining walls or any other supporting structure are much more complex and best left to professionals.
Bricklaying requires more than a bit of practice in order to get the knack of it, if you have never laid bricks before, then you should build a small sample wall first as practice. Once you get the hang of it, you can demolish the wall and clean and reuse the bricks.
When you are happy with skills an dnot before, then you can start your DIY project with some confidence. But remember that most bricklayers have been trained as apprentices and have many years of experience working on building projects, these skills are not something you can learn from a Youtube video or DIY book!
A good brickie will be able to build a garden wall quickly and safely, getting it right first time. Find a competent and reliable bricklayer in your area, simply fill the form and your job will be sent to reputable and professional bricklayers who will then be able to quote you for the work required. Then you can select the bricklayer you prefer and hire them for you project. This service provided by MyJobQuote.co.uk is free of charge and there's no obligations.
Average Garden Wall Prices
| Job Description | Duration | Material Cost | Labour Cost |
| --- | --- | --- | --- |
| Single skin garden wall 1 metre high and 4 metres long with new footings and concrete copings | 1 day | £650 | £275 |
| Double skin wall 1 metre high and 4 metres long and with new foundations and concrete copings | 1.5 days | £800 | £400 |
| Single skin garden wall 1 metre high and 12 metres long with new footings and concrete copings | 2 days | £900 | £550 |
| Double skin garden wall 1 metre high and 12 metres long with new footings and concrete copings | 3 days | £1100 | £750 |
Things to think about when having a wall built
If the wall is straight and not too high, then it's quite a simple job for a DIY enthusiast with some bricklaying experience. But if the wall is curved or more than one metre high, then this is more difficult and a higher skill level is required.
Supporting or retaining walls will need the involvement of a structural engineer or architect in the design to ensure the wall is safe, this will obviously add to the cost of the job. Other factors which will increase the cost include ease of access. If building a wall in the rear garden and all the bricks and other material have to be carried through the house, this could add many hours to the job.
The cost of the bricks will also make a big difference to the total building costs, so choose the bricks carefully. Facing bricks are cheap as they only have one finished side, perfect for walls with a cavity as the rough side can face inwards, but not so good for single skinned walls in the garden. Wire-cut bricks are mass produced and the cheapest brick with an acceptable face on both sides.
Commons are rough and unattractive on all sides, really cheap but usually only used on walls that are not meant to be seen. Engineering bricks are one of the toughest bricks on the market and are often used in foundations as they are frost proof. They are also used to build retaining walls but are one of the most expensive bricks available.
The most expensive bricks of all are reclaimed and non-standard bricks. Non-standard bricks are much more expensive than the mass-produced variety and reclaimed bricks have to be manually checked and handled so also will cost considerably more!
Party walls are a major headache when it comes to building or repairing walls which form the boundary of two or more properties. The Party Walls Act lays down the procedural compliance and requirements arising from any owner of land or buildings proposing to undertake building works that will affect the land or buildings of an adjoining owner.
A garden wall which forms the boundary between you and your neighbour will likely come under this act. You should of course always consult a solicitor, but in most cases, as long as you notify your neighbour and you both agree on the work, everything should be fine. However, if there is disagreement, be prepared for a legal nightmare!
Doing it Yourself
Bricklaying is considered one of the easier construction skills with many DIY enthusiasts keen to give it a go. But this isn't a job to be taken lightly, especially if a structural or retaining wall which will have serious safety considerations. The easiest route to getting great results is always to hire a good brickie!
Using an experienced brickie can even be cost-effective, as it's likely to speed up the build and minimise expensive mistakes. But if you are keen to tackle a bricklaying project yourself, it makes sense to practice first to get to grips with the process. A small ornamental garden wall is a good place to start as it is possibly the simplest bricklaying project.
If you make this your first bricklaying project you can learn all the basic skills required for much more complex projects as the principles remain the same regardless of scale. For example, calculating the number of bricks required, setting out the footprint, maintaining everything level and square, mixing the mortar, bedding the bricks and finishing joints are all skills which will be required to build a garden wall and can be applied to any bricklaying project.
This DIY project will involve figuring out the number of bricks required, preparing any necessary foundations, mixing the cement, laying a mortar bed, then building up the bricks to create the wall laying each consecutive course of bricks in the opposite direction.
Hiring a Bricklayer Checklist
Don't build a wall higher than one metre without involving a structural engineer
Make sure any paving slopes away from the wall
When getting quotes always ask for a price for the finished wall rather than a daily rate
Choose builders that are members of trade associations such as the Federation of Master Builders
FAQ's
Do I need planning permission to build a brick garden wall?
Yes, you will need to apply for planning permission if you wish to erect a wall that will be over 1 metre high, or if it is next to a public footpath or road. For small ornamental garden walls less than 1 metre high, you will not need planning unless the house is a listed building or in the curtilage of a listed building or conservation area.
What is a Party Wall?
A party wall is quite simply a wall that divides two properties and is shared by them. Usually this is a boundary wall or fence which belongs to neither party and is essentially jointly owned.

What work is covered by the Party Wall Act 1996?
Any work on or at the boundary of two properties including work near to and below the foundation level.
Who owns a party wall?
There is no simple definition of who actually owns a party wall, but both parties have rights and it is helpful to consider neighbours as joint owners of the entire party wall.

What is the correct mix of mortar for my brick wall?
Most builders would use a ratio of 4 or 5 measures of builders sand to 1 of cement. Plasticiser can also be added as per mortar instructions if required.

Last updated by MyJobQuote on 30th April 2020.