Cost of Building a Garden Shed
Garden shed installation and price guide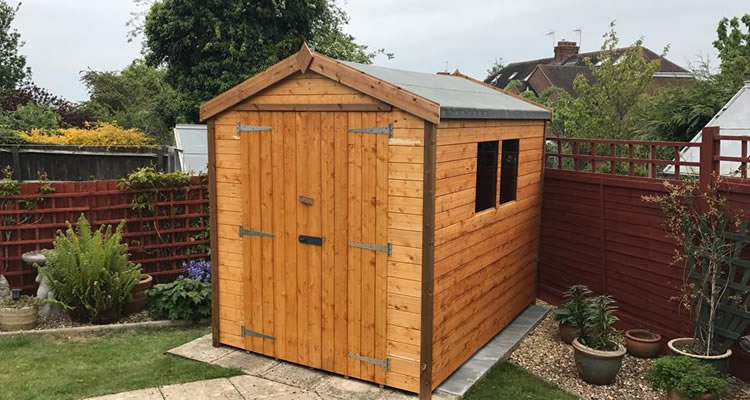 Typical costs are around
Building a garden shed typically will take around 1-2 days
£700
Garden sheds are specifically designed to help you store and organize everything you need for your garden. Without a garden shed, you'll be forced to leave garden tools and equipment in the open all over the garden, making things hard to find, susceptible to water damage and on view for burglars to steal them easily! With a garden shed, everything can be stored neat and dry, just where you need it.
A decent shed will also improve the overall appearance of your garden by getting rid of unsightly clutter, stopping your garden from ending up looking like a junkyard! If you are a keen gardener, then no garden can really be complete without a garden shed, a well-organised garden shed is an absolute must!
Although you can build a small garden shed as a DIY project as long as you have at least one person willing to lend a hand, for larger and more expensive sheds you really should call in a tradesmen to install the shed for you. The easiest way to gather quotes is to use our FREE "post a job" service! Simply leave brief details of the shed you need building along with your contact details, then sit back and let reputable tradesmen get in touch with you to provide quotes and further information!
Average Garden Shed Building Costs
| Job Description | Duration | Material Cost | Labour Cost |
| --- | --- | --- | --- |
| 6ft x 4ft Budget Shed on a Simple Slab Base | 1 day | £500 | £200 |
| 8ft x 6ft Shed on a Slab Base | 1-2 days | £550 | £300 |
| Larger 12ft x 8ft Shed on Concrete Base | 2 days | £650 | £450 |
Things To Consider When Installing A Garden Shed
The most important part of any garden shed installation is building the foundation or base. The base for any shed has to be strong and level, otherwise, the shed will buckle and warp, causing any windows to break or the door to get stuck against the frame. Placing your shed too close to fences or walls is not a good idea, always leave enough room to access all sides of the shed so you can paint/treat all of the timber to prevent rot.
If you are considering having electrical power in your new shed, then you need to consider how this will be supplied in your chosen location. Electrical cables need to be buried underground for safety, so if thee are any paths or patio areas between the main electrical supply and the proposed shed location, then this will cause problems! If you intend to spend a lot of time in the shed on a daily basis, consider getting as much natural light as possible by having multiple windows.
Doing it Yourself
Building a shed is pretty straightforward but this is not a one-man job, even small sheds will require two pairs of hands and larger sheds are probably a three-man job. Ther are no specialist tools involved as most sheds are nailed or screwed together. So a hammer and/or a cordless screwdriver are the main tools required. Building the base is actually the more difficult job, as the shed usually comes in 6 sections which are simply joined together.
But the base needs to be flat and level, preferably concrete but paving slabs will do for smaller sheds. To assemble shed you need an extra pair of hands to hold the sections together while you fix them with screws and/or nails. The order in which the sections are assembled will depend on the manufacturer, but for obvious reasons the roof is usually added last once all 4 sides have been screwed together.
So as long as you have someone to help you and you are reasonably fit, building a small shed is a suitable project for DIY. But if you are on your own, don't have any tools, are not fit, or just don't have the time – then get a tradesman in to do the job for you. The company that supplied your shed may have an installation service, but always shop around for prices from local tradesmen, don't just assume their price is reasonable.
Garden shed tips
Wooden sheds need regular maintenance
Always get the biggest shed you can
All sheds need a concrete or slab base
Sheds can be assembled as a DIY project if you have the time and physical ability
Hiring a Tradesman Checklist
Always get at least 2 quotes before hiring.
Never pay the full amount upfront.
Get the quote in writing.
For any payment you make, always get a receipt.
On more expensive jobs, ask for references.
Check if the tradesman is a member of any trades associations.
Make sure the tradesman has public liability insurance.
FAQ's
What size of garden shed do I need?
The general rule for any storage is that the available space will always be used, so buy the biggest shed you can fit into the available garden space that you can afford!
Where should I lput my garden shed?
Ideally, your garden shed should have clear space on all sides for maintenance so avoid placing too close to fences or the main building. Also, remember to allow for future growth of trees and shrubs and keep shed well clear.
How should I maintain my wooden shed?
Unless your shed is made from cedar or pressure treated timber it will require twice a year treatment with a good quality wood stain to prolong the life of the shed. Untreated cedar will just gradually fade to a silvery grey without treatment but you should regularly oil the door and window hinges to ensure a long lifespan.
Can I have an electricity supply in my garden shed?
Providing an electricity supply to a garden shed is a pretty straightforward job but since 2005 all electrical work must be completed in accordance with IEE wiring regulations and BS 7671. So if providing electricity to a shed this would need to be checked by the local building control department or be completed by someone approved under the Part P Electrical Competent Person Scheme, such as a professional electrician. This is not a suitable project for a DIY enthusiast.
Is planning permission required for my new garden shed?
The majority of garden sheds will not require planning permission but permission is required for any shed which covers more than half the garden or which is over 3 metres high. Larger sheds close to the property boundary and shed used for commercial reasons will also need permission. Please note that you should always check with your local planning department before erecting any structure.
Recent Jobs
We want to replace our 6x4 shed with 8x10-12 feet shed. The part of the old fence needs going and there will be a need for some ground levelling.
Submitted by Sajjad
I need a shed installed in my garden.
Submitted by Melissa
My summer house is leaking rain through the door and I think through one of the walls. In view of the Forecast for a Bad Winter I would like to get it fixed before the bad weather arrives. Hopefully you can sort the problem out.
Submitted by Harold
We have an oak cottage door canopy from our neighbour we would alter slightly and fit over our cottage door. Overhang needs to be reduced, would like to reduce as lovely aged oak and we have an old cottage.
Submitted by Robert
I need someone to install lean to polycarbonate greenhouse of size 4 x 10' on patio base. It is supplied by Billyoh - Kybotic Ltd. Please quote me installation price only.
Submitted by Gordhan