Artificial Grass Costs
Want to know how much it costs to install fake grass? In this article we look at the artificial grass prices for different grades of material and the cost to hire a tradesman to lay the artificial turf.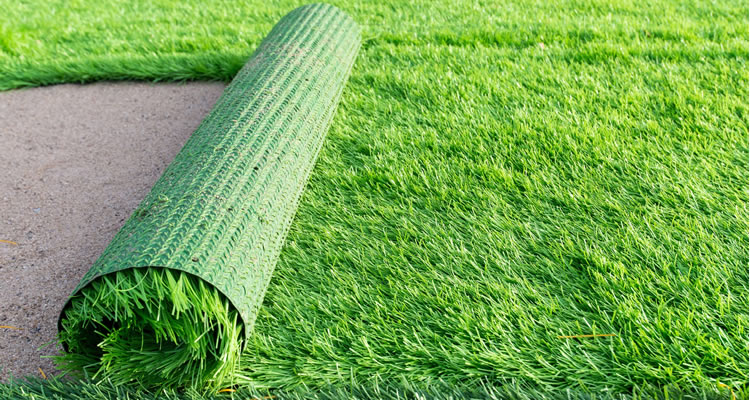 Average Cost Laying Artificial Grass
This job typically takes around 3 days
£2500
How Much Does Artificial Grass Cost?
Artificial grass is becoming incredibly popular in the UK thanks to the fact it requires hardly any maintenance. However, it does require some maintenance, just considerably less than real grass. Fake grass really just needs the occasional brush to remove leaves, twigs and other debris from settling on the surface, as over time this will compost into a muddy surface layer and eventually weeds and real grass will start growing in it!
Washing the surface with a hose occasionally also helps to keep artificial turf looking good, but use the lowest of settings on a pressure washer, as high-powered pressure washers can drive debris under the grass or even lift the grass up altogether.
Artificial grass can be laid as a DIY project as it's not too difficult once the ground has been prepared, but preparing the existing surface and getting it ready for the artificial turf is a labour intensive job which is best left to a landscape gardener, unless you have plenty of time and a strong back! To find a local tradesman to lay artificial turf for you, simply enter your postcode and click the "get started" button to get up to three quotes sent to you. All that is required is a few details about the job you need doing, along with your contact information.
Artificial Grass Prices
| Job Description | Duration | Material Cost | Labour Cost |
| --- | --- | --- | --- |
| Medium sized garden cheap artificial grass | 3 days | £1000 | £1000 |
| Medium sized garden premium artificial grass | 3 days | £1500 | £1000 |
| Large garden cheap artificial grass | 4 days | £1400 | £1550 |
| Price per square metre for premium artificial turf including all groundwork | NA | £40 | £35 |
Additional Information on Artificial Grass
If you love grass but don't want the mess with the seemingly constant mowing and maintenance required – then artificial turf could be a perfect choice. Fake grass offers a practical and maintenance free surface, that is pleasing to the eye just like real grass, but stays looking good 365 days a year and never needs to be mowed! Artificial turf works well in gardens of all sizes but smaller sized gardens tend to cost more on a per square metre basis. Modern premium artificial turfs will last for 20 years or more and are fully porous so they drain just like real grass, but of course, there is no watering or feeding required! Unusually shaped gardens will tend to cost more and will result in a higher quote due to the extra time required for fitting plus there will typically be more wastage. Rolls of artificial grass come in 25m rolls with 2 metre or 4-metre widths, where a joint is required, a special backing tape is used underneath the sections that need to be joined.
Artificial grass installations take on average 1 – 2 days in a typical garden of between 30 – 40 square metres, but larger gardens can take up to 3 days to install. Access to your garden can have a major impact on the time it takes to install your artificial lawn, for example, if the tradesmen have to go up and down a lot of stairs, or access through your house to the garden, the installation time could take much longer and will also be more expensive. Curved, detailed edging around the new turf is a little more complex and will likely add a little time plus additional materials such as aluminium edging or brickwork, all of which can add to the overall cost.
When pricing up the material and installation cost of artificial grass you need to think about the type of grass you are looking for. If you have a dog you might want to go for a more durable grass so it lasts longer. There are lots of different things to think about. If you are going to go for a budget grass you will pay around £12 per square metre but if you want a better-quality grass you can pay another from £20-£28 per square. This is not including labour costs which can be anything from £50- £70 per square metre if a professional fit the grass.
When pricing up artificial grass I would recommend getting multiple quotes and researching different types of grass to make sure you are getting the best grass to suit your needs. You could even use an online calculator to give you a rough estimate on the cost of getting the job completed. These calculators are great because they give you an insight into how much you should be paying.
Doing it Yourself
If you are considering laying your own artificial grass, you will need some basic tools including a shovel, wheelbarrow, brush and rake. Some timber or brick/stone will also be required for edge fixings, plus you will need some kiln dried sand, weed-proof mat, joining tape and adhesive, a knife, hammer and nails, plus of course the artificial grass. It's a pretty straightforward DIY job as long as the ground is reasonably flat and level. Start by stripping out all the old grass, weeds and any other vegetation. Then level the soil and rake out any large stones.
Apply a thin top layer of kiln dried sand and then lay down a weed proof mat. Fix the artificial turf on top of the sand and fix using tape and adhesive on all joints. Then sprinkle the remaining kiln dried sand over the turf to weight it down. Finally, use nails to secure the edge of the turf to any timber edgings if fitted. If the existing surface is uneven, rocky or covered in dense vegetation, then the preparation will take much longer than installing the actual artificial grass. In this case, it could well be worth hiring a landscape gardener to level the ground and prepare it ready for you to lay the artificial turf, sparing you hours of backbreaking work!
Artificial Grass Tips
Laying artificial grass is easy so can be done as a DIY project
Artificial grass can be laid on just about any surface
Artificial grasses are designed with safety in mind for pets and children
Drainage is not a problem as artificial grass is fully porous
FAQ's
How long will artificial turf last?
Premium products that are UV stable should last at least 15 years before any major fading of the colour. Premium grass products are much thicker and don't just look better, they also should last a lot longer. But even cheaper artificial grass products should still last up to 10-12 years.
Advantages/disadvantages of artificial turf?
The advantages of artificial grass include less maintenance, easier to install, works great in shaded areas or gardens with poor soil, and they always look good! Disadvantages are that they cost more, are not particularly good for the environment, plus even the premium stuff just doesn't feel like real grass.
Is artificial grass rough, does it graze skin like Astroturf?
No, modern materials have moved on from the original Astroturf and artificial grass is now soft on the skin.
Can artificial grass be laid DIY?
Yes it's pretty easy, but the ground preparation can be backbreaking!
Will pets be okay with artificial grass?
Yes, pets will be just fine and droppings are easy to pick up and the artificial grass can easily be washed with disinfectant if required.
Last updated by MyJobQuote on 30th April 2020.