Cost of Treating Rising Damp
Rising damp solutions and prices.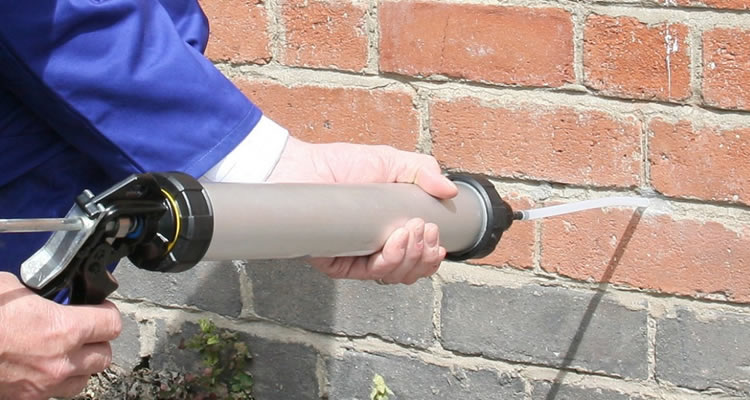 Typical price for treating rising damp
This type of job normally takes around 3-4 days to complete
£2500
Rising damp causes many problems in homes, including tidemarks, wet plaster, peeling wallpaper and mould growth. The health problems brought on by mould, can be a particularly troublesome issue for those with asthma, allergies or breathing problems. Rising damp almost always occurs where a DPC (damp proof course) is faulty, missing or damaged. But can also occur if the ground level has been elevated around the house with some hard landscaping.
Water from the ground permeates and travels up the walls, usually affecting the bottom few feet of a wall but if left unchecked it can seep up to the roof level eventually. As well as looking gross thanks to mould, salty deposits and peeling wallpaper, damp can also cause heat loss and timber rot, as well as being potentially unhealthy due to mould and mites. If you think you have a damp problem, it is best to call in a damp proofing professional to inspect the area and offer advice on the best treatment.
As always, it is a good idea to approach more than one company and wherever possible obtain references and recommendations from their previous customers. Try to get at least three quotes if possible, if you do not have recommendations you can use the free service on MyJobQuote.co.uk to get up to three quotes by simply filling in one short form online.
Average prices for rising damp treatment
| Job Description | Duration | Material Cost | Labour Cost |
| --- | --- | --- | --- |
| Average damp-proofing cost 2 bedroom terraced house | 2-3 days | £1400 | £600 |
| Average damp-proofing cost 3 bedroom Semi-detached house | 3-4 days | £1600 | £875 |
| Average damp-proofing cost 4 bedroom detached house | 4-6 days | £1800 | £1200 |
| Average damp-proofing cost 4 bedroom Semi-detached with new DPC required | 4-6 days | £2100 | £1400 |
Damp-proofing points to consider
Damp is not to be taken lightly as it can cause much more serious problems than peeling wallpaper or tide marks. But it can be tricky to diagnose the exact cause of damp so you can tackle the root cause of the problem. Treating the symptoms by drying walls out, for example, is only going to temporarily hide the issue at best. Dampness eventually spreads and slowly damages everything it penetrates through. Rising damp is frequently accidentally misdiagnosed or even mis-sold by unscrupulous damp proofing companies. Condensation is, in fact, the most common form of dampness so this should be checked for first.
Faulty plumbing and leaky gutters can also cause damp patches as can blocked air bricks and poor surface drainage. So, before you commence any remedial work for rising damp, consult a specialist for advice. If your walls are showing signs of moisture or staining which looks like it is rising up from the floor and gradually creeping upwards, then rising damp could well be the culprit, but it needs to be properly identified by a professional. If you are sure you have rising damp, the first thing to check is that your existing DPC (damp proof course) is not bridged or damaged.
The DPC should run along your walls around 6 inches from ground level to form a physical barrier to prevents moisture rising through your wall. Anything that comes into contact with the wall above this 6-inch level can form a bridge which will allow water to bypass the DPC. It's also possible for bridges above the DPC to occur within the wall cavity caused by debris left over from the construction. Some homeowners are tempted to just apply a coat of waterproof sealer when they first notice a damp patch, however, this is the worst thing you could do as you are just sealing the moisture in the wall and ignoring the underlying cause. So, solve the problem first, whether it be rising damp or condensation, then you can redecorate the wall.
Doing it Yourself
Many rising damp solutions are suitable for DIY projects if you want to save money on the job, but for bigger or complicated jobs, it is well worth paying a professional to get the job done properly the first time. If you find that there is no DPC fitted then you will need to retrofit one as part of the treatment, but luckily there are a number of straightforward options available that are reasonably easy for the DIY enthusiast, including types of cream gel or pastes that are injected into the wall.
But there are also pore blocking salt mixtures which can be fed into walls using a pump or osmotic water repellent wires which are embedded directly into the wall to repel water infiltration, but the gel or paste types are much easier. When checking the DPC you also need to check for bridging. If you suspect bridging within the cavity wall itself you can check within the wall by removing 1-2 external bricks, but do not remove more than one or two bricks without checking first with a building surveyor
. If the wall cavity is full of debris you should be able to remove larger debris by hand and then anything else with a vacuum cleaner. But once the source of the damp has been fixed, then there will likely be a lot of redecorating to do, along with some plastering too.
Damp-proofing checklist
Masking a damp problem will not stop the spread
Moisture will over time penetrate walls causing damage if not treated
Repairing your home's damp problem can be expensive
Many damp problems and their solutions will require specialist help
FAQ's
How do I tell if I have rising damp?
It is possible to have rising damp in modern properties but it's much more common in older houses as since 1875 all new houses have been built with a DPC (Damp Proof Course), however a small percentage of homes built after 1956 suffer from rising damp as the DPC has been bridged or damaged. The main symptoms of rising damp are discoloured wallpaper, stained walls and rotting skirting board or timber (particularly the bottom part of the walls).
How is rising damp treated?
Once a survey has been carried out to determine the extent of the damp, the treatment normally involves the installation of a chemical DPC into the masonry to repel water. Then the plaster can be replaced with new salt-retardant plaster and new skirting boards can be fitted.
Can I treat rising damp as a DIY enthusiast?
You can but it's not recommended as when you come to sell your property, the new owners will want to see a 25-year guarantee for mortgage purposes. In addition, although installing damp courses can be straightforward in some cases, surveying the extent of the damage and deciding on the best treatment is complex and best left to the professionals. You can save money sometimes by removing the old plasterwork and skirting yourself.
How do I prevent rising damp in the future?
To keep your walls damp free you should periodically check moisture levels using an electronic moisture meter at least twice a year. In addition, never raise the level of soil around the building and any soil resting directly against the wall should be dug away leaving a gap.
Last updated by MyJobQuote on 23rd January 2018.