Cost of Laying Turf
Trying to find out know how much it costs to lay turf? Here we look at turf prices per square metre and how much gardeners charge to lay the new lawn.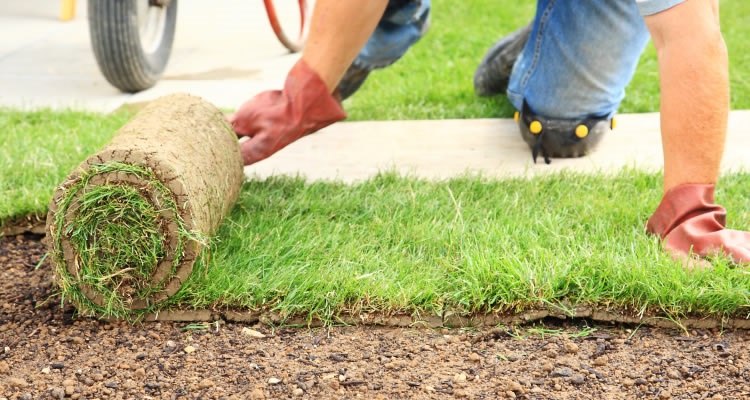 Average Costs to Lay Garden Turf
A typical garden will take around 2 days
£1,000
How Much Does Turf Cost?
The cost of laying turf will depend on the size and shape of the garden, as well as on whether you have an existing lawn that needs digging up or an uneven garden which needs levelling. The preparation work needed for a professional lawn is not to be overestimated when it comes to time and costs. New turf is best put down in Autumn and you should probably try to avoid walking on new turf for a few weeks until it is well established. A good gardener or landscape specialist will be able to help you choose the best type of turf for your needs and garden which will also fit in with your budget. After the turf is laid it is a good idea to book the gardener to come back in a week or two so that they can check it has established roots which are growing in properly.
If you are looking to hire a gardener or landscape contractor, then just fill out the simple form on Myjobquote.co.uk to have reviewed tradesmen get in touch with more information on their services and give them the opportunity to provide a quotation for the work required. This service is easy to use and free! All you need do is enter your details once with a brief outline of the job required, you can then sit back and compare prices, then choose the tradesmen that that you fell most comfortable with and that you feel offers the best value for money – best of all, to get started only takes around two minutes!
Garden Turf Prices
| Job Description | Duration | Material Cost | Labour Cost |
| --- | --- | --- | --- |
| Supply, prepare and lay costs for typical 50 square metre lawn | 2 days | £200 | £800 |
| Standard grade turf cost supply only 50 square metres | NA | £160 | £0 |
| Shade resistant turf cost supply only 50 square metres | NA | £340 | £0 |
| Premium range turf cost supply only 50 square metres | NA | £370 | £0 |
Things to consider when buying new turf
When creating a new lawn there only really two choices if you want real grass, you either buy ready grown turf or you attempt to grow a new lawn from scratch using seed. Turf is pretty easy to lay and creates a new lawn almost immediately, though it will take 3 to 6 weeks before the grass is fully established. Whereas when you grow a lawn you are looking at 6-12 months before you have a usable lawn, assuming you choose the right seed and the soil is good. But on the other hand grass seed is considerably cheaper than turf! When it comes to seed versus turf arguments, even the professionals have different views. Typically, the best golf courses in the world are grown from seed, but the best sports fields are turfed!
Laying a lawn from turf is certainly quicker and for those with children or pets, it is usually the better option, as you only need to keep them off the lawn for a couple of a couple of days! But even tough the actual laying of turf is pretty quick, the soil preparation can be labour intensive, but is just as important as choosing the right turf. Turf is best laid in the Autumn as a general rule, but you can lay it right up to late winter as long as the soil is not too wet or frosty. Alternatively, you can lay it in the Spring but the turf may need careful watering in any dry spells over the summer months.
Good preparation is the key to a successful lawn, weeds have to be cleared (with perennial weeds eliminated using weedkiller) and the soil has to be free of clods and stones. The site should be dug to a depth of around 9 inches with some well-rotted manure dug in to hold moisture. This should be left for at least a few days to settle, then finally hand remove any further weeds that have germinated and level the surface by raking before applying general purpose fertiliser.
Laying the actual turf is pretty straightforward, most of the labour involved is in the actual preparation.
How to Lay Turf
Laying turf as a DIY project is not complicated and requires no special equipment, nor are there any major safety concerns, unlike many other DIY tasks! You can lay the turf all year round as long as you avoid frosty conditions and are prepared to water the turf in any dry periods. Only some basic tools are needed, a wheelbarrow to get the turf into position (turf is heavy), a rake to level the soil, a long knife to cut the turf to size/shape, a spade to dig out the area in preparation, some planks to avoid walking directly on new turf, plus a garden hose or a sprinkler can to water the new turf once laid.
If you already have a lawn which you are unhappy with, then this needs to be removed before you do anything else. Removing an existing lawn is best done using a proprietary weed killer for killing grasses. Most weedkiller products used in this way will need to be left for around 2 weeks afterwards before proceeding. Once the weedkiller has done its job, you can remove the existing turf and dispose of it correctly in a local authority recycling centre.
You start by preparing the soil at least a few days prior to the new turf arriving (a few weeks is even better), turning over to around 8-10 inches deep when fairly dry, then raking to achieve a fine tilth. Add some base starter fertiliser to the soil following the manufacturer's instructions then rake the soil smooth again ensuring no stones, weeds or other debris. 48 hours before the turf arrives, thoroughly water the soil so that it is damp to the touch at a depth of 2-3 inches. Turf needs sunlight, air, water and nutrients to grow. Correct preparation, though hard work, will greatly affect the eventual quality of the lawn by helping the roots penetrate evenly and deeply while getting all the nutrients they need. This will lead to a denser grass which helps to crowd out weeds and gives a more even look.
Lawn and turf tips
Laying lawn turf is more expensive than sowing grass seed, but the benefits outweigh the cost
Creating a new lawn with turf is easy if you pick the right time of year
A standard piece of turf covers one square metre and can be ordered from a reputable supplier and delivered straight to your garden
Do not to walk on newly laid turf for several weeks until it has rooted properly into the soil
FAQ's
When is the best time of the year to lay new turf?
Autumn is probably the best time as the earth is still warm but there should be plenty of rain on the way. Spring is the second best alternative. But, whenever you lay turf, be prepared to water is there is a lack of rain.
How important is the type of soil, does it matter?
Yes, it does matter, new turf will require around 6 inches of good quality topsoil, if this is not the case you should buy good topsoil, the sandy loam type is best, that offers good drainage and all the necessary nutrients.
What preparation is required before buying the turf?
The preparation is at least as important as the turf. All grass and weeds should be removed, then the earth needs to be dug over to break up clods and any large stones need to be removed. The ground then needs to be levelled by raking, then it needs to be watered and a granular fertiliser added before the turf is delivered.
What type of turf should I choose?
Any good quality turf which was raised from seed will be better, simply choose the turf type that best suits your intended usage and location. there is special hard-wearing turf which will cope better with high foot traffic, or another turf which is much finer and looks better for landscaping. If you live in an area where rainfall is typically low, then you can choose a turf which has greater drought tolerance. Any good gardener should be able to advise you on the best turf for your needs.
How do I calculate the amount of turf required?
Most suppliers work with standard rolls of turf which will cover one square metre. So just multiply the length x width of the area to you intend to lay the turf then add 5-10% to cover any wastage.
When can I mow the lawn for the first time?
You can cut the grass within the first week as this actually helps the lawn get established - as long as you do not mow it too short. Keep the blades fairly high for the first cut then lower them gradually for each subsequent cut.
Last updated by MyJobQuote on 5th May 2020.