Removing & Hanging Wallpaper Cost
Typical wallpapering prices and decorating guide.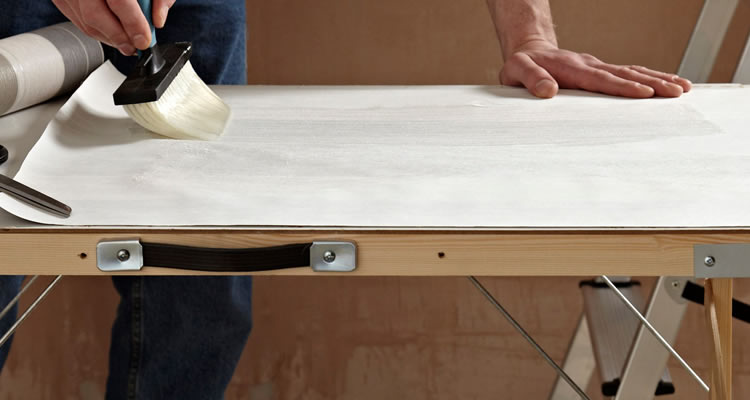 Average wallpapering costs for painters & decorators
This job usually takes around 2 days
£550
Table of Contents
Giving a room a fresh new look with wallpaper is a popular project as wallpaper has become fashionable again in recent years. This new popularity means there are lots of colours, prints and textures available to suit every taste. The bare painted walls which have been so popular over the last 20 years or so, now look a bit cold and clinical when compared to the soft textures and cosy feel offered by wallpaper. However, wallpapering can be difficult, it seems to be a skill that some have and some will never have no matter how hard they try. Although everyone can hang wallpaper, not many can hang it properly! Most of us will have to hire a painter & decorator to ensure a professional finish, but where do you find a reputable decorator? It's easy with the "Post a Job" service on MyJobQuote.co.uk. Just fill in one simple form and you can have up to 3 local painting & decorater firms getting in touch with you to offer advice and quotations. You can also use this site to check reviews on tradesmen left by previous customers to ensure you get someone reliable and avoid the cowboys!
Average wallpapering costs
| Job Description | Duration | Material Cost | Labour Cost |
| --- | --- | --- | --- |
| Hang wallpaper supplied by customer onto painted walls in good condition small room | 1-2 days | £0 | £300 |
| Strip existing wallpaper from the walls, wall preparation and lining then hang new wallpaper supplied by customer | 2-3 days | £25 | £525 |
| As above but for large double bedroom with bay window | 3 days | £30 | £700 |
| Have painter & decorator remove all the furniture and lift carpet, then put it all back when job finished | 2 days | £0 | £250 |
Wallpapering Advice
Wallpaper has made something of a comeback in terms of fashion and after years of everyone steaming and scraping the stuff off at every opportunity, now everyone wants to put wallpaper on! But choosing wallpaper is more difficult than simply choosing a paint colour if you get the colour wrong initially, it's no big deal to simply paint over the top. But if you change your mind about wallpaper – you've got the scrape the whole lot off again! A carefully chosen pattern can make rooms look more spacious but if you get it wrong and it can have the opposite effect. Small rooms are dwarfed by large print patterns, but if you really want a big design you can use it on a feature wall then keep the other walls a light shade to give the illusion of space.
The condition of the walls can also influence your wallpaper choice, walls in bad condition that really need re-plastering can often look great just by wallpapering with a good quality thick wallpaper (usually a lot cheaper than hiring a plasterer). Certain rooms lend themselves to certain paper types too. for example, vinyl wallpapers resist moisture well and are splash-proof, so they work well for use in bathrooms. However, even vinyl wallpapers are no good if coming in direct contact with water regularly, such as around a shower or sink.
Doing it Yourself
Not everyone has the knack of wallpapering, if this is not something you are good at, don't just blunder ahead with it, get a professional in! But if you are doing it yourself, the most important thing when buying wallpaper is to make sure all the rolls come from the same batch and are the same colour and shade. This might sound obvious, but often in DIY stores customers lift wallpaper rolls and put them back in the wrong place, so check every roll! Once you have chosen the wallpaper, you need to decide on whether you need to put up lining paper or not. If the walls are in poor condition then lining paper is a good idea, though maybe a thick good quality paper may also be enough to smooth over any imperfections.
Either way, to do a decent job you really need a pasting table (unless using the newer types of paper where the adhesive is brushed onto the wall). It's actually better to use a roller than a brush to apply your wallpaper paste as this makes it easier to apply smoothly. You'll also need a plumb line or spirit level, a step ladder or platform, paintbrushes, a pencil, sharp scissors and a wall covering smoother.
First, you need to "size" the wall by applying adhesive and letting it dry properly. next use a plumb line to mark a vertical line with your pencil to ensure the paper is hanging straight at regular points along each wall. Then measure the height of the wall along these vertical lines so you can cut the wallpaper to the right size. Now stretch each strip of paper flat along the table and spread the wallpaper paste on. Fold the wallpaper up concertina style then carry up the step-ladder and attach to the top of the wall where it meets the ceiling.
Move the paper around as you gradually unfold it to get it positioned just right before the adhesive starts to dry. Line up all the strips but not overlap then brush across the front of the paper to flatten it and get rid of any bubbles as you go along. Remove any excess paper using scissors or a small blade (great for tricky corners, doors and windows too). If you are using lining paper, use the same papering technique for the wallpaper, but make sure it is completely dry before applying the top paper.
Wallpapering Tips
Wallpaper has made a come-back and is very fashionable right now
Wallpaper is printed in batches, it is important to have the same batch number to ensure colours and pattern match exactly
You're best advised to take radiators off before papering
Hang light coloured wallpaper to create the illusion of space
FAQ's
Does the old wallpaper need to be removed?
It is highly recommended that previous wall-coverings are removed prior to wallpapering, this enables the new wallpaper to be applied to a sound surface. You can paper over old wallpaper, but the finish is hard to predict, you might get away with it, or it could be an absolute mess!
Why do I get bubbles in my wallpaper?
Bubbles normally appear if the wallpaper hasn't been soaked long enough, or if there is excess adhesive, but this will dry flat overnight in most cases.
I have bought some new wallpaper and the instructions say that I should paste the wall rather than pasting the wallpaper?
Paste the wall type wallpaper has been around a long time in Europe and other countries, but has only just started to become popular in the UK. They are much easier to use and highly recommended.
What paste should I use on my wallpaper?
Different wallpapers require different pastes and you should always follow the manufacturer's recommendations. However, in general, a good quality ready mixed adhesive will be perfectly fine for most wall-coverings.

What size is a roll of wallpaper?
Most wallpaper rolls in the UK are standard sizes of 52cm by 10m. But some rolls are wider and can also be shorter in length so make sure you check the size of the wallpaper rolls before placing your order, especially if buying online where smaller rolls can appear to be a real bargain at first glance.
Last updated by MyJobQuote on 8th September 2017.