Cost of Installing New Plug Sockets
This guide will cover the costs of installing new plug sockets in your home..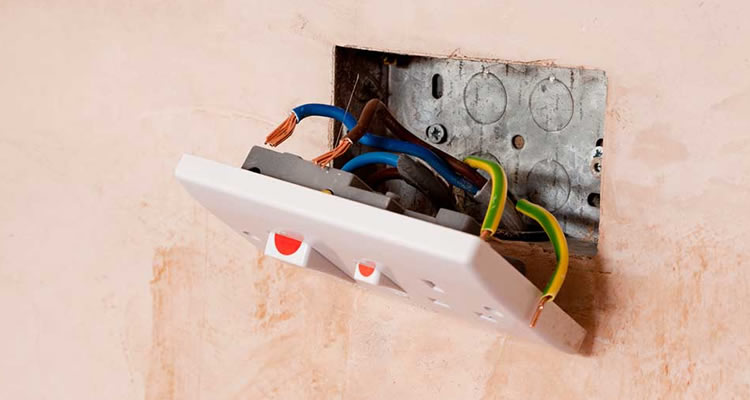 Average Cost of Installing Plug Sockets
This type of job normally takes around 1-2 hours.
£75
Whether you've extended your home or created space for a home office, you will need extra plug sockets at one point or another. You may decide you want to replace your old electrical sockets to match the colour scheme in your house.

Plug sockets come in a variety of shapes, sizes and colours to choose from, making it easy to match your interior design. Whether you need a wooden finished plug socket, or you require plug sockets installed with USB outlets, the options are endless and the plug socket costs will vary.

Installing extra plug sockets will not only be obviously beneficial to all family members wanting to charge their laptops and mobile phones, but it'll avoid any health and safety hazards of long trails of leads and wires, especially if you have children or elderly people living with you.

Although installing plug sockets can be done yourself, it's recommended to get a professional electrician to do the job. They will be qualified, experienced and trusted, guaranteeing a quick, efficient and high-quality service. Before hiring an electrician near you I would do some research in to there previous work.

You should make sure you compare up to 3 quotes from professionally qualified electricians. To save time finding a trusted tradesperson,you can submit a quote on myjobquote.co.uk. All you have to do is enter your details of the job into a quick and easy form with details of your job and you'll be connected with up to 3 reliable and verified professionals to help install your extra plug sockets.

We have a strong network of hundreds of trusted, verified and professional tradespeople specialising in a variety of areas. To receive the best price for installing extra plug sockets I would recommend getting in touch with multiple tradesmen and compare the prices you have been given.
Cost of Installing Extra Plug Sockets
| Job Description | Duration | Material Cost | Labour Cost |
| --- | --- | --- | --- |
| Fitting a new double plug socket | 1-2 hours | £100-£300 | £40+ |
| Fitting a new single plug socket | 1-2 hours | £50-£200 | £40+ |
Things to Consider When Installing a Plug Socket
There are a few things to consider when installing a plug socket. First, you should make sure you have picked out the most suitable plug socket for the room it's going in and factor in the installing plug socket costs. For example, is a single plug socket going to be enough for that room, do you need a plug socket with USB ports, is the design going to match the wall?
If you're installing a metal decorative plug socket, it's important that the socket must be correctly earthed. Installing a plug socket is a job that should be left to a qualified professional as there are many risks involved. All electrical products must be installed in accordance with local Building Regulations.
It should be noted that installing plug sockets is not only a fire hazard and a danger to children if installed incorrectly, but wrongly installing plug sockets could affect the value of your home if it must be checked over and re-done.
Another consideration is whether or not your fuse box will be able to handle the extra plug sockets added. if your fuse isn't suitable to hold any more plug sockets, it could cause the fuse to constantly trip.
A professional electrician will be able to inspect your fuse box and install the new plug sockets to the best quality. We recommend getting up to 3 quotes from electricians for the best possible deals. Use an electrician cost calculator to work out their hourly builder rate.
Doing it Yourself
Installing plug sockets yourself is a complicated job that must be done by a professional electrician to avoid any health and safety hazards. It should be noted that all electrical products such as plug sockets must be installed in accordance with local Building Regulations.
If you're installing a metal decorative plug socket, it's important that the socket is correctly earthed to avoid danger. To do this, you must first connect the fixed earth wire to the earth terminal on the socket or plug switch. By connecting a short length of wire from the socket terminal to the earth terminal in the wall box, your socket will be correctly earthed.
You should hire a professional electrician to install your plug sockets as not only will this save you time as an electrician is qualified to install plug sockets safely, but it'll help to avoid any health and safety hazards.
It's considerably difficult to plaster around a plug socket, which is why it's highly recommended that you don't attempt this job yourself. To get the best deal on installing your plug sockets, compare up to 3 quotes from trusted and verified electricians from My Job Quote.
Last updated by MyJobQuote on 20th November 2020.