Cost of Installing New Plug Sockets
The average cost of installing new plug sockets in your home is around £75. But there are some cost factors that you need to consider. Read on to discover everything you need to know about the cost of installing a new plug socket.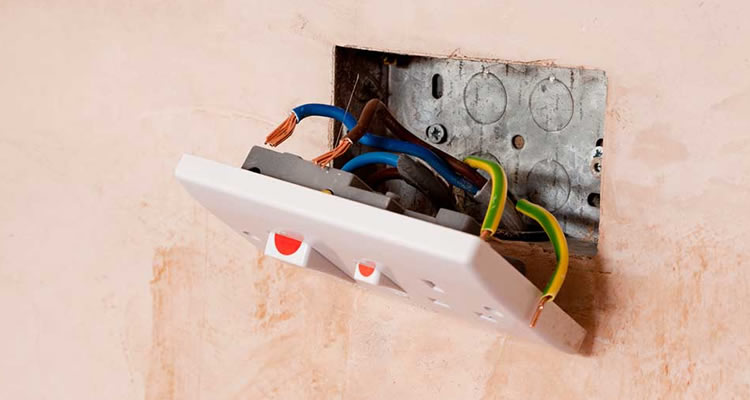 Average Cost of Installing Plug Sockets:
This type of job normally takes around 1-2 hours.
£75
How Much Does Installing a New Plug Socket Cost?
The humble plug socket has undergone many changes over the past few decades, with newer styles incorporating things like USB outlets and wooden finishes.
If you're renovating or decorating your home, you may want a unique kind of plug socket entirely to fit in with the décor, or you may want better quality plug sockets with useful features.
Another benefit of installing new plug sockets is how much safer new plug sockets are than ageing outlets. Built with far superior materials and pushed through vigorous testing stages, new plug sockets will perform far better.
As a general rule of thumb, installation of a new plug socket will cost about £75, taking 1-2 hours by a trained electrician.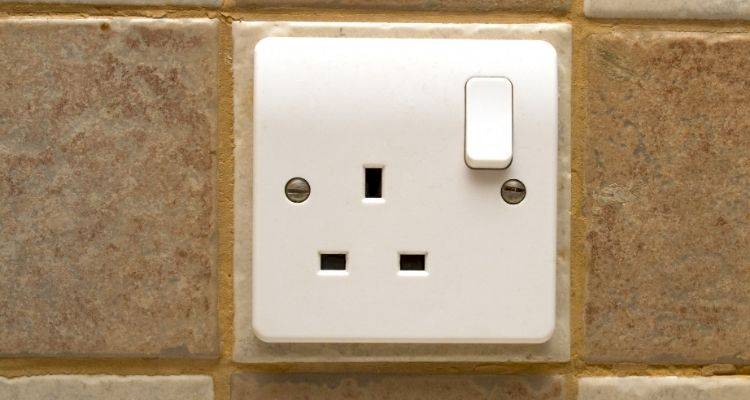 However, this price can rise, and fall based on the person you hire, and the cost of the materials. A double plug socket with a USB outlet, for example, will cost far more than a standard single socket outlet.
Of course, the costs can differ greatly depending on the location of the plug socket. A socket on the wall in the place of an old socket will cost less than an entirely new socket installation.
It's also important to note that the condition of your home electrics will play a part in the cost of the plug socket installation.
If you're renovating an old home, some of the electrics may be outdated so you may need to pay for rewiring, so bear that in mind when looking for quotes.
New Plug Socket Prices
Below is a table of that average cost of installing new plug sockets:
| Job Description | Duration | Material Cost | Labour Cost |
| --- | --- | --- | --- |
| Fitting a new single plug socket | 1-2 Hours | £10 | £40 |
| Fitting a new double plug socket | 1-2 hours | £15 | £40 |
| Fitting a new single plug socekt with USB | 1-2 Hours | £15 | £40 |
| Fitting a new double plug socket with USB | 1-2 Hours | £20 | £40 |
| Fitting a single chrome plug socket with USB | 1-2 Hours | £20 | £40 |
| Fitting a double chrome plug socket with USB | 1-2 Hours | £25 | £40 |
| Fitting a single nickel plug socket with USB | 1-2 Hours | £20 | £40 |
| Fitting a double nickel plug socket with USB | 1-2 Hours | £25 | £40 |
Supply Only Costs
Luckily for the consumer, there is an abundance of places to buy materials for new plug socket installations, which means there are some great deals to be had. Some DIY stores place discounts on items like plug sockets when you purchase several at the same time.
So, if you're planning on changing all the plug sockets in your home, and you need to buy 15-20 at the same time, try to locate a store that is willing to give you a discount for a bulk purchase.
Different styles and types of plug socket carry different costs. You can secure budget plug sockets that are your basic single white sockets, witch a tough plastic outer.
Or you can pursue the luxury route and select nickel and chrome plug sockets with features like touchpads and USB. We're going to delve a little deeper into the different types of socket, and the costs associated with them here.
White Plastic Plug Sockets
These sockets are the most common variation of the plug socket. They're sturdy, cheap and suit any décor, making them a really popular choice amongst those on a budget and people conducting huge renovations or constructions like property development firms.
The cost is quite varied depending on the manufacturer. However, expect to pay anywhere between £10-£20 for a single socket with USB and a little more for a double.
Coloured Plastic Plug Sockets
These are priced the same as the standard white sockets you're likely to have seen; however, they have a different coloured plastic on them to suit more specific decors.
Black Nickel Plug Sockets
Black nickel is a relatively new material to the plug socket world. Still, they have become extremely popular as more people are turning to a darker décor full of contrasting colours and greys.
Most black nickel sockets have different shades of black and grey on them, and certainly, look sturdier and sleeker than they're white plastic counterparts.
With this in mind, expect to spend more money on black nickel sockets, with a single socket with a USB costing anything from £20-£30 and a little more for a double.
Chrome Plug Sockets
Chrome was once the most popular choice for plug sockets, towel heaters, switches and just about anything else décor related. But, since the emergence of other styles and materials, it is no longer a favoured option.
But, of course, in no time it could be back on top as the material of choice and may be a preferred choice if you like the bright shininess of a chrome plug socket.
It's priced the same as black nickel, so a single socket with a USB costing anything from £20-£30 and a little more for a double.
Steel Plug Sockets
Steel seems to act as the middle ground between the dark nickel and the shiny chrome. It is bright but not shiny, making it a popular choice. Its priced about the same as chrome and nickel and can be found pretty much anywhere.
Steel plug sockets are a safe option for those wanting a good balance between style and sturdiness.
Brass Plug Sockets
Another material that has fallen out of favour is brass. It's more expensive than other sockets, looks a little dated and isn't as commonly found as the other materials.
It still has its place in certain decors but isn't a versatile option. You can expect to pay £25 for a single socket and £30-£40 for a double.
Wooden Plug Sockets
Wooden fronted plug sockets are definitely the socket to keep an eye out for as it slowly becomes more popular. You can find them in all sorts of designs and colours, and they certainly add a touch of class to the room.
They're not cheap, with a double socket with USB costing around £40 and a single costing around £30, so they're quite the investment.
Smart Plug Sockets
As advancements in smart technology remain at the forefront of home improvements, Smart Sockets are the latest instalment. Smart sockets connect with programs like Amazon's Alexa and Google Home, allowing you to control them from your mobile phone device.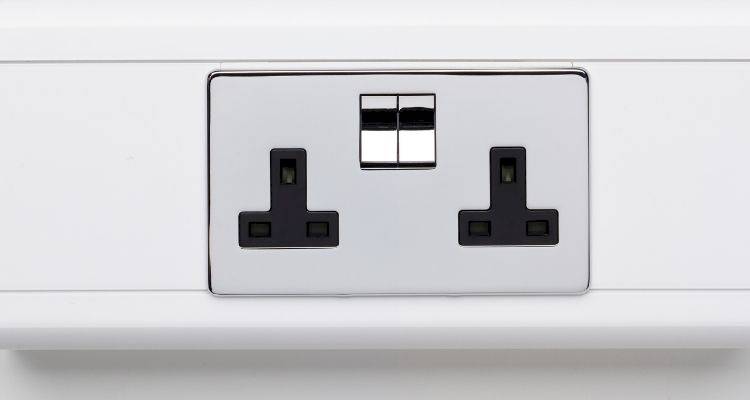 They're innovative pieces of kit that enable you to switch the kettle on from bed and make sure you unplugged the hair straighteners even once you're in work, but they don't come cheap.
You're looking at around £60 for a double socket with a USB, and the price will vary again depending on your chosen style and material.
Additional Costs
Other costs may appear when changing a plug socket, especially if you're changing a lot of them at one time during a renovation or redecoration. In one instance, you could need the space around the new plug sockets replastering if the new sockets are slightly smaller than the old ones, or if any minor damage has been done to the wall.
We've got a fantastic article on our website about the cost of plastering and what you can expect from a plasterer, check out our article here.
We mentioned earlier that if you're renovating an old home, the wiring system may be too old to work with successfully.
In this case, you'll need to rewire the entire house, or face huge problems a year or two down the line, take a look at our rewiring article here.
Hopefully, your plug socket install won't hit any trouble, and you don't incur and additional costs, but it's always a good idea to prepare for the worst.
Labour Costs and Timescales
The labour costs for installing a plug socket is a little lower than with other jobs, mainly due to the fact only one person is needed to attend the job, whereas other jobs require two or three people.
A plug socket installation will take around 1-2 hours per socket, with an average cost of £20 per hour. This price will be excluding sockets, so you can either ask the contractor to purchase the sockets on your behalf and the price to be factored into the quote or provide the materials yourself for the electrician to install on arrival.
It's usually a pretty straightforward job, with the only possible delays coming if the electrician spots some damage in the wiring that would prevent them from safely installing the socket.
Cost Factors of Installing New Plug Sockets
Some sockets will naturally take longer to install than others. A simple socket, with no special features, will be installed quickly, and be unlikely to cause the electrician any problems.
However, with the rise in socket technology like smart technology and USB features, sockets have become a tad more complicated. Which only further illustrates why it's a good idea to utilise a professional as opposed to carrying out these jobs as a DIY project.
The cost will also change if you want the socket in a unique place. For example, some people have a socket installed in the middle of the floor, so they can put a desk on top of it and have somewhere to plug a computer into with having wires trailing around the room.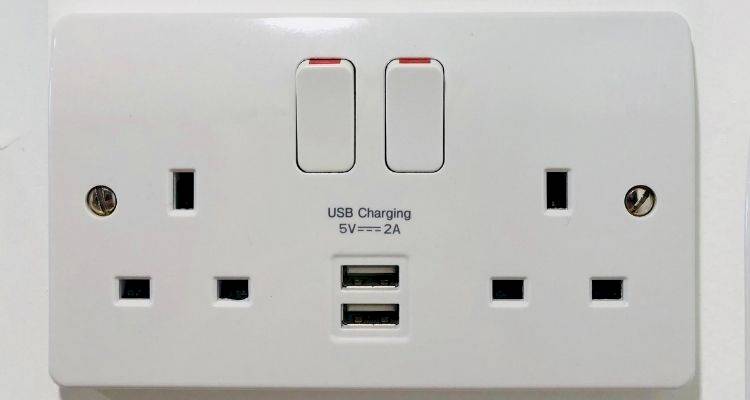 As there won't be wires leading to this point in the room, it becomes a lengthy and costly job. Similarly, if there is any extra wiring work required, whether it's a change of location or wire damage, this will incur further costs that are essential to have the socket installed.
The physical location of your property will also factor into the price that you're likely to pay. As a general rule of thumb, tradespeople charge more when in big cities like Manchester and London, and less in smaller towns and villages.
So, if you live in one of those densely populated areas, you can expect to pay a little over average.
What's Involved in a New Plug Socket Installation?
We're going to break this down into a step-by-step guide on what you can expect the electrician to do when installing a new plug socket.
Prepare the old socket, area and the wiring in the place you want your new socket installed. If there is an existing socket, this will be removed, and the wires disconnected. If it's an entirely new socket, the wall will be hollowed for the socket to be placed.
Inspect the breaker box to ensure everything is in order, and in the case of a new socket, if there is space for another socket on the breaker box.
For a new plug socket (not in place of another old socket), wiring must be lay from the breaker box to the space where you want the socket.
The wiring will be connected to the new socket and attached to the wall with screws.
The new socket will be tested with a meter to ensure there is the correct amount of electricity moving through.
Can I Install New Plug Sockets Myself?
Working with electricity is always tricky. If you don't know how to correctly isolate the flow of electricity, and wire up connections correctly, it could spell disaster for you as the installer or as the unlucky person who is the first to try to use it.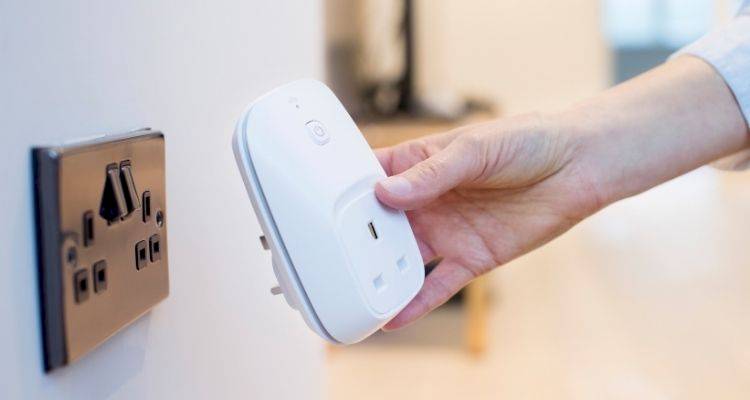 Electricians go through a vigorous, specialist education that ensures they are well versed not just in the specifics of how to carry out a professional job, but how they can also ensure the safety measures are strictly adhered to. Electrical outlets must be signed off as safe, after passing the test conducted by a trained professional to deem the outlet ready for general use.
Building Regulations & Planning Permission for Installing Plug Sockets
Planning permission isn't required to install a new plug socket, unless in the instance of listed buildings, in which you must inform the local authorities before carrying out any electrical work.
Choosing a Plug Socket
We're going to provide a pros and cons list for each of the plug sockets we explored earlier.
Plastic Plug Sockets Cost
Plastic plug sockets are the cheapest option if you're on a budget, and cost on average £10-£20, but can be as cheap as £5.
Pros
✔ Cheap and easy to find in any hardware or DIY store
✔ Easy and straightforward to install
✔ Matches all decors
✔ Available with USB ports
Cons
✖ Can sometimes look a little cheap
✖ Show wear and tear pretty easily, meaning they don't look their best for long
Black Nickel Plug Sockets Cost
Black nickel plug sockets have become very popular, but they are one of the most expensive plug sockets you can buy at £20-£30. They are visually stunning and perfect if you want to add a but of luxury.
Pros
✔ A sleek, smooth and dark design that are stunning additions to any room
✔ Can be found with smart home and USB port features
✔ Hard-wearing and need little, if any, maintenance
Cons
✖ Are higher on the price scale than others
✖ Any dints or scratches on the socket are noticeable
Chrome Plug Sockets Cost
Chrome plugs socket are most properly the most popular and are in the middle price range at around £15-£30.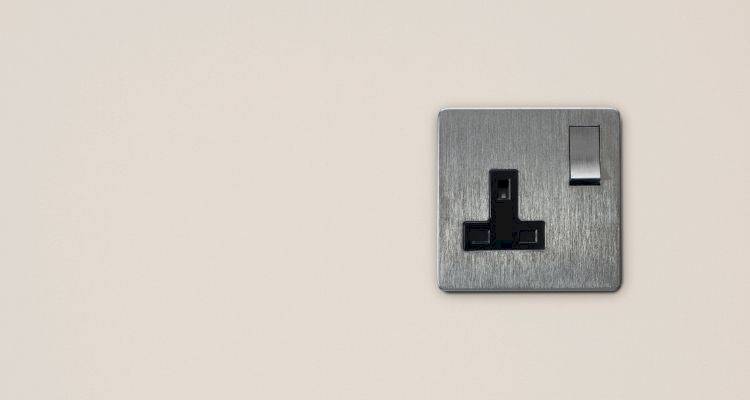 Pros
✔ A very popular choice in previous years
✔ Different styles available in abundance
✔ Available with smart home and USB port features
Cons
✖ The overtly shiny material can be off-putting to some
✖ Fairly expensive depending on the quality
Steel Plug Sockets Cost
Stainless steel are another cheap option if you're looking for plug socket and have to stick to a budget, and usually cost around £10-£20.
Pros
✔ A bright design that fits well into many decors, without being overly shiny like chrome
✔ Very versatile as it looks just as at home in the living room as it does the kitchen
✔ Available with smart home and USB port features
Cons
✖ Much like other metal materials, it shows wear pretty easily
✖ Higher on the price scale than standard sockets
Brass Plug Sockets Cost
Brass sockets can be considered outdated but they've been modernised and brought into this century. However, they're pretty pricey at £25-£40.
Pros
✔ A niche design that will be perfect for certain styles
✔ Hard-wearing and doesn't show wear easily
✔ Can be polished and maintained to extend its life expectancy
Cons
✖ Very expensive compared to other options
✖ Hard to find especially with smart home or USB features
Where Can I Install a Plug Socket?
Of course, you tend to find plug sockets in the same places almost everywhere you go. The classic areas are low in the corners of rooms, where people tend to place side tables and television units.
These places are popular for a reason - it's where people need them. However, if you're going to the effort of installing brand new sockets where there haven't been any before, why not place them in the perfect places.
For example, if you're going to mount your TV on a bracket to make it wall-mounted, why have trailing wires to the floor, when you can place a single socket port directly behind the TV?
If you're going to have a grand office, complete with a desk in the centre of the room, why not place a plug socket on the floor directly below to avoid any trailing wires around the room.
You can also personalise the types of sockets you use, like placing sockets with USB ports next to where you're going to sit easy for charging phones, e-readers and tablets, and a smart home socket where you have lamps, so you can control them from anywhere.
Cost of Removing a Plug Socket
If you've decided to install new plug sockets in different areas and deem your old one's surplus to requirements, it's best to have them removed and covered over by a plasterer.
Now, this can be done as a DIY project, but we'd only suggest this to someone that has previous experience with isolating electrics and removing them.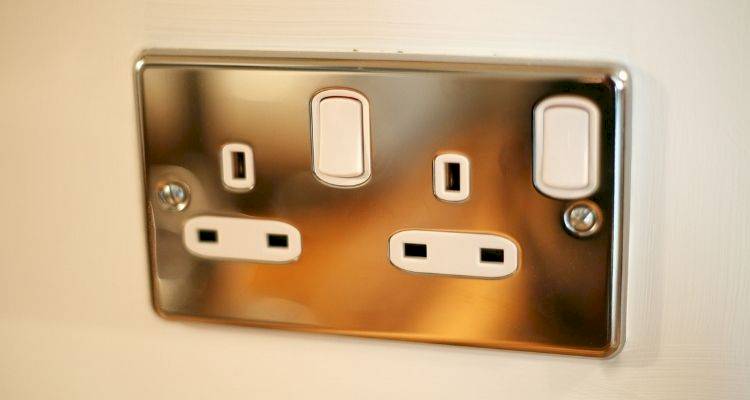 It may be a better option to have a licensed electrician come in and do themselves. It won't take long and will probably only cost £20-£30 in labour to remove the socket.
Once they have been removed, you'd need to speak to a plasterer about covering up the gap left by the plug socket. Here's a link to our article on plastering prices.
Hiring Contractors to Install a Plug Socket Checklist
The advice for hiring tradespeople is always pretty much the same. It would be best if you shop around before committing to one person or firm, by cross-referencing the prices that they quote with the reviews they have from previous customers to find the best value deal.
You can find these reviews online from a variety of places like Google and Yell. Any firm with good reviews from previous customers is an excellent place to start whenever you're looking for work to be done on your home.
You should also ensure that the firm or person you hire is fully certified to work with electrics on your home and that they have full liability insurance to avoid any further problems if there is an accident while they are on the job.
Any firm that are members of certain regulatory bodies or is accredited by an organisation that ensures consumer fairness is also a good sign.
FAQs
What size are plug socket screws?
The most common sizes are 5/16" and 1/2", but when you purchase a new socket, it will come with the correct screw you need.
How do smart home sockets work?
These sockets have a 2.4GhZ Wi-Fi connection installed into them that is controlled by an associated app. It may sound confusing, but when you purchase a smart home socket, a step-by-step guide will be included to help you set up the sockets.
What qualifications do electricians need to be licensed?
By law, licensed electricians require a Level 3 NVQ Diploma in Electrotechnical Services and Installing Electrotechnical Systems Equipment, and a Level 3 Diploma in Electrical Installations.
How to isolate electricity to your sockets?
At your breaker or circuit box, there will be small pull-down tabs that will isolate electricity around your home from sockets to lights. But there will also be the main switch that will cut all the electricity to your home.
How to tell if a socket is broken or faulty?
An electrician will use multiple tools to decipher the problem with a socket, but mainly a voltage meter will tell you whether the socket is live and working.
Sources
https://www.diy.com/ideas-advice/how-to-fit-replace-electric-sockets/CC_npcart_400208.art

Last updated by MyJobQuote on 17th March 2021.