Patio Cost
Trying to find out how much it costs to lay a patio?
In this cost guide, we provide a breakdown of the prices for different patio materials and the cost of hiring a patio installer to carry out the work.
Take a look below to find out more!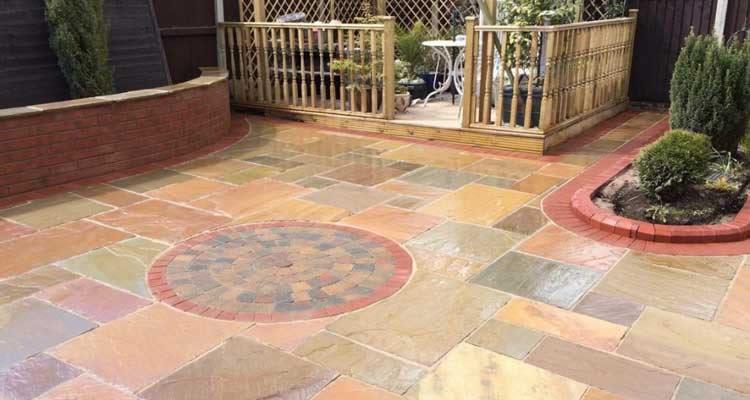 Average Cost to Supply & Lay a Patio:
Depending on the complexity of the job, it usually takes: 2 days
£1200
How Much Does It Cost to Lay a Patio?
The average cost of laying a patio in a 20 square metre area is typically around £900 to £2,500. This price includes the cost to excavate the area, lay the foundations, buying the patio slabs and laying them.
These prices will vary depending on the type of materials used, for example, budget options such as concrete and brick patio slabs tend to start at £15 per square metre, while premium patios are usually made up of slate which ranges from £900 to £3,800 for installation, while a stone patio can cost up to £4,600.
Patio Prices
Below are some estimated costs of hiring a landscape gardener to build a small (10M²), medium (20M²) or large (40M²) patio.
Patio Type
Patio Size
Avg. Cost
Stone
Small
£800 - £1,350
Medium
£1,400 - £2,500
Large
£2,400 - £4,600
Brick
Small
£550 - £900
Medium
£900 - £1,400
Large
£1,400 - £1,800
Slate
Small
£900 - £1,200
Medium
£1,600 - £2,200
Large
£2,800 - £3,800
Concrete
Small
£550 - £1,100
Medium
£900 - £2,000
Large
£1,400 - £3,600
Supply Only Costs
If you plan on installing a garden patio yourself, take a look at the following supply only cost of laying a patio per square metre:
| Patio Type | Avg. Cost per M² |
| --- | --- |
| Stone | £40 - £95 |
| Brick | £15 - £50 |
| Slate | £50 - £80 |
| Concrete | £15 - £70 |
| Sub-base | £3 to £45 per bag |
| Sand | £4 to £55 per bag |
| Cement | £4 to £12 per bag |
Additional Costs
There are various other costs you need to consider when having your patio installed. The below table sets out the additional cost of laying patio that you may want to consider in your budget:
| Description | Avg. Cost |
| --- | --- |
| Weed membrane | £3 to £90 |
| Outside lighting | £3 to £250 |
| Outside heating | £30 to £480 |
| Outside furniture | £50 to £2640 |
Labour Costs and Time Scales
The cost to hire a landscape gardener to install your patio is normally around £100 per day, although they will usually work with a general labourer bringing the daily cost up to around £200.
A typical installation for a small patio measuring 10 square metres would take around 2 days to complete and would cost around £400 for labour. While a 20 square metre patio would take around three days and would cost about £600 for two tradesmen to complete the job.
If you have a larger patio of 40 square metres or more, this could take about four days to complete, and should be priced at around £800. These prices may vary depending on the material used, and the tradesmen may also increase their prices for extensive excavation.
What's Involved in Laying a Patio?
So exactly how much work is even involved in laying a patio? Well, it's one of the bigger landscape gardening jobs, even for a relatively small patio area of 25 square metres.
To start, the area will first need to be prepped. If upgrading your existing patio, then the existing pavement will need to be lifted. The tradesmen will then dig a hole of at least 150mm in-depth, followed by laying a hard-core base of 100mm and top off with 30mm of sand or grit.
The next step involves creating the concrete, which consists of one-part cement and three parts sand. This will be used to bed slabs into the base while making sure there is an even layer of 40mm.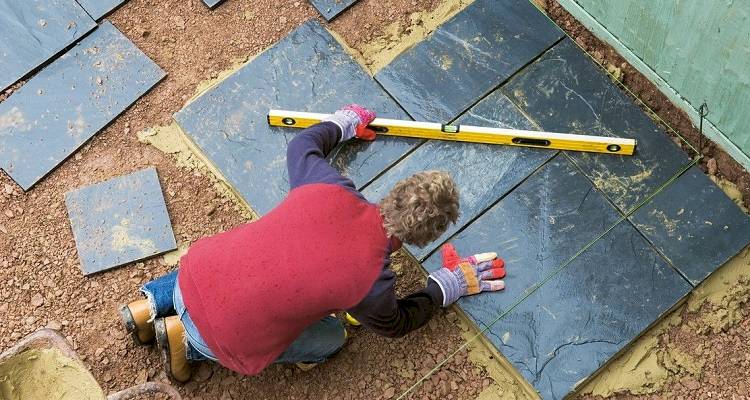 Once the foundations are in place, the patio material can then be installed. This involves dampening the slabs or blocks to prevent the concrete from drying out. The first piece will be secured in place by tapping it with a rubber mallet. The rest of the patio will then be installed, making sure every slab has a 10-15mm gap between each one. The patio will then be sprayed with water and then left to set for around 24 hours.
Once 24 hours is up, the slabs or blocks will be grouted and jointed using a trowel to fill the gaps between the paving. The surface will then be wiped down to remove any residue.
Cost Affecting Factors of Laying a Patio
When planning a patio installation, there are a number of cost factors you need to consider. The first is the size of your patio, as the larger the area is, the more expensive it will. For example, a small patio of around 10 square metres can range from £800 to £1,100, while a large 40 square metre patio can cost up to £4,600.
With regard to the paving slabs you buy for patios, you get what you pay for. It is the cost of laying a concrete patio starts at around £15 per square metre for budget garden paving, but generally, the quality is usually very poor.
Poor quality slabs usually have lots of air bubbles in them, and when water gets into these air pockets and freezes, the ice expands and forms tiny little cracks, which in turn fill with water and this process continues until the paving stone literally falls to pieces!
In general, higher-quality slabs such as stone are more expensive and cost up to £95 per square metre. They will have fewer air bubbles in them and will last a lot longer while looking a lot better.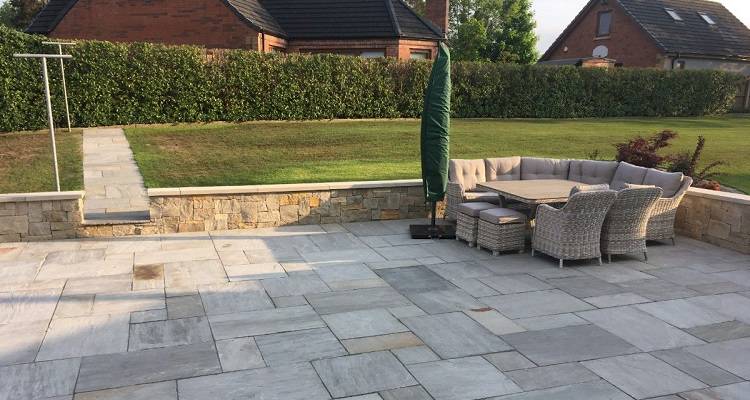 Labour costs will also vary, depending on your location and whether you choose a company or one or two tradesmen. For instance, in London and southern areas, you can expect to pay around £2,400 to £2,600 for a large company, while larger businesses in the north tend to charge about £2,000 to £2,200. Most people tend to choose sole traders who have an average rate of £2,000 in London or £1,750 in the outer regions.
Another massive factor that could affect your patio laying cost is the amount of excavation required, along with the need for a new sub-base. If you require flagging, this can cost around £15 to £60 per square metre for the flagging material, along with an extra £75 to £100 per square metre for labour.
A hard-core bed is not usually required for a patio unless the ground is very damp and boggy, or the patio will also be used for vehicle parking. Patios are built with a slight fall that lets any surface water drain away.
But sometimes, it might not be enough simply to let the water drain onto a lawn, especially if you have a large paved surface. In these cases, you may need to build a drainage channel to direct the surface water to an existing surface water drain or into a soakaway. The average cost of installing a soakaway typically ranges from £700 to £1,000.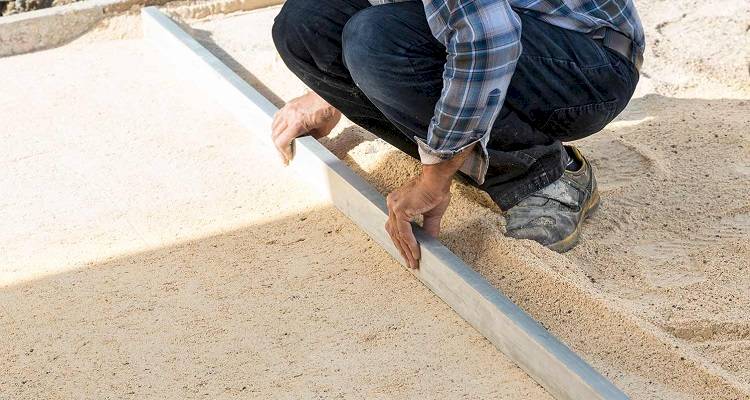 If removing an existing patio then you may have to pay for waste disposal costs, which normally adds on around £100 to the final price. If you are preparing the area yourself, then you may have to pay for skip hire which can range from £60 to £400, depending on the size skip you need.
How to Lay a Patio
If you have a small budget in mind, you may want to install a patio yourself. However, this is usually only advised for experienced DIYers, as it is a labour-intensive task. So, if you have experience and know-how to lay a patio, you should be fine.
If you have no experience, then it may be best to hire a professional, as this will actually help you save money in the long run, as a high-quality and professional installation will mean your patio will last a lot longer. You will also prevent any expensive issues, such as cracking and sinking, which may occur if the foundations are not installed properly.
If you do decide to install a patio yourself, then you will need to consider the material costs, as well as any tools and safety equipment you need.
The below table sets out the costs of buying or hiring tools for a patio installation:
| Tools | Avg. Cost |
| --- | --- |
| Cement mixer | £100 to £4,000 / £15 for daily hire |
| Pegs | £3 to £5 per pack |
| Trowel | £4 to £65 |
| Rake | £16 to £45 |
| Wheelbarrow | £35 to £170/£8 to £10 for daily hire |
| Tape measure | £2 to £50 |
| Spirit level | £4 to £160 |
| Rubber mallet | £5 to £10 |
Here is a cost breakdown of the different safety equipment:
| Safety Equipment | Avg. Cost |
| --- | --- |
| Dusk mask | £1 to £20 |
| Safety goggles | £0.50 to £30 |
| Rigger gloves | £2 to £10 |
| Knee pads | £2 to £50 |
| Ear defenders | £2 to £40 |
| Steel toe-capped boots | £15 to £130 |
Types of Patio Available
The type of patio you choose will really depend on your own personal preferences as well as your budget. Here is a breakdown of the different patio types, which includes pros and cons, along with the average costs.
Patio type
Pros
Cons
Cost per M²
Brick
-Resistant against scratching and warping.
-Low-maintenance patio material.
-Easy to repair.
-Brick paving can be hard to install.
-Needs to be regularly sealed.
-Prone to frost heaving.
£15-£50
Concrete
-Offers extensive damp prevention
-Concrete slabs are easy to move and replace.
-Can withstand drastic weather changes.
-Design flexibility is limited due to its rigid shape.
-Pigments do tend to fade over time.
-Not suitable for installation over plumbing or electricals.
£15-£70
Slate
-Does not fade as quickly as stone.
-They have a low-absorption rate.
-Offers a unique design aesthetic
-Susceptible to scratches.
-Prone to puddling or freezing in colder months.
-Layers of slate can flake off during bad weather.
£50-£80
Stone
-Can hold its colour well.
-Stone is flexible.
-The most durable option.
-Surfaces can be irregular.
-They are prone to weed growth.
-One of the most expensive options.
£40-£95
Building Regulations and Planning Permission
Planning permission is not normally required to build or replace a patio; however, if you are planning to install embanking or a terraced construction to support a hard surface, then you will need to apply through the planning portal, which should cost around £206.
You will also not require building regulations approval unless there is a significant change to the accessibility of the property. For instance, if you want to install steps or drop a kerb, then you may have to pay to apply for a building notice. The fee for this will vary depending on your local authority.
Patio Repair Costs
The average cost of repairing a patio tends to be significantly lower than the cost of replacing one. However, this will depend greatly on the scale of repair work required. Patio repairs are usually completed within one day, so you should expect to pay around £100 for professional repairs or up to £200 per day If a general labourer is working alongside them.
Sinking
If you notice that some of your patio slabs appear sunken, they will need to be removed using a screwdriver (£1 to £20). A screed pipe will then need to be constructed using a screed board (£20 to £30 per M²). This should be long enough to rest on the level pavers while making sure there is a notch at one end that is 1/8 of an inch less than the depth of the slabs.
Once the screed pipe is in place, the area should be filled in with sand and screed (£12 to £30 per bag) using a trowel to level it out and remove any excess material.
The area should then be cleared before putting the pavers back in place, making sure they are flush with the rest of the patio. To finish off, dry sand will be added on top of the pavers, before sweeping and tamping until all joints are filled.
Cracking
If you have had your patio for a long time, you may start to notice small cracks appearing on the surface. These can be repaired by applying cement and sand to the area to fill in the gaps and covering up the cracks.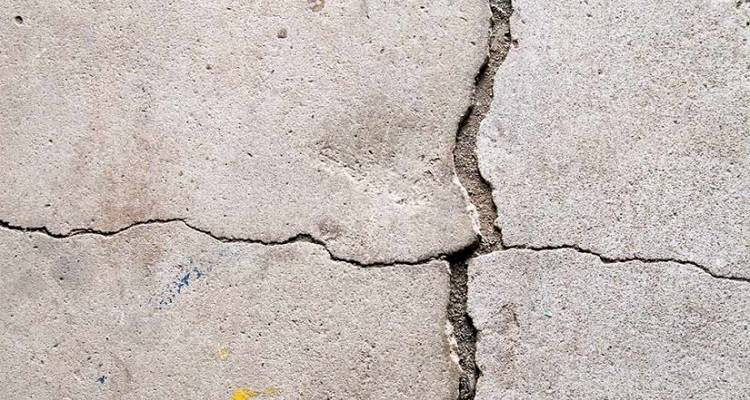 If you have a concrete patio with a hairline crack, then the damage can be chipped away using a chisel (£4 to £25) and a club hammer (£6 to £30). The removal should reach a depth of at least 15mm. Once this is complete, the area should be cleaned of all dust and debris, then PVA adhesive (£4 to £20) should be diluted and applied to the hole.
After the glue becomes tacky, repair filler (£6 to £30 per bag) should then be added to the area. To ensure everything is level, a float should be used. Then, the final step is to cover the hole with a polythene sheet (£6 to £20), which should be left for three days to allow it to harden.
Re-jointing
If your garden paving or blocks start to become loose, this may because the jointing mortar has failed and will need to be replaced. To do this, the existing mortar will need to be removed with a hooked tool (£2 to £10) or weeding knife (£1 to £30).
In some cases, the mortar may be quite hard to remove, so a diamond blade (£6 to £60) will be required which should be attached to a cut-off saw (£100 to £800). You can choose to buy a saw or hire it for around £15 to £20 per day. They will be used to rake out the mortar and open up the joint.
Once all the old mortar has been removed, the area will need to be cleaned thoroughly, making sure that any dust or debris is removed using a brush or a pressure washer, which costs around £70 to £2000 to buy or £20 to £160 per day to hire.
After the area has been cleaned, new mortar can be applied to the gaps. The right sand and cement will be applied to each gap, with the ratio of materials depending on the size of the gaps.
For example, if gaps are less than 13mm, silver sand (£3 to £5 per bag) should be used, while sharp sand (£3 to £40 per bag) should be used for gaps larger than 13mm.
This should be mixed first before spreading it on the patio, making sure that all the joints are filled.
Once the joints are completely full, a brush should be used to remove any excess sand off the patio surface. The jointing material will then harden, and your patio will look brand new again.
Alternatives to Patio
If you already have a patio and are looking for an alternative pathway, you could consider one of the following options:
Gravel
A gravel path is made up of any loose stone or rock that is smaller than cobble but larger than sand with a diameter of around 1/10 inch to 2.5 inches. This type of pathway tends to cost around £20 to £50 per square metre, although the price will vary depending on the condition and size of your current path.
Gravel is one of the most versatile materials due to the different designs and colours available. They are also one of the easiest pathways to install, as it simply involves laying a sub-base material then scattering gravel across the area then levelled out. It is also one of the most durable options and can last up to 100 years if looked after properly.
One of the downsides of a gravel path is that it requires regular cleaning to maintain its aesthetic. It is also much harder to clean in freezing temperature when there is snowfall, as unlike a patio, you cannot scrape the surface, as this will dislodge the gravel.
Bark Mulch
If you are looking for a simple path solution, then bark mulch is ideal, as it simply involves laying down wood chippings on your path. You can either use spare wood that you have lying around or purchase a bulk bag which will cost around £90 to £180 per bag.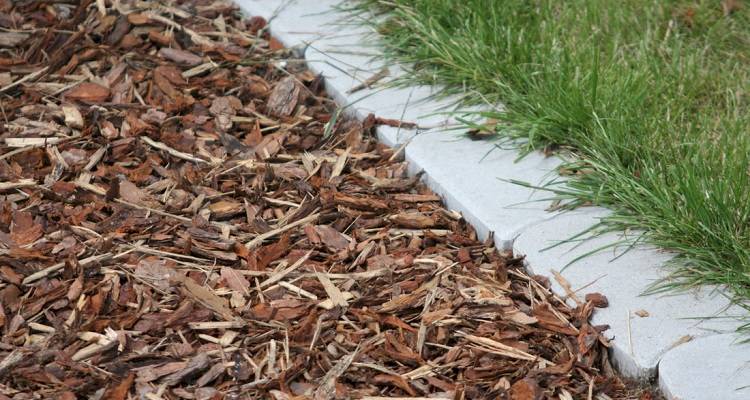 The main benefit of a bark mulch path is that it prevents weeds growth and also improves soil fertilisation. It is also very easy to repair, as it simply just needs a top-up of wood chippings if you find any gaps.
This is not an ideal material for high footfall areas, as bark mulch shifts easily, so you will end up with a significant amount of mess. You will also need to avoid using a leaf blower or any other pressurised garden equipment which could cause the mulch to move.
Timber Decking
Decking is one of the most popular additions to garden furnishings and tends to cost around £15 to £90 per square metre. This type of flooring is available in a number of materials including softwoods such as spruce and pine, as well as hardwood options like IPE and oak.
One of the main advantages of decking is that it offers a natural look that is popular with many homeowners. It also helps to create a sense of warmth in the garden, which is enhanced when adding garden furnishings such as patio sets.
Timber decking is also a flexible material that allows for versatile designs that suit both small and large gardens. It is also a great investment, especially If you choose hardwood decking, as this can last up to 40 years or more.
When choosing decking, you need to be careful with cheaper decking alternatives, as they tend to last just 10 to 15 years. It can, of course, last longer if it is maintained properly, although this requires a significant amount of effort in order to avoid rot and other types of damage. This can be time-consuming and expensive, especially if you require replacement panels.
Resin
A resin-bound path is made up of a mixture of resin and various aggregate materials which are combined together to create robust outdoor flooring. This tends to cost around £60 to £90 per square metre.
Another benefit of installing a resin bound path is its flood prevention qualities, as the material is able to absorb water and filter it through the ground.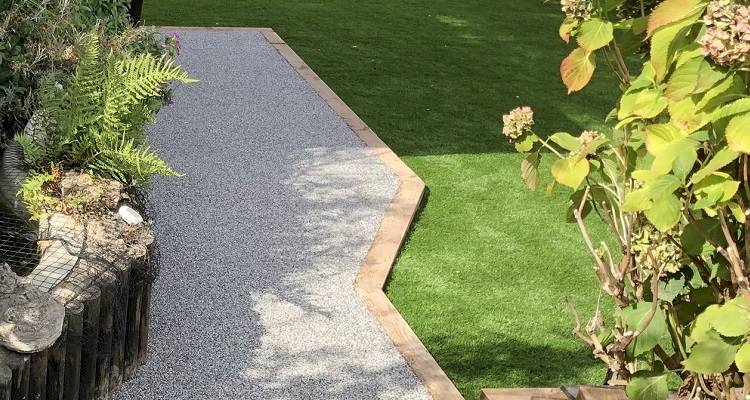 While a high level of absorption can be a good thing, It can also increase weed growth, which means a resin bound driveway will need to be maintained regularly to prevent slippery surfaces.
Another option is a resin bonded surface which consists of aggregate material which is laid on top of a resin layer, which offers the same appearance of a gravel path without the level of maintenance. In comparison to a resin bound surface, this type of pathway is not permeable and does not absorb liquid well, which can lead to water pooling.
What Time of the Year is Best for Laying Patio?
You can get your patio installed any time; however, installation during the rainy season can be difficult, as rainfall may affect the curing process. It can also be harder in warmer climates, as it is important that the mortar does not dry out too quickly before the paving is installed, so spring may be your best bet.
If you are having your patio installed in the winter, professional's will cover the installation with a polyethene sheet to protect the mortar against frost or rain during the drying process. They may also advise against installation if the temperature is under 2 degree.
Patio Maintenance and Cleaning
To ensure your patio lasts, you should conduct regular cleaning and maintenance. There are different methods for each material, including:
Stone Patio
Stone is sometimes susceptible to mildew and algae growth. To remove dirt, you can simply use dish soap and water, which can be applied using a brush, although avoid a wire brush as this can scratch the surface. You can also use vinegar or oxygenated bleach for stubborn dirt. For stains, you can use a deck cleaner or a degreaser which should be rubbed onto the stone with a nylon brush then rinsed with water.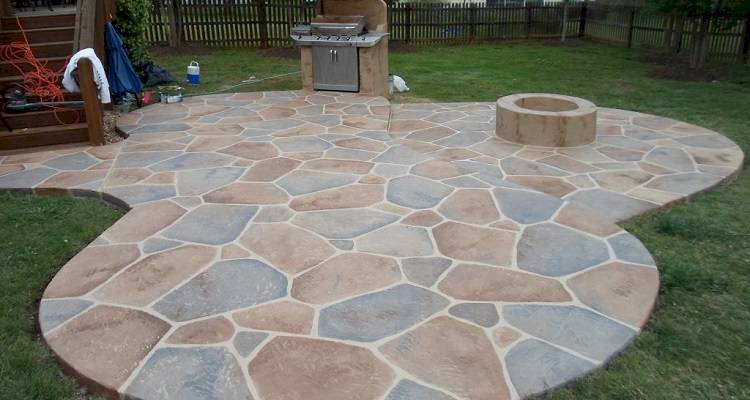 To maintain your stone patio, you should brush it to remove any debris and pull out any weeds at least once a week. You can also pour sand in between your stones to prevent weed growth. Professionals will also advise you to cover your patio with a surface protector in the winter to prevent moss and dirt build-up.
If you would prefer to hire a professional to clean and maintain your stone patio, then you should expect to pay around £150 to £400 for jet washing, although the price will vary depending on the size of your patio.
Slate Patio
If you have a slate patio, you will need to clear any dust or dirt regularly by using a brush and dish soap. You should try to avoid using harsh chemicals on a slate patio, as it is a natural material that is easily damaged by using certain detergents. You will also need to conduct thorough cleaning around two to three times a year.
If you have any stains on your patio, then you should apply a slate cleaner mixed with water and leave it on the area for ten minutes, then rinse it off with a hose. The stain can then be scrubbed with a stiff brush.
Regular polishing is also important with a slate surface, although make sure you remove any dust or debris first. You could use a commercial floor cleaner, which will cost around £500 to £700 to buy or hire one for £30 to £80 a day. For a clean polish, you should also buff the slate by wetting the patio area, then use a wet abrasive to rub over scratches, then rinse the floor with water and repeat the buffing process.
Concrete Patio
When cleaning and maintaining your concrete pathway, you need to be careful about harming the surrounding grass and plants. Some regular methods include brushing any leaves or debris off the pathway with a brush or leaf blower, which costs around £30 to £90.
To remove any dirt or grime, you should wash the path regularly with a garden hose that has a nozzle with concentrated water flow. You should direct the hose at the path rather than the grass to avoid water pooling.
For stubborn stains, you would hire someone to power wash your path, or you can do it yourself if you have the equipment. For any remaining stains, you should rub the area with a stiff scrub brush and use a tiny amount of detergent, then once removed you should rinse your patio with water.
Brick Patio
For regular brick patio maintenance, you should sweep the area at least once a week, making sure you use a brush with stiff bristles. You should also hose it regularly, as this will remove any brick particles and grout which may have come loose.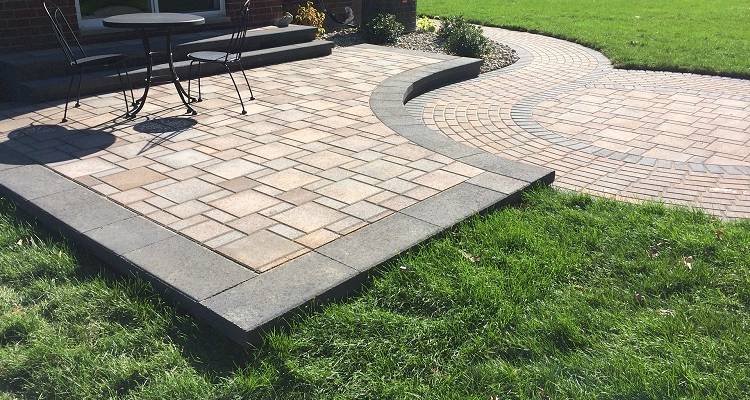 Regular weeding is also important if you have a brick patio, as weeds that are left can eventually cover the brick completely, so you're best removing them as soon as possible. This will involve removing the weed itself, as well as any leaves, branches and dirt.
For easy maintenance, you may want to add a sealant to your brickwork which costs around £3 to £6 per square metre for sealing, although this will vary depending on the size of your patio. You may also want to pay extra for power washing, which should be conducted two or three times a year.
Cost of Removing a Patio
If you want to remove an old patio first before laying a new patio, then you will need to consider the cost of the additional labour and waste disposal costs, which is normally around £100 to £200 per day. The cost of having a tradesman remove your old patio will vary depending on the size of the patio and the type of material you've chosen. If it's a concrete patio, then it will take some serious labour to break it up and remove it all, whereas if it's paving slabs, then it's a much quicker job.
If removing the patio yourself, you will need to hire a skip which will range from £60 to £400, depending on the size you need as well as the cost of a skip. Removing an old patio is a fairly simple job that can be done yourself, just remember to follow best practises when lifting heavy slabs. You will also need a chisel and hammer to remove the slabs or a diamond blade if the mortar is fairly new.
How to Find & Hire a Patio Installer
The cost to hire a patio installer Is normally around £100 per day, although this cost will increase to £200 a day if two tradesmen work on the job together.
When hiring someone for the job, you should get several quotes, while also inquiring about their experience, as ideally, you should hire a tradesman with at least 5 years' experience in installing patios.
You could ask for images of previous jobs to see if the quality of their work.
Before agreeing or signing a contract, you should check that the tradesmen you choose are fully insured in order to protect them, and you should any damage occur.
FAQs
Do I need planning permission for a patio?
near, ground level around your home, with the exception of paving over your front garden, as long as the total area is no more than 5 metres or the hard surface is made of porous materials. You can even build larger patio areas or driveways using non-porous materials as long as the drainage issues are addressed. However, if any embanking or terracing works are needed to support the patio that might well need a planning application.

Obviously, if you live in a listed building, then you will need listed building consent for almost any works, whether internal or external, including a patio. But bear in mind that if you intend to provide any electrical lighting to the patio area, then a Building Regulations application is required for the electrical work under Part P regulations. When it comes to any planning permission or building regulation issues, if in any doubt, always check with the relevant authorities. In fact, even if you are sure there are no permissions or applications required, just check anyway, it costs nothing and can save a lot of potential hassles.
How much would it cost to have a small patio laid?
For a patio measuring around 10 metres squared, you should expect to pay anywhere from £550 to £1,100 for brick or concrete slabs. Premium options tend to range from £900 to £1,200 for slate or £800 to £1,350 for a stone patio.
What sand to use when laying patio slabs?
The sand you need will depend on the thickness of the joints between your slabs. For instance, if your joints are more than 13mm, you will require silver sand which will be installed in between your slabs. While slabs with less than 13mm should be filled with sharp sand.
Which patio cleaner can I use?
The cleaner you use on your patio will depend on the material you have. For example, a brick or concrete patio can be cleaned with a specialist cement cleaner, or you can just use a hose and brush to remove any stains, weeds or dirt. For a stone or slate patio, you may want to purchase a stone-friendly cleaner, or you could use a mild detergent or vinegar to clean any stubborn stains from the surface.
Can patio slabs be used for a driveway?
You can use patio slabs for your driveway; however, you need to make sure that the slabs you use have a thickness of at least 50mm, as the material will need to hold the weight of one or more vehicles.

For paving slabs, you will also need to make sure the sub-base is sturdy to ensure that your paving material is fitted properly and is also durable. Your sub-base will need to be at least 100mm, although 150mm is the typical requirement.
Can patio slabs be painted?
It is possible to paint patio materials such as concrete, which will brighten up the drab aesthetic. To do this, you need to make sure that the patio is completely clear and clean. The moisture level will also need to be tested before paint is applied.

This will involve taping a square of thick plastic on one of the slabs, then wait for 16 to 24 hours before checking for condensation. If the area is still damp, then you should wait until the weather is clear before painting your slabs with a primer and a concrete paint that contains a sealant that will protect against water, oil and grease damage.
Sources
https://www.planningportal.co.uk/info/200130/common_projects/44/patio_and_driveway/2
https://www.marshalls.co.uk/gardens-and-driveways/blog/how-to-lay-a-patio
https://www.barbourproductsearch.info/pros-and-cons-of-timber-decking-blog000470.html
https://www.bhg.com/home-improvement/outdoor/walkways/wood-chip-path/
https://www.thespruce.com/pros-and-cons-of-gravel-driveway-1398078
https://www.mainlandaggregates.co.uk/gravel-driveway-construction-guide
https://www.pavingsuperstore.co.uk/blog/how-to-repair-your-paving/
https://www.diy.com/ideas-advice/how-to-repair-paving/CC_npci_100141.art
https://rflandscapeproducts.co.uk/news/is-paving-suitable-for-driveways/
https://www.qualitytilecare.co.uk/slate-floor-tiles-cleaning

Last updated by MyJobQuote on 9th February 2022.