Patio Design and Installation Cost
Prices and tips for new patio installations.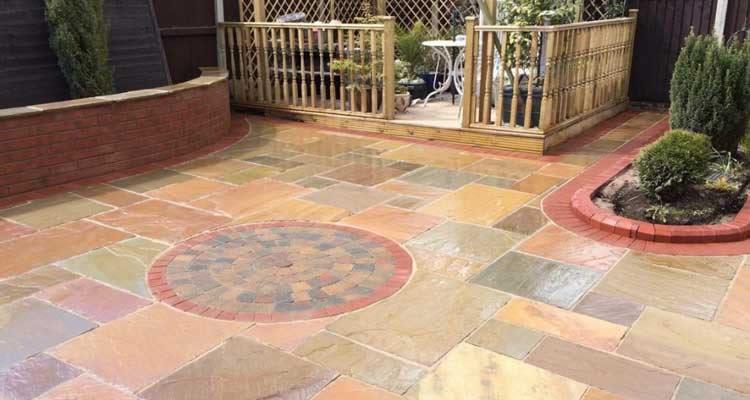 Average cost for a professional patio is around
This type of job normally takes around 2-3 days to complete
£2500
If you are thinking of laying a patio, there are many things to consider, not least of which is the cost! But also you need to consider the size and shape, obviously a smaller square patio will be easier and cheaper, while also making the most of the available space, whereas a circular patio or other intricate design may look awesome! Whichever design you choose, it should incorporate your garden's natural features and fit in with the colour and design of your home.
Some sort of covering is a great idea to make the best of the British weather, whether a wooden gazebo or basic patio umbrella. Don't dismiss the idea of paying a designer to plan the patio for you. While it may cost you up front, you might find their advice invaluable and it could even save you money in the long term. If you area DIY enthusiast then a patio could be a good DIY project, but if you do not have the time, skills or energy, a decent builder or landscape gardener can build your dream patio quickly and professionally.
The very best way to find a good tradesman is to ask friends and family for their recommendations. But failing that, you can use the free service on this website to easily gather quotes from up to three local tradesmen. But don't delay, as good tradesman will be booked up for weeks, if not months, in advance.
Typical Costs For Patio Installations And Design
| Job Description | Duration | Material Cost | Labour Cost |
| --- | --- | --- | --- |
| 5 metre diameter round patio install plus design | 2 days | £1200 | £750 |
| 35 square metre concrete slabs patio install plus design | 3 days | £1800 | £1100 |
| 20 metre square garden brick patio area install plus design | 3-4 days | £1500 | £975 |
Things to consider with patios
Brick patios are strong and can bear heavy loads and are also easy to repair, but they are a lot of work and need a skilled professional which bumps up the cost. Natural stone flags make beautiful patio areas and are quite durable, but they are expensive and difficult to lay because of their irregular shape and size. Reconstituted stone flags are cheap and look almost s good as natural stone, but concrete slabs are even cheaper, quicker to lay and they look good too! If you are looking to save money you could consider getting hold of all the materials yourself, but this does not often work out well as you probably don't get the same discount a professional builder will and you may over or underestimate the amount of materials you need.
Plus if you buy a really cheap product, the builder may not offer a warranty. So it's probably best just to let the builder or landscaper supply the materials too. Whatever you do, do not try and save money by employing someone who cold calls you for work and cannot offer any local references nor a written quote on headed paper. There are many cowboys out there who specialise in doing a job which may look OK initially, but soon after the cheque has cleared the problems will start and you realise you have no way of contacting them!
The typical story is they are doing some work nearby for the council and can give you a great price as they have materials left over and can do the job on the side for cash – remember if it sounds too good to be true, it usually is!
Doing it Yourself
Although you can lay a patio as a DIY job if you have the skills, do not underestimate just how much hard work is involved! You will need lots of time, lots of energy and a strong back for this DIY project! The first job is to clear the whole area of weeds and turf before marking the patio out. You'll also need to make sure your plans allow for the top of the patio to be at least 150mm below the damp-proof course when it's finished so that falling rain doesn't splash above it and cause damp problems.
The patio has to be sloped falling away from the house so water can drain away, go for around a 25mm fall for every 1.5 metres consistent across the patio area. Now the really hard work starts, you'll need to dig the area out to a depth of 150mm and then fill with a 100mmn layer of hardcore, which need tamping down with a compactor plate which can be hired and is pretty easy to use, but they're also heavy, so you'll probably need someone to help with unloading and loading it into your vehicle.
Now you can cover the hardcore with a layer of sand and grit and rake it smooth and flat. Finally, can you now start to lay your patio slabs. But don't rush, every single slab needs to be perfect as you'll be able to spot a misaligned patio slab miles away, so be prepared to lift and reposition each slab many times to get it just right! You're probably thinking that this is starting to sound like too much hard work, and you'd be right – get a professional in to do it for you!
Patio checklist
You can save on the cost of a new patio by reusing your old slabs
Your patio design should be considerate to your garden's natural features
For a typical patio it is unlikely that planning permission will be needed
Spring, Summer and early Autumn are the best times to lay a patio, but also the most expensive
FAQ's
How much does it cost to lay a patio?
The cost of your new patio will vary considerably depending on a number factors such as the size, shape and materials used. We have provided some sample costs but the only way to get a price for your garden is to get a quote from a local gardener or builder.
What does the work actually entail?
To lay a patio properly you first need to remove existing grass or old patio, excavate to around 175mm then compact soil with a vibrating plate, lay and compact sub-base material to 100mm, put down a layer of cement to around 30-40mm, then bed slabs onto the cement and point. Finally, remove all waste and rubbish using a skip or van. It's a lot of work when done properly!
When is the best time to lay a patio?
There are times of the year when certain tradespeople are busy and other times when they're quiet. Spring and Summer are busy times for building patios and also the best weather for building in general. But this is also the time when you will find it hard to get a builder as they are so busy! Winter is traditionally a quieter time and you may even get a discount.
What is the cheapest patio type?
Concrete paving slabs are inexpensive, durable and come in many different varieties that can be arranged in various colours and patterns as you choose. Laying slabs is a quick and effective way of building a patio and the wide range of slabs mean there is something to suit every budget.
Last updated by MyJobQuote on 7th May 2019.