Cost of Rendering a House
Rendering advice and prices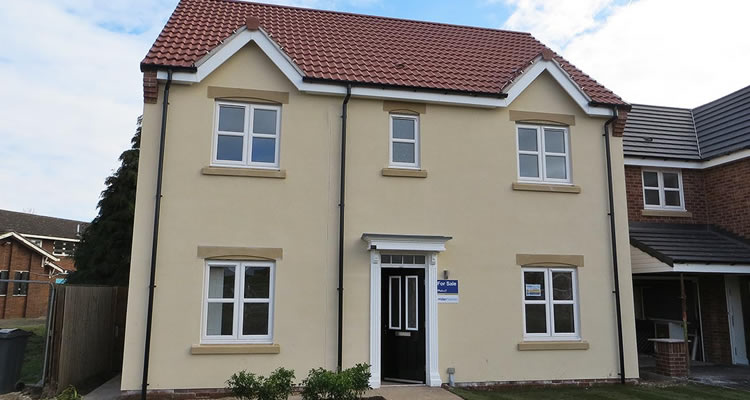 The average cost of exterior rendering is around
his type of job normally takes around 7 days
£4300
Rendering is a wall covering method used on external walls to protect the bricks or blocks. The difference between plaster and render is simply that plaster is applied to internal walls, while render is applied to external walls. There are many different styles of render, but the main ingredients are cement, sand, and water. Lime is sometimes added especially when rendering older properties. Different proportions of cement, sand and water are used in rendering and plastering, render has more cement and coarse sand, whereas plaster mixtures use fine sand and less cement for a smoother finish that's easier to paint and decorate on.
Homes are typically rendered because it is not possible to achieve a suitably weatherproof finish with just the stone or brick work. Renders can also be used when the brickwork has been damaged and rendering is the cheapest way to make the wall weatherproof again. To get rendering quotes from tradesmen near you through MyJobQuote.co.uk, simply fill in the short form to obtain quotes from local plasterers for your rendering project.
Typical rendering costs
<
| Job Description | Duration | Material Cost | Labour Cost |
| --- | --- | --- | --- |
| Small bungalow no scaffolding required | 4-5 days | £1200 | £1000 |
| 3 bed detached property including scaffolding | 5-8 days | £2700 | £1600 |
| Detached house with scaffolding | 1-2 weeks | £2500 | £2350 |
Things to consider
Rendering external walls is labour intensive so already expensive, plus you will require access and safety equipment, usually scaffolding towers, which adds to the overall costs (unless you live in a bungalow). The type of render you choose will also affect price, with anything other than standard render being more expensive, so pebble-dash, for example, will cost extra. A standard rendering job will entail removing any existing render, key and repoint the brickwork, then apply new render in two coats, a sponge finish, then usually masonry paint will be applied to prevent moisture penetration and extend the lifespan of the render.
The price will differ depending on where you live in the UK, regional price variations can be huge with jobs in and around London often being twice as expensive as jobs in the North. Lime render has been traditionally applied to walls built out of stone or rubble or low-quality porous bricks. The lime render does not create a moisture barrier like cement render, but rather acts like a sponge and absorbs the water to stop it passing through the walls. This moisture then eventually evaporates from the surface of the lime render when the weather gets warmer. Traditional buildings that have been lime rendered originally, will tend to experience penetrating damp if the lime render is replaced with cement render.
Sand and cement renders are much stronger and harder than lime render and are typically painted. With more focus being put on energy efficiency, external wall insulation is becoming a popular topic as by adding external wall insulation when rendering it is possible to reduce heat loss from the building in cold weather. External insulation takes up no space inside the building and is seen as a popular choice when there are no cavities to fill with insulation. The application is pretty simple, before the render is applied an insulant material is fixed to the wall, then this is rendered over.
Doing it Yourself
Everyone likes to save money and corners can be cut on many jobs, but one place you definitely don't want to cut corners on is the walls that support your house! If the job isn't done correctly then the render will fail after a few years and then moisture will start to penetrate the wall causing damp and even structural damage. So if you plan on rendering the walls yourself as a DIY project, then the key doing a good job is in the preparation.
You need to spend time getting the walls keyed correctly by cleaning them thoroughly then scoring lines into the brickwork, then washing off so the surface is clean and free of dust and the new render can adhere correctly. You should avoid rendering on extremely hot days (which shouldn't be too difficult in the UK) as the heat will cause the cement to dry too quickly and if it dries too fast it will start to crack.
The perfect day to render is a mild and dry day without too much direct sunlight and no rain or frost. When mixing the render the sand needs to be washed first to remove any salts or special plasterers sand should be used. Waterproofer, PVA, plasticiser and some lime should all be mixed in the correct quantities which will depend on the weather and the wall being rendered.
Rendering checklist
Render is a sand/cement mix that is applied to external brickwork
Masonry paint is almost always applied to render to keep out moisture
Render both protects the brickwork and adds a layer of insulation
Properties which are two storeys or higher will need scaffolding to apply render
Hiring a Tradesman Checklist
Always get at least 2 quotes before hiring.
Never pay the full amount upfront.
Get the quote in writing.
For any payment you make, always get a receipt.
On more expensive jobs, ask for references.
Check if the tradesman is a member of any trades associations.
Make sure the tradesman has public liability insurance.
FAQ's
What are Pebble-dash and Roughcast?
They are both forms of render where the top coat has pebbles or pieces of stone added to it so they set into the mortar. The difference between them is just how they are applied. Pebble-dash is when fragments of stone are thrown at the wet render and pressed in, whereas roughcast uses pebbles or stone mixed in with the mortar before it is applied. Roughcast is a softer finish which is usually painted, whereas pebble-dash is more abrasive.
What are the Building Regulations with Rendering?
Changes to the Building Regulations now mean that you should check with your local Building Control Department as to whether the rendering will mean that your wall must be upgraded to comply with the current regulations regarding thermal performance. If your proposed rendering will cover over 25% of the wall, you will probably have to upgrade the wall or at least ensure it will comply with current insulation requirements. If you live in a listed building you will also need planning permission,
How do you prepare the surfaces for rendering
Unless the wall is almost newt, you will need to clean it really well to remove any loose paint, dust or grime. Then scrub off any mould with bleach or fungicide and hose it down to remove any dust. After washing down let it dry for a while (does not have to be bone dry just not soaking wet) then it will be okay to render the wall.
Should I use a lime based render?
If you are rendering a traditional older building that used lime-based mortar then yes you should certainly use lime in the mix. Lime is more vapour permeable than cement-based mortar and also tends to deal with movement better than a cement-based render. Lime render is usually more expensive though, but it is the better choice for many traditional homes.
How long will my render last?
Render generally lasts 20 years or more, with tougher render types like pebble-dash expected to last up to 40 years.
Recent Jobs
Repair/replacement of rendering of two sides of a single storey ground floor brick bathroom approximately 15 ft by 8 ft by 7ft high.
Submitted by Gary
Pebble dash full house 3 bedrooms semi - need all materials supplying.
Submitted by Hazel
External insulation or cladding for 3-bed semi-detached.
Submitted by Vivian
Need to render 3 storey Victorian house. Will also need guttering and doma cheeks sort out.
Submitted by Navin
I have some rough casting that needs patched and a hairline crack that needs filled. Due to moving properties it needs to be completed within the next two weeks.
Submitted by Nathan