Garden Decking Cost
All you need to know about getting decking installed in your garden, including costs of materials and labour, frequently asked questions and things to consider.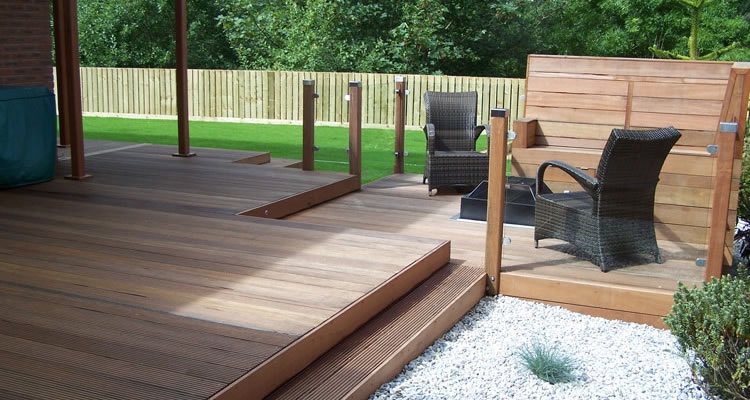 Average Cost of Supplying and Fitting Garden Decking
Job normally takes around 1-2 days to complete
£1,200
Decking is a great way to make the most of garden space that would otherwise go unused. With decking you can transform steep slopes and uneven areas into a level space for entertaining and enjoying the outdoors. Timber is the material of choice as wood has an inherent warmth and beauty, which fits almost all surroundings and works well with other materials. Timber is also very flexible in terms of design, offering huge scope to create unique spaces. Decking is particularly good for sloping ground and provides an easy transition between different levels, perfect in conjunction with bi-fold patio doors, helping to connect indoor and outdoor spaces.
It's also a good choice for a quiet garden corner to create a secluded outdoor space tucked out of the way. Decking can be done as a DIY project, though it is a bigger job and would definitely require at least two pairs of experienced hands. But most will require the services of a local tradesman to build their decking. However, finding professional and reliable tradesman is not always so easy, but luckily you can use this website to find help by simply choosing the type of tradesman you need, entering your basic details, then including a brief description of the job you need doing. The entire thing takes just a few minutes and then you will start receiving quotes which you can compare at your leisure.
Costs of Hiring a Decking Specialist
| Job Description | Duration | Material Cost | Labour Cost |
| --- | --- | --- | --- |
| Small garden, 4m x 8m decking area | 1-2 days | £400 | £225 |
| Medium-sized garden, 6m x 10m decking area | 2-3 days | £700 | £375 |
| Large garden, 10m x 15m decking area | 3-5 days | £1500 | £600 |
| Extra large garden, 20m x 30m decking area | 5-7 days | £5000 | £900 |
Things to consider when having decking installed
When planning a garden deck, there are a few things you should consider before hiring a contractor. First of all, you need to decide on the location then check to see if this will interfere with any drain covers or any other services. At this point you should also consider the impact the deck will have on your neighbours, as if you require planning permission, they will get an opportunity to object. Consider how you intend to use the decking when deciding on a location, for example, are you looking for sunny exposure or do you prefer the shade? At the planning stage, you should also think about whether you are going to add a hot tub or other heavy structure, as this needs to be taken into consideration during the design and build and is much more difficult to change at a later date.
You should also bear in mind that the decking will require regular maintenance, the degree of maintenance required depends upon a number of factors such as the quality of the timber used, the construction and the location. Well designed and constructed timber decking should last 15 years or more with no requirement to apply preservative treatments as long as basic maintenance is carried out. Fortunately, the maintenance required is pretty simple, regular brushing to remove organic debris plus perhaps a water repellent coating used to nourish the wood every other year. However, any decorative stains will also need to be refreshed to maintain their appearance every few years depending on usage and weather.
Consider also that sloping or difficult terrain will have a major impact on the cost, as will the clearing of shrubs and bushes etc. However, once decking is in place, the garden area will be much more usable and good quality decking which is well constructed will likely add value to the home come resale time.
Doing it Yourself
Decking is a big job, very labour intensive, but quicker to install than other landscape gardening tasks such as paving. The building of a deck is relatively straightforward, though high decking or decks which are required to take a hot-tub may need some expert advice. Softwood is used more often for decking as it is usually less expensive and easier to work. However some hardwoods offer rich colours and are very appealing, plus they offer more impact and abrasion resistance, so are better for projects which are anticipated to have a lot of heavy use.
If planning to build a deck DIY, note that building regulations can be an issue even with small decks. It is always worth checking with local authority before you spend any money on decking or begin any construction. If you are going to build a substantial deck, keep neighbours informed and on-side from the start and be prepared to alter your building plans if they object.
Decking is too difficult for one person to do on their own, so the assistance of a handy friend (or two) is highly recommended for any decking project. Everyone involved in the construction should wear protective safety gear when necessary and you should ensure you have all the correct tools and equipment to do the job safely.
If securing your decking with concrete footings you need to make absolutely sure there are no cables or pipes underneath where you are going to excavate. use a detector to check and if any services are found in the proposed excavation area, you should reconsider your decking plans as damage to cables or pipes could be horrendously expensive and dangerous. Plus you may have to install a hinged trap door to allow future access to the services. Remember that you cannot simply timber off-cuts as pre-treated timber decking will produce toxic smoke and ash, so you need to dispose of any off-cuts properly.
If at all possible, you should plan the decking to avoid any existing features like trees or posts, as working around them will increase the difficulty and add to the cost as they will require additional sub-structure to frame around the obstacle. If you do decide to work around a tree, you need to leave some space for the trunk to thicken and for it to move in heavy winds. The amount of room you need to leave will depend on the species and how fast growing it is.
Hiring a Decking Specialist Checklist
Ask if they will remove any old decking, and what cost they'll charge if they do.
Will the decking be treated
Ask how you should maintain the decking, how often does it need doing?
Do you want a sunny or shaded location and is privacy a requirement?
Will the deck's location interfere with services, like drains?
Is a hot-tub or other heavy structure going to be added at a later date?
Hiring a Tradesman Checklist
Always get at least 2 quotes before hiring.
Never pay the full amount upfront.
Get the quote in writing.
For any payment you make, always get a receipt.
On more expensive jobs, ask for references.
Check if the tradesman is a member of any trades associations.
Make sure the tradesman has public liability insurance.
FAQ's
Do I need planning permission?
Many think that permissions are not required with garden decking, but this is not always the case. Consent is required prior to building a deck where the deck platform is more than 300mm from the ground, If covers over 50% of the garden area or where the deck is situated within 20 metres of a highway. in addition, building regulations should be assumed to apply to every structure that requires planning permission. Property owners should always check with their local authority regarding planning.
Will the deck be safe to walk on if it gets wet?
Yes, timber decking offers plenty of grip as long as it is well maintained, but poorly maintained decking can become a slip hazard if mildew, algae and fine mosses are allowed to get established, for it is these that cause slipperiness on any surface when wet. just brush the decking with a stiff broom frequently to keep the build up of organic matter to a bare minimum, then give a thorough clean every year using a power spray washer and/or a proprietary deck cleaner.
How long will decking last?
The lifespan of a deck will depend on the timber used, the quality of construction, the prevailing weather, and the level maintenance carried out. If using a professional company to build your decking, then you should expect a warranty of 15 years or more.
Can I install a hot tub on my garden decking?
Probably not, unless the deck was purpose designed by a structural engineer to take that weight. If planning to add a hot tub then you must discuss this with the contractor before building the deck. If adding a hot tub to an existing deck, then you must contact a specialist builder to check the decking will be able to safely take the additional weight.

Do I need a balustrade?
Balustrades are not just a decorative feature, they are also a safety barrier and can be useful as supports for less able bodied persons. If the deck is raised above the ground then some sort of balustrade should be used to prevent a fall. The height of the balustrade depends on how high the deck is above the ground: For lower decks up to around 2 feet (600mm) above ground level, the balustrade height should be around 3 feet (900mm), but for higher decking, 1100mm balustrade needs to be used.
Recent Jobs
To remove old wood decking and replace with composite/Millboard decking 550cm by 440cm.
Submitted by Marie
We have a wooden balcony running down the entire length of the house overlooking woodland, however, it is now falling into disrepair due to weathering and the wood is beginning to rot. We are looking for quotes to either repair the existing structure or remove this and put in place a new smaller bal...
Submitted by Sheila
Hi there, I'm looking for quotes to build 15 decking pitches of 10m x 10m. They will be stand-alone and sited at random in a 7-acre field. Thanks very much.
Submitted by Bernadette
Build wooden deck 2.5 meters x 4.5 meters. I have all the supplies. Need the external posts to be fitted in post shoes fixed in postcrete. The decking will be fitted at the back of my garden into the soil.
Submitted by Stian
The area is 10m x 15m at the bottom of our garden. We want decking as a base for a timber outdoor summer house.
Submitted by Justina