Garden Landscaping Cost
Want to find out the cost of garden design and landscaping?
In this ultimate price guide, we discuss all the different landscaping jobs available, such as laying turf and artificial grass, and how much they'll cost you on average when hiring a garden landscaper.
So, do you want to find out more?
Check out our landscaping cost guide below!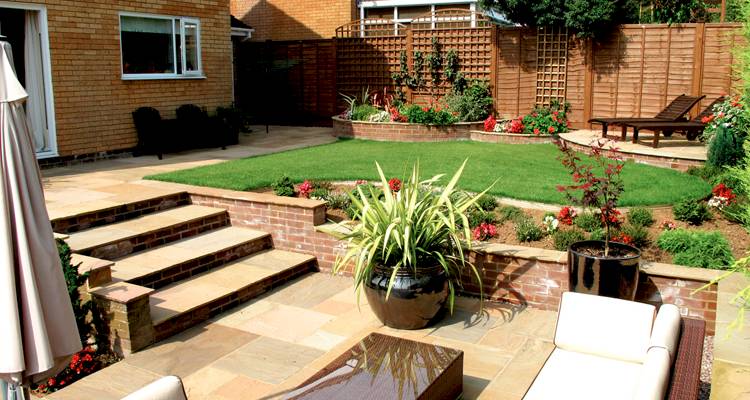 Average Cost of Landscaping:
Depending on the complexity of the job, it usually takes: 2-4 days
£505
How Much to Landscape a Garden?
If you wanted to hire a landscaper to lay turf, expect to pay about £260 to £300 for a 20m2 area, and the average cost would be £650 to £750 for a 50m2 area.
As for artificial grass, the price rises to about £1300 to £1600 for a 20m2 area, and up to £3250 to £4000 for a 50m2 area.
Decking would cost approximately £600 to £750 for a six-metre square area, or £1000 to £1250 for an area of ten square metres.
If you'd like to have a raised vegetable bed constructed, expect to pay £120 to £520 for a 4m2 area.
When it comes to installing a patio, the cost is about £360 to £480 for an area of 4m2 or £800 to £1200 should the area be 10m2 in size.
If you want to have a back garden pond constructed, it will cost roughly £260 to £530 for a one square metre pond.
The landscaping cost of any of these jobs can be influenced by the size of the garden, ease of access, and where you live.
The reason why property location is relevant is that landscapers, like contractors in general, charge different rates for different country regions.
Landscaping Prices
| Job Description | Cost Per sq. metre |
| --- | --- |
| Laying Turf | £13 to £20 |
| Artificial Grass | £65 to £80 |
| Decking | £100 to £125 |
| Raised Vegetable Bed | £30 to £130 |
| Patio | £80 to £120 |
| Garden Pond | £260 to £530 |
Supply Only Costs
Let's now take a look at the garden landscaping cost based on the materials in particular. In this section, we'll look at the supply costs for each of the jobs discussed in the previous section as performed by a professional.
This would also give you an idea as to how much you might spend to undertake this work DIY.
To lay turf would cost around £20 to £75 for a 20m2 area, £30 to £85 for a 30m2 area, £90 to £145 for a 40m2 area, or £120 to £175 for a 50m2 area.
When it comes to artificial grass, the supply cost is roughly £975 to £1200 for a 20m2 area, £1460 to £1800 for an area of 30m2, £1950 to £2400 for 40m2 or artificial grass, or £2440 to £3000 for a 50m2 area.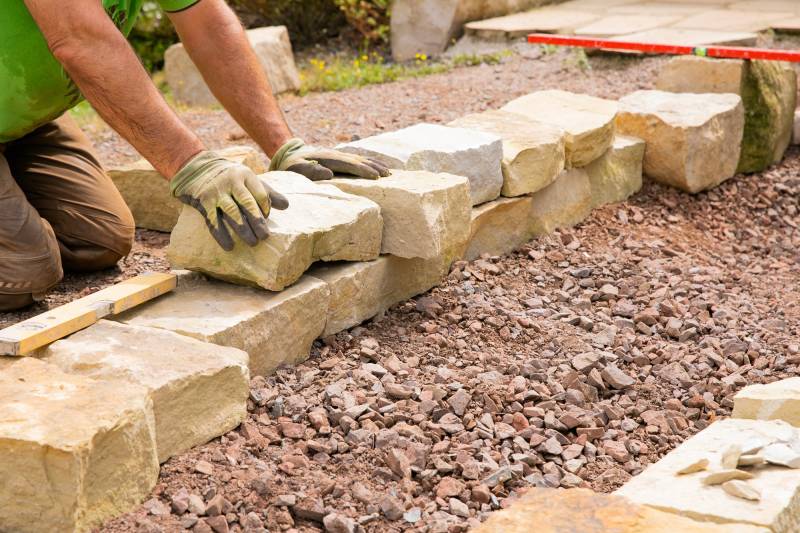 As for decking, expect the supply cost to be approximately £390 to £490 for a deck of 6m2, £520 to £650 for an 8m2 deck, or £650 to £810 for a 10m2 deck.
For a raised vegetable bed, the supply cost would likely be between £100 to £460 for an area of 4m2, £160 to £720 for a 6m2 area, or £220 to £980 for an area of 8m2.
The material cost of laying a patio would be about £40 to £60 per m². Building a pond expects it to be around £155 to £320 per square metre.
Additional Costs
When hiring a professional to perform any of these landscaping jobs, you may wish to pay for additional work such as garden waste removal or/and to have a fence erected. Let's take a closer look at some potential added costs.
Garden Waste Removal
After landscaping is complete, there's likely to be a significant quantity of garden waste that needs to be disposed of.
After all, this work is to essentially replace the previous garden. You may choose to hire a skip, in which case, for every yard of length provided by the skip, it will hold about ten bags of waste.
To hire a 2-yard skip would cost about £80 to £90 with the price rising to £80 to £110 for a 3-yard skip, £120 to £240 for a 4-yard skip, and £150 to £245 for a 6-yard skip.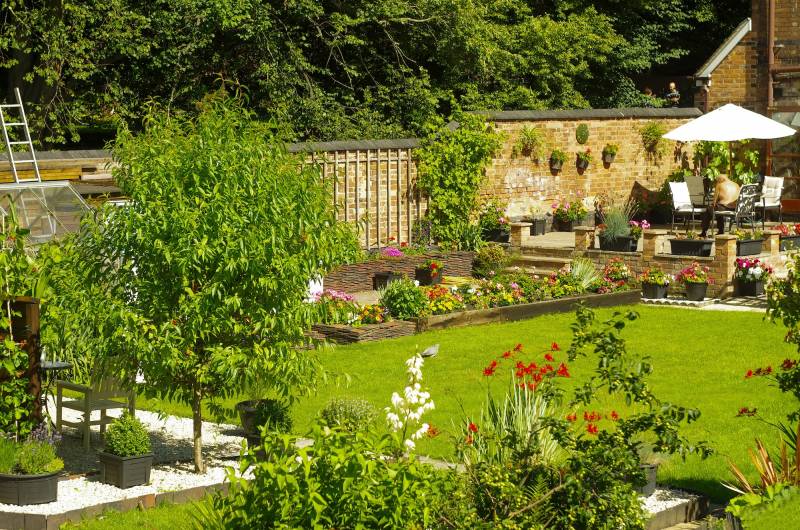 It would cost approximately £180 to £350 to hire an 8-yard skip, £200 to £380 for a 10-yard skip, £240 to £420 for a 12-yard skip, or £250 to £430 for a 14-yard skip.
Of course, it's possible that the landscaping contractor/company that you've hired will deal with the waste removal for you, albeit (most likely) for an added fee.
Based on averages, you could expect to pay an extra £13 to £17 to have 100kg of waste removed, £60 to £90 if you want to remove 500kg of waste or £130 to £170 for the disposal of 1 tonne of waste.
The cost reaches about £200 to £250 for 1.5 tonnes of garden waste and £270 to £330 for disposing of 2 tonnes of garden waste.
Garden Fence Installation
What about having some fit new garden fencing? When it comes to timber fencing, you'd be billed for about £400 to £600 for lap fence panels, £500 to £700 for slatted fence panels or feather edge fence panels, or £700 to £900 for decorative or trellis panels. To fix venetian panels would cost around £800 to £1000.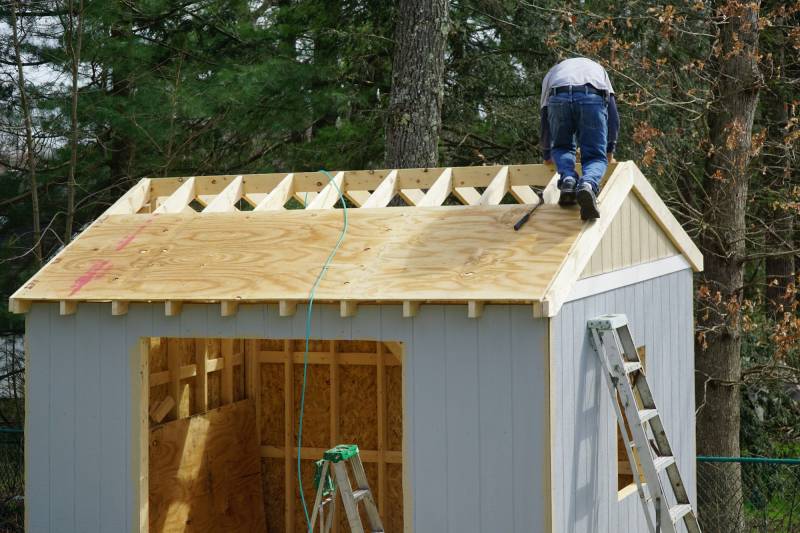 If you'd prefer non-wooden fencing, expect a cost of £1 to £4 per foot for split rail fencing, £6 to £11 per foot for picket fencing, £2 to £6 per foot in case of wire fencing, or £2 to £8 per foot if you'd like electric fencing.
Among the most expensive fencing installations are aluminium with a cost of £20 to £30 per foot, wrought iron, costing £30 to £40 per foot, and steel with an instalment bill of roughly £30 to £40 per foot.
New Shed Installation
Don't have a shed? Or is your current shed worn down beyond repair? It would cost around £500 to £700 to have a 6ft x 4ft shed installed, £700 to £900 for an 8ft x 6ft shed, or £1000 to £1200 if you'd like to have a 12ft x 8ft constructed.
Labour Costs and Timescales
Let's now discuss the cost of labour for the range of jobs we looked at in the opening section.
In terms of turf laying, the labour cost would be approximately £125 to £300 for an area of 10-25m2, £300 to £500 if the area is 25-75m2 or £500 to £600 for a 75-100m2 garden.
When it comes to the installation of artificial turf, the labour cost will land around £325 to £400 for a 20m2 area, £490 to £600 for an area of 30m2, £650 to £800 for a 40m2 area, or £810 to £1000 for a 50m2 area.
As for decking, it would cost about £210 to £260 for a 6m2 deck, £280 to £350 for an 8m2 deck, or £350 to £440 for a 10m2 deck.
Want a raised vegetable bed? Expect the labour cost alone to add up to about £20 to £60, depending on how long it takes to build and the number of labourers hired.
As for the cost of laying a patio for a ten square metre area, the labour cost would land about £400 to £600.
This accounts to roughly £40 to £60 per m2. To construct a garden pond would come with a labour fee of around £105 to £210 for a 1m2 pond or £155 to £320 for a 1.5m2 pond.
The labour cost is part of the overall cost, along with the cost of supplies, and potentially, waste disposal. Landscapers generally charge £20 an hour.
As for timeframes, laying turf could take anywhere from half a day to as long as three days, while installing artificial grass generally takes one to two days, and the installation of decking generally lasts for two to four days.
In most cases, a raised garden vegetable bed could be built in an hour or two. It would take approximately one to two days to lay a patio and roughly one to five days to build a garden pond.
However, it would take somewhere in the range of 6-10 days to construct a luxury pond with landscaping and water features.
Both the labour cost and timescale will vary depending on the size of the installation, the number of labourers hired, ease of access, and the state of the work area.
Cost Factors of Landscaping
We'll now take a closer look at the various factors that determine the cost of landscaping, whether it be the size of the garden, ease of access, or property location.
Type of Landscaping
Of course, one of the most important cost factors is the type of work. For instance, laying turf or installing a patio would likely cost a few hundred pounds, but the installation of artificial grass is likely to cost thousands.
Size of Garden
The scale of your garden may or may not be directly linked with the cost. That obviously depends on whether or not the landscaping work is to cover the entire garden. However, as a rule of thumb, the bigger the garden, the larger the work is likely to be.
The larger the landscaping work, the pricier the supplies will be, and most likely, the higher the labour cost will be. Therefore, garden size often correlates with a two-fold increase in job price.
Condition of Garden
As for the condition of the garden, this is important because the better the state of the garden, the easier the work will likely be and thus the lower you can expect your labour costs to end up.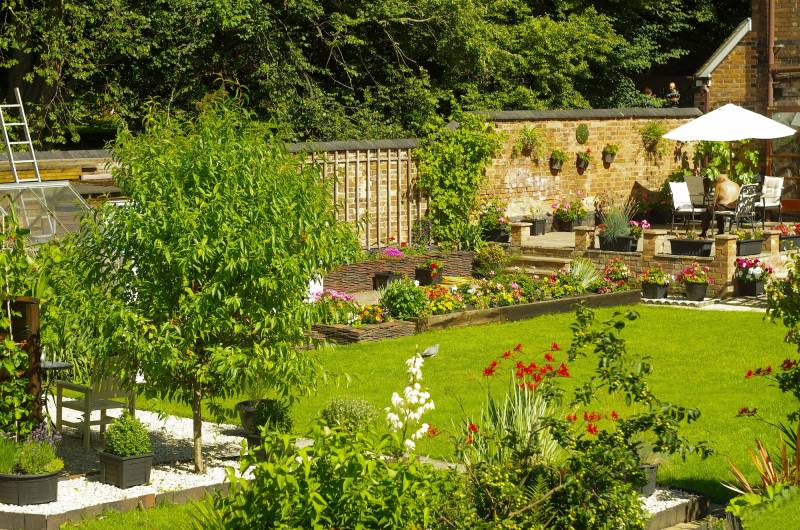 Not only that but if the garden has suffered plenty of deterioration, naturally, there'll be more waste to remove at the end of the work.
Ease of Access
To what extent this is relevant will depend on how easily accessible the job is.
All in all, though, the easier it is to access your garden and the areas of the garden in which the landscaping is taking place, the faster the job will take and the cheaper it will be.
Location of Property
As for where you live, labour prices tend to be higher in the southeast of England and London in particular but lower in regions such as Scotland, Northern Ireland, and the north of England.
What's Involved in Garden Landscaping?
We'll now take a closer look at the steps involved in landscaping a garden.
1. Planning and Hiring a Contractor/Company
First and foremost, you'll need to decide what type of landscaping work you'd like to pay for.
Then, it's worth getting at least three quotes before deciding on a specific contractor or company.
You should also ask for some references too. This, of course, assumes that you don't intend to undertake the work by yourself.
You should also think through some of your own garden landscaping ideas at this point.
2. Preparation
On the day of the work, the first step involves preparing the garden or/and setting up any necessary supplies and equipment.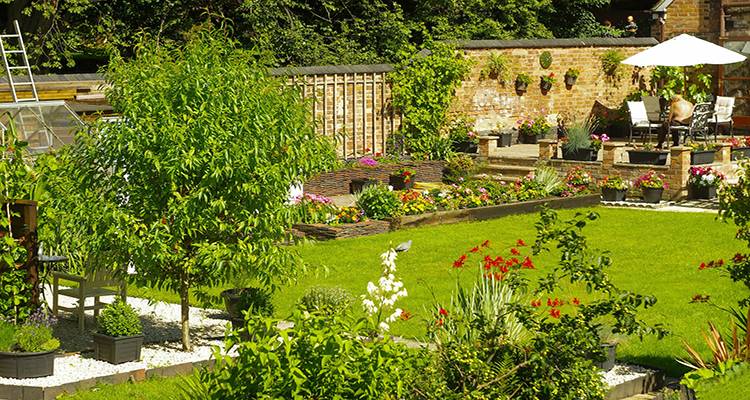 Of course, they may also need to come by in advance to measure the area or survey the garden before any work can get underway.
3. Landscaping
Once everything is in place, it's time for the landscaping to get underway. At this stage, the contractor(s) will begin to lay turf, install the decking, construct the garden pond, or get to work on whichever landscaping jobs are applicable.
This step of the work may be broken up into several phases (i.e. cut the decking boards, assemble the sub-frame, lay the boards out, add the solid composite deck boards).
4. Waste Removal and Wrapping Up
Once the work is complete, any wastage will be disposed of, and the area will be tidied up before the work concludes.
Can I Landscape a Garden Myself?
It is possible to undertake landscaping as a DIY job. However, you should only do so if you know exactly what's involved and you have the skills and experience necessary to undertake said work. If you're unsure about anything, it's best to hire a professional.
Some jobs may need to be signed off, such as where planning permission approval is required or if a build control officer needs to survey your work. As with any DIY work, landscaping comes with a range of hazards and dangers.
For example, with sharp or heavy tools/equipment, there is always a risk of injury, and the same applies to carrying or dealing with heavy loads.
Further, there is also the less serious risk of doing the job incorrectly, in which case you'd need to pay a professional to come by and complete the work for you anyway.
Building Regulations & Planning Permission for Landscaping
Building regulations and planning permission regulations vary depending on the specific job, and thus you may or may not apply. More information can be found via Planning Portal.
Although, please note that these regulations are specific to England and Wales, so rules may differ in Scotland and Northern Ireland. You're likely to pay somewhere in the range of £300 to £500 for a building regulations application and inspections.
As for planning permission, this may be required. Again, it will depend on the specifics of the job. More information can be found via the Planning Portal for those in England and Wales.
A planning permission application usually costs somewhere in the range of £200 to £500.
Usually, homeowners receive a response to their application with a decision made within two months.
In some cases, it may take as long as 13 weeks, if the project being proposed is especially large.
Types of Landscaping
Let's break down the various types of landscaping in a bit more detail.
Laying Turf Cost
Turf laying involves choosing where to lay it, how to store and deliver it, preparing the ground, fertilising, adding the topsoil, and then adding the turf itself.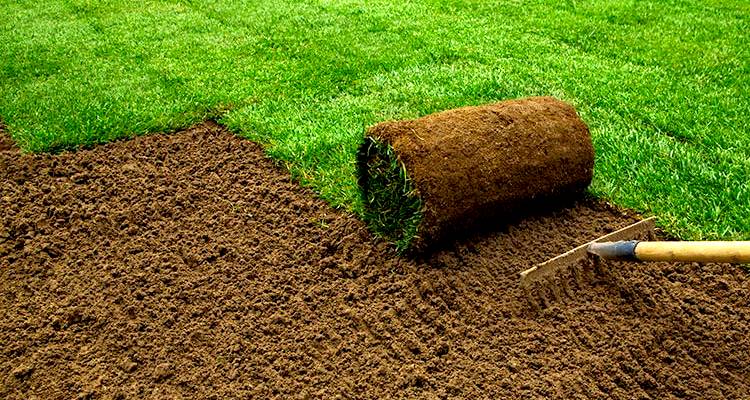 Next, the turf must be watered before it can be mowed for the first time. In terms of supply costs, budget lawn turf is priced at about £2 to £4 per m2.
Hard-wearing turf costs roughly £5 to £7, premium lawn turf would set you back between £7 and £10, while you'd need to pay £15 to £20 for wildflower turf.
Pros:
✔ Authentic grass
✔ Less expensive than artificial grass
Cons:
✖ Requires quite a bit of maintenance
✖ Prone to damage and disease over time
Artificial Grass Cost
It may interest you to have artificial grass installed. Unlike with the laying of real turf, artificial grass does not require much maintenance, presuming it doesn't experience much noticeable damage over time. Artificial grass costs about £72.50 per m2.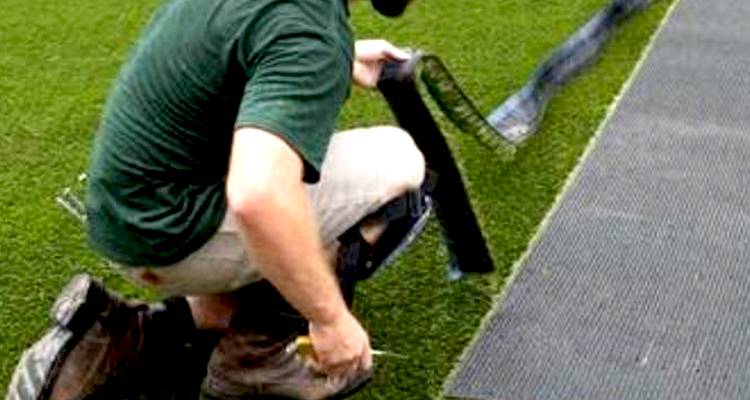 Pros:
✔ Durable
✔ Long-lasting
Cons:
✖ Not as cheap as real turf
✖ Laying artificial grass will not offer an authentic appearance
Decking Cost
Installing decking is a great way of creating a social fixture in your garden. It also acts as a raised platform and a focal point. On average, decking costs £80 to £90 per m2 if you'd like to have it installed.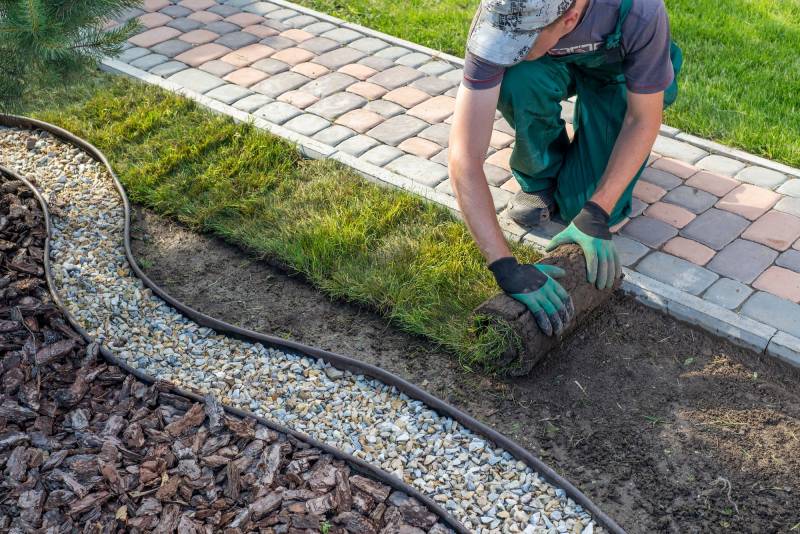 There is a range of decking materials to choose from, including hardwood and composite lumber. On the downside, decking can become hazardous after wet weather.
Pros:
✔ Social fixture
✔ Quicker to install than paving
✔ Focal point
Cons:
✖ Can become slippery
Planting Cost
Landscaping often involves plenty of planting. Whether that means adding new plant pots, fresh flowers to a small plot of land, creating a raised garden bed, installing crawlers, or strategically adding plants to attract pollinators like bees.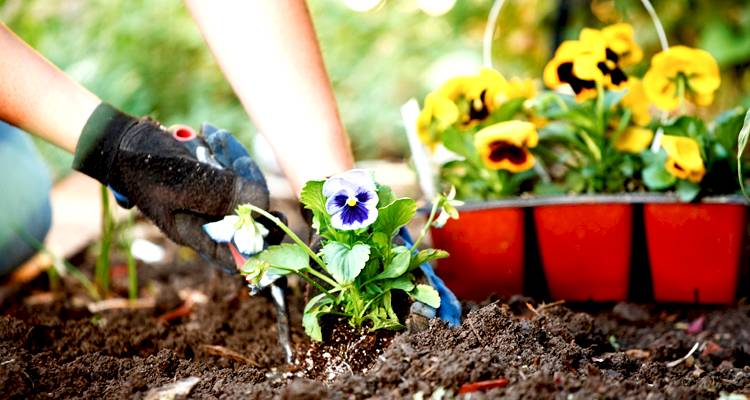 All in all, the options are practically endless when it comes to planting. Of course, the costs will simply depend on the specifics of the job and thus could vary significantly.
Pros:
✔ Decorative
✔ Aesthetic value
✔ Many options
Cons:
✖ May take some time to find the right choices for you
Patio Installation Cost
Installing a patio is an alternative to decking. Like with a deck, a patio can create a nice social spot that would be especially useful during the summer months.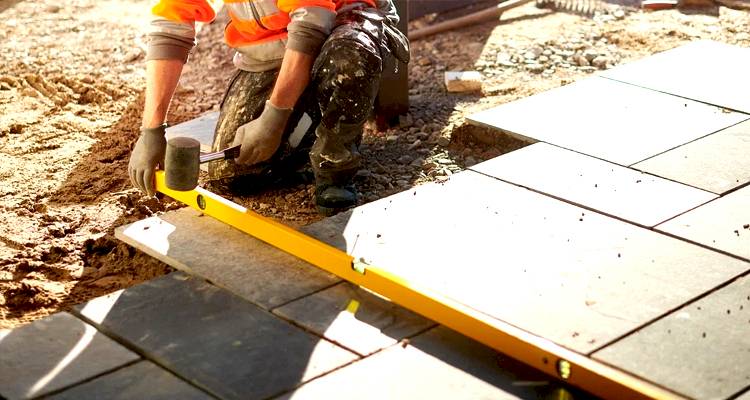 There are various patio materials (e.g. concrete, tile, brick, and granite) and styles to choose from. On average, it costs about £100 to £110 per m2 to install a patio.
Pros:
✔ Popular option
✔ Great for the summer
✔ Many materials and designs available
Cons:
✖ Can be expensive in terms of the cost of landscaping a garden
Hiring Contractors for Landscaping a Garden Checklist
There are a range of points you should consider when hiring a professional landscaper.
You should find out what experience they have, what their previous work was like, and whether their customers have rated them highly. Further, it's worth inquiring about accreditation and qualifications.
Though not all of these points are necessary for a landscaper to be worth your money, it's worth looking to take these various considerations onboard when hiring a landscaper.
FAQs
What plants are best for gravel landscaping?
Plants that are drought-tolerant are the best options, such as lavender, santolina, phlomis, euphorbias, and cistus.
What is hard landscaping?
As the title suggests, this involves using harsh, heavy, and jagged materials. In essence, it's an aesthetic characterised by materials like brick, stone, gravel, and concrete.
What is soft landscaping?
Soft landscaping involves the use of natural, biological decoration, whether with plants, trees, hedges, and so forth. If hard landscaping is the Grand Canyon, then soft landscaping is a flourishing forest.
What are some of the core elements of design for landscaping?
Texture, colour, lines, form, and mass are some of the most prominent examples.
What are the seven principles of design?
These are unity, balance, rhythm, emphasis, movement, and contrast.
Sources
https://www.planningportal.co.uk/info/200128/building_control
https://www.idealhome.co.uk/garden/garden-advice/garden-landscaping-costs-271132
https://www.realhomes.com/advice/garden-landscaping-costs

Last updated by MyJobQuote on 12th April 2022.