Woodworm Treatment Cost
The following guide sets everything you need to have about treating woodworm issues, including out the costs of different types of woodworm treatments, along with the supply and labour costs of the various methods.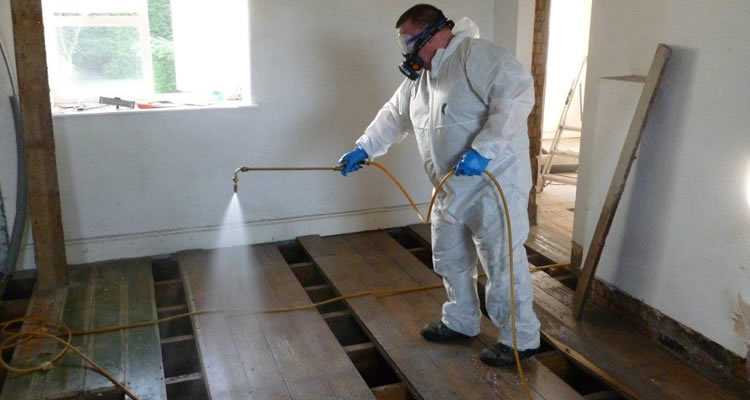 Average Cost of Woodworm Treatment:
Depending on the complexity of the job, it usually takes: 1-3 days
£750
How Much Does Treating Woodworm Cost?
Woodworms can wreak havoc to your home. They will eat away at wood-fixtures, furniture, and pricey wooden-beams, which will end up costing far more to replace in the long run.
If however, you properly pinpoint and set up a target-treatment plan, you can rid your home of woodworms in a matter of days. And, if you opt to hire a licensed professional, they can offer you various treatment methods to target the problem.
Woodworms can lead to other forms of infestation in the home; and, even if it doesn't, these small animals can cause quite a bit of damage to wooden-furniture and fixtures, and end up costing you thousands in treatment costs.
So, let's take a look at the general costs and the reasons why it is best to hire a professional at first sight of infestation, rather than attempt to rid the infestation problem yourself.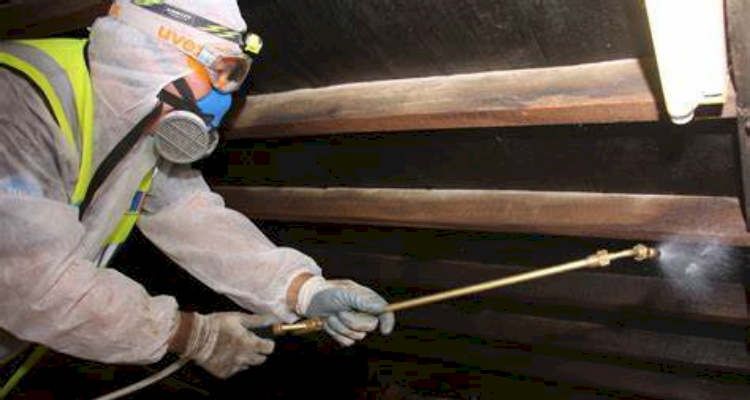 The average cost of treating woodworm will vary depending on the type of treatment required. For instance, a simple boron treatment normally costs from £15 to £42, while a fumigation or fogging treatment is typically priced anywhere from £500 to £1000.
You may also need to pay an additional charge for an inspection with a woodworm survey cost starting from £80 up to £250.
These costs will vary depending on the extent of the damage and the size of the space, as well as the type of woodworm as some are harder to get rid of than others.
Woodworm Treatment Prices
To help you understand the cost of woodworm treatment, here is a woodworm treatment price breakdown of the different treatment types for different-sized spaces.
| Type of Treatment | 15m² | 25m² | 35m² |
| --- | --- | --- | --- |
| Boron treatment | £15-£18 | £25-£30 | £35-£42 |
| Woodworm survey | £80-£130 | £140-£190 | £200-£250 |
| Fumigation/Fogging treatment | £500-£600 | £700-£800 | £900-£1000 |
Supply Costs
If you would prefer to save on labour costs with a DIY woodworm treatment, you will need to consider the following supply costs:
| Product Type | Supply Cost |
| --- | --- |
| Wood treatment | £5-£7 per litre |
| Woodworm killer | £2-£4 per litre |
| Boron powder | £18-£20 per kg |
Additional Costs
There are several other costs you need to consider alongside woodworm treatment, such as:
Replacing Structurally Damaged Joists
If the woodworm has affected the condition of your joists or floorboards, then you will need to have them replaced to enhance the look of your floor. This will require a professional carpenter's help who will generally charge around £400 to replace floor joists and floorboards.
Restoring Wooden Flooring
After solving your woodworm issue, you may need to consider hiring a professional to restore your wooden floor to rejuvenate it.
The cost of this will vary depending on the type of restoration required, for example, a simple floor stain is normally only priced at £6 per square metre, while floor sanding and refinishing typically costs £25 per square metre.
If you have had your stairs treated with a woodworm solution, then you may also need to pay for stair sanding which costs £35or more per square metre.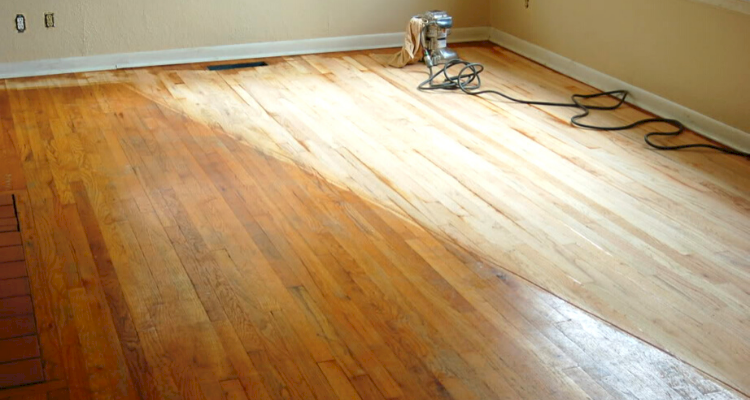 Rising Damp Treatment
Woodworms typically form in damp areas, so once you have resolved your woodworm issue, you will then need to sort out the damp. This will involve hiring a professional to treat rising damp which will range from £500 to £2000 to inject a damp proof course into one wall and up to £900 to £4750 for an entire house.
You may also want to install a damp proof membrane which is typically priced at £125per square metre.
Labour Costs and Timescales
The labour cost for hiring a professional to treat your woodworm issue will vary depending on the extent of the damage and what the job involves. For an initial woodworm survey, you should expect to pay anywhere from £100 to £250 per hour.
The overall labour cost will vary depending on the size of the home, as a small terraced property may only take one hour to survey while a large detached home could take up to four hours.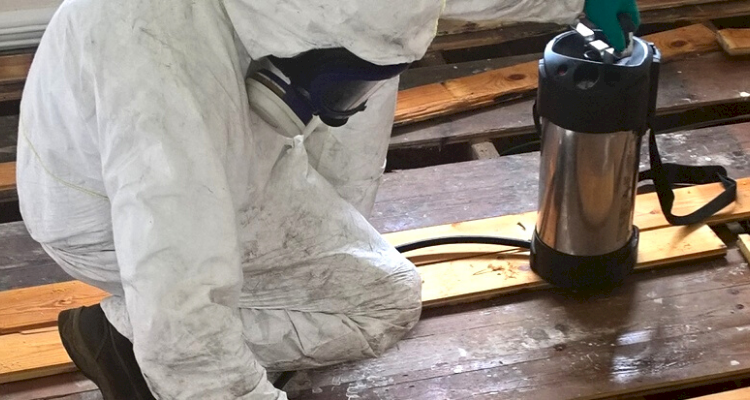 Tradesmen's costs also vary depending on the treatment required, with most professionals charging around £30 for an average of 25 square metres which can take anywhere from one hour to two days.
In comparison, more extensive jobs such as fogging or fumigation cost anywhere from £500 to £1000 for a one to three-day job.
Cost Factors of Woodworm Treatment
To help you determine the overall price for woodworm treatment, you should consider the following cost factors:
Type of Woodworm
One of the most critical factors you need to consider is the type of woodworm infestation you have. For instance, If you have to deal with a common furniture beetle issue, then a simple boron treatment will help to eradicate them.
However, if you have tougher woodworm pests such as house longhorn beetles, then this will require a professional woodworm treatment involving fumigation or fogging.
Type of Treatment
When hiring a professional, this usually involves surveying the issue to establish the best form of treatment which on average costs £80 to £250.
The price of the treatment will, of course, vary, with budget options such as a boron treatment ranging from £15 to £42. For an extensive treatment such as fogging or fumigation, you should expect to pay a lot more with prices ranging from £500 to £1000.
Location of Property
The location of your home is an essential factor to consider, especially because woodworms are typically prevalent in southern parts of England, especially Surrey. As infestations are more popular in this area of the country, you may find it a lot easier to hire a professional if you live in the south.
Unfortunately, you may have to pay more for a professional woodworm exterminator in other parts of the country. It is also important to remember that tradespeople in London and the surrounding area will charge more for their services, with some setting rates at up to £370 per day.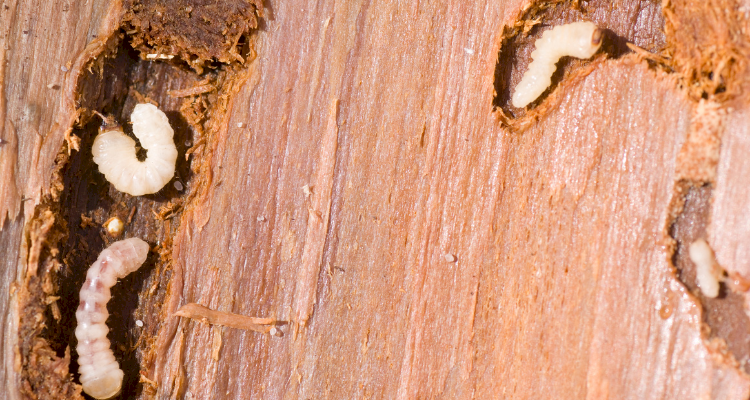 Ease of Access
The level of access to the affected area will also determine the costs, as the cost of woodworm treatment in roof joists may be more expensive, as would the cost of woodworm treatment in loft timber.
In the event of fumigation, homeowners will also need to move out for safety reasons so may need to consider the cost of staying in a nearby hotel, although some companies do cover this in their price.
Extent of Damage
If your woodworm infestation is significant, then you may need to consider the cost of repairing or replacing flooring, roof joists or furniture. You may also have to pay to get rid of damp and rot in order to prevent further damage which could increase your costs up to £4750.
What's Involved in Woodworm Treatment?
To help you understand the process of a professional woodworm treatment, take a look at the following step by step guide.
The first step involves conducting a woodworm survey to determine the type of woodworm and which treatment is required. They will also investigate whether the infestation is active while examining the extent of the damage.
Each woodworm treatment involves various processes, including:
Boron Treatment
Most professionals will apply a Boron paste to the infestation area, which will involve drilling holes into the timber of around 10mm in diameter. They will then fit an extension tube before injecting the Boron paste into the holes to making sure they are completely full. Once all the holes are filled, they will then place a timber dowel on each hole to cap off the entry.
Once the paste has dried completely, a boron-based gel will then be applied to the affected surface, making sure that there is at least 300mm of gel around the attacked area.
Fumigation Treatment
If you have a severe infestation, then a professional may advise that you move out of your home to allow them to fumigate the infested area. The reason for this is because fumigants can be harmful, so anyone who is not qualified to deal with these chemicals should be located away from the area.
Once the property is clear and the home is sealed off, the professional fumigator will then spread pesticides around the house to kill off the woodworm infestation in your home.
You will then be required to wait at least six hours or up to one week before it is safe to move back in your home, so a lot of companies offer accommodation rates within their price.
Fogging Treatment
If moving out of your home for longer than a day is not possible then you may want to hire pest control experts to exterminate your woodworm issue with a fogging treatment.
Fogging treatments involves the use of a fog machine which spreads hydrogen peroxide and silver ion around the space in the form of a fogging solution. This will require you to stay out of your home for around two to four hours, as the process can be harmful, although not as hazardous as fumigation.
Can I Treat Woodworm Myself?
Fumigation or boron treatment (most commonly used) aren't treatments you should attempt yourself. It is best to leave woodworm treatment up to the professionals. This is not a simple DIY project you can complete over the weekend.
In fact, if you don't choose the right treatment, further infestation can occur later on. And, if you select a chemical agent which is too strong, or isn't specifically intended to treat and kill woodworms, you can cause damage to wooden surfaces.
You also need to be very careful to avoid damaging other surfaces. For instance, say you choose the most potent chemical-based agent available, but you accidentally spray it on different surfaces or leave it on the wooden surfaces too long.
Now what? If damage ensues, you might have to dispose of certain items. So, if you don't know what you are doing, it is best to leave the fumigation and treatment up to the specialists.
Woodworms can wreak havoc to wooden surfaces, furniture, flooring, and even foundation. If it is appropriately treated at the first sign of infestation, it will greatly reduce costs and headaches. But, as a homeowner, this is not a DIY-fumigation job you should attempt.
Rather, leave it up to the professionals. Not only for your peace of mind but also to ensure you don't cause significant damage to your home, by choosing inappropriate treatment methods.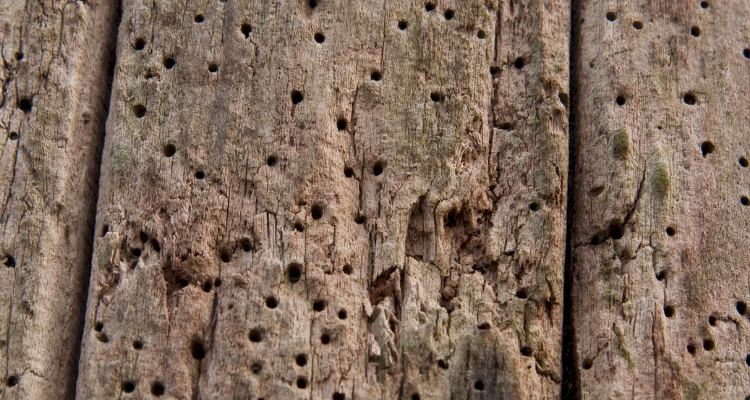 It is also essential you choose the right product to prevent a future outbreak. You may be able to get rid of them if you attempt to fumigate yourself, however, what about six months to a year down the road?
If you don't choose the appropriate method to eliminate the woodworms, future infestation can occur. This will result in more harm, damage, and possibly additional costs to you.
Licensed professionals know what they are doing. They survey the home, floorboards, doors, furniture, and all wooden surfaces. Many will even inspect the house foundations if there is wood below the home. So you know they are inspecting and ruling out areas where the infestation hasn't occurred.
From there, they decide upon the best treatment and solution methods. They don't bombard the home with powerful chemical agents or start fumigating if this is not necessary.
Professionals will offer different approaches, as well. So, they will present you with the most-drastic, versus the easiest treatment methods. They will inform you of duration, costs, expectations, and how they will go about removing and ridding the woodworms from future infestations.
They will provide you with full details about the services they will render, and how they will go about properly conducting surveys and treatment, to prevent issues or damage to your property.
Building Regulations & Planning Permission for Woodworm Treatment
Typically, you do not need to apply for planning permission or building regulations consent for woodworm treatment. However, if you own a listed or protected building, you may want to check with your local authority first.
This will come at a price, so you should check with your local government, as the cost varies for different regions.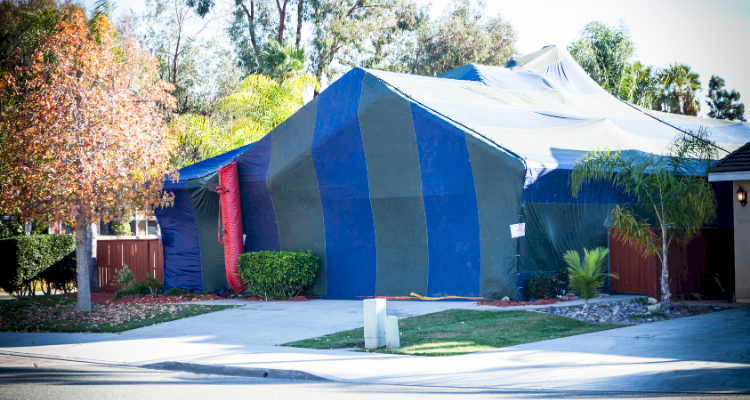 If your woodworm infestation causes significant damage, then you may have to obtain consent before making repairing or replacing anything. For instance, if you have any damp on your roof or notice any rotted joists, you may need to apply for building regulations approval.
This is especially important if you are making any structural alterations and plan to replace or fix more than 25 per cent of the roof.
Type of Woodworm
There are various types of woodworm which require different types of treatments, so to help you make the right decision, take a look at the below woodworm guide.
Common Furniture Beetle
The furniture beetle is the most common woodworm species which has light green and brown colouring that can be uncovered on closer inspection. You can also identify them by their droppings which are typically a sandy-coloured oblong shape.
Common furniture beetles also tend to swarm to the sapwood of both soft and hardwood where they leave 2mm diameter boreholes. They do not only damage wooden furniture and fixtures; they can spread throughout the home and eventually cause damage to the foundation, siding, walls, and other wooden surfaces.
The best treatment to get rid of the common furniture beetle is a water-based boron treatment which is a cheap option that can be sprayed or brushed onto the affected area.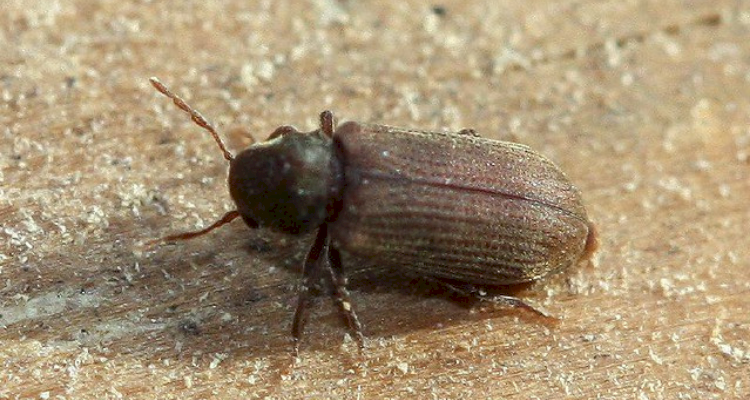 House Longhorn Beetle
The House longhorn beetle is a large insect which can be identified by its dark brown colouring, white hairs and long antennae. As it is larger than other woodworm species, they tend to create large 10mm diameter holes which tend to break the surface of wooden fixtures.
This type of woodworm prefers young softwoods, and they fly from space to space finding fresh wood to lay their eggs while filling the holes with their frass.
House longhorn beetles are a lot harder to remove than other woodworm types, so you may need to hire a professional to perform fumigation or fogging treatment.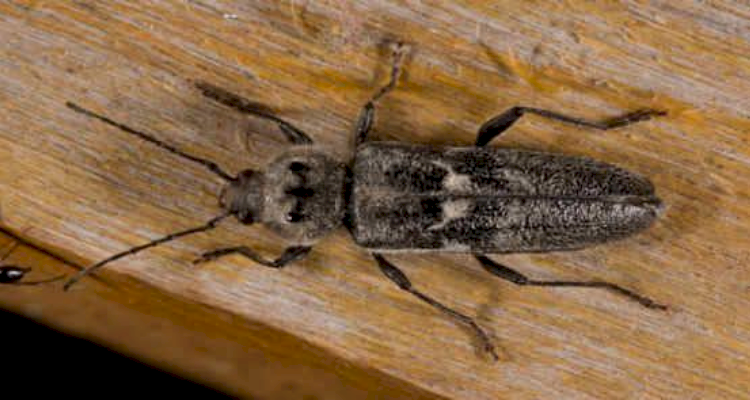 Powderpost Beetle
Powderpost beetles are a type of woodboring insect which have a slender appearance with red or black colouring. The larvae they produce is typically white or cream and can be recognised by its c-shape.
This type of woodworm is typically attracted to hardwoods with wide pores such as ash, walnut and sycamore. They bore holes into furniture and other wood fixtures and emerge from holes that measure 1 to 2mm – leaving white powder in their trail.
To get rid of powderpost beetles, you may want to hire someone to apply a boron treatment to the surface along with furniture removal to get rid of any infested or rotted wood.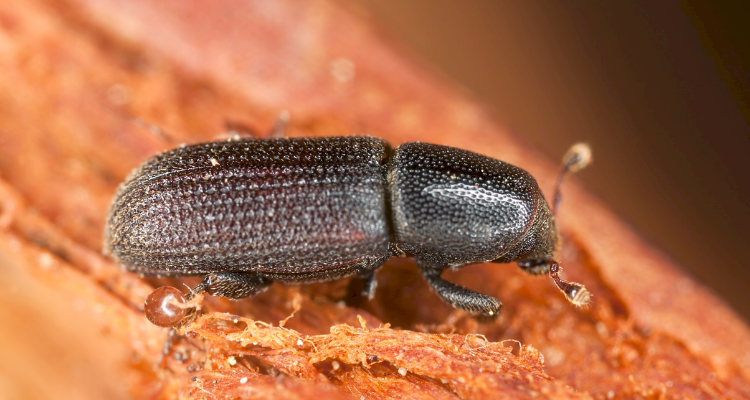 Deathwatch Beetle
Deathwatch beetles have a bee-like and furry appearance with its dark and light brown colouring. They can also be identified by their distinctive clock-like ticking, which they use to attract mates.
This woodworm species is normally attracted to hardwoods such as elm and oak which they rot away to create a white-rot effect. They also create borehole tunnels that measure around 2mm in width, which are typically packed full of frass, so you will notice the problem immediately.
To get rid of deathwatch beetles, professionals tend to use an injection method with chemicals such as boron or permethrin to extinguish the infestation.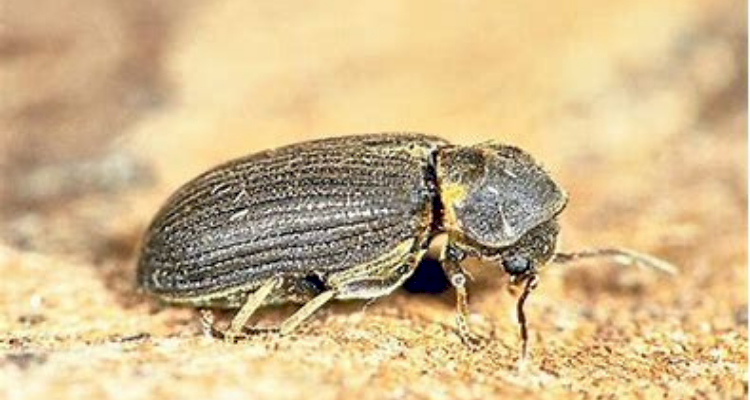 Type of Woodworm Treatments Cost
Woodworms might seem easy to remove/fumigate from your home. However, the wrong treatment method can do far more harm than good. Further, if you don't use the right chemical-compounds, treatment solutions, and don't go in the proper order when treating the woodworms, further infestation can occur down the road.
So to help you avoid any of these issues, take a look at some of the best woodworm treatments.
Boron Treatment Cost
Boron is a mineral that is typically found in the environment as well as many woodworm-removing chemicals which are generally water-based. For a boron powder, you should expect to pay around £18 to £20 per kg, while a boron paste costs £13 to £15 per tube.
Boron treatments are typically applied or injected into wood surfaces to eradicate most woodworm species safely. This type of treatment is a great choice for small infestation issues as it features ultra-low toxicity and therefore only kills woodboring insects, not spiders, birds or bats.
They also leave no smell; you don't have to worry about a lingering odour in your home.
If applying boron treatment as a DIY project, you need to be careful about using too much boron, especially if you are pregnant or have children as it can cause you to feel sick or have headaches when exposed to large quantities.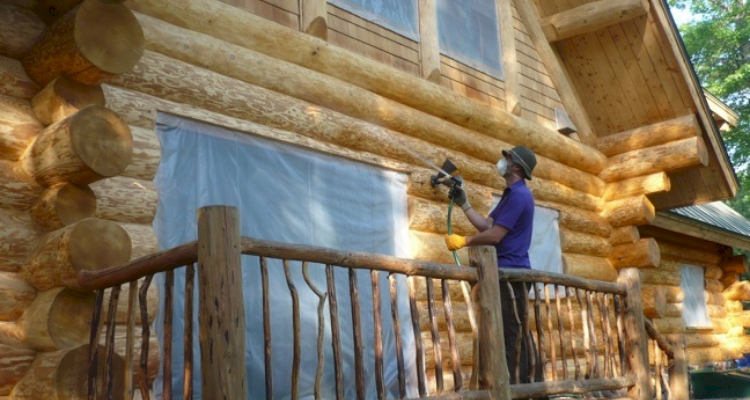 Fumigation Cost
Professional woodworm fumigation involves evacuating and sealing a property to spray gas around the home. This is not advised for DIY use, as only expert fumigators can conduct this type of treatment.
The main benefit of fumigation is that the fumes will reach every part of your home to eradicate a woodworm infestation which may have spread. This will also remove any other unwanted pests which may not have been picked up on, making your home a safer and more protected environment.
The issue with fumigation is that you will have to leave the home for several days, to prevent breathing conditions or possible respiratory problems later down the road.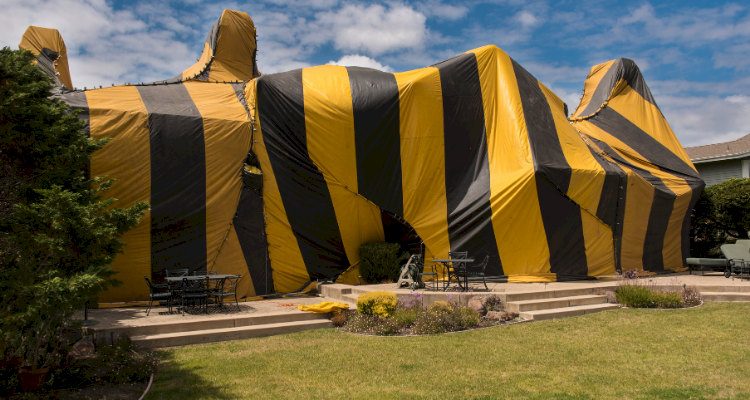 Fogging Cost
A woodworm fogging treatment usually involves a fogger machine which distributes chemicals under floorboards or throughout wooden fixtures to exterminate the woodworm infestation. You can hire a professional to do this or purchase your own kit which typically costs around £220.
One of the best advantages of choosing a fogging treatment is that it can be carried out in an open environment, unlike fumigation, which must be done in a sealed area. This means it is a low-risk treatment which does not have adverse health risks, so you can go back to your house in around 2 to 4 hours.
Fogging may not be the best option if the infestation is widespread, as unlike fumigation, it does not reach every corner of your home as it does in an open space.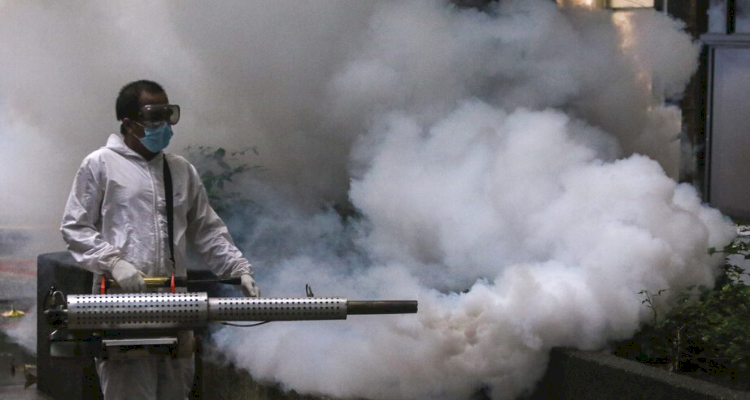 How to Spot Woodworm?
There are several tell-tale signs that you have a woodworm infestation, the first being the boring holes which are usually around 2mm, although the size will depend on the extent of the infestation. You may also notice tunnels that reach 10mm in diameter; however, this will depend on the type of woodworm you are dealing with.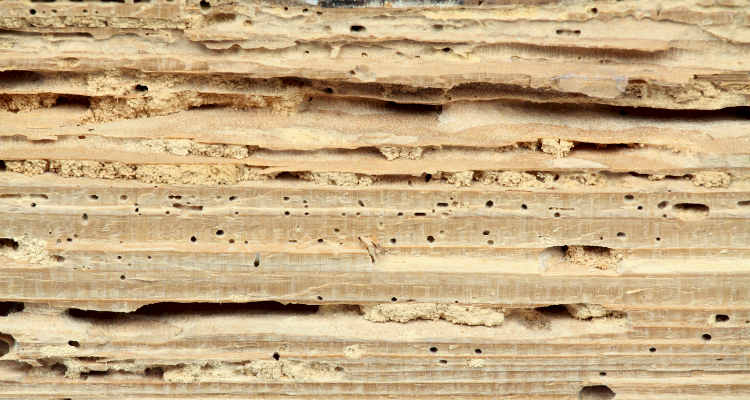 Other common signs include bore dust as well as disintegrating or rotting wood in roof joists or floorboards which will need to be replaced after a treatment is applied. You may also be able to see some beetles which could be dead or alive.
Hiring Contractors for Woodworm Treatment Checklist
Before hiring a professional woodworm specialist, you should take a look at the following checklist:
Choose a specialist who knows the methods: boron, water-based, fumigation equipment, chemical agents, and other treatment options.
If you require a fumigation treatment, you should check that the tradesperson holds an RSPH Level 3 Safe Use of Fumigants for the Management of Invertebrate Pests Units 1 or a BPCA Fumigation Diploma and relevant BPCA module certificate for the areas you intend to fumigate.
Make sure they have at least five years' experience treating woodworm and are familiar with all forms of infestation (house longhorn beetle, furniture beetle, etc.).
Check that they have public liability insurance and employer's liability insurance to protect you against any incidents during the treatment.
FAQs
How does woodworm spread?
Woodworm spreads as the female adult beetle lays eggs across various wooden surfaces, especially in more moist areas such as lofts or basements. The more the infestation is left, the more the larvae will spread as the female beetle will continue to lay eggs throughout your home.
What is woodworm?
Woodworm is the larvae of woodboring beetles which can be found in wooden surfaces in properties, especially in the South of England. Both woodworms and woodboring beetles can cause significant damage, as they bore holes and tunnels into wooden surfaces which can cause them to rot and disintegrate.
Should I fumigate the home?
No, this is not the first solution, nor is it the only alternative to treating woodworms. In fact, this should be the third or even fourth option, down the road. Boron treatments (water-based treatment) is the most common form of treatment.
Before you attempt anything, have a specialist visit and assess your home, and provide you with a detailed-quote about infestation levels/type, before treating the problem. With a few alternatives/quotes, you will choose the best treatment methods.
Can I fumigate the home myself?
This is not advised. Not only is it dangerous, but it can also result in the use of heavy chemical agents being used when they really don't have to be. Instead, learn about alternative treatment methods, to determine how to treat the woodworms, and a specialist will inform you of the best approach going forward.
What does woodworm damage look like?
Woodworm damage is relatively easy to spot as the wood will have small exit holes with some dusty around the hole. Woodworm is most active around May and September.
Sources
https://www.permagard.co.uk/advice/how-to-treat-woodworm
https://www.moving.com/tips/how-to-fumigate-and-get-rid-of-pests-once-and-for-all/
https://www.gov.uk/building-regulations-approval/how-to-apply

Last updated by MyJobQuote on 22nd December 2020.