Power Shower Installation Costs
Looking to find out how much power shower installation costs? In this article we breakdown the prices of different types of power shower and the costs of hiring a shower fitter to install them.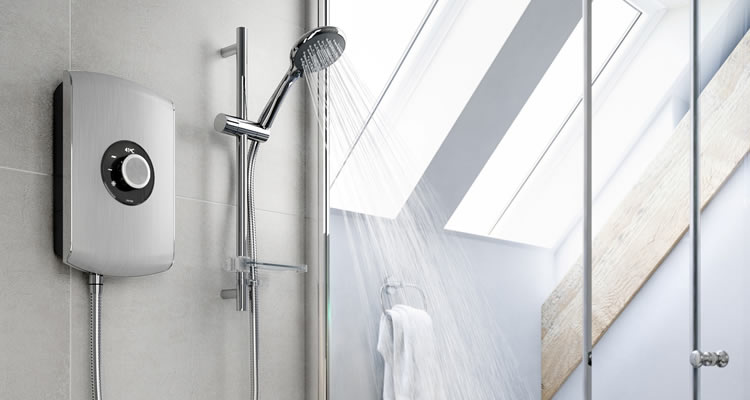 Average Cost to Fit a Power Shower:
You should expect this job to take about a day to complete
£500
How Much Does it Cost to Install a Power Shower?
People sometimes get confused between power showers and electric showers, but a power shower has a pump that increases the flow rate of both the hot and cold water coming into the shower along with a thermostat to control the temperature. But an electric shower does not have a pump, it just heats the water as it comes in from the mains or cold water storage tank. So a power shower boosts the water pressure whereas an electric shower just heats the water up.
A standard power shower using a pump takes hot and cold water from which is heated by your boiler and although they are cheap to run, they will use more electricity than an electric shower assuming the same time spent in the shower (though of course during the same time period a power shower will deliver more hot water). How much you would save with an electric shower depends on your electricity tariff, how you heat your hot water and how old your boiler is.
But as a rule of thumb, a power shower costs around twice as much as an electric shower, an average electric shower in a typical home with a gas boiler at current rates would costs around 20p for a 10-minute shower, whereas the same 10-minute shower would cost around 40p for a power shower. Installing a power shower is not a DIY project but you can swap a normal shower yourself as you do not need to have an electrical safety certificate but we would still recommend getting a professional in to complete the job.
Shower Installation Prices
| Job Description | Duration | Material Cost | Labour Cost |
| --- | --- | --- | --- |
| Installation of New Power Shower | 6-8 hours | £150 | £350 |
| Replacing Existing Power Shower | 2-3 hours | £150 | £120 |
| Electric Shower Installation | 3-5 hours | £130 | £200 |
Things to consider about power shower installation
Power showers work in the same way as the old mixer showers in that they simply combine water from the cold and hot water supplies. The only real difference being they use a pump to increase the flow, so are useful if your home has low water pressure. There are two basic types of power shower: those that use a pump integrated with the control unit that's mounted on the bathroom wall and those which have a separate pump often mounted near the water tank. Whether or not you can have a power shower really depends on the type of water system you have. Power showers are designed to work with gravity-fed water systems only and these systems usually have a cold water tank in the loft that feeds a hot water cylinder, often in an airing cupboard.
Other types of water systems such as combi boiler or pressurised systems, aren't compatible so you won't be able to install a power shower. Power showers are not as cheap to run or to buy as electric showers, but they are not as expensive as you may think. You can buy an entry-level power shower unit with an integrated pump for around £100, with recommended best buy models starting around £150, depending on the brand and whether it's a thermostatic model or not. The overall price of getting a power shower installed can increase rapidly if you go for an expensive shower. This is either due to the brand or you might need to upgrade your wiring so that the shower can be installed. This means the price of getting a power shower installed can range from £450-£1000 depending on the shower you choose.
Power showers can provide an invigorating and powerful water spray and offer better flow and temperature control than mixer showers. But they are more expensive than electric showers to run in terms of power consumption plus they use more water than electric showers which will also increase the bills if you're on a water meter. In addition, power shower units with integral pumps are usually bulkier designs than either mixer or electric showers. When getting quotes for a power shower installation bear in mind that if the existing wiring is old and doesn't meet current regulations, then it will need to be updated in the bathroom before the electrician will connect the new shower. This rewiring may also require some remedial work such as plastering repairs or redecorating and some wall tiles may need to be replaced.
How do you install a power shower yourself?
There are two kinds of power shower available, the easiest to fit is the shower unit with a pump built into it. The other type of power shower has a separate pump fitted elsewhere in the system which involves a bit more plumbing work. Both types of showers are good but the type with the integral pump is best for the DIY enthusiast. But before fitting, you need to ensure that your home is suitable for a power shower installation.
Not all homes can have a power shower as power systems need both hot and cold water from a tank and some homes do not have a tank for both hot and cold water. You can, of course, fit water tanks to enable a power shower installation in any home but this makes the installation much more difficult and expensive.
The ideal installation is a power shower with the minimum of pipework showing using an integral pump. Note that a shower pump needs electrical connections and great care needs to be taken when working with electricity, particularly in the bathroom. It is highly recommended that you use a plumber that is able to certify electrical work to Part P, or install the shower yourself then get an electrician in to add a fused and switched spur then wire up the shower unit.
Power Shower Benefits
Power showers increase the water pressure
Power showers blend hot and cold water to the right temperature
You can install a power shower in places where the water pressure is low
Power showers can increase property value
FAQ's
Do I Need a Plumber and an Electrician?
If any new cables/spurs are installed then that will need to be certified in accordance with Part P building regulations. All new electrical work in wet areas like bathrooms needs to be checked so it's compliant with Part P but there are plenty of plumbers that are able to certify electrical work to Part P regulations. If you just swap a unit like for like then no electrician or plumber is required.
Can I have a power shower with combi boiler?
No, a power shower is really just a water pump and combi boilers heat water as it flows through the heat exchanger, so if you pump the water faster through a combi boiler it will flow too fast to be heated to the right temperature.

Which features should I look out for in a power shower?
A thermostatic power shower can help to ensure your shower stays at a steady temperature even if someone turns on a tap or flushes the toilet. Power showers without this feature can turn scalding hot and then freezing cold as the shower struggles to adjust to the change in water flow caused by the water demands of other users in the home.
Last updated by MyJobQuote on 30th April 2020.