Bungalow Loft Conversion Cost
Find out exactly how much a bungalow loft conversion costs!
In this guide, we take a look at dormer bungalows, the cost of Velux loft conversion and labour fees.
Take a look out our detailed guide below to discover everything you need to know about bungalow loft conversions.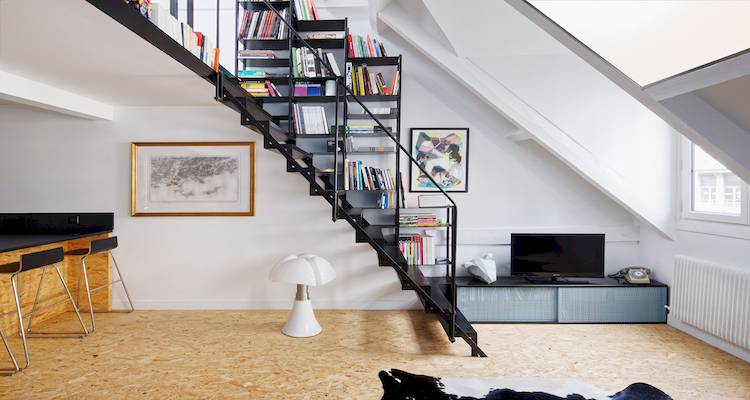 Average Cost of a Bungalow Loft Conversion:
Depending on the complexity of the job, it usually takes: 8-10 weeks.
£35,000
How Much is a Bungalow Loft Conversion?
A bungalow loft conversion is one of the most rewarding in terms of space as often the loft is the same size as the property's footprint.
This allows for large rooms in the conversion as well as lots of natural light. Of course, the loft's actual square meterage will play a large role in determining the overall cost of a bungalow loft conversion.
Bungalow loft conversion prices for a 20 square metre room can be as low as £20,000-£25,000 for a very basic finish, or you could pay extra and have a higher quality finish for £30,000-£35,000.
Such a small space would not really warrant high end fitting out, but if you did want to make it very special, you may pay between £40,000-£50,000 for this size loft conversion.
However, the average loft conversion will be either 40 square metres for a terraced or semi-detached property or 50 square metres for a detached property.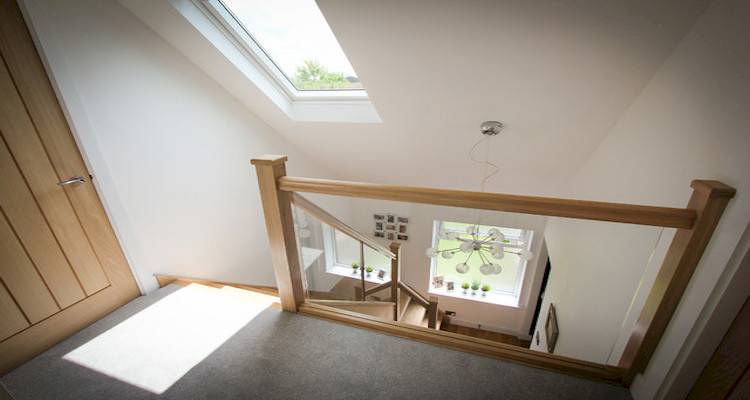 These are the limits set by planning rules for extending the property into the loft or to the side or rear. Any larger than this, and you will need to apply for planning permission.
A dormer loft conversion will typically be 40 square metres, and depending on the quality of the materials used and the finish required, you could spend between £35,000-£55,000 on average.
A detached property will have more scope to develop the loft as in these cases, you are allowed to develop up to 50 square metres.
If your property allows, you could have a mansard loft conversion finished to a good standard for between £55,000-£70,000 adding significant habitable space to your bungalow.
Location will play a large part in the average cost of loft conversion bungalows as prices will vary according to where you live.
Typically, in places where living space is at a premium, the cost to extend your home upwards or outwards will be higher than areas that are not so crowded.
Another cost factor will be access to the site. If this is difficult, then the project may attract additional costs for things like scaffold and skip delivery as well as delivery of materials and machinery.
Bungalow Loft Conversion Prices
There are several types of loft conversion, and most are suitable for a bungalow. Below is a list of the average cost of loft conversion bungalows finished to different standards.
| Type of Conversion | Basic | Average | Premium |
| --- | --- | --- | --- |
| Rooflight only | £20,000-£25,000 | £30,000-£35,000 | £40,000-£50,000 |
| Dormer | £35,000-£40,000 | £40,000-£45,000 | £50,000-£55,000 |
| Hip to gable | £40,000-£45,000 | £45,000-£50,000 | £50,000-£60,000 |
| Mansard | £45,000-£55,000 | £55,000-£60,000 | £60,000-£70,000 |
A rooflight or room in loft conversion requires no alteration to the structure of the loft and involves purely installing roof lights and strengthening the floor. This has the benefit of providing some basic living space without adding significant weight to the foundations of the bungalow.
A dormer loft conversion is perhaps the most common. It gives additional head height in the loft by removing the slope of the roof, normally at the rear of the property and adding what is in effect a box to the loft. This extra headroom allows the space in the loft to be maximised. The front of the conversion is normally fitted with rooflights that fit into the plane of the roof.
A typical bungalow dormer loft conversion may add two or more bedrooms and a bathroom or ensuite. It can practically double the living space in the bungalow. Bungalows that are detached or semi-detached may benefit from a hip to gable loft conversion.
The hip of the roof is the slope that continues above the gable end(s) of the house. This is removed, and the wall continued vertically to extend the gable. By building a hip to gable loft conversion, the overall internal space can be maximised, and the amount of headroom increased.
These conversions are slightly more expensive as there is more construction work involved, and the scaffolding needs to be specially adapted in order to provide safe access to the workers. The most expensive type of bungalow loft conversion is a mansard build, and this really does give you the most space in the loft.
However, in almost all cases, planning permission will be required due to the number of structural changes that need to be done to the roof. The roof is altered to a 72° angle and effectively turned into a wall to give the maximum space internally.
Still, as bungalow lofts are already spacious, this type of conversion is rarely needed. Aside from the type of conversion you may want to carry out on your bungalow loft, there is also the consideration of how big the loft conversion will be.
This will also have an implication on the overall cost.
| Area | Basic | Average | Premium |
| --- | --- | --- | --- |
| 20 sqm | £20,000-£25,000 | £25,000-£29,000 | £35,000-£45,000 |
| 30 sqm | £30,000-£36,000 | £37,000-£43,000 | £54,000-£67,000 |
| 40 sqm | £40,000-£48,000 | £50,000-£58,000 | £72,000-£90,000 |
| 50 sqm | £50,000-£60,000 | £62,000-£72,000 | £90,000-£112,000 |
Supply Only Costs
Few people will be able to build a bungalow loft conversion by themselves, as there are so many trades required and Building Regulations to be met it would be impossible to do it alone.
However, some carpenters and builders do construct their own loft conversions with the help of electricians, plumbers, plasterers etc.… that they know.
Below is the cost of materials only to build various sizes of bungalow loft conversion to different build and finish standards.
| Loft Size | Basic | Average | Premium |
| --- | --- | --- | --- |
| 20 sqm | £9,000-£11,250 | £11,250-£13,000 | £15,750-£20,250 |
| 30 sqm | £13,500-£16,000 | £16,500-£19,500 | £24,250-£30,000 |
| 40 sqm | £18,000-£21,500 | £22,500-£26,000 | £32,500-£40,500 |
| 50 sqm | £22,500-£27,000 | £28,000-£32,500 | £41,000-£50,500 |
Additional Costs
There are many additional costs associated with building a loft conversion on a bungalow.
Some may be more obvious than others, and some may be optional and depend on your type of loft conversion and what rooms you have added to your house.
Hiring a Skip
Converting a loft will generate a lot of waste and will usually demand the hiring of a skip.
This is the quickest way to get rid of all the old insulation in your loft, old roof tiles and timbers that may be removed and all the other waste associated with major construction work.
The average cost of hiring a skip is around £220, but this will depend on where you live and the amount of time that you need the skip for.
Underfloor Heating
Many people prefer the unobstructive practicality of underfloor heating as opposed to bulky radiators.
There are two different types of underfloor heating, a wet system that is fed with warm water and an electric system. It is this latter type that is normally found in loft conversions.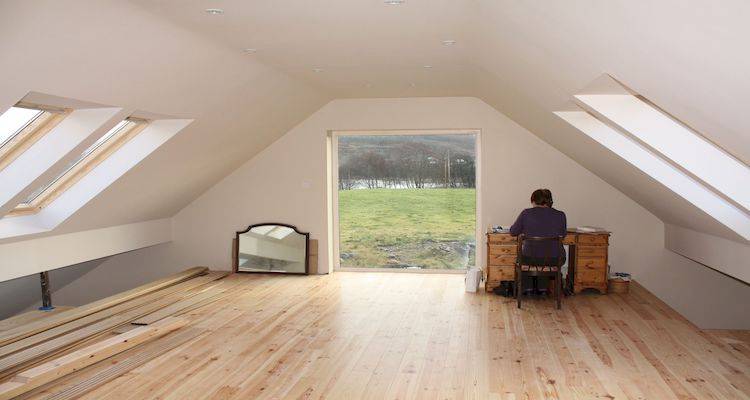 To install underfloor heating as part of a bungalow roof conversion, an electrician will install a heating mat underneath the final floor covering of the room.
This will cost on average £500-£700 depending on the floor's size and the area you live in.
Lighting
Additional rooms in your bungalow loft conversion means that you will need to install new lighting.
The cost of this will vary depending on your taste, budget and needs for the house.
Modern lighting that can be controlled by voice command or an app on your phone can cost thousands, whereas table lamps, downlighters, or pendant lighting can be bought for less than £50.
Whatever you choose to light your new bungalow loft conversion, you should always use a qualified electrician.
Labour Costs and Timescales
A bungalow loft conversion cost will be split between labour and materials. The materials typically account for around 45% of the overall cost and labour, approximately 40%.
For a self-build loft conversion, there will be some labour costs for electricians, plumbers and plasterers, and it is useful to know what the average prices are for these trades.
Carpenters
The majority of construction work on a bungalow loft conversion will be done by first fix carpenters. They will install the framework of the loft and the steel joists that support the extra weight of the loft.
This is particularly important in a bungalow where the walls were not built to take the weight of another floor.
The cost of a first fix carpenter is on average £130-£170 per day in the UK.
Plasterers
Plastering will be an important part of the bungalow loft conversion process, and a plasterer will cost around £150-£180 per day on average. Some plasterers will install the insulation and plasterboard, but sometimes this will be done by the first fix carpenters.
Occasionally a loft conversion specialist will have their own 'closing up' team who will fit the insulation and plasterboard. They will typically cost £100-£150 per day.
Electricians
A qualified electrician must carry out all electrical work in your bungalow loft conversion. This will include the first fix electrics, which involves installing all wiring for power points, lighting, and electrical appliances.
They will also carry out the second fix electrics, which will be installing the sockets, switches, and light fittings. An electrician will typically charge £150-£280 per day, depending on location.
Plumbers
A bungalow loft conversion will normally include at least one bathroom, and indeed, the space that most offer could allow for a bathroom and ensuite, so you will most likely need a plumber.
As with electricians, a plumber will carry out both first and second fix installations. The first fix runs pipework for water and waste to the necessary locations in the loft.
Once the loft has been plastered, the plumber will come and fit the sanitary ware such as the toilet, sink, bath, or shower. A plumber will cost on average £150-£270 per day depending on where you live.
Tilers
Some people are very capable of carrying out their own tiling, but most of us will probably prefer to leave this to a professional. If you have a bathroom or ensuite in your bungalow loft conversion, you will most likely need a tiler.
The average cost of a tiler for a day will be around £140-£200, but you will need to supply the tiles and grout yourself. Most tilers are happy to supply the adhesive.
Decorators
For those who are not keen on decorating, hiring a professional decorator will be one of the final jobs for a bungalow loft conversion.
This should be done when all the dusty jobs have been completed to avoid spoiling the finish. A professional decorator will charge around £120-£180 per day.
What is Included in the Price?
For loft conversion specialists, the labour cost will be included in the quotation you have given. Most reputable contractors have either permanent staff or sub-contractors that they use on a regular basis and will know the costs of each trade.
Pricing for a bungalow loft conversion will take into account the condition, size and location of the property, the type of conversion that the client wants and is feasible and the finish that they wish to achieve.
For this reason, it is difficult to give an average cost for a bungalow loft conversion as each project will be different. Size, budget, and client preference all dictate the bungalow loft conversion cost.
The costs will be for architectural drawings, structural engineer calculations, building control fees, and planning permission if needed. This is on top of all the materials, labour, and extras such as scaffolding and skip hire.
An average bungalow loft conversion will cost approximately £45,000, but this depends on location, size, loft type and required standard of finish.
How Long Will Everything Take?
The first stage of the process will involve the architect drawing up detailed plans and the structural engineer completing their calculations. This should take no more than a couple of weeks from initial site visits to plans and structural calculations being complete.
If the bungalow is in a conservation area or other designated areas, planning permission will need to be sought. This is also the case if there will be significant structural changes to the property, such as those involving a mansard loft conversion.
Bungalow loft conversion planning permission will take a minimum of eight weeks. During this time, the application will be checked to ensure it is complete and all relevant information has been included.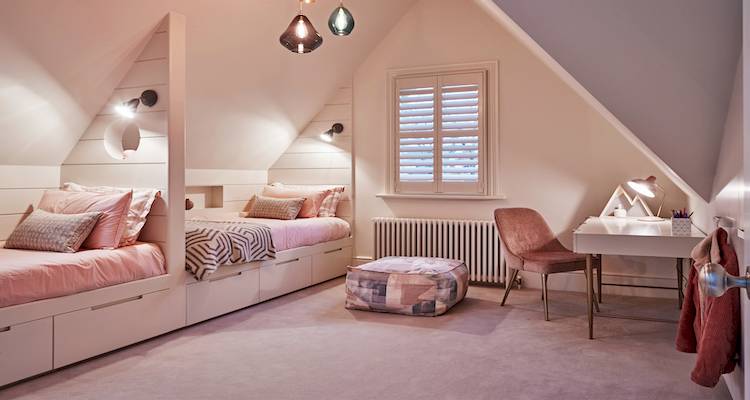 If permission is refused, you can appeal, but this can take many months. The construction phase can take from six to eight weeks, depending on the property's size, type, and location.
A room in loft bungalow conversion that just involves installing roof lights will be completed much quicker than a more complex build such as a hip to gable loft conversion.
The weather can sometimes affect the build stage, especially in the initial stages when it is open to the elements, which can have time implications.
Unforeseen issues such as delays with deliveries of windows or doors can also slow progress. Each phase of the project will be dependent on the one previous to it being completed, and delays can have knock-on effects.
Cost Factors of a Bungalow Loft Conversion
Many things can affect the cost of a bungalow roof conversion, size of the loft, location of the property, quality of finish, and conversion type.
Size
The size of the loft conversion will have a direct impact on the cost. The larger the space to be converted, the more materials, labour, and time it will take.
The space may be as small as 20 square metres or as large as 50 square metres. The determining factor in the size of the loft will normally be the size of the footprint of the bungalow itself, typically the larger the bungalow, the larger the loft.
So, while a 20 square metre bungalow loft conversion may cost around £20,000-£45,000 depending on finish, a 50 square metre conversion can cost £50,000-£110,000.
Quality of Finish
The type of finish and fittings that go into the bungalow loft conversion will definitely have a cost implication. There are many aspects of a loft conversion where the choice for low, average, or high-end finish will be available.
Although the construction materials for the frame of the conversion will normally be the same across the board, items such as roof tiles, windows, French doors, flooring, bathroom fittings, and furniture will all be subject to personal taste, budget, and the desired look of the finished loft conversion.
A basic 40 square metre bungalow loft conversion can cost between £40,000-£50,000, while a high end, premium finish of the same size can be as high as £70,000-£90,000.
Size of Property
The size of the bungalow will have cost implications as this usually determines the size of the loft. A large, detached bungalow will typically have a voluminous loft, while a terraced bungalow will be slightly more restricted in size.
A bigger loft will require more work and materials to convert it into living space, increasing the cost.
Location
The area you live in will be a cost affecting factor in a bungalow roof conversion and determine how much you pay for labour and materials. While there is no such thing as a cheap loft conversion, there are areas of the UK where prices are lower.
The average cost of loft conversion bungalows across the country may vary, but no more than typical property prices. They may not be as popular in more trendy areas where bungalows are considered the older generation's preserve.
Still, for a savvy investor, a loft conversion bungalow can be property gold. A dormer bungalow may cost around £35,000-£45,000 in some parts of the UK, but in London, the cost is more likely to be £50,000-£60,000.
Access
One of the factors that can often be overlooked as a cost is the ease of access to a building site. Quite often, this issue does not become apparent until you need to receive deliveries of materials, scaffolding or a skip.
Narrow streets, steep hills or winding roads can prove difficult to negotiate for large lorries. This may mean extra costs if a company is delayed while attempting a delivery to you and you haven't mentioned access issues at the time of ordering.
A failed delivery can also incur charges if a re-delivery needs to be arranged, and if you have tradespeople waiting for materials, this can cost you in terms of lost labour time.
Room Type
The use to which you are going to put your bungalow loft conversion will have a cost implication. One of the cheapest rooms to build and furnish is a bedroom, as normally this will just involve stud walls, windows, and the flooring of your choice.
You then just need to decorate and put your furniture in. A bathroom or ensuite is a different story. It will need to be first fixed, i.e., all water and waste pipework installed by a plumber.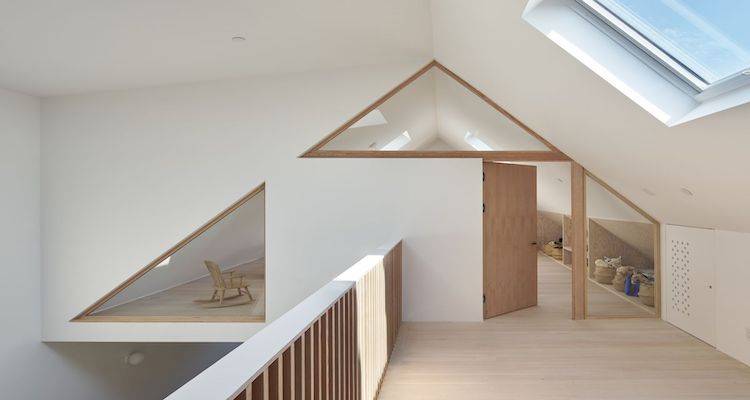 Then it needs to be dry lined with plasterboard and plastered. Following this, the bathroom will be second fixed, meaning that the sink, toilet, bath, or shower will be fitted. The bathroom will probably also be tiled, may have underfloor heating, and will also need to be decorated.
The cost of sanitary ware, tiles, décor, and the labour of a plumber, tiler, and decorator mean that a bathroom will likely be much more expensive as part of a loft conversion than a bedroom.
What's Involved in a Bungalow Loft Conversion?
The process of building a loft conversion follows a logical series of steps from drawings by an architect to the final brushstrokes of a decorator. The transformation of a little used and neglected void under your roof to a practical, useful, and often beautiful living space takes time, skill, and vision.
Quotations
The first step in building a bungalow loft conversion is to get at least three quotations for the build. This is not only so that you can compare prices but also so you can judge who you feel will work best with you to get the result that you want.
Although budget is important, having the loft conversion that you envisage rather than a cookie-cutter option that is easier for a builder is equally important. So, get three or more loft conversion specialist to come to your home, talk you through the process and give you a price.
From these conversations and estimates, you should be able to make a decision that is right for you. Of course, you can always ask friends, family, neighbours, and work colleagues for recommendations if they have had a loft conversion done.
It is also wise to ask the loft companies that quote for you for references.Some will even arrange visits for you to previous clients so that you can see their work first-hand and get feedback about how they work, how they treat a client's home, and what the process was like.
Architect & Structural Engineer
Most loft conversion specialists will have their own in-house architect and structural engineer to complete the client's drawings and structural calculations. This is done following a site visit as well as discussions with the architect about what the client wants.
It may be necessary to check the foundations of the bungalow prior to any decision being made about the loft conversion to ensure that the footings can take the weight of another floor. Underpinning may be required in some places, but your structural engineer will let you know if they deem it necessary.
Planning Permission
Bungalow loft conversion planning permission requirements are not a given, and most can be done under permitted development rights. As long as it does not exceed the allowed square meterage of 40 sqm for a terraced or semi-detached bungalow and 50 sqm for a detached property.
So, while a straightforward dormer bungalow may not need planning permission unless it is in a conservation or designated area, a mansard loft conversion more often than not will. You should allow at least eight weeks for a bungalow loft conversion planning permission application, and it will cost around £200.
Building Control
For a loft conversion, you will need to file a building notice with your local authority to advise them of the work that you intend to carry out.
This is typical for extensions and conversions of this kind. This notice is also an acknowledgement that the build will need to comply with bungalow loft conversion Building Regulations.
Party Wall Notice
For a semi-detached or terraced bungalow loft conversion, you will need to serve a Party Wall Notice to any adjoining neighbours. This informs them of the work you intend to do and how it may affect the wall connecting your properties.
The notice needs to include your name, the address of the property, details of the planned conversion and the proposed start date. It needs be served at least two months prior to the start date. If they have no objection, then they will sign the notice to say so, and you can proceed.
However, if the adjoining neighbour is concerned about their property's potential impact, they have the right to ask for a Party Wall Survey, which you will need to pay for.
This survey costs between £800-£1,000, and while it is possible for you and your neighbour to share a surveyor, as they sign an impartiality agreement and save some money, they may prefer to have separate surveyors.
In this instance, you will have to pay the fees for both surveyors.
Scaffolding
Depending on the type of loft conversion, scaffolding may need to go up on two, three or, in the case of a detached bungalow, four sides of the property.
As it is only one storey high, there will only need to be one lift of scaffolding, unlike two-storey houses that require a second lift. The scaffolding is attached to the building, and boards laid down on it as a working platform.
Only those who are insured to work on the scaffolding should do so therefore, you should not climb the scaffolding yourself or let any other uninsured person do so.
Skip Hire
You will most likely have rubbish from your loft that will need to be removed, some of which you may want to dispose of. There will also be old insulation and debris from the loft that has to come out before work can begin.
Therefore, you will need a skip from the beginning of the works. Over the course of the build, the skip will be used for construction waste and may need to be changed two or three times, depending on the project's size.
Construction Phase
All of the above issues should be discussed before your construction start date so that everything is on-site and ready for the carpenters when they arrive.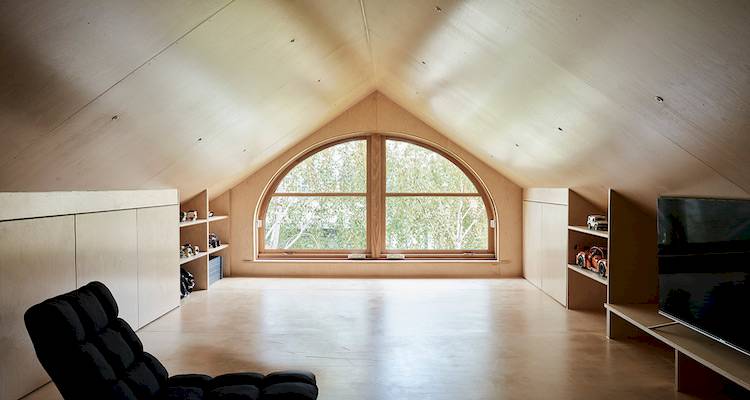 The scaffolding will be up, the skip should be in position and materials needed for the building of the loft carcass on site.
Different Methods
The methods will change slightly according to the type of loft conversion on a bungalow that you are building. A roof light loft conversion will be quicker and not involve as much construction, it will also be cheaper.
Roof light conversions will only involve cutting out the roof to insert the roof lights and reinforcing the floor, everything else will be down to internal fitting out.
A hip to gable is more complex and will involve more of the roof being stripped as the hip is removed and the gable built up. This is a more expensive and time-consuming loft conversion on a bungalow but will only apply to either semi-detached or detached properties with a hipped roof.
A mansard loft conversion is a large undertaking, although not very common for a loft conversion bungalow. Mansard conversions are typically preferred where space is at a minimum in the loft, and this is rarely an issue with bungalow lofts.
This is a more expensive and complex conversion and will take longer.
Can I Build a Bungalow Loft Conversion Myself?
It is possible for someone to build a bungalow loft conversion as a DIY project, although these people tend to be builders, carpenters, or roofers. To say someone can do it themselves as a DIY project is a misrepresentation anyway as there are so many trades involved.
There are also many stages of the build that need to be checked by a Building Control inspector, and knowing at which points this needs to be done is important to avoid undoing work so that elements of the build can be inspected.
For these reasons, most people will hire a specialist loft conversion company to build their loft.
Not only do these companies have the experience, qualified tradespeople, and knowledge, but they will also arrange things like scaffolding, skip hire, material deliveries and Building Control inspections for you.
There are aspects of a bungalow loft conversion that need to be signed off by professionals. As mentioned, there needs to be inspections of the steels and insulation by Building Control which need to be signed off.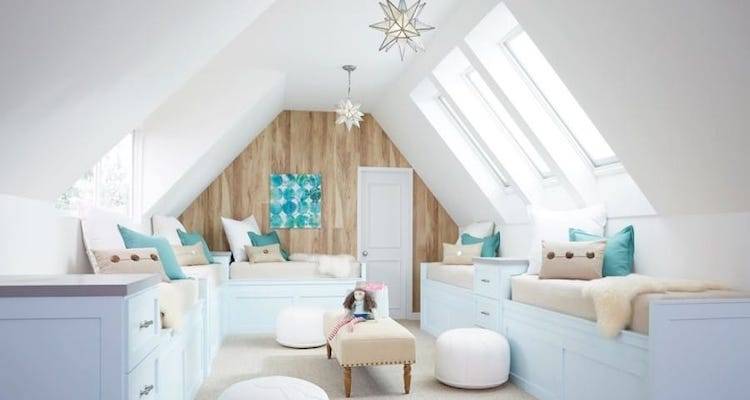 The electrical works need to be completed in line with Part P of the Building Regulations and must be signed off by a qualified electrician. For some bungalow loft conversions, there may be a need to replace the existing gas boiler.
Adding radiators to an existing system, particularly if it is old, may put excess strain on your boiler, and it may need to be replaced. This should only be done by a Gas Safe heating engineer or plumber.
Of course, some jobs in a bungalow loft conversion can be completed DIY and can potentially save you some money. Decorating, tiling or laying flooring are all tasks within the capability of most confident DIYers.
There are, however, always hazards or dangers in completing any DIY work, and you should always take adequate and timely precautions.
This can include wearing safety goggles and gloves when cutting tiles, working from a safe platform when decorating and being careful with power tools when laying floors.
Building Regulations & Planning Permission for a Bungalow Loft Conversion
Most construction needs to conform to industry and government standards, and these are usually in the form of Building Regulations.
From the steels that you use to support the weight of the new rooms to the insulation that you put in the roof, walls and floors, bungalow loft conversion Building Regulations are what will apply in your roof extension.
The need to apply for planning permission does not affect the requirement to conform to Building Regulations.
What Building Regulations Need to Be Followed?
For a bungalow loft conversion, the Building Regulations that need to be followed are:
The Part P certificate should be supplied to you from the loft conversion contractor as proof that the electrics fitted in your bungalow loft conversion have been signed off by a qualified electrician.
This certificate, along with the completion certificate from Building Control, are normally sent to the client once the project is finished.
Information regarding Building Regulations can be found on the Planning Portal or the government and local communities website. The cost for inspections by Building Control to ensure that you conform to Building Regulations should be included in the quote given to you by your loft conversion contractor.
These costs vary from one local authority to another or between private building control companies.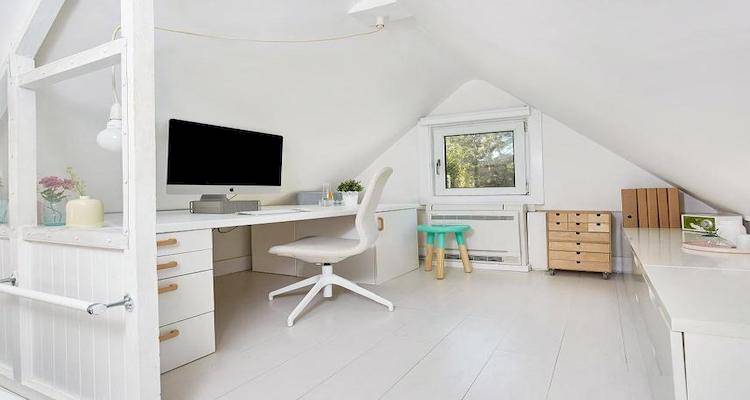 Planning Permission
Most bungalow loft conversions will not require planning permission and can be constructed under permitted development rights. However, suppose your bungalow is a listed building in a conservation or other designated area such as an AONB (Area of Outstanding Natural Beauty). In that case, you will need to apply for planning permission.
Similarly, if you want to do a mansard loft conversion on your bungalow, you will almost always need planning permission. If your project does require planning permission, then you will need to adhere to the guidelines.
A loft conversion in a terraced or semi-detached property will be restricted to developing 40 square metres. For a detached property, this allowance is 50 square metres. >If the proposed loft is any larger than this, planning permission will be required.
The cost of planning permission in England for a loft conversion is £206. In Wales, it is £190, and in Scotland, £202.
The average timescale for planning permission is eight weeks, although it can extend to thirteen weeks for larger and more complex applications. If your bungalow shares a party wall with an adjoining neighbour, you will need to issue a party wall notice.
Be aware that if the property is rented, you must serve the notice to the owner and not the tenant.
Benefits of a Bungalow Loft Conversion
There are many benefits to enlarging the living space in your home. Typically, the space in the loft accounts for 40% of the volume of the house, and if this is unused, then it is a waste.
Extra Living Space
The benefit of extra habitable space in your bungalow cannot be overstated. British homes have become smaller over the years, and the desire for extra rooms and space in properties has become stronger as houses shrink.
Most bungalows built before the 1960s are large and voluminous with good pitches to their roofs, meaning that their lofts are big and ripe for conversion.
Increase Property Value
Most people will add bedrooms to their loft conversion, which can significantly affect the property value. Adding one or two bedrooms can increase your bungalow's value and make it attractive to buyers who may otherwise not have considered owning a bungalow.
A loft conversion can add 15%-20% to your house's value, and additional bedrooms will always make it more saleable. >The extension upwards also preserves outside space, which maintains the property's attractiveness to buyers.
Accommodates a Growing Family
As your family grows in number and size, you may feel your bungalow is becoming a bit of a tight squeeze. Particularly as children grow into teenagers, they want and need more room and space to themselves.
By adding a loft conversion to your bungalow, you can either provide additional bedrooms, a larger family bathroom or a chill-out zone where teenagers can escape their parents.
A bungalow loft conversion is also a good idea if you have an elderly parent. You can move bedrooms for other family members upstairs and provide your parent with ground floor accommodation.
Removes the Need to Move
By extending your house upwards and providing more living space, you may avoid the need to move with all the stress and expense that goes with it.
While building a bungalow loft conversion is not cheap, it is nevertheless an investment while moving costs are not recoverable.
Hiring Contractors to Build a Bungalow Loft Conversion Checklist
Most people will not be able to build their own bungalow loft conversion and will want to hire a contractor or builder to do the work for them. But what should you look for? There are a few things that you should consider when thinking of hiring a loft conversion contractor.
What qualifications does the contractor have? While formal qualifications are not typically a thing to look for in a building contractor, it is important to know what qualifies them to do the job.
In this case, you need someone whose main business is converting lofts. General builders would not be the best option unless they have carried out numerous loft conversions and you have the opportunity to view their work.
Specific experience with loft conversions is one of the most important criteria to look for when choosing a loft conversion contractor.
You should look for a company that has been established for some years and has a good local reputation. Business premises and liveried vehicles are good signs of a stable and successful company.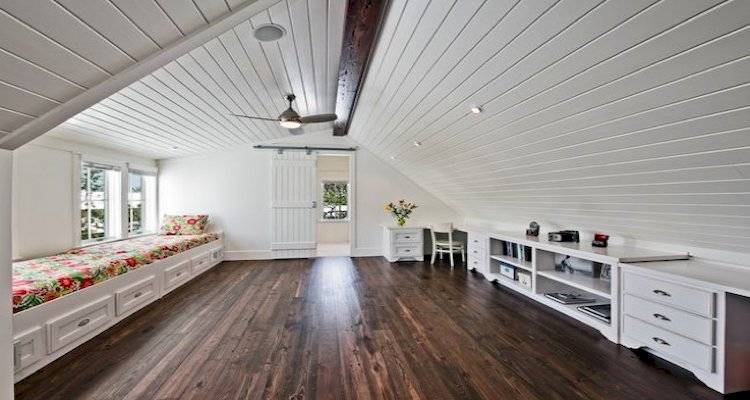 Where possible, you should ask to see previous work of any loft conversion contractor that you are considering hiring. Most will be happy to arrange visits with previous clients, which will allow you to see the finished work and speak to the homeowners about the process.
Ratings by previous clients on contractors' websites may or may not be genuine, so treat them with caution.
It is better to get first-hand accounts of a contractor's standard of work, how their workers treated the house and what communication was like between client and contractor. Where possible, speak to previous clients directly.
Are they accredited? If so, by whom? Many contractors will be members of the Federation of Master Builders (FMB), which promotes high standards, technical competence, and good customer service.
They are the largest trade association representing the construction industry in the UK. Another accreditation to look for is TrustMark, a government-backed scheme that endorses quality workmanship and trading practices.
FAQs
What is a bungalow loft conversion?
A bungalow loft conversion is done when the space underneath the roof of a bungalow is transformed into habitable space.

This space is typically very large and can often be the same size as the footprint of the bungalow, effectively almost doubling the living area of the property.

Partition walls are built to create rooms, and a staircase installed to connect the loft to the rest of the bungalow.

Windows can either be rooflights, casement windows or French doors, depending on the type of conversion or a combination of all three.
What is the best way to convert a loft in a bungalow?
This will depend on the individual bungalow, the size of the property, and the roof's pitch.

The most common type of loft conversion is a dormer, and this gives lots of headroom. If the bungalow has a hipped roof, then a hip to gable conversion is the best option as this maximises the habitable space and increases the head height.

A roof light only conversion is possible if the roof's pitch is steep, allowing people to stand upright in the majority of the loft without impediment. This is also the cheapest and quickest type of conversion.

While possible for some, mansard conversions are not typically done on bungalows and are more often seen on terraced townhouses.
Do I need planning permission for a bungalow loft conversion?
If your bungalow is in a conservation area, AONB, or other designated areas, you will need to apply for planning permission. For listed buildings, this will also be necessary.

If you wish to do a mansard loft conversion on your bungalow, you will most likely need to apply for planning permission.

Finally, if the area that you wish to develop in the loft exceeds the allowances under permitted development, then you will also need to apply for planning permission.
Are there restrictions on the type of loft conversion for bungalows?
The only restrictions on the type of loft conversion you can carry out on a bungalow are the property's size, the pitch and height of the roof, and your budget.

For the most part, you can build any type of loft conversion on your bungalow, although a mansard is likely to need planning permission due to the large structural changes needed.
Are all bungalows suitable for loft conversions?
Most bungalows will be suitable for loft conversions. The exceptions may be those bungalows whose roofs are pitched quite low, making head height a problem.

The head height for a viable loft conversion needs to be at least 2.4 from the top of the joists to the ridge beam in the centre of the loft.

However, there are ways to work around this issue, for example, by lowering the ceilings in the rooms below if this is feasible
Sources
https://www.touchstonelofts.co.uk/bungalow-loft-conversions
https://www.bespokelofts.co.uk/latest-loft-conversion-news/125/everything-you-need-to-know-about-bungalow-loft-coversions.html
https://urbanistarchitecture.co.uk/loft-conversion-design-planning-guide/ Tower Ridge Construction
https://propertydata.co.uk/construction-costs
https://www.lights.co.uk/smart-lighting/?order=price&dir=desc
https://www.planningportal.co.uk/info/200135/approved_documents/82/part_p_-_electrical_safety

Last updated by MyJobQuote on 21st February 2022.