Cost of Installing a Driveway Gate
You'll find the following guide very useful if you're considering having this work done in the future. The average cost is about £700 to have a driveway gate added to a property. Depending on the complexity of the job, it takes around two days to complete.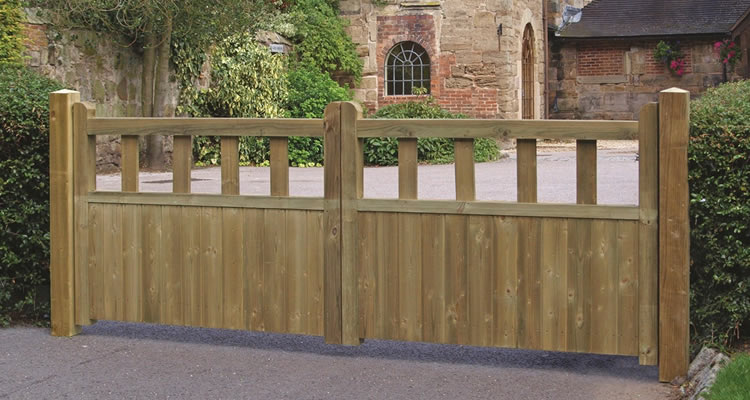 Average Cost of Installing a Driveway Gate:
Depending on the complexity of the job, it usually takes: 1-2 days
£700
How Much Does Installing a Driveway Gate Cost?
First, let's explore the overall cost estimates for having different types of driveway gates installed. While most ordinary drive gates cost about £500 to install, the prices can rise significantly to as much as £10,000 for more advanced gate systems. The following prices that we explore in this section include both the labour and supply costs.
An ordinary sliding gate will likely cost between £500 and £900, a bi-fold metal gate, around £1900 to £2300, a bi-fold metal gate, approximately £550 to £850 and an average farm gate will probably set you back between £700 and £800. The automated or electric driveway gates cost will end up around £8500 to £10,000 for an installation.
Installing Driveway Gate Prices
The below table sets out the installation cost for different types of driveway gates:
| Type of Gate | Size (W x H) | Material Cost | Labour cost |
| --- | --- | --- | --- |
| Sliding Gate | 6ft x 5ft | £500 to £550 | £300 to £400 |
| Sliding Gate | 8ft x 5ft | £570 to £650 | £300 to £400 |
| Sliding Gate | 10ft x 5ft | £620 to £780 | £300 to £400 |
| Sliding Gate | 15ft x 3ft | £900 to £1130 | £300 to £400 |
| Bi-fold Timber Gate | 6ft x 5ft | £1200 to £1600 | £300 to £400 |
| Bi-fold Timber Gate | 8ft x 5ft | £1500 to £1800 | £300 to £400 |
| Bi-fold Timber Gate | 10ft x 5ft | £1700 to £2300 | £300 to £400 |
| Bi-fold Timber Gate | 15ft x 3ft | £1900 to £2700 | £300 to £400 |
| Bi-fold Metal Gate | 7.5ft | £240 to £340 | £300 to £400 |
| Bi-fold Metal Gate | 11.5ft | £360 to £440 | £300 to £400 |
| Farm Gate | 4ft x 4ft | £270 to £330 | £300 to £400 |
| Farm Gate | 12ft x 4ft | £320 to £400 | £300 to £400 |
The following table includes the material and labour costs for high-end driveway gates:
| Type of Gate | Material Cost | Labour Cost |
| --- | --- | --- |
| Double Leaf Swing Gate | £7500 to £8500 | £500 to £2000 |
| Single Leaf Swing Gate | £6500 to £7000 | £500 to £2000 |
| Tracked Sliding Gate | £7500 to £8500 | £500 to £2000 |
| Automated Swing Traffic Barrier | £7000 to £8000 | £500 to £2000 |
| Hardwood Timber Electric Gate | £5300 to £6300 | £500 to £2000 |
| Custom Metal Electric Swing Gate | £6000 to £7000 | £500 to £2000 |
Supply Costs Only
Let's now consider the material price of driveway gates. For a sliding gate, a 6-foot-wide gate will likely cost you around £450 to £500.
If the gate is 8-foot-wide, you're looking at paying around £530 to £650, while a 10-foot-wide version would land between £600 and £800 and a 15-foot sliding gate would set you back approximately £900 to £1200 in supply costs.
As you can see, the sliding driveway gates prices can vary quite a lot depending on the size. The same is true for many other types too.
In the case of bi-fold wooden driveway gates, if it is 6-foot wide, expect the material costs to be around £1200 to £1600, about £1200 to £1800 if it's 8-foot-wide, £1800 to £2300 in the case of it being 10 foot in width or between £2000 and £3000 if it has a width of 15 feet.
To purchase a bi-fold gate that is metallic-based, for one that is 2 or 3 metres wide, it'll cost around £250 to £450. If it is about 3.5 metres in width, expect the cost to end up around £360 to £440.
As for a farm gate, a 1.2m x 1.2m option will cost you about £270 to £330, a 3m x 1.2m gate will land about £300 to £360 while a 3.6m x 1.2m farm gate should cost about £320 to £400.
The supply costs of an automated or electronic gate might cost anywhere from £5000 to £9000.
Additional Costs
When having your new driveway gate installed, you may be interested in having additional work done at the same time or around the same period as the installation. In this section, we look at what these jobs entail and how much they'd cost on average.
Concrete Driveway
Having a concrete drive added to your property is the perfect way to park your car once it moves off the street.
In addition, a concrete driveway can transform your house. It enhances the first impressions of your home and can even add around 5% to 10% to its value. Private parking is particularly helpful if your home is situated in a busy area. This way, you'll no longer be fighting with the neighbours for the closest parking spots to your home.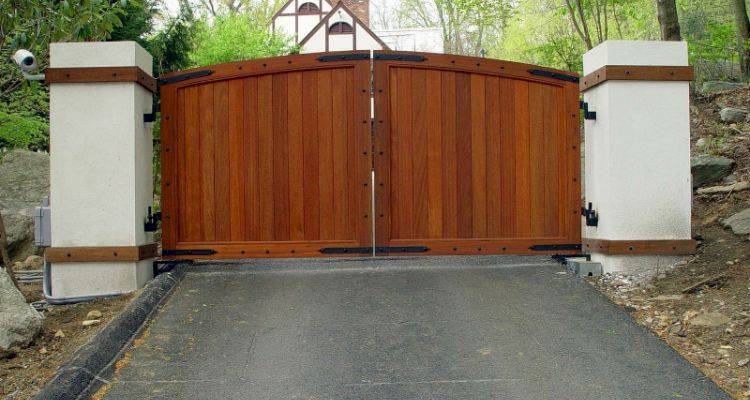 With all that said, driveways are generally expensive although it'll depend on the size of the drive you're looking to have constructed. A concrete driveway is likely the most popular driveway choice across the UK nowadays. This is primarily because they look great and are available in a variety of different styles.
They're also one of the more affordable choices when it comes to having a driveway laid down. You could face a price tag of anywhere from £600 to £8000 between both labour and supply costs depending on the style and size of the driveway that you'd like to have installed.
Resin Driveway
On average, it'll cost you about £40 per square metre to have a resin drive installed. It generally takes around 2 to 5 days for this work to be undertaken, although both factors will vary based on how complex the job is.
How long the installation will take will obviously be highly impacted by the current condition of the driveway, the size of it and whether or not it will need UV protection. One cost that varies substantially is the labour which can range on average from £150 to £250 daily.
If you currently have a concrete driveway in place, it could be an option to lay the new resin directly atop. If this is not possible or if substantial cracks are present in your current drive, then the old drive will need to be removed and a base prepared for the new driveway. Of course, in this scenario, the job will take longer and cost more.
Resin drives require an entirely stable and flare base before they can be laid; hence it is vital that they are not laid on to a crumbling, cracked or otherwise vulnerable surface. As a result, if you have a drive that was previously gravelled, it will need all of its gravel removed before the resin can be laid, which would act as another additional cost.
Tarmac Driveway
It will cost you approximately £45 to £65 per square metre to have a tarmac drive installed. The type of material that's used, how extensive the job is and the tradesperson hourly rate set for the work (which is in turn influenced by your location).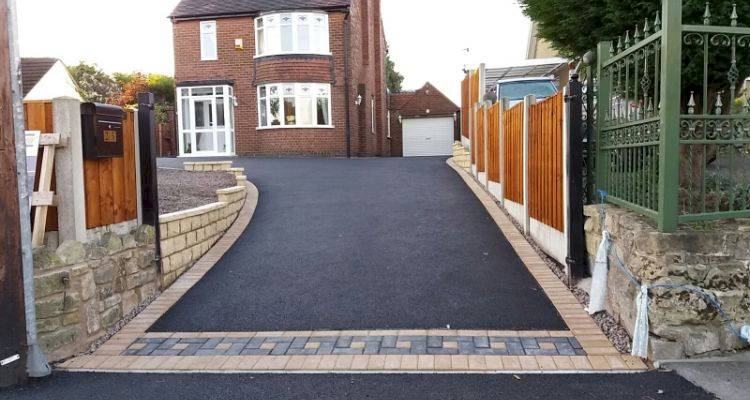 Tarmac drive prices have a lower cost per square metre if you have a larger driveway (not to be confused with the total price being lower). The conditions in which the work is taking place can also shape the cost per metre squared.
As an example, if there is torrential rain during the installation work, the tarmac may cool too fast, and the results may be less than ideal. While tarmac is a hefty material but it's preferable to avoid having it laid in heavy rain!
Other scenarios that could affect the cost include if it is not accessible for large vehicles or if some preparation work must take place prior to the project getting underway.
In the case of the latter, examples would be if there are obstructions that need to be removed or/and if an access point needs to be established so the workers can access the site. On top of that, you may face a higher cost if you have any additional and specific aesthetic preferences (e.g. tarmac colour).
Gravel Driveway
Another popular choice of driveway for homeowners is a gravel drive. Among the reasons for its favourability are that it's reasonably straightforward to maintain after being installed and it can provide your property with a rustic charm.
If you've experienced a concrete or tarmac drive in the past or currently that is becoming worn down or cracking, a gravel driveway is an easy solution. This is especially true if you'd prefer to keep worries over maintenance and the wearing down of your drive to a minimum.
It's going to cost a lot more to replace a tarmac or concrete driveway that's in tatters than it would to maintain and at a later point replace a gravel driveway. Ultimately, this option will save you cash in the long-term.
Laying a new gravel driveway isn't especially challenging for a more experienced DIY enthusiast. It may prove more worthwhile to tackle the installation DIY since you'll only be paying for the supply costs and won't be hiring labourers to perform the work.
However, with this approach, the work will probably take longer than a tradesperson (who might take two days). Completing the job over one weekend by yourself is achievable if you arrange for all the tools and materials to arrive at your home and be in place before you start the work.
Of course, hiring a tradesperson can have other advantages than the likelihood of saving time as there is a danger of mishaps in the work if done DIY. For instance, you might end up misjudging the amount of gravel and base layer required.
All in all, it's probably best to hire a professional unless you are absolutely sure of what's involved and completely confident in your ability to undertake the installation work.
Block Paving Driveway
This alternative style of driveway begins at about £3000 for a small to medium option. In comparison, a large block paving driveway that comes with an intricate design will probably cost you about £7000.
As you may have guessed, the pattern complexity is a substantial cost factor. On the one hand, a simple design will probably take three days with a price of around £5000 while a more complicated herringbone pattern driveway could take five days to lay down with a cost of about £5750 in the case of a small to medium drive.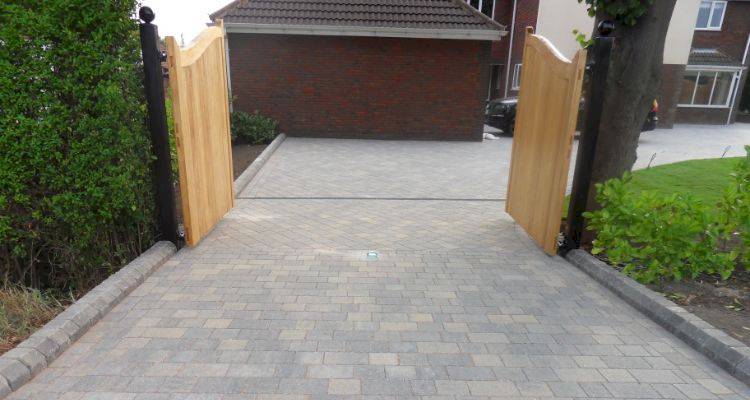 The main factor in the cost of this installation work is, of course, the actual size of your driveway. Its present condition, as we've mentioned, is also critical.
Block paving first appeared in the 1980s and has gradually seen a rise in popularity ever since. With concrete blocks or coloured cement used to create such a driveway, its commonplace for these blocks to be laid in an eye-catching pattern (e.g. herringbone design).
Nowadays, specialist manufacturers provide a whole range of materials to choose from whether it be stone, cement, concrete, composite or resin. Such materials are, in most cases, offered in a wide variety of textures and colours.
Over the past several decades, block paving methods and technology have made substantial improvements. However, the cost remains a significant factor for homeowners when choosing whether or not to have a block paving drive created or not. Compared with concrete or tarmac, block paving is certainly still one of the more costly options on the market.
Power Wash Your Driveway
Instead of having a new driveway installed, you may wish to simply provide your current driveway with a good clean. Power washing is a great way to remove moss, overgrown weeds and dirt which has accumulated over the years. There are plenty of tradespeople and companies across the UK which offers commercial pressure washing services.
While a driveway clean could be undertaken as a DIY effort, it's more effective to hire a professional to get the most optimal results. You should have your driveway cleaned at least once per year to get rid of surface dirt.
This approach allows water to run out of drive more effectively and brings down the danger of slipping on your driveway surface. To have your driveway cleaned by a professional with a power wash, you're looking at paying a bill of about £250 to £400 on average.
Any exterior surface will see an accumulation of grime, moss, algae, dirt and weeds from exposure to the weather over the years. This includes driveways. Allowing weeds and moss to build-up in layers of dirt is not just visually unappealing, but it will also massively reduce the longevity of your drive.
As a consequence, it's vital to be sure that your driveway receives a regular clean. A high-quality jet wash is an ideal way to revitalise your driveway and give it a new lease of life.
Appropriate contractors employ high-powered and commercial quality equipment to clean block paving, concrete, tarmac, natural stone, and paving slab or brick driveways. A professional clean can even remove oil stains as well as weed growth and moss.
Labour Costs and Timescales
For this section, we'll explore the labour costs of installing a driveway gate and how long specific stages of the work last. The labour expenses are included in the overall price. On average, professional contractors will charge around £10 to £14 per hour for this work.
A regular tradesperson can install the gate while to have one constructed and fitted; you may hire a carpenter in the case of wooden driveway gates or a metalworker in the case of a metallic gate.
The first part of the job will involve preparing the area. This might take a few hours, depending on the scale of the job. The actual installation work itself will likely take 1 to 2 days. As for the cleanup, you can expect it to last an hour or less.
The length of the work can depend on the condition of your driveway, the scale of the job and the weather. The labour cost can vary depending on factors such as where you live and the company you contact.
Cost Factors of Installing a Driveway Gate
In the following subsections, we'll look at different cost affecting factors such as the size and material of the gate.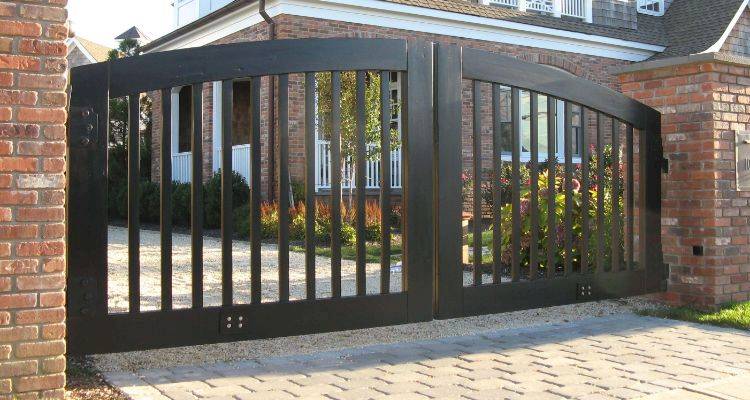 Location of Property
Firstly, where you are situated is essential for the cost of the job. This is primarily because professionals/companies charge different rates depending on where in the country you live.
So, if you live in London or the southeast, you can expect to pay a higher price than the national average while in places like the north of England, labourer rates are generally cheaper than the UK as a whole.
Ease of Access
Another important cost factor is how accessible your home is. If it's difficult for contractors to reach the area that you'd like to have gated, then the job could take longer, and hence the cost will end up higher.
Size of Gate
The width and height of the gate make up the most essential price components for having a driveway gate installed. Needless to say, the smaller the gate, the cheaper the materials will be and vice versa.
Of course, in having a small gate fitted, it will take less time than having a larger gate installed, and thus this too will affect the total price. So, the size of the gate is a doubly important cost factor.
Type of Gate
The cost of having a bi-fold, sliding or electronic gate installed will each come with their own price tag based both on the material and labour costs.
Electronic or automated gates are among the most costly to purchase and generally they're more time consuming to install. On the other hand, sliding driveway gates are among the cheapest.
Material of Gate
The actual materials used to make the gate are also important whether it be timber, metal or another option.
What's Involved in Installing a Driveway Gate?
So let's get down to the fitting process. In this section, we'll break down the steps involved in the installation of a driveway gate. Please note that the method required will typically vary from the following description depending on the size, type and material of the gate.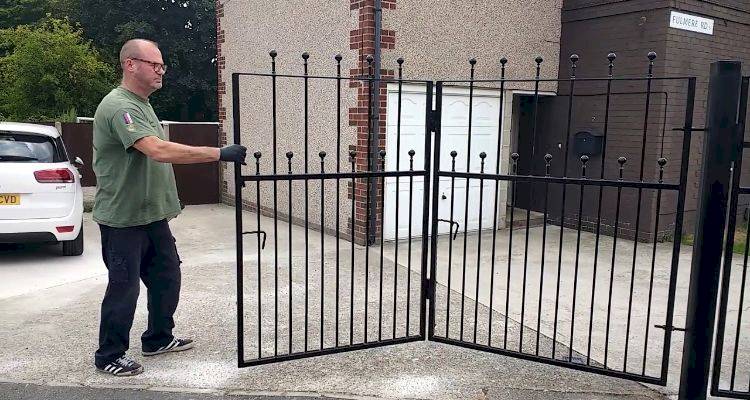 Preparation
Before the work can commence, the area will need to be prepared. This could involve getting all of the tools and equipment in place and ensuring that the area is clear and ready for the gate installation.
Fitting the Gate Hinges
The next stage will see labourers fit the gate hinges. The nature of this work will depend on the type and size of the gate. Each gate will have its own specific requirements. Among the tools needed here maybe a drill and screwdriver. Hinges are often bolted in place.
Fitting the Driveway Gate
The hinge plates will then need to be appropriately marked so that an installer can fix it in place correctly when required. The hinge plates should then be connected to the post. The gate can then be lifted onto the hinge plates. The gate furniture can then be added successfully.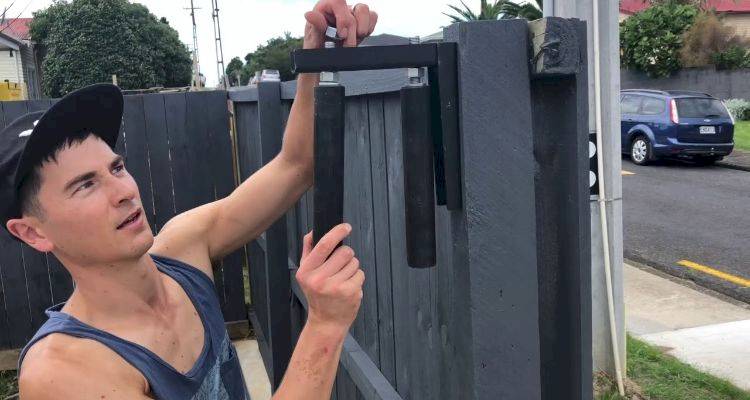 Add the Latch and Bolts
Next, the latch can be fitted in place to ensure the gate's security. Then any necessary bolts should be added.
Clean Up
As for the cleanup, any waste disposal can be taken care of with a skip or an alternative service like a man and van service. Once the driveway area is cleared, the work is complete, and your driveway gate is ready to use!
Can I Install a Driveway Gate Myself?
It's great to find ways of saving cash, and as you may have guessed, you could save several hundred pounds on labour costs by performing this work DIY.
However, driveway gates are extremely heavy and often need specialist fittings. In addition, a driveway installation is always a two-person job. Setting it up can be difficult also.
There are plenty of issues that could arise. For instance, you could injure yourself when carrying the gate even when done with another person. There is also a risk that you'll fit the gate improperly. With that said, if you're an experienced DIY enthusiast and you really know what's needed, then you can probably perform the work yourself.
There are also plenty of automation kits available on the internet, but you should only use one if you have appropriate experience.
Benefits of a Driveway Gate
There are plenty of advantages to installing a driveway gate. Let's take a look at some examples.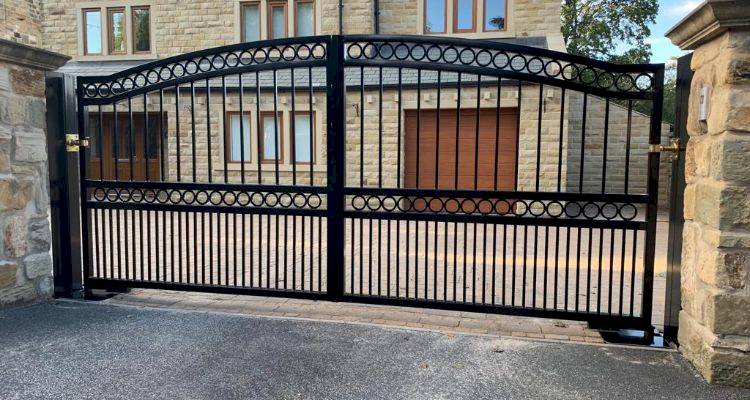 Kerb Appeal
To start with, a gate at the front of your house can add aesthetic value to your property. It can improve its appearance upon entering it and provide it with a more vibrant and appealing look from afar.
Security
In addition, a driveway gate will improve your home security and that of your vehicles. Burglars are ultimately less likely to attempt a break-in if a property has a driveway gate.
Not only would a burglar naturally find your home a less vulnerable target but with a gate at the front, it'll be harder for them to judge whether your home is occupied or not at any one time as much of your home will be obscured from your external view.
You could also add a security camera to your driveway gate to improve its security benefits even further.
Increased Home Value
As mentioned earlier, a driveway gate can add around 5% to 10% to the value of your home. If your property has one fitted, it's going to be worth more because of the other benefits mentioned in this section.
Privacy
As alluded to in the 'security' section, a gate at the edge of your driveway will provide you with greater privacy. You can also avoid unwanted door callers.
Convenience
If you want a convenient solution to securing your driveway or improving your home's privacy, kerb appeal or/and home value, you should consider an automatic or electronic gate.
Choosing a Driveway Gate
So, you've decided that the aforementioned benefits make a driveway gate right for you. Now, you're ready to start the process of getting everything in place, but you're not yet sure what type of gate you'd like to choose.
In this section, we'll take a look at several types based on design and material, including with a pros and cons list for each.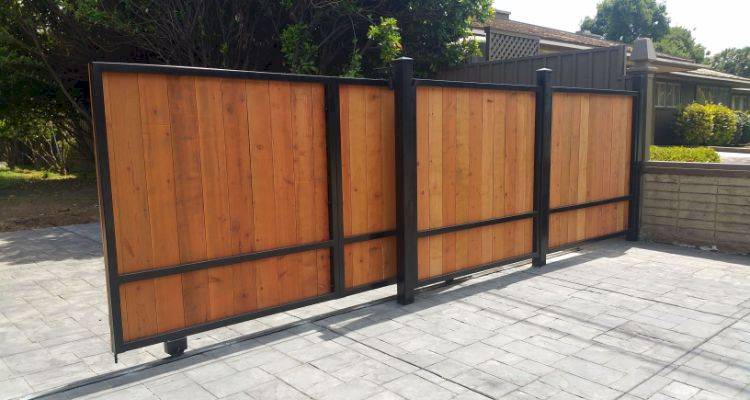 Sliding Driveway Gate Cost
As the name conveys, this type of gate simply slides right across. It moves along a V-track with rollers. The name of this track comes from the fact that the tracks have an upside-down and slightly raised v shape that fits into a groove in the wheels of the track. A sliding driveway gate can be manual or automated.
Pros:
✔ Not very expensive if manual
✔ Easy to use
✔ Not affected by the wind when opening
✔ Very well suited to wide opening spaces
✔ Perfect for uneven surfaces or slopes
Cons:
✖ May be louder than a swing gate
✖ Enough space is required on at least one side of the gate
✖ Requires quite a bit of maintenance
Swinging Driveway Gate Cost
The most common type of driveway is that which swings open in two separate halves. Each half of the gate meets in the middle, where they can be locked together in place.
As with the previous example, this type of gate can also be either automatic or manual. Beyond that, a swinging gate is generally quiet. However, it is susceptible to sudden gusts of winds.
Pros:
✔ Less expensive unless it is automatic
✔ Low maintenance
✔ Great for narrow openings
✔ Quieter than a swinging gate
Cons:
✖ Not as secure as a sliding gate
✖ More space needed within the driveway as it will open inwards
✖ The wind can affect them
Bi-Fold Driveway Gate Cost
With each half of this gate folding, it is a fantastic option for saving on space. Upon swinging open, each side folds in half in the centre.
This type of driveway gate can effectively half the area needed compared with an equivalent ordinary swinging gate of the same size.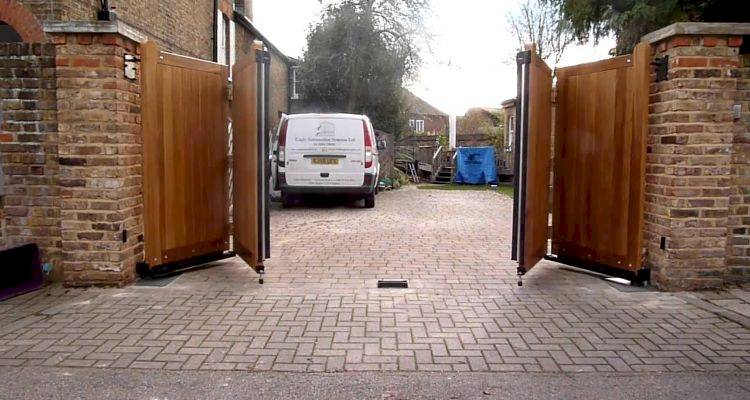 Pros:
✔ Saves space
✔ Open up faster
✔ A trackless system is an option
Cons:
✖ Complex installation
✖ More expensive than an ordinary swinging gate
✖ If a tracked system with bi-fold issues can arise
Farm Gate Driveway Gate Cost
Whether it's timber or metal, a gate at the front of a farm is a great way to increase security or/and keep livestock in. There are many options available, including manual or automated farm gates.
Pros:
✔ Increase security
✔ Help enclose your land
Cons:
✖ Not particularly cheap if electronic or automatic
Commercial Driveway Gate Cost
For a commercial building, you'll likely need a larger and more secure gate than would be used for an average driveway. As a result, it will likely be on the more costly end.
There are commercial gates for a range of budgets, terrains and traffic requirements. Security is generally the main objective of commercial gates.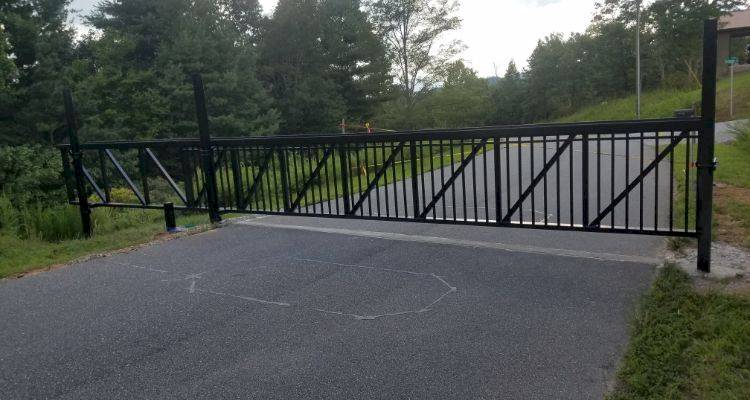 Pros:
✔ High level of security
✔ Often automatic or electronic
✔ Options for a range of needs and preferences
Cons:
✖ Expensive
Electric Driveway Gate Cost
With an electric or automatic gate, your gate can open or close via an electric mechanism. Whether it is opened remotely, with a fob or via intercom, the automated element of this type of gate makes it easy to open.
As a result, you'll not only have more convenience, but you could avoid having to get out of your car to open the gate in wet or windy weather. They are also durable and can add more to a property than a regular driveway gate likely would.
Pros:
✔ High level of security
✔ Easily accessed
✔ Durable
✔ Privacy
✔ Can add even more to home value
Cons:
✖ Expensive
✖ Will stop working in a power outage
✖ Risk of electrocution
✖ Not suitable for DIY construction
Timber Driveway Gate Cost
Many driveway gates are made of wood. Specifically, hardwoods like oak, teak or softwoods, including cedar and Scandinavian redwood are commonly used.
In most cases, softwood is used. Timber gates can provide a traditional aesthetic, and if you wish to paint it, its colours can stand out more easily.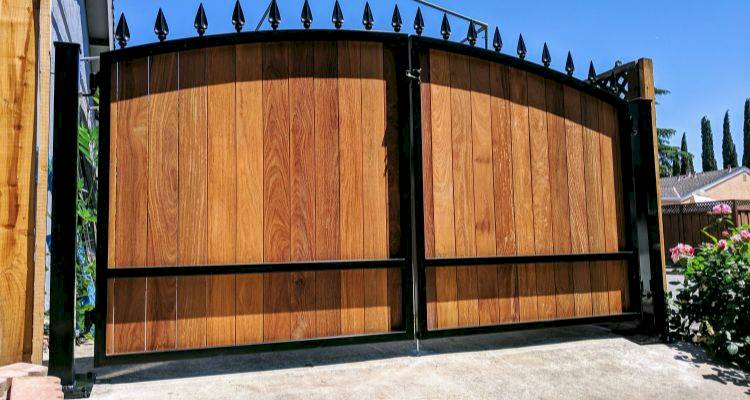 Pros:
✔ Provides a traditional look
✔ Adds character and charm
✔ Can be painted or stained
Cons:
✖ Erodes faster than metal
✖ Can split, twist or warp if the gate is not fitted right
Metal Driveway Gate Cost
The stronger of the two options based on materials are metallic driveway gates. With a metal gate, you get a more stark appearance and less privacy. On the other hand, they arguably fit better with modern homes from a visual standpoint. Metal driveway gates are also very sturdy, long-lasting and require minimal maintenance.
Pros:
✔ Durable and strong
✔ Low maintenance
✔ Fit modern properties well
Cons:
✖ Provide less privacy
✖ Do not offer the same traditional look as timber gates
Removing a Driveway Gate Cost
You may want to have a driveway gate removed as you no longer feel it serves a valuable purpose (e.g. the effort of maintaining it, opening it, etc. outweighs its benefits). To remove a driveway gate, specific equipment will be needed (e.g. a chisel for a wooden gate) to remove the hinges.
In the case of a metal gate, a cutting torch or/and angle grinder may be needed. You can perform the removal work DIY, but only if you are experienced and know precisely what this job entails.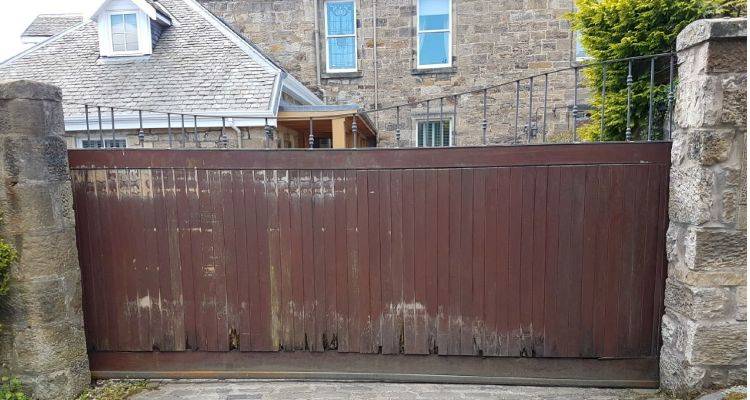 The waste could be disposed of with a skip (£100 to £300) or via a service such as a man and a van service (£90 to £140). Overall it'll likely cost several hundred pounds to have a driveway gate removed between the labour and waste disposal costs.
Hiring Contractors to Install a Driveway Gate Checklist
When hiring a professional to fit a driveway gate, it's essential that you find an appropriate tradesperson for the job. A contractor does not require any qualifications to perform this work.
However, you should find someone with plenty of experience and someone who's undertaken this kind of installation work before. You should consider looking for any reviews of the person's work that you can find online, and it would be ideal if they also have some accreditation.
If the fitting is electric, its installation should be performed and inspected by an appropriate person. The electrics ought to be certified to Part P of the Building Regulations.
FAQs
How do I maintain wooden gates?
Make sure to clean it regularly and keep it free from grease and surface dirt.
Which is better, wooden or metal gates?
Wood is beneficial since it is now better engineered that it was before, and its levels of durability are no longer so far behind that of a metal gate. However, a metallic gate is probably the best since it is most suited to a modern property.
What is the most affordable type of driveway gate?
Swinging gates provide the lowest cost of driveway gates.
How much value does a driveway gate add to a house?
Driveway gates add about 5% to 10% to a property's value.
How much does a sliding gate cost in supply costs?
You'll need to budget anywhere from £450 to £1200.
Sources
https://www.rollingcenter.co.uk/news/which-are-best-sliding-electric-gates-or-swinging-electric-gates
https://www.linkcare.net/linkcare-gate-automation-blog/4-benefits-bi-fold-swing-gates
https://www.gardengatesdirect.co.uk/wooden-garden-gates-v-s-metal-garden-gates

Last updated by MyJobQuote on 22nd December 2020.