Cost of Installing a Driveway Gate
Guide to fitting a driveway gate with prices.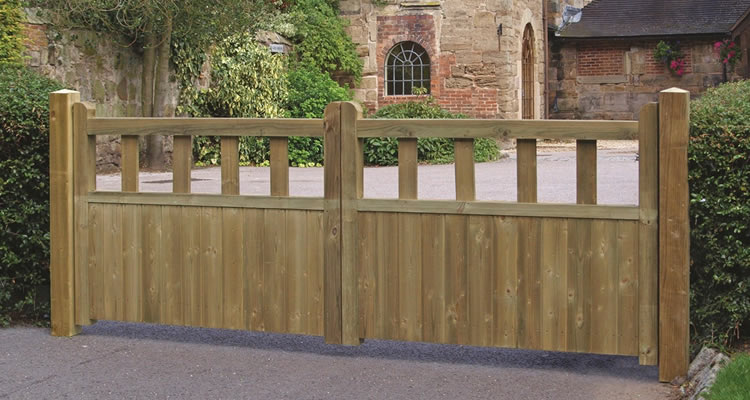 Average prices are around
This job typically takes roughly 2 days
£500
Driveway gates require a lot of planning to get it right. Done well they offer a beautiful entrance to your home, done on the cheap without much thought and they create a bad first impression! Metal gates look great but they don't offer much in the way of privacy, whereas wooden gates can offer excellent privacy but do need regular maintenance to avoid rotting, twisting and warping!
Hanging doors is a job that can be tricky, but hanging gates, particularly driveway gates, is much more difficult, so best to leave this job to the professionals! You can use the FREE service provided to have local tradesmen contact you regarding your job and provide quotations and advice. All you need to do is provide a few brief details on the job you need doing, along with contact details for joiners and local companies to get in touch with you!
Average prices quoted for driveway gate installation
| Job Description | Duration | Material Cost | Labour Cost |
| --- | --- | --- | --- |
| Wooden driveway gates in existing gap | 2 days | £525 | £350 |
| Metal driveway gates in existing gap | 1 day | £185 | £175 |
| Electrical gate closer with cables run underground | 2 days | £1000 | £550 |
Things to consider with driveway gate installation
The first thing to consider with driveway gates is positioning. The gates will direct cars to park in a certain area so you need to consider parking and also manoeuvring. If possible, you should try and avoid parking too close to the front door even though it seems more convenient for unloading shopping. You can get a wide range of standard gates "off the shelf" from many competing suppliers, but most of them also offer a bespoke service as plenty of gate openings in the UK are not standard sizes.
The different styles and shapes on offer include courtyard gates, estate gates, field gates and picket gates or palisade gates. Each type and size of gate has its place if you take into account the local area and the tyle of your own house. Design-based choices will also have practical considerations as the style of the gate can greatly affect privacy and security. Most people want good security from their gates but they also want to avoid their homes looking like Fort Knox! Big, solid gates obviously advertise high security, but they also tell potential burglars that there is probably plenty worth stealing behind them!
Driveway gates can cost anywhere from around £200 upwards, with automation kits on sale from £300 and intercom-style gate controls available for another £300. Installation costs extra unless you are a very accomplished DIY enthusiast, so the top of the range driveway gates can easily cost £5,000 or more!
Doing it Yourself
We all want to save money so it is no surprise that many consider fitting their own driveway gates to save hundreds of pounds on installation costs. But driveway gates can be very heavy and often require specialist fittings, plus they are always a two-man job. They can be tricky to set up right too. If the hinges are not adjustable and you are just slightly out when you install the gates, then expect lots of problems and a short gate lifespan. Imagine spending a fortune on gates then having them stick all the time or scrape along the ground when opened! Though it has to be said that if you are very good at DIY, you can probably make a decent job of installing gates, except when it comes to automation.
Although there are many automation kits available online for driveway gates you should not attempt this unless you have the relevant experience. Many report trouble with warranties as it can be unclear whether the gate automation kits are faulty or whether the problem was caused by poor installation! Better to have a single company supply and install the gates and any automation equipment, that way it is much more straightforward when/if something goes wrong.
Driveway gate checklist
Almost any gate can be automated
Driveway gates require very sturdy gate posts
Standard size gates are cheaper but bespoke gates are readily available
Avoid DIY gate automation kits
FAQ's
How do I maintain wooden gates?
The worst scenario with wooden gates is warping, but obviously rotting over time is not welcome either! The key to avoiding problems with wooden gates is regular maintenance in the form of sealing/varnishing /painting at least once per year, twice a year for optimum results, especially in the first year.
Do I need planning permission for new driveway gates?
If your new gate is going to be taller than 1m then you likely will need planning permission, particularly if next to a public road or footpath. In any case, you should always check with your local planning department before doing any alteration which changes the external appearance of your home.
Which is better, wooden or metal gates?
Metal gates look great but they don't offer a lot of privacy unless you use solid metal sheets which would be incredibly heavy and super expensive! Wooden gates can easily be boarded for high levels of privacy but they require regular maintenance! It really all comes down to personal preference unless privacy is an issue.
Is it worth paying extra for automated gates?
Automated gates are a great option if you expect to use them regularly and have lots of visitors in which case they are much more convenient, plus can improve security particularly when used with an intercom or video entry system. But they are expensive and in most UK homes they will just be another gadget to break down and cost you more money!

Sliding or swinging automated gates?
Swinging automation kits are cheaper unless you want double gates to slide open then you'll need two sets of sliding mechanisms. But if your drive is on a slope, the swinging gate type systems may not be suitable, on the other hand, with sliding gates you need plenty of level room to the side as the gate for this to work. Horses for courses!
Last updated by MyJobQuote on 7th May 2019.