House Cladding Costs
Want to know how much it costs for external house cladding or rendering? In this article we look at house cladding prices of different materials, their pros and cons and the cost of hiring a tradesman to carry out the work.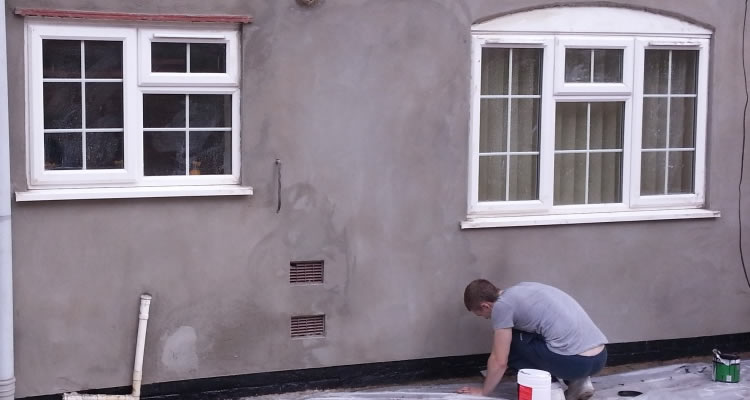 Average cost of Cladding a House
This job would normally take around 2-3 days to complete.
£1800
How Much Does House Cladding Cost?
External cladding is a method of weatherproofing the walls while enhancing the appearance. Cladding can be made from a variety of materials, but the most popular are timber, aluminium and uPVC.
The other option to produce a long-lasting weatherproof shield is, of course, to protect the exterior walls using a render/roughcast/pebble-dash. Finding a company with the right experience and proven track record to clad your external walls can be difficult.
We hope you find the cost information provided below useful, but if you want an exact cost, you really need to have a written quote from a local trades-person that will normally involve a site visit to first establish the specifications of your property.
Using the free system on this website allows you to vet candidates before you actually hire them. Simply enter details of your job along with contact information, then you can get up to three quotes for you to compare and also read reviews and check ratings from past customers on the tradesmen quoting for the job. Then you can make an informed decision in your own time and only proceed if you want to, with no obligation.
House Cladding Prices
| Job Description | Duration | Material Cost | Labour Cost |
| --- | --- | --- | --- |
| Replace cladding boards with white Upvc to one wall underneath a gable | 2 days | £1150 | £1100 |
| As above but with wood effect cladding boards to the gable wall | 2 days | £2250 | £1100 |
| External rendering for a standard two-bed bungalow | 4-6 days | £750 | £2000 |
| Pebble-dash rendering and painting 3-bed semi-detached house | 10 days | £1800 | £3500 |
Points to consider regarding exterior cladding
Remember, anything that drastically alters the external appearance of a property, including cladding an entire house with a different material, may well need approval from building control. In practice, most of the time you will get the go ahead without the need for permission, but always double check with them first as you definitely want to err on the side of caution!
Cost of the various exterior finishes and cladding available vary tremendously, from around £1 per square metre for paint, up to £300 per square metre for some of the new composite cladding materials. Common cladding materials like uPVC usually work out at around £20 per square metre, whereas hardwood timber cladding will cost double that if not more. Rendering is around the same price as uPVC, with roughcasting or pebble dashing costing a lot more (but still usually less than hardwood cladding).
Depending on the material you use, cladding is usually fixed to the house exterior using timber battens or on a metal frame attached to the walls. Applying cladding or render is a great way to improve your home's insulation and appearance. Using render tends to be less expensive but cladding provides a breathable weatherproof barrier that allows water to drain away. Often there is no need to clad or render the whole house, but however you decide to proceed, check that your building insurance provider is happy with your choice of cladding or rendering material.
PVCu cladding is one of the cheaper and more popular options. Coloured or wood-effect PVCu is cheaper than timber boarding and there is much less maintenance involved. It should also be a lot easier to clean and will last for up to 20 years. But timber suits contemporary and period properties much better and pine or spruce boards are also pretty cheap, costing around the same as white uPVC (though hardwoods are twice as expensive).
Fibre-cement weatherboarding is a newer and less popular choice for cladding, a composite material which is long-lasting and fire-resistant, needing minimal maintenance and also won't rust or rot. Metal is an expensive option but comes painted or powder-coated to preserve its finish.
Steel cladding should last at least 30 years and lightweight aluminium or zinc should last even longer. But copper cladding takes the prize in terms of longevity, with an expected lifespan of over 100 years!
Masonry paint is a cheap and fast way to protect an exterior wall while updating the appearance (a fraction of the price of any other choice). Modern paints with textured finishes are particularly good for hiding minor cracks and damage on period properties, but they work equally well on more modern homes.
Doing it Yourself
Cladding looks great on most surfaces and many of the cladding products are easy to use and require little in the way of specialised tools or equipment. So if you are an accomplished DIY enthusiast, then wall cladding can very much an achievable project.
If you're an experienced DIY enthusiast then you may be able to do a good job of fitting timber or uPVC cladding yourself, or even applying some textured rendering. But if you do not have the necessary skills or experience, then look for a firm that offers a professional installation service. However, exterior wall cladding for an entire two-storey house is a different story, you will likely require access equipment such as scaffolding and will also probably need more than one pair of hands.
It is still possible to clad an entire building using boards or render on a DIY basis, if you hire a scaffolding company to erect a tower or platform that gives you safe and easy access, but this is typically beyond most DIY enthusiasts. In terms of DIY application, masonry paint is probably the easiest method of weatherproofing your home and spray application systems can be bought cheaply from DIY stores, though once again you may require scaffold for upper storeys to work safely.
House Cladding Checklist
UPVC cladding can enhance the appearance of your home and is low-maintenance
Rough-casting or pebble-dashing the exterior walls can help to weatherproof a building
Modern cladding finishes can modernise a property while offering practical weather protection
For a traditional look materials such as stone veneers or wood paneling can be used
FAQ's
What are the benefits of uPVC cladding?
uPVC cladding makes your home stand out and is available in a wide range of colours and finishes. It is also durable and weather-proof, requiring little maintenance while enhancing thermal insulation to help retain heat and slightly reduce heating costs. Unlike timber, uPVC is water resistant and not susceptible to rot, so will last a long time. Last but not least, uPVC is lightweight and easy to work, so can be installed as a DIY project if you have the right tools and experience.
What are Pebble-dash and Roughcast?
Pebbledash and roughcast are a type of render where the top coat is toughened and textured by adding pebbles or gravel, which is set into the mortar. The difference between the two lies in the way they are applied. Pebbledash is formed when the stone is pressed into the wet render, whereas roughcast involves the stone being mixed into the mortar before it is applied. Roughcast produces a softer finish which is often painted.
How long does render last?
Cement-based renders will last 20 years or more as long as the underlying brickwork has also been built using cement-based mortars and is in good condition. Lime mortars which are often used on period properties can last even longer and are still seen on buildings centuries old. Pebbledash cladding can last up to 40 years.
Why should I choose uPVC cladding over timber?
uPVC boards are more durable, easier to fix, require little to no maintenance, and are cheaper!
What about maintenance for my render?
Render can get a bit grubby over time due to weathering and pollution. Everything that is left outside will get a bit grubby over time, but luckily render is very easy to keep by simply washing it using a brush and over the counter cleaning products.
Last updated by MyJobQuote on 1st May 2020.