Garage Roof Replacement Cost
Trying to find out how much a new garage roof will cost?
In this complete price guide, we breakdown garage roof prices by material and size. We also look at the cost of hiring a specialist to replace and install a new garage roof.
Continue reading for more details...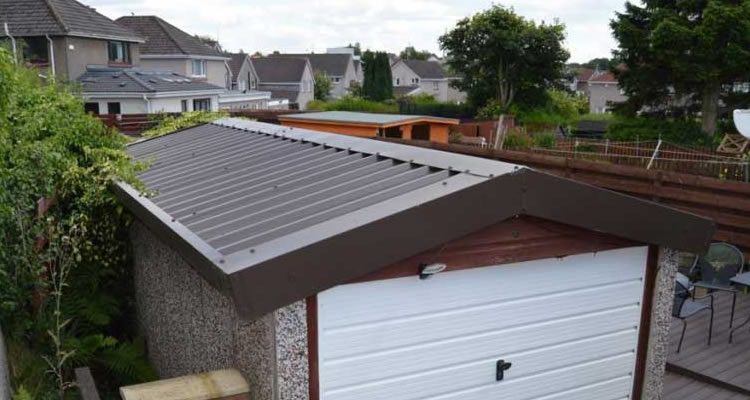 Average Cost of Replacing a Garage Roof
This type of job should take 1-2 days to complete
£750
How Much for a New Garage Roof?
A garage roof may need replacing due to a number of reasons, it has either been subject to damage due to weather or an accident. Or perhaps it is just down to the usual wear that happens to years spent in the open, taking on the full force of the often unforgiving Great British weather.
You may have even just moved into an older property, and you feel a bit of a cosmetic makeover is in order.
You should also look at getting an older garage roof replaced, as it is likely to contain asbestos - and we all know this is not considered a safe material these days, especially if damaged. As it can get into your lungs and cause health risks further along.
In any case, any such damage or wear can lead to further problems if your garage then becomes exposed to the outside elements - mostly rain. A leak in your garage roof and long exposure to moisture can lead to dampness and mould, this can be an especially significant problem if the garage is connected to the main building, leading to the spread of damp and mould to your home.
A damaged garage roof, leading to leakages may also lead to much more hazardous problems such as slippery surfaces and rotting timber.
Replacing a garage roof is a tough task but certainly manageable by an experienced DIY enthusiast. However, there are a number of factors to consider when taking on this task, so it may be in your best interest to hire a qualified tradesman such as a roofer.
Enter your details and the job in question on myjobquote, and be matched with three tradesmen in your local area.
Garage Roof Prices
| Job Description | Duration | Material Cost | Labour Cost |
| --- | --- | --- | --- |
| Single Garage Flat Roof Material Replacement | 1 Day | £450 | £350 |
| Double Garage Flat Roof Material Replacement | 1 Day | £700 | £350 |
| Single Garage Full Replacement Including Timber | 2 Days | £900 | £350 |
Things to Consider When Replacing a Garage Roof
If you have decided to go ahead and replace your garage roof, it's time now to go through the options of what materials you want to use and the type of roof you have.
A flat garage roof has the possibility of collecting or pooling water if not designed and constructed properly, as it has no natural drainage. Whilst a pitched roof will have the obvious added benefit of a slope allowing water and other debris to run off the roof.
However, this can be quite a costly, time-consuming job. Changing a flat roof to a pitched roof means you will need to have further foundations installed to help support the roof. If you already have one then sticking with a flat roof will probably be the better option.
In terms of drainage, most flat roofs should be constructed to incorporate a slight slope running from one end to other, allowing for rainwater to run off the roof into the gutter. It may be tricky to get right if you are planning on replacing the roof yourself.
The type of material you choose will also come down to a number of factors. This will include the durability, resistance to weather, waterproof capabilities and of course the cost.
You must also take into account what you intend to use the garage for in the future. If you are keeping the garage simply as space to park your car, could you get away with materials at the cheaper end of the scale?
For a pitched roof, most specialists would probably recommend any corrugated metal sheet for your garage roof. This is due to corrugated materials being weatherproof, and lightweight, the corrugation also adds to the durability and helps with drainage as the water collects and runs along its ridges.
For flat roofs you have a few options, one being torch-on bitumen felt, which is layered on using a naked flame, almost like tarmac as it is heated. This type of procedure shouldn't really be attempted by non-professionals. This type of material comes in at different price points, and is highly regarded due to its durability.
When deciding on hiring a specialist to carry out the job, you have a few options, you can hire a trained roofer, a builder, or a specialist roofing company. Our advice is to receive quotes from all parties. However, a tradesman will likely offer you better, more competitive rates.
If you have decided to replace the garage roof yourself, you may want to consider the fact that the old roof will likely be made from asbestos. If this is the case, then having this removed will have to be done by a professional, as it will also need to be disposed of responsibly. Unfortunately, this is not a cheap job and could run up into the high hundreds.
How To Replace A Garage Roof
Replacing a garage roof is certainly not an easy task and one which you may consider leaving out in favour of hiring a professional tradesman to do. At times the work can be quite strenuous and even as far as back breaking!
Our advice is, if you are determined to get the job done yourself, then it would be best to ask for some help. Ideally, from friends or people, you may know who have done this sort of job before or are at least familiar with roof work. This is a simple guide for replacing your roof with corrugated sheets.
To start you will need to remove the old roofing, this is usually a two-man job, especially if it is heavy asphalt shingles. As you will be up and down the ladder, filling up and carting off the heavy material.
Once you have removed the old roof material and any materials or layers underneath, you will then need to check the foundations of the roof itself, especially if it is timber.
You do not want to place a new roof on already rotting timber. In most cases, this will not be needed, however, it is best to tackle it there and then if you do have that problem. The downside is it will probably add a few more costs and a few more days to your project, but it is worth doing whilst you have the chance.
The next step is to lay down your replacement roofing. Just before doing so, you will need to make sure the roof takes on a slight slope towards the guttering for the water to run. If you are simply replacing a flat roof with another, then this should already be in place with joists fitted to create this slope.
You may need to replace if the timber has warped. If you are using corrugated sheets, then this will be the best time to ask for some assistance as they will need to be straight when nailing into the joists.
Be sure to use the appropriate tools for this job, for instance, you will need to use suitable roofing nails. When hammering in the nails, they should be placed every 2-3 bumps apart, and make sure they are nailed into the top bumps of the corrugated sheets, and not in the grooves as this where the water will run along. Once you have completed this, you can then move onto the guttering if needed.
Again, this can be quite a strenuous task and is not easy by any means. So if you can, ask for some assistance. You also not want to tackle this job if you do not have a head for heights!
Checklist for Replacing a Garage Roof
There are a number of materials and types of roofs for your garage to choose from.
Corrugated sheets made of materials such as metal and bitumen are durable, weather resistant and often lightweight.
Make sure you obtain quotes from tradesmen as roofing companies will often charge over the odds.
Replacing a garage roof will be needed if there is consistent leaking which can lead to rotting of timber foundations.
Ensure to ask any roofer you hire to construct the roof to include a slight slope for drainage.
FAQs
Which material is best for a garage roof?
For a garage roof, there isn't really one best material. However, most specialists will probably advise you to go for any materials that are corrugated. One of the most popular types of roofing is corrugated sheets, which you can get in metal, bitumen, plastic and a number of other materials.

Metal is the sturdier material you can choose from, however, bitumen is a low cost and lightweight alternative, which is also easy to work with if you plan on doing the job yourself.
What do I do if my current garage roof is made from asbestos?
In most cases, older garage roofs are going to be made from asbestos, however, we all know now that it is not a safe material, and can be hazardous to your health.

To remove your asbestos roof, you will need to hire a specialist company to do so, as they will have the protective gear to do so, whilst also being able to dispose of the asbestos responsibly. Unfortunately, this is not cheap, and may cost you up into the high hundreds.
How do I know if my garage roof needs replacing?
The first and probably most obvious sign will be a leak in the roof or any sign of moisture coming in. You can spot this by any pools of water on the ground, or collecting on shelving or anything else in the garage.

You may also notice rotting of timber and general dampness of the foundations themselves. Other signs may be rust and physical damage or tears to the roofing, especially if you already have sheets.
Could I replace the garage roof myself?
As a DIY job, we wouldn't really recommend replacing your garage roof yourself. This is due to the physical nature of the job, as you will have to haul material up and down ladders for hours at a time. If you feel you can take the task on yourself, then it will be best to ask for helping hand from at one or two more people, ideally someone who has experience in roofing work.
Last updated by MyJobQuote on 16th March 2022.