Cost of Installing an Outside Socket
This guide covers everything you need to know about the cost of installing an outside socket..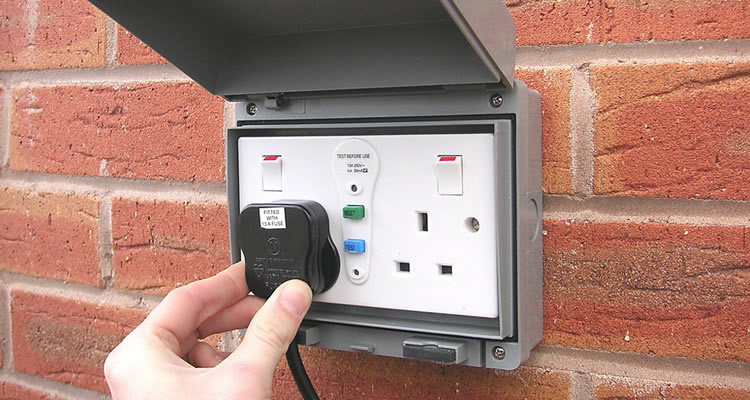 Average Cost of Installing Outside Sockets
This type of job normally takes around 1-2 hours.
£120
Installing outdoor sockets is a great way to add entertainment, heating and lighting systems to your outdoor area. Adding outdoor sockets will be beneficial to any party or event you host outdoors without having to worry about using an extension cord from inside. Not only does installing an outdoor socket allow for more opportunities to be had in your garden area, outdoor sockets come fully protected and waterproof, avoiding any danger and damage.

The cost of your outdoor plug will depend on your electrician prices per hour and the type of plug you wish to be fitted. If you were to install an outdoor power socket you could see the price being anywhere from £85-£135. Plugs can range from £15-£60 upwards, then you have to factor in the electrician's hourly rate and other factors that could affect installing your outdoor socket.

It's recommended to get a professional tradesperson in to fit your outside plug socket as they'll have many years of experience and the essential knowledge of the electrics side of the job. We would not recommend doing this job unless you have experience in the area. This job can be dangerous if not performed properly so we recommend getting a professional in to complete the job.

Use My Job Quote to help save you valuable time and money when finding the right person to help install your outside sockets. All you have to do is enter the details of your job and My Job Quote will help match you with up to 3 skilled electricians to take your pick from. To make sure you get the best price for installing outside sockets, we will match you with some of the best electricians near you.
Cost of Hiring a Plug Socket Electrician
| Job Description | Duration | Material Cost | Labour Cost |
| --- | --- | --- | --- |
| Installing a double plug outside socket | 1-2 hours | £15-£60+ | £100-£250 per day or an hourly rate will vary per job and per electrician |
Things to Consider When Installing Outside Plug Sockets
When you're fitting an outside socket, you will have to make sure the plug socket you buy is waterproof. It should also have frost damage cable insulation, ensuring no cables are exposed to water, mud, ice or snow.
You would need to follow the building regulations if you're carrying out electrical work outside your house, which would mean you'd have to make an application to your local authority's building control department or approved inspectors. This is why we recommend hiring a professional electrician who will be qualified and regulated to install your plug socket.
The cost of installing an outside plug socket will include the socket itself which can vary between £15 and £60, and the labourer's hourly rate to install the socket.
When choosing who to hire to complete the job for you I would do some background research yourself to see if you can find some pictures of their previous work and check they are on the electrical safety register. Doing some research of your own will make sure you get the best trade possible. When the job is completed you should also ask for a certificate so the work has been signed off so you know its up to standards.
Doing it Yourself
Whilst you can install an outside plug socket yourself, it will come with many complications. First of all, you will need to apply for building regulation consent with your local council which will cost you. Secondly, there will be many cables and wires you would have to be dealing with, which should always be left to a qualified electrician.
You would have to pay for the cost of building regulation consent, the plug socket and equipment to safely install the plug socket yourself. It would take a lot of time and effort to fit the plug socket yourself and could cost you a lot of money to fix any damage you make if you attempt it yourself.
As the installation of your outside plug socket could be complicated for yourself, it is highly recommended you will want to compare up to 3 quotes from professionals giving them as much detail about the job as you can.
To avoid any electrical shocks or any health and safety issues, use My Job Quote to find a professional and qualified electrician to install your outside plug sockets.
Last updated by MyJobQuote on 19th June 2019.