Cost of Installing an Outside Socket
An outdoor socket will cost around £100 to install, but this will depend on which socket you choose. Read our handy cost guide to learn everything you need to know about installing an outside socket.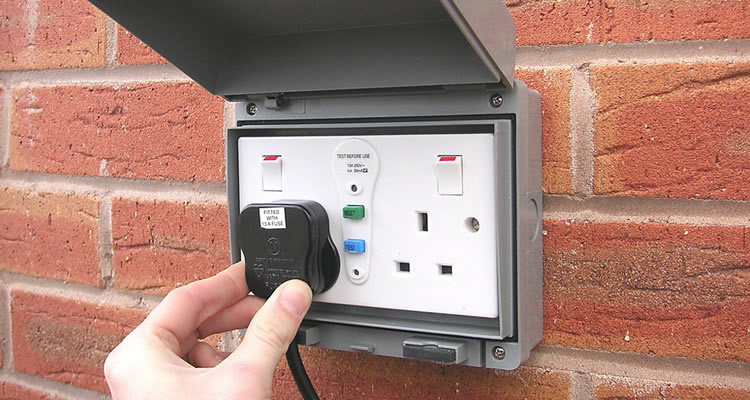 Average Cost of Installing an Outside Socket:
Depending on the complexity of the job, it usually takes: 1 -2 hours
£120
How Much Does Installing an Outside Socket Cost?
The main cost in installing an outdoor socket is the hourly rate of your electrician. It is a simple job and should take no more than 2 hours in total. For a cheap socket that is in an easy to access location, you should expect a cost of around £85. For a more complex socket that might be a little more difficult to install, you should expect to pay no more than £245.
The location of your outdoor socket can affect the difficulty and therefore, the cost of your job. If you can be flexible and work with your electrician to choose the location, this can help to keep your costs lower.
Outside Socket Prices
| Type of Socket | Average Cost |
| --- | --- |
| Single | £85 - £200 |
| Double | £85 - £215 |
| Socket with Timer | £125 - £245 |
| Socket with RCD | £95 - £245 |
Labour Costs and Timescales
Installing an outdoor socket is a simple and easy job for a trained electrician. It will take only between 1 -2 hours, regardless of the type of socket you choose. The average hourly cost to hire an electrician is £75 - £150. However, in locations like London, this can be as high as £250.
Supply Costs Only
| Type of Socket | Average Cost |
| --- | --- |
| Single | £10 - £15 |
| Double | £10 - £30 |
| Socket with Timer | £50 - £60 |
| Socket with RCD | £20 - £60 |
Additional Costs
Installing an outdoor socket is a simple job. However, it might be cost-effective to bundle this job with other electrical work in your home. Getting an electrician into your home may also uncover other problems with your home's wiring, which will need to be fixed.
Electrical Inspection
If your home is older, then you want to get a full electrical inspection. This cost between £150-£300. This is a comprehensive check of the state of your home's electrics. In the end, you will get a report identifying any areas that need fixing. Another option is to get an electrical safety certificate. This can be useful for selling your home. This costs £80 - £150.
Replace Your Consumer Unit
If you have an old consumer unit, it may not be safe. It might need to be replaced before you can have an external socket fitted. If your consumer unit is full, then you may need a separate one for the outside socket or need to upgrade for a larger unit. This work costs £470 - £650.
House Rewire
If the wiring in your home is very old and has not been updated, it may need to be replaced. This is a big job, but it makes homes much safer and reduces the risks of both electric shocks and fires. Depending on the size of your home, the price will be £2,400 - £5,500.
Install Garden Lighting
If you are getting an external socket fitted it might be a good time to investigate getting lighting for your garden. This can make your garden space more liveable and allow you to spend more time in it. Depending on the lighting you choose, this can cost £120 - £250.
Install Electricity to Outbuildings/Shed
If you have an outbuilding, shed or workshop and you want to have lighting and power sockets, then it might be a good idea to set up a dedicated ring off your consumer unit. If you put this on the same ring as your external socket, this could save you some money. The cost will depend on the size of the job and location of the outbuilding.
Cost Factors of Installing an Outside Socket
The two main factors that affect the cost of installing an outdoor socket are the cost of the socket, and the time the job will take. Anything that affects these will affect the price.
Size of Outside Socket
The common choices with outdoor sockets are if they are a single or double socket. Single sockets are all within the range of £10 - £15. If you choose a double socket, you can find simple options that start from £10. Some options will cost as much as £60 though.
Type of Outside Socket
There are features that you can choose for your outdoor socket that will increase the price. For example, an RCD or a timer. Both of these options will make your socket more expensive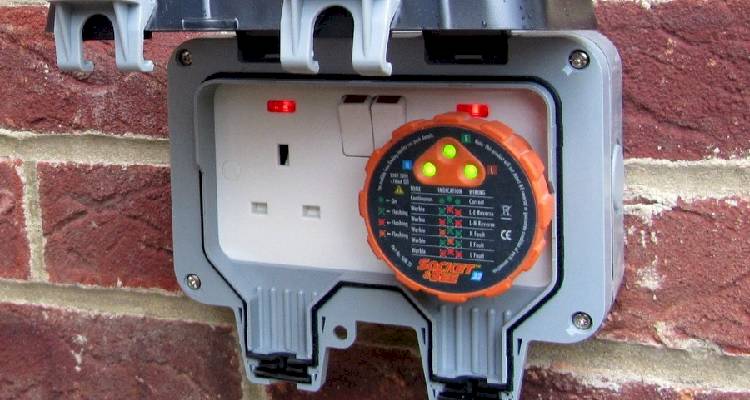 Location of Outside Socket
The location of the socket in respect to indoor sockets and your consumer unit will affect the price. If it is easy to locate the outdoor socket, then the job will be quicker and easier. If you need the socket in a location that is far from both internal sockets and the consumer unit, then it will take longer to fit the new socket.
Ease of Access
If it is difficult to access the location of your new external socket, then this may affect the price. You should consider this when choosing your location. It is possible that your electrician will not install a socket in your chosen position if it is too difficult to do so. So, be prepared to be flexible.
What's Involved in Installing an Outside Socket?
The first step will be to turn off the electricity in your home. This could just be to a single ring, or it may be to your whole house. It will depend on the wiring in your home and the location of the new external socket.
The outdoor socket can be powered in one of two ways. It can either be joined to an existing electrical ring in your home or given its own independent ring. The only difference is where the wire will start.
If there is a convenient location near where you want your socket a hole may be drilled. This hole will join an internal socket through to the external one. A spur will then be taken off the socket to power the external socket.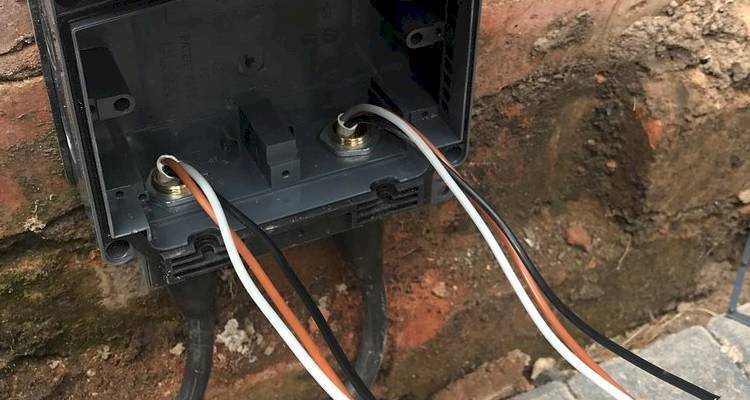 In some cases, it may be safer to run a cable directly from your consumer unit to the location of the external socket. The wire will be run so that it is out of the way and safe from damage. It may be possible to lay this wire inside the walls. Otherwise, it will be tacked to the wall out of the way.
Once the wires are in place, the box will be attached to the wall. The sockets will be wired in, and the electricity turned back on.
Can I Install an Outside Socket Myself?
Installing an electrical socket should only be performed by a suitably competent person. Basically, unless you are a certified electrician, then this is not a DIY job. This is for two reasons. The first is safety. It can be very dangerous working with electrics if you don't know what you are doing.
The second reason is to ensure you meet building regulations. The work does not have to be inspected. However, if you have any work done on your home at a later date that does require a building inspection, then everything including this work will be checked. It could be more expensive to replace a socket at a later date than to have it installed professionally in the first place.
Types of Outside Socket
You do have a few choices when it comes to the socket you install. All of these sockets will come inside an enclosure to ensure that they are weatherproof.
Single Socket
This is the most basic option and good if you have a tight budget. It will give you space for one plug outside. The average cost is £10 - £15.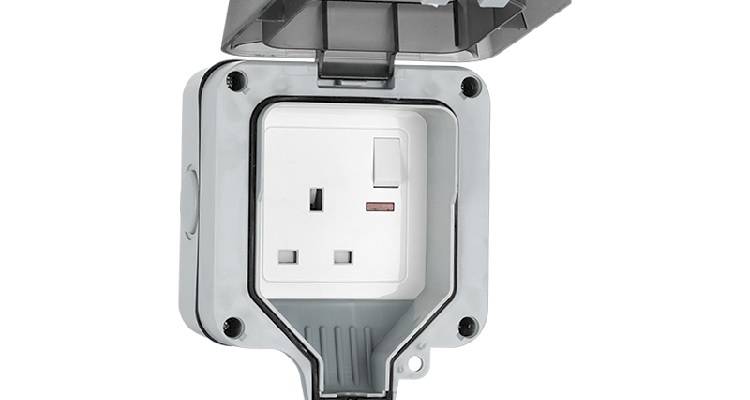 Pros
✔ Compact
✔ Cheap
Cons
✖ Only one socket
Double Socket
This is an outdoor enclosure with space for two plugs. The average cost is £10 – £30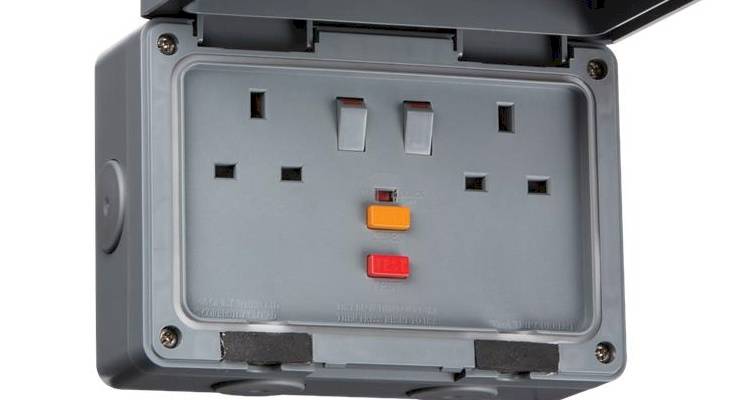 Pros
✔ More than one plug
✔ Cheap options
Cons
✖ Takes up more space
Socket with Timer
If you want to use your outdoor socket for something like lighting, which you only want to use at certain times, then a built-in timer can be a very useful feature. The average cost is £50 - £60.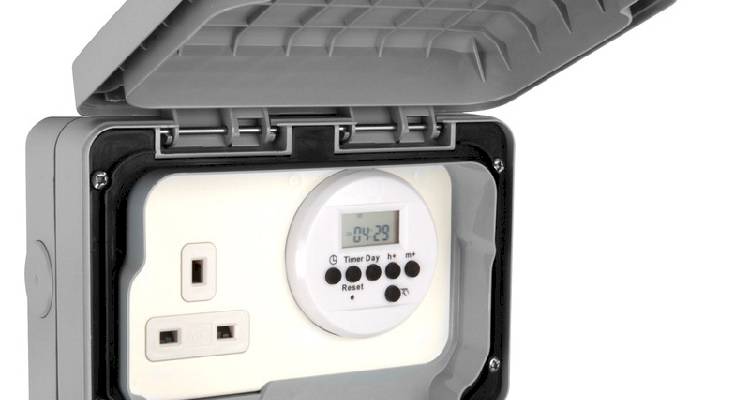 Pros
✔ Built-in timer
Cons
✖ More expensive
Sockets with RCD
These sockets have built-in RCDs. This makes them safer than those without. They come in both double and single socket options. The average cost is £20 - £60.
Pros
✔ Much Safer
Cons
✖ More Expensive
Benefits of an Outside Socket
There are several benefits to having an outdoor plug socket.
Weatherproof
One big benefit of having an outdoor socket is knowing that you always have access to a weatherproof socket. This means you won't accidentally leave an extension cord out in the rain or have to worry if it unexpectedly starts to rain while you're mowing the lawn. A weatherproof outdoor socket is quick, easy and reliable.
No Trailing Wires
When you have an outdoor socket box, you no longer have to trail wires through windows or doors when you are working outside. Besides being a trip hazard, these wires can also let in unwanted pests and pollen.
Quick and Easy
With a garden socket, you can quickly and easily complete work in the garden. Plugging in your electrical devices is easy and tidying up is simple.
What Can an Outside Socket be Used for?
An outdoor socket can be used for any electrical device you wish. There are no limits on what you can use them for. There are some devices which you may want to have in your garden which should be run off a dedicated garden socket.
Hot Tub
If you have a hot tub, fixed or inflatable, then you will need an electrical supply for the pump. An outdoor socket is ideal for this, as it will be rated to prevent the water from the hot tub causing it damage.
Water Feature
Water features that have an integrated pump will need an electrical supply. An outdoor socket is an easy and safe way to supply this. It can be left plugged in without worry. If you only want it to run during the day, you could choose and outdoor socket with a timer.
Pond Pumps
If you have a smaller pond that requires a pump, then you will need to plug it in. An outdoor socket will allow you to do this without worry. It can be left plugged in all the time and will be safe from splashes from the pond.
Outdoor Lighting
Outdoor lighting can make your garden a more usable space. If you want reliable lighting, then you should use electric rather than solar lights. An outdoor socket will allow you to easily power this type of lighting.
Outdoor Heating
If you want to enjoy your garden in the autumn and winter, then you might want to have an outdoor heating system. Electrical ones are safer than gas alternatives. With an outdoor socket, they are easy and convenient to use.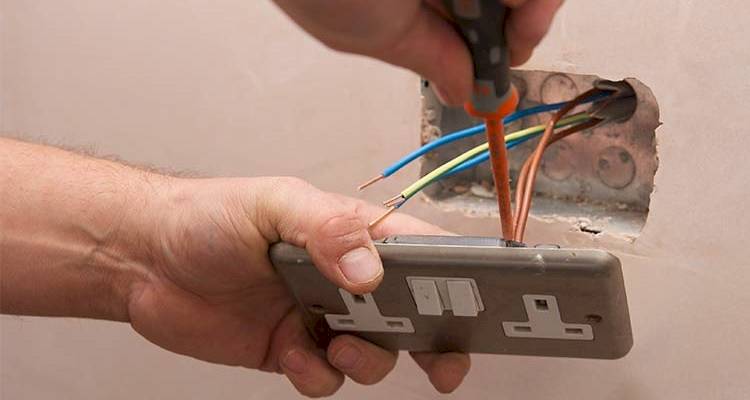 Lawn Mower
The most common use for an outdoor socket is for your lawnmower. It makes it easy and quick to mow the lawn. You no longer need to run an extension cable through the house.
Pressure Washer
Pressure washers are useful for cleaning cars and outdoor paving. With an outdoor socket, you can easily and safely power your pressure washer without having to worry about water getting into your home through doors or windows held open for the plug.
Building Regulations for an Outside Socket
Any electrical work carried out on your property is subject to Part P building regulations. This means that the work should be carried out to a suitable standard. You do not have to apply for building regulations or have a site visit if you use an installer who is able to self-certify that their work is up to standard.
There should be no extra cost for this certification. It should all be included in the cost that your installer charges you.
Planning Permission for an Outside Socket
You do not need to seek planning permission to install an outside socket.
What's an IP Rating?
IP stands for Ingress Protection. It is a measure of how waterproof and dustproof a socket is. In essence, it tells you how likely it is that the socket will be damaged. An IP rating should be two numbers and may have an extra letter on the end. E.g. IP24 or IP56K.
The first number tells you how resistant the item is to solid particles. So, how good it is at preventing the entry of dust, sand, dirt. The numbers range between 0-6. Zero means there is no protection. Six means that nothing at all can enter.
The second number tells you about the resistance to water. The numbers range from 0-9. The protections are cumulative up to 6. After this, they indicate separate tests so would be listed separately. A rating of zero means it has no resistance to water.
Six means it can resist powerful jets of water sprayed at it. Ratings 7 and 8 are about immersion in water so are not likely to apply to an outside electrical box. 9K is given to show that an electrical device is resistant to a high-temperature water jet, so you may see this on an outside plug.
To be outside a socket should have a minimum IP rating of 56. This means the amount of dirt that can enter will not interfere with the operations, and it can resist powerful jets of water, from any direction.
Removing an Outside Socket
There are not many reasons to remove an outdoor socket. Even if you don't use it, it does not affect anything else in your home, and they are often positioned to be out of the way. However, if you wish to move the socket or you need to fix it after it has been damaged then it may be necessary to remove the socket.
Removing an outdoor socket is a job that should be completed by an electrician. The job is quite quick and can be done in less than an hour. You will only need to pay for the cost of the electrician's time. Most electricians will charge a minimum fee to cover their expenses and travel costs. So, you can expect to pay £80 - £150. It can be more cost-effective to have this job done, at a time when you are having other electrical work done, as this will be a more cost-effective option.
Your electrician will usually dispose of the old socket for you. Otherwise, you can take it to the tip yourself. In most places, it will be free to throw away.
Hiring an Outside Socket Installer Checklist
You will want to hire an electrician to install an outside socket. Here are some of the key things you should look for:
They should be a Part P registered 'competent person' or firm. This means they will certify that their work meet building regulations and they complete all the relevant paperwork.
Electricians can be registered with the National Inspection Council for Electrical Installation Contractors (NICEIC), ELECSA, NAPIT or another government approved scheme. Choosing one who is will give you added protection in case there is a dispute later on.
You should expect a competent electrician to have some qualifications. They may have completed an apprenticeship, or another level 3 qualification, for example, City & Guilds.
FAQs
How do I find the IP rating of outdoor sockets?
The IP rating should be prominently displayed on the package of any outdoor sockets. It may be listed in the specifications of the product if you look it up online.
What does an RCD do?
An RCD is a Residual Charge Device. It detects if there is a fault in the device that is using the socket. It can then shut off the power before an injury or accident occurs. These devices are simple to reset and do not need replacing like a fuse. They can either be in the socket itself or in your consumer unit. All modern consumer units should have an RCD.
Is there anything you can't plug into an outdoor socket?
Outdoor sockets work in exactly the same way as indoor sockets. They are just more protected from the weather. This means you can use them from any electrical device that you can plugin.
Do I need a separate consumer unit for outdoor power supplies?
If your existing consumer unit has the capacity, you can run any external power off that unit. This includes outdoor sockets and outbuildings.
Is an extension cord a safe alternative to an outdoor socket?
An extension cord can be a safe option if used correctly. However, over time extension cords can become damaged. This means they should be inspected before each use. You should pay attention to where the extension cord is laying as it can be a trip hazard.

There have been plenty of examples of people getting electric shocks by mowing over their extension cord. Unless the extension cord is rated for use outdoors, it may not be waterproof.

In summary yes you can use an extension cord, but you should do so with care. An external socket is an easier option to use safely.
Sources
https://www.planningportal.co.uk/info/200130/common_projects/16/electrics/3

Last updated by MyJobQuote on 30th September 2020.