Carpet Cleaning Cost
Want to know how much it costs to have your carpets cleaned? In this article, you'll find the average carpet cleaning prices in the UK for different rooms, sizes and types of carpet.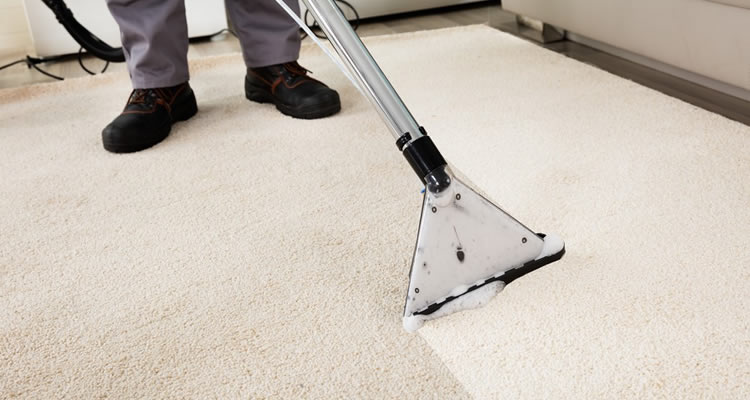 Average Cost to Clean a Carpet:
Depending on the complexity of the job, it usually takes: 2-3 hours
£240
How Much Does Carpet Cleaning Cost?
Sometimes carpets are simply too worn and dirty for your vacuum cleaner. If you've got kids and pets, then the dirt, grime, spillages and dust will build up over time despite regular hoovering.
But before you rush out and buy brand new carpets, you could save money by calling in professional cleaners for a deep clean. The results can often be astonishing and provide your existing carpets with a new lease of life.
The cost of hiring a professional carpet cleaning company will vary depending on the size of the room that needs cleaning. For instance, a small bedroom typically costs around £20 to £30, while a large bedroom ranges from £40 to £5 and landing and stair cleaning prices usually cost anywhere from £72 to £90.
If you need your carpets cleaning in your living room, then you should expect to pay £32 to £40, while an open-plan living room with a dining area typically costs around £72 to £90.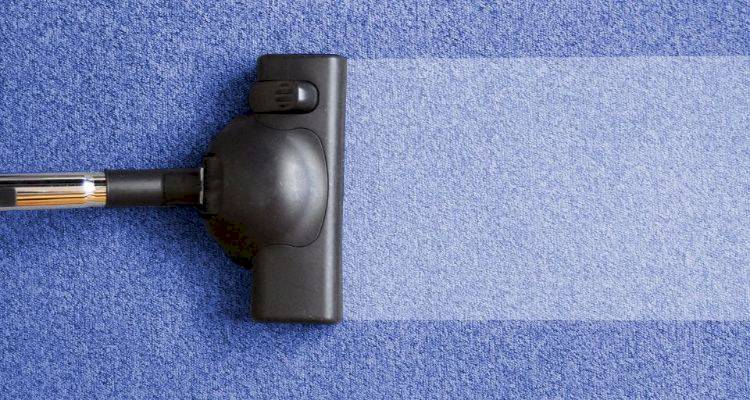 If you would prefer to have all the carpets in your home cleaned, then this will depend on the type and size of your home, for example, a two-bedroom terraced property would cost around £128 to £160, £192 to £240 to clean carpets in a 3-bedroom semi-detached house and £294 to £368 for a 4-bedroom detached home.
These costs may vary depending on the company you choose, as well as whether you require the carpet cleaners to move furniture as this normally increases labour costs. The final price will also depend on how dirty your carpets, as the more stains and spills there is the longer it will take to clean.
Cleaning Carpet Prices
The below table sets out the costs for different-sized carpet cleaning jobs:
| Job Description | Avg. Cost |
| --- | --- |
| Small bedroom (12m2) | £20 to £30 |
| Large bedroom (20m2) | £40 to £50 |
| Stairs and landing (15 m2) | £30 to £38 |
| Living room (16 m2) | £32 to £40 |
| Open-plan Living room and dining room (36 m2) | £72 to £90 |
| 2-bedroom terraced home (64m2) | £128 to £160 |
| 3-bedroom semi-detached (96m2) | £192 to £240 |
| 4-bedroom detached house (147 m2) | £294 to £368 |
Supply Costs Only
If you wish to clean the carpets in your home yourself or want to save on the overall cost, you could consider purchasing your own carpet cleaning supplies, including:
| Cleaning Product | Supply Cost |
| --- | --- |
| Carpet cleaner machines | £1500 to £4370 |
| Heated carpet cleaner machines | £1950 to £4240 |
| Dry carpet cleaning machine | £200 to £1560 |
| Carpet cleaning hoses | £25 to £90 |
| Carpet cleaning wands | £180 to £1340 |
| Carpet cleaning detergent | £2 to £3 |
Additional Costs
There are several other costs you need to consider when calculating the price of carpet cleaning, including:
New Carpet
When cleaning the carpets, you may start to notice damaged that cannot be fixed and you will, therefore, need to pay to replace your carpet. The average cost to install a carpet ranges from £260 to lay a budget carpet up to £590 to fit a high-quality carpet.
New Wallpaper
Having your carpets cleaned will make them look brand new, so you may want to spruce up the rest of your room by updating the wallpaper. The typical price for hanging new bedroom wallpaper is around £550 for a small space and up to £730
End-of-tenancy Cleaning
If you are moving out of a rented property and wish to keep your deposit, then you need to consider additional end-of-tenancy costs. This could include hiring a professional cleaner who will charge around £80 to £100 for a small home and up to £140 for a 2-bedroom property.
Labour Costs and Timescales
The majority of cleaning companies base their prices on the size of the room or house they need to clean, with costs ranging from around £2 to £2.50 per square metre.
However, there are carpet cleaning specialists who charge a minimum day rate of about £100, which is typical for areas in northern England. In comparison, London carpet cleaning companies charge up to £140 per day.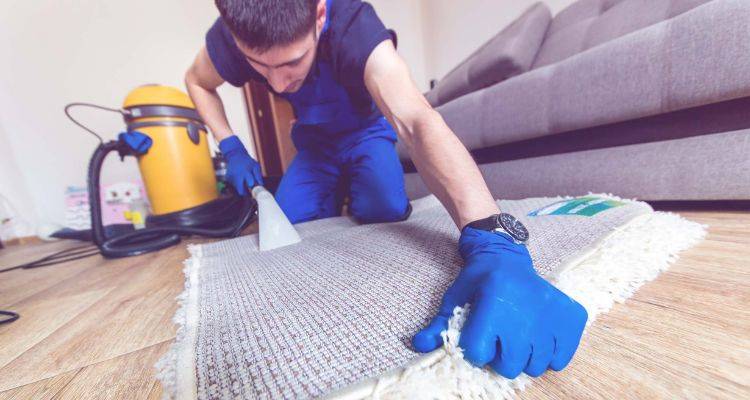 You should also be aware of additional costs for stubborn stains, so to avoid unexpected charges, you should inform them of any issues beforehand. Most carpet cleaning firms will also not remove furniture from a room; they will expect you to do this before they arrive.
If they turn up and are unable to start because they need to clear a room, they're likely to charge you a bit extra.
The average timescale for carpet cleaning is generally around half an hour for a small or large bedroom, up to an hour for a typical living room and around 2 to 3 hours to clean all the rooms in a 3-bedroom detached home.
Cost Factors of Cleaning Carpet
There are various factors to assess before calculating the cost of hiring carpet cleaning specialists, such as:
Type of Carpet
The type of carpet have in your home is a massive contributing factor as some carpet materials are more challenging to clean than others.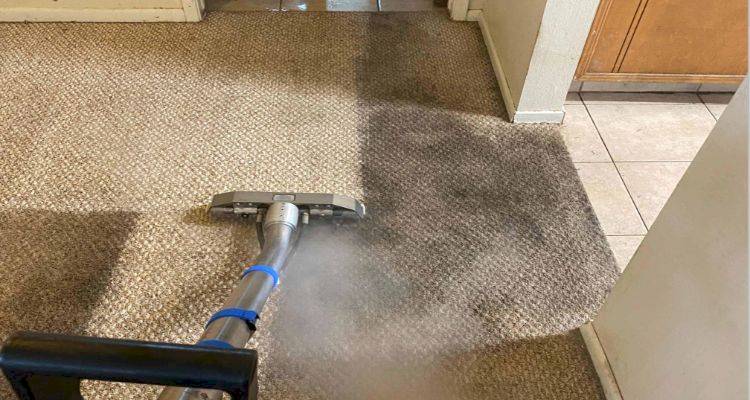 For instance, you should expect to pay more for a natural carpet, as this normally requires specific cleaning products and specialist care. While a synthetic carpet is more resistant to stains and is also very easy to clean and usually only require spot treatments.
Size of Carpet
The size of your carpet is also very important as most carpet cleaning specialist charge per square metre, so the larger the room, the more you should expect to pay. For example, a small bedroom typically only costs around £20 to £30, while an entire 4-bedroom detached house could cost up to £368.
State of Carpet
The majority of carpet cleaning specialists will also set their price depending on the condition of the carpet, so if you do have any stubborn stains, you should expect to pay slightly more.
Location of Property
Where you live is also a significant factor, as some carpet cleaning companies may charge more if they need to travel to more remote areas. If you live in London, you should expect to pay more, with the average day rate costing around £140, while companies in the surrounding areas only charge around £100 per day.
Ease of Access
You will also need to consider how easy it is to access the rooms where the carpet needs to be cleaned, as some carpet cleaning professionals may charge more for a space that is difficult to clean such as a small attic or basement bedroom.
What's Involved in Cleaning Carpet?
To help you understand what professional carpet cleaning involves, here is a step by step guide of the process.
The first step usually involves the specialists checking the pH scale of the carpet as this allows them to decide which products are best to use to avoid causing damage to the material.
They will then pre-treat and fix any stains if using a hot water extraction method or for dry carpet cleaning they normally use a low-moisture cleaning powder.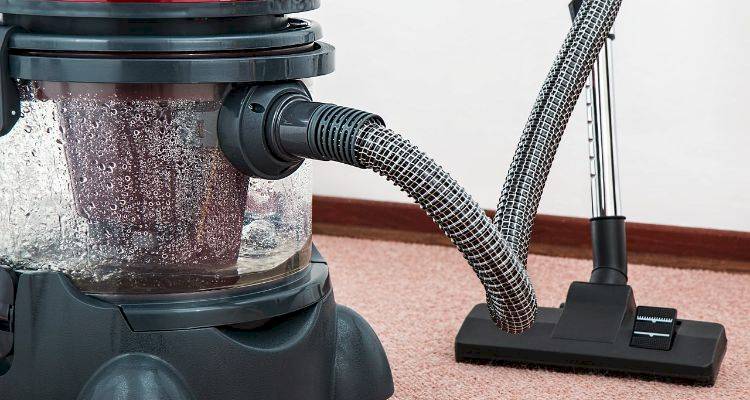 Once the product has soaked into the carpet, they will then power up their carpet cleaning equipment which may include a dust and grime remover or a rotating carpet cleaner which will help spread out the product and clean the carpet thoroughly.
If using the hot water extraction method, the operator will then pour a mixture of shampoo and water into the carpet fibres followed by vacuuming to extract the dirt.
The final step involves removing any loose dirt with a vacuum while also checking that any stubborn stains are completely gone.
Can I Clean Carpet Myself?
This job can be done DIY to save money, but it is a lot of work so most will prefer to contact a local carpet cleaning specialist to do the job professionally for them.
Though the average professional carpet cleaning cost isn't too expensive, it's easy enough to do yourself if you have plenty of time but not enough budget.
The process is not difficult, but it is time-consuming, especially in a large home with big rooms. Many stores in the UK hire out cleaning machines, and the carpet shampoo is pretty cheap too.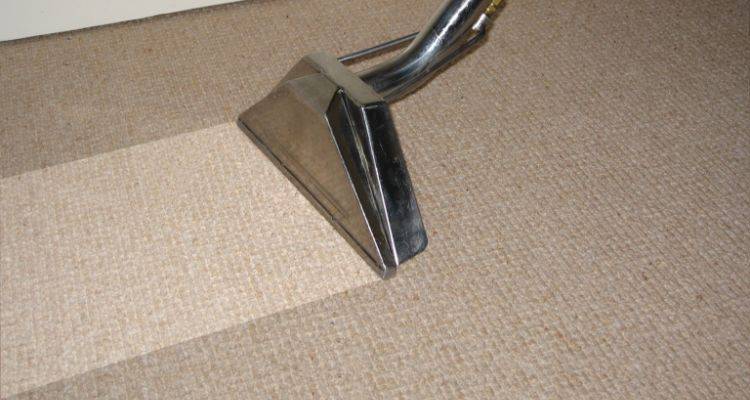 To get the best results from a deep clean carpet DIY project, you need to understand how to clean carpet properly. Firstly, carpets need to be vacuumed and then use the hired industrial machine to spray shampoo and hot water deep into the pile of the carpet.
Then the cleaning head can do its work into the carpet to loosen the dirt by agitating the fibres before it is sucked up. After the first initial sweep, you should probably repeat the entire process without using any shampoo for the best results.
However, this will be too much work for most, so it's generally better just to hire a professional carpet cleaner.
Types of Carpet Cleaning
There are various carpet cleaning methods that you need to consider, including:
Dry Carpet Cleaning Cost
Dry carpet cleaning is one of the most popular methods which was first invented in the 1980s for carpets which do not have a high level of water resistance.
This process usually involves the use of a rotary carpet cleaning machine which is used to apply and spread cleaning powder into the carpet fibres.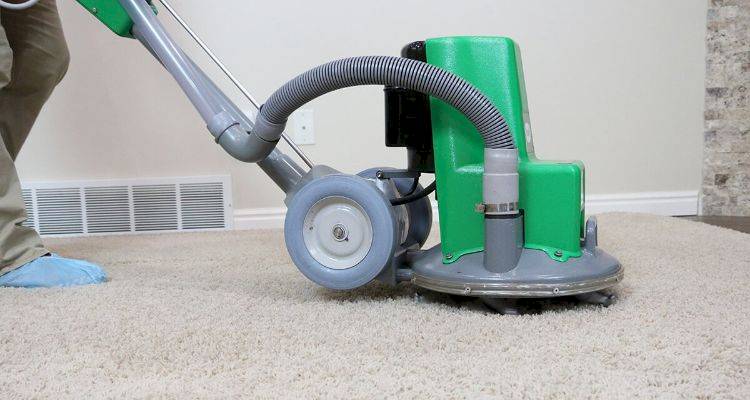 The main advantage of dry carpet cleaning is that it works well with all carpet types and is made up biodegradable materials which work like a micro-sponge to extract dirt quickly and easily. This method is also ideal for delicate fabrics such as natural carpets which may require more care than usual.
The problem with the dry carpet method is that it has not been around as long as other techniques, so many people still doubt its capabilities. It can also produce an unattractive smell which can linger, although this will depend on the solutions the company use.
Hot Water Extraction Cost
How water extraction cleaning or steam carpet cleaning involves the use of high-pressured hot water which works to eradicate stubborn dirt. It also involves applying cleaning agents on stubborn stains which are typically spread using a professional carpet cleaning machine.
One of the great thing about steam cleaning is that unlike the dry method, it actually gets rid of stale odours.
This makes it ideal for children and pets, as it kills off microorganisms in your carpet, making it one of the most hygienic and is also natural ways to have your carpet cleaned which will also help you reduce your carbon footprint.
The problem with the hot water extraction method is that it can take a long time to dry, so companies usually advise you to have your carpet cleaned in the afternoon to allow the carpet to dry overnight.
Foam Capsulation Cost
Encapsulation carpet cleaning involves the use of a rotary brush which is operated to spread a crystal polymer-based cleaner into your carpet's fibres. The solution will then dry, and the carpet will be vacuumed to remove excess dirt.
An advantage of foam encapsulation is that it does not need to be rinsed or dried, so you can use your carpet as soon as you wish. It also does not leave behind any dirt or debris and offers instant results while improving the appearance of your carpet.
Encapsulation is usually quite a difficult task, so it is best leaving it to the professionals who have experience with the specific machinery that is used to clean your carpets thoroughly. It also has limited cleaning ability on surfaces such as oily and grease-based soils.
Does My Carpet Need Cleaning?
If you have tried and failed to clean stubborn stains from your carpet, then it may be time to have your carpet professional cleaned to avoid new carpet installation costs.
You may also notice a strong odour coming from your carpet which is common if you have a relatively thick carpet, as spills or stains may have embedded into the fibres.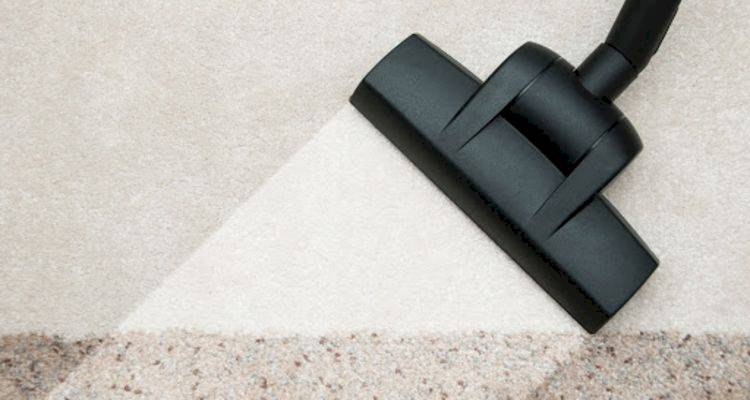 Another common sign that you need to get your carpets cleaned is if your allergies start flaring up as this typically means that there is a significant amount of dust and allergens in the room.
You should also try to get your carpets cleaned as often as possible if you have pets, as they can often have accidents which can cause spots on the carpet which will look and smell unsightly.
To ensure your carpet remains in good condition, you should try to have your carpet cleaned every 12 to 18 months as this will maintain your carpet while also saving you a significant amount on a new carpet installation.
Hiring Someone to Clean Carpet Checklist
Before hiring a cleaning specialist to revamp your carpet, you should take a look at the following checklist to ensure you choose the right person or company.
Check that the NCCA or another established accreditation approves the equipment they are using.
Ask for proof of qualifications which may include an NVQ Level 1 and 2 in cleaning and support services or a City and Guilds Level 2 Certificate and Diploma in cleaning principles.
Enquire about whether they are a member of an accredited organisation such as the National Carpet Cleaners Association.
Request photographs of previous jobs while also checking reviews to ensure the person you hire is reliable and trustworthy.
Make sure that they have public liability insurance as well as employer's liability insurance as this will protect you financially and personally in case any incidents occur on site.
FAQs
What is the best homemade carpet cleaning solution?
If you wish to save money and clean your carpet yourself, then you can you're your own cheap carpet cleaner using a homemade solution. One of the easiest homemade carpet cleaners includes two tablespoons of liquid detergent, ¼ cup of all-purpose cleaner, one scoop of OxiClean, one teaspoon of fabric softener and a gallon of hot water.

This will act as a carpet cleaner and conditioner which will not only make your carpets look brand new but should also make them smell good too.
How much carpet cleaning solution do I need?
The amount of cleaning solution you apply to your carpet will depend on its size as the larger the space, the more product you will need; however, you need to be careful about adding too many water-based products to a natural or tufted carpet.

The amount will also depend on how dirty your carpets are, as any stubborn stains will require a lot more solution than cleaner areas.
Why does my carpet smell after cleaning?
The most common cause for a bad-smelling carpet after a thorough clean is that too much moisture will have been used and it is not dry. This will cause a damp smell which may disappear after the carpet is dried or it may linger.

If it does not dry quickly, then the carpet could be susceptible to mildew growth which will begin to make the smell worse. To avoid this, you should consider hiring a carpet cleaning specialist as they will ensure the method used is the right one, and they will also make your carpet smell great.
Will the carpet be left wet after professional cleaning?
Perhaps a little damp but not soaking. A little moisture is normal but just turn on the heating and open the windows to allow the moisture to dry off.

The carpet shouldn't be noticeably wet and can be walked on without issues afterwards.
Do carpet cleaning professionals also clean rugs, furniture and curtains?
Most of them just do carpets and rugs, as different specialist equipment is needed for furniture and curtains.
Why should I get my carpets cleaned?
Carpets absorb all sorts of nasty stuff over the years including chemicals, pollutants, pesticides, contaminants, allergens, volatile organic compounds, asbestos, dust mites, bacteria, grease, oil, sand, soil plus food and drink particles. Regular hoovering will help to keep the carpets clean, but at some point, a deep professional clean (or new carpets) will be required!
How often should my carpets be cleaned?
It obviously depends on several factors such as the age and condition of the carpet along with whether or not you have children or pets making a mess! But generally, once a year works well unless there are people with allergies, asthma or other breathing-related conditions in the home. Doctors recommend carpets be professionally cleaned every 3 to 6 months for those with allergies.
What should I do before the cleaners arrive?
Prior to the carpet cleaner's arrival, you should remove everything on the floor from the areas that are to be cleaned. So furniture, shoes, toys, everything to be cleared out, leaving just the carpet to be cleaned.
Sources
https://www.dwh.co.uk/advice-and-inspiration/average-house-sizes-uk/
https://www.proluxcleaning.co.uk/how-much-does-it-usually-cost-to-get-carpets-cleaned/
https://www.twinkleclean.co/what-is-the-cost-price-of-carpet-cleaning-in-london/
https://www.wowcarpetcleaning.co.uk/services/carpet-cleaning-prices/
https://www.brentcarpets.co.uk/news/woven-vs-tufted-make-mind/
https://www.end-of-tenancy-london.co.uk/pros-cons-dry-carpet-cleaning/
http://www.drchemdry.com/5-signs-you-need-to-have-your-carpet-cleaned/
https://www.cleantecinnovation.com/blog/which-carpet-cleaning-method-is-best

Last updated by MyJobQuote on 29th October 2020.