Flat Pack Furniture Assembly Cost
Need flat pack furniture assembled? Just how much will this cost you?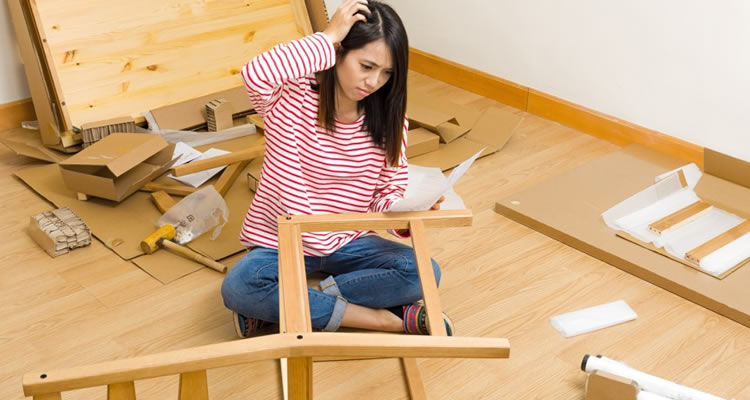 Flat pack furniture assembly from £35
The duration for assembly is generally around 1-5 hours for most pieces
£70
Flat pack furniture assembly is something which you might want to rely on the professionals to perform. In addition to completing the work in less time than you would do yourself it is also likely to cost far less than if you were to do it yourself. And, you don't have to worry about improper assembly which will result in more time, more parts and more expenses.
A great benefit of hiring a company for flat pack furniture assembly is the fact that they typically provide you the option of a flat-rate quoted price or cost per hour. So, depending on whether it is one small sofa or chair or an entire living and dining room suite you will know before hand how much you are going to pay when you hire them to put together the furniture you have purchased for your home.
Due to the nature of assembly parts fit intact and precisely. Most homeowners simply don't have the patience or the know-how to do this themselves. So, hiring a professional service team or company is the best route to ensure proper assembly, timely assembly and to ensure your flat pack furniture is going to look exactly how it should look once it is fully assembled and placed in your home.
Cost of flat pack installation and assembly
Our table below offers you a breakdown on the cost of getting your flat pack furniture assembled. The price of getting your cupboard or cabinet assembled can vary depending on the size and complexity of the build. Many tradespeople will offer a flat rate per item and then if it goes over a certain amount of time they will charge per hour. A tradesperson could charge anything from £8 to £15 an hour once they have passed the flat rate.
| Job Description | Duration | Material Cost | Labour Cost |
| --- | --- | --- | --- |
| Bedside Cabinet | 30min-1 Hour | Cost of Furniture Purchased | £35 flat rate and £15 per hour beyond original window. |
| Standard 2 Door Wardrobe | 1-2 Hours | Cost of Furniture Purchased | £50 flat rate and £15 per hour beyond original window. |
| Chest of Draws (4 draws) | 1-2 Hours | Cost of Furniture Purchased | £40-50 flat rate £15 per hour beyond original window. |
Things to consider when hiring companies for assembly.
For assembly of flat pack furniture the first thing to consider is the company. Find out what type of items they assemble, what the general time-frame is for assembly, what they guarantee and so forth. The more you can learn about a company the easier it will be to choose one.
Find out if they guarantee the work. From assembly to damaging items. The more reputable companies will afford you full warranties and guarantees for work they perform and assembly. So, learn about this prior to having any assembly completed.
Find out if they offer flat rates/quotes or only by the hour pricing. This will greatly impact the price you are going to pay and how long it will take to complete services, when you hire a company to assembly and ultimately install your new flat pack furniture.
Doing it Yourself
Should you do this yourself? For many homeowners, flat pack furniture comes with full instructions. If you are patient, have the right tools, and are understanding of how assembly should be done, then it might be a viable project you can tackle. Keep in mind it will likely take more time than a professional would require to do the assembly however.
If on the other hand, you prefer to hire a professional, this is a viable option if you prefer guaranteed service and assembly. In addition to doing the work faster, they typically guarantee the work, longevity, proper assembly, and that your new furniture won't break if used in the intended manner. All guarantees worth noting, when choosing a company to assemble your new furniture.
Also consider how many pieces are being assembled. Many companies will provide you discounted or flat rate pricing, so you can save on the cost. You will know exactly what you will pay before hand, no matter how long it actually takes for them to complete the assembly and installation of the new furniture in your home.
Hiring assembly specialists: What you should know.
Flat rate or hourly pricing assembly services.
Find out if they offer delivery as part of the service fee.
Learn of guarantees for assembly.
Find companies which are reputable and reliable.
Hiring a Tradesman Checklist
Always get at least 2 quotes before hiring.
Never pay the full amount upfront.
Get the quote in writing.
For any payment you make, always get a receipt.
On more expensive jobs, ask for references.
Check if the tradesman is a member of any trades associations.
Make sure the tradesman has public liability insurance.
FAQ's
How long will it take to assemble furniture?
For smaller pieces, you can generally do the work in a couple of hours. If however, you are doing an entire living or dining room, or bedroom, this can take a matter of days. Also inquire with a company to find out how long they would take, if you prefer not to attempt a DIY assembly.
What is the cost of assembly?
This depends on the company hired. Some offer flat/quoted prices; so, regardless of duration, your assembly rates won't exceed those which are originally quoted. If on the other hand, you choose a company which charges by the hour or 1/2 hour, this price will fluctuate. Depending on the piece, and size, and scope of assembly, prices will vary greatly in these cases.
Recent Jobs
2x medium chests and 1x ladder shelf please for assembling ASAP Many thanks
Submitted by Laura
Flatpack bunk bed and shelving unit need installation. I need this done asap if possible.
Submitted by Jay
Build a flat pack wardrobe from Ikea.
Submitted by Natalie
To build 10/11 units from magnet ready for us to fit the worktops.
Submitted by Amber
Benson for beds corner wardrobe need to put together.
Submitted by Sarah