How to Install a Wooden Floor
Are you looking for information on how to fit a wooden floor? This article will go over everything you need to know about how to install wood flooring, including a step-by-step guide and a list of all of the tools and materials you'll need to complete the job.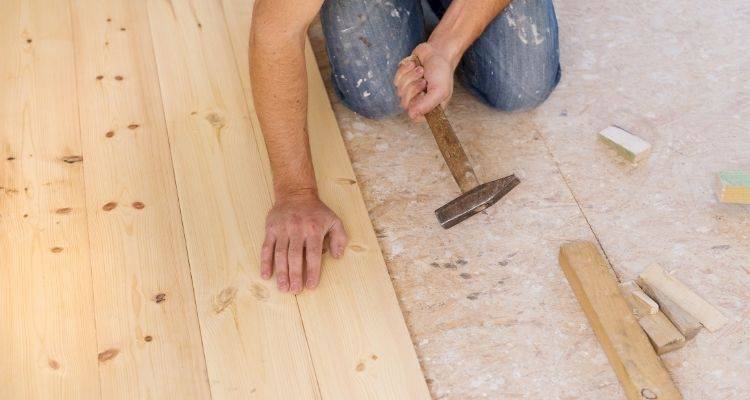 What Tools Do I Need to Install a Wooden Floor?
Here is a list of the tools you'll need to install wood flooring:
Hoover
Cordless finish nailer
Chalk
Mitre saw
Pencil
Workbench
Flooring mallet
Flooring stapler
Table saw
Pry bar
What Safety Equipment Do I Need to Fit Wood Flooring?
Below is a list of the recommended safety equipment for installing wood flooring:
Safety goggles
Dust mask
Knee pads
What Materials Do I Need to Install Wooden Floor?
Here is a list of the materials you'll need for installing a wooden floor:
Vapour barrier
Wood flooring
Nails
How to Prepare for a Wooden Floor Installation
When preparing for installing a wooden floor, you want to begin by measuring the room so you know exactly how much wood flooring you need to purchase. Once you're sure of the amount, go ahead and order your wood flooring. Always order 10% more than what you think you need to accommodate for any mistakes or miscalculations along the way.
You will also need to completely empty the room you're working in, and you will need to remove any existing flooring that may be laid in the room. You should also hoover up any dust or debris from the surface of the subfloor before you lay your new wood flooring.
How to Install a Wooden Floor Yourself
The guide below highlights the steps that should be taken when laying down solid wood flooring. Every wood flooring type is different, so be sure to check the manufacturer's instructions every step of the way.
Step 1
The first step when it comes to installing hardwood floors is to install a vapour barrier. This is a requirement when installing hardwood floors as it prevents too much moisture from getting trapped in the wood.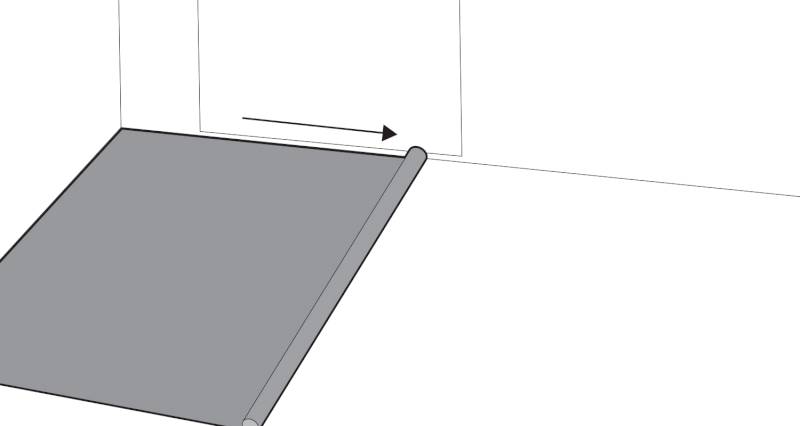 Many vapour barriers will come with adhesive already attached, so you can easily install them on the sub-floor. You should ensure that the barrier overlaps when each new sheet is introduced and make sure that the entire sub-floor is covered.
Step 2
Before you begin installing the flooring, you will need to create a marking on top of the vapour barrier that is roughly half an inch from the wall. Do this along all four sides of the room as this will allow space for the wood to expand and contract with changes in temperature.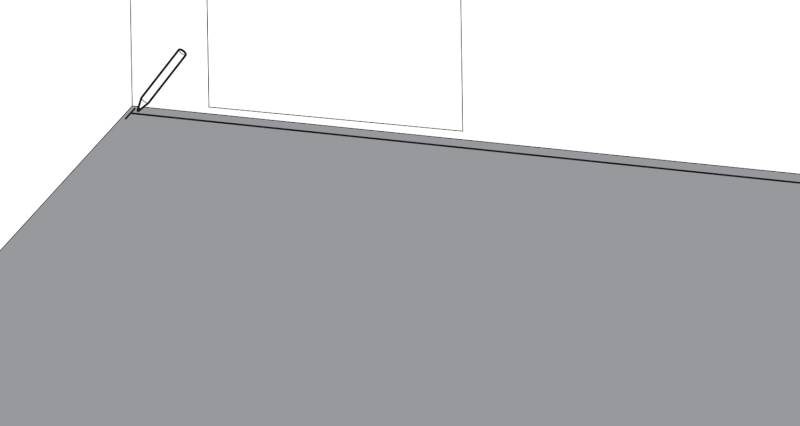 Step 3
Now it's time to lay down the first piece of flooring. Start by the door and line your first piece up with the marking you made earlier. Once you're happy that the positioning is completely straight, you can then nail this board in place using your cordless finish nailer.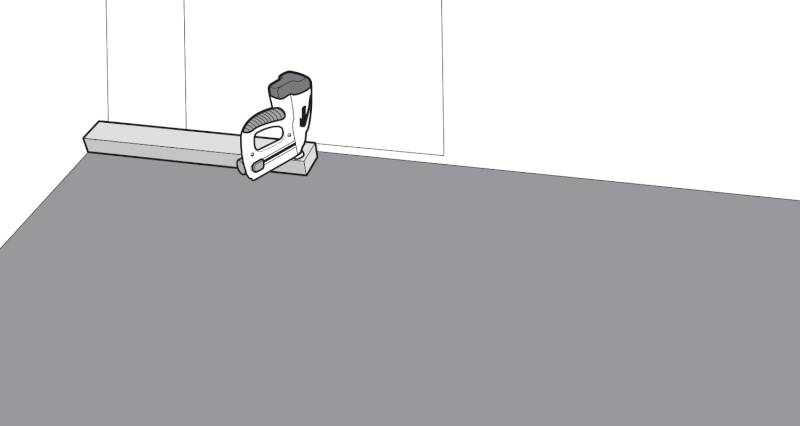 Step 4
Continue this process for the next few boards until you reach the other wall. At this point, you may need to cut a board to size so that you can fill in the gap between the previous board and the wall.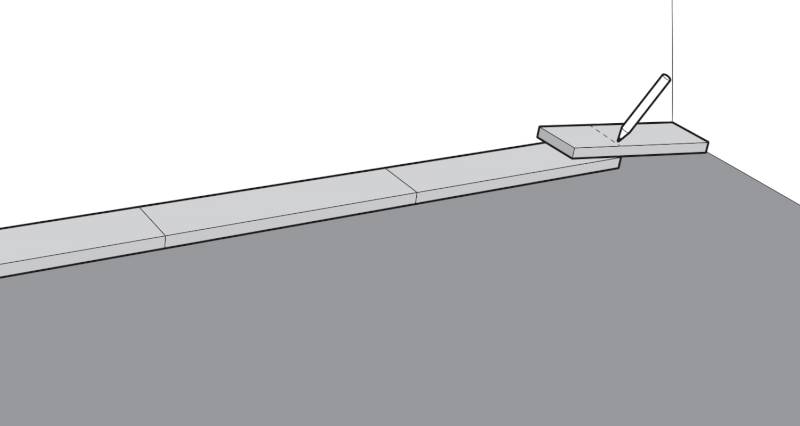 Measure the board based on the location of the previous board and the marking you made earlier. Create a small marking on the underneath face of the board so that you know where to cut.
Step 5
To make the cut, fix your flooring piece into your workbench and use a mitre saw to make the cut.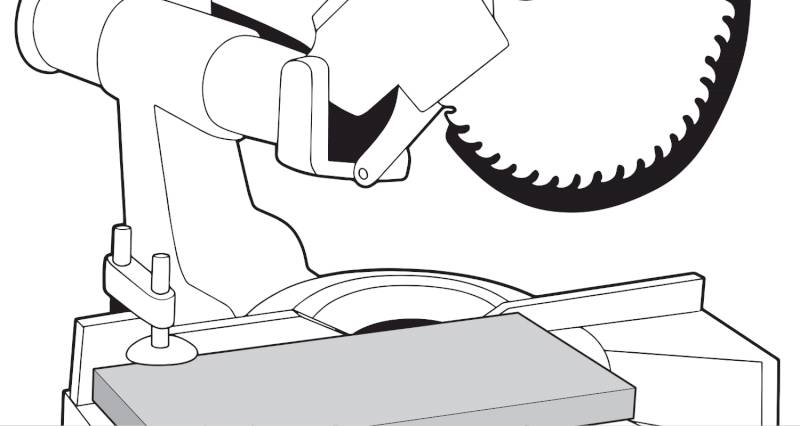 Step 6
Once you're happy with the length of the board, you can then put it in place and nail it down like the rest of the pieces. This should complete your first row of flooring.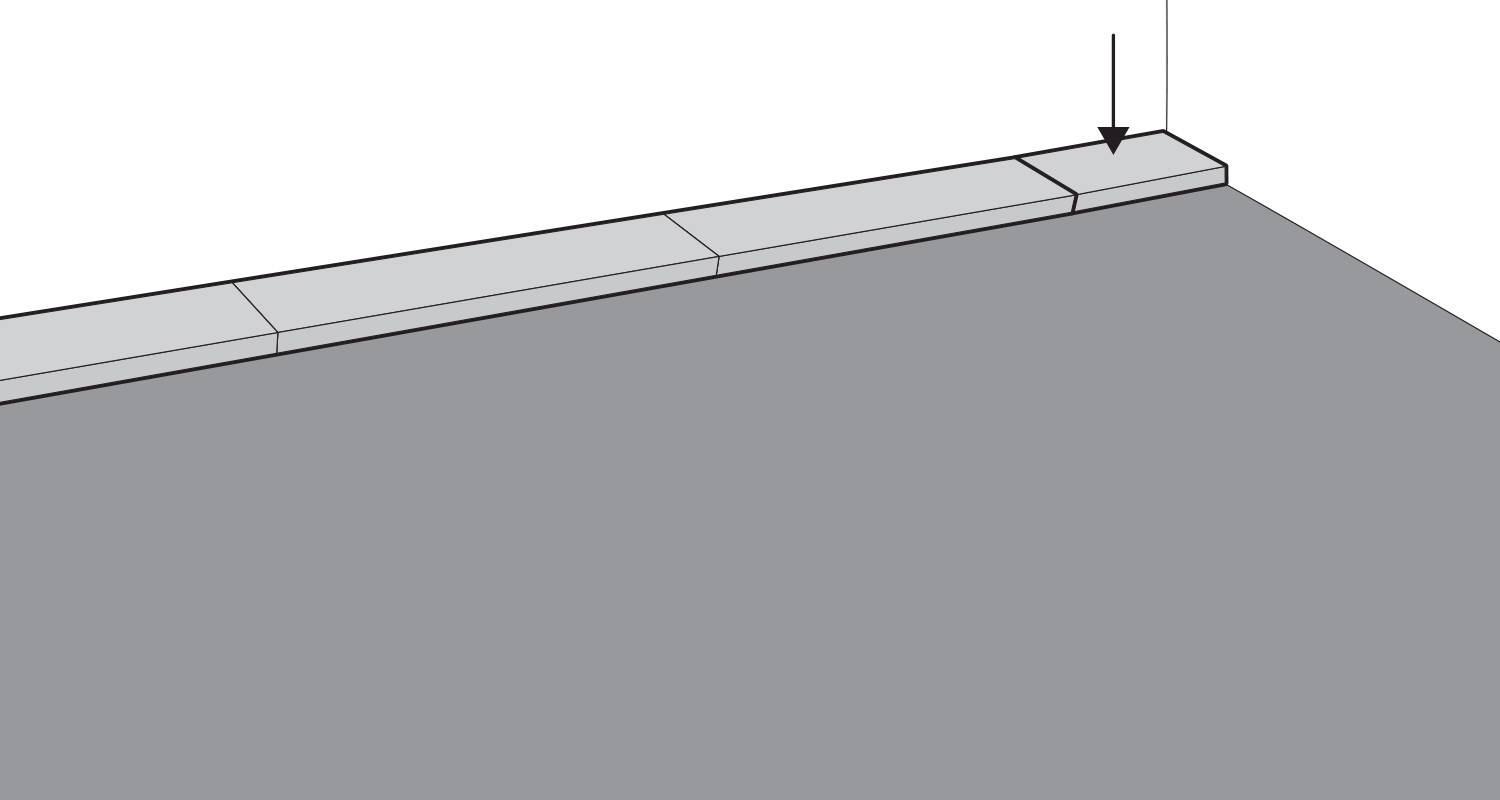 Step 7
When moving on to the next row, you want to start by using one of the shorter pieces of hardwood as you want to stagger the seams when it comes to laying wood floors.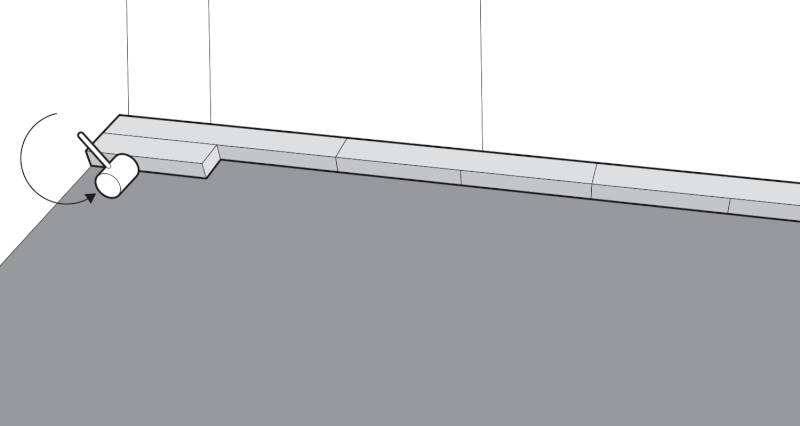 Place the wood alongside the previous row and use a flooring mallet to ensure it sits tightly against the first row. You then want to use your flooring stapler to drive 2-inch staples through the tongue of the flooring, which secures it tightly to the sub-floor.
Step 8
Continue adding flooring all the way along the second row, adding staples in at around 6-8 inch intervals to secure each board to the floor.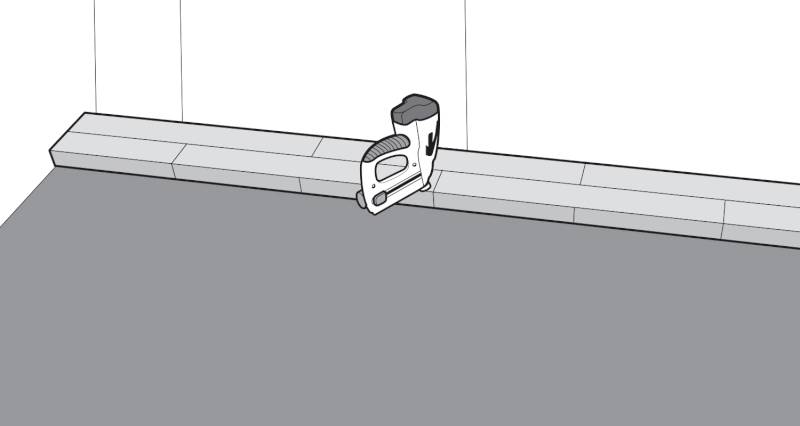 Step 9
You should then repeat the above steps for the rest of the flooring until you have covered the entire floor.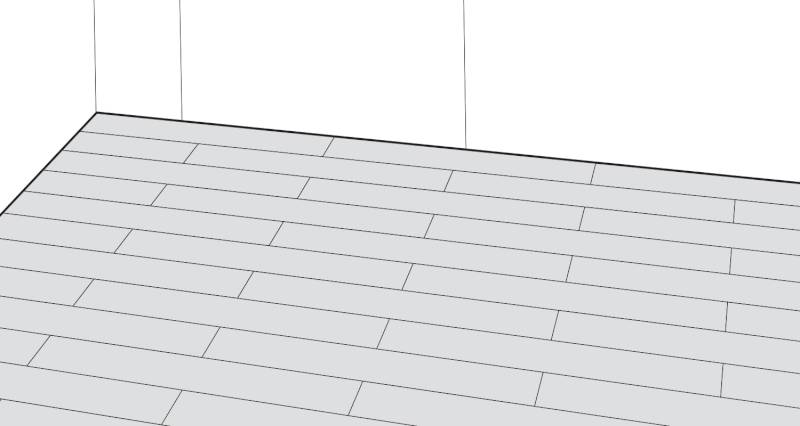 Step 10
When you reach the other side of the room, you may need to cut your boards down by width to allow for the correct expansion gap. You will need to measure and mark where you need to cut on each board and cut them to size using a table saw.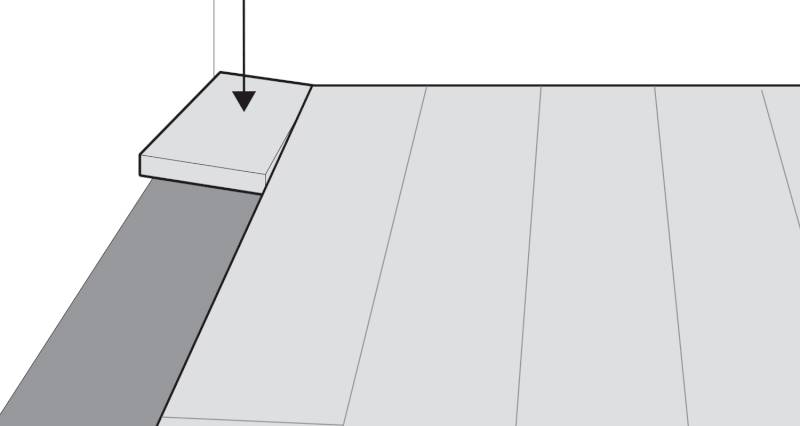 You may need to use a pry bar to set the last row in place before nailing it in place.
Step 11
Once you have completed the entire floor, you can then go on to install a transition at your doorway. The type of transition that you install will depend on the type of flooring that lies on the other side of the door.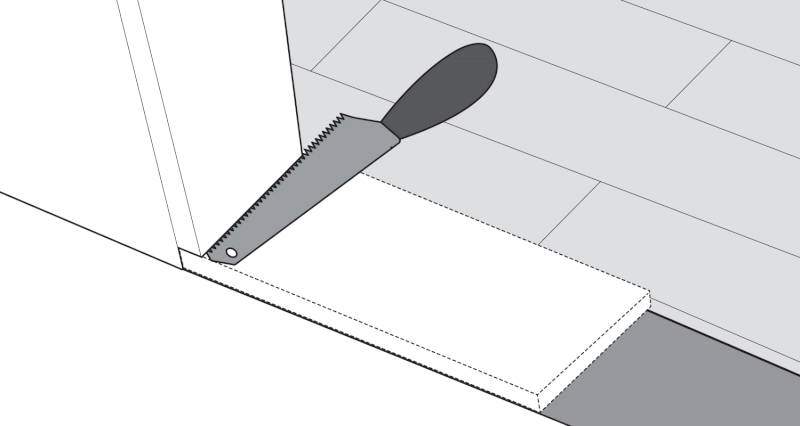 You can buy ready-made transitions for certain floor types, or you can create your own based on your needs. If you do buy one that is already manufactured, be sure to follow the manufacturer's instructions when installing it.
Step 12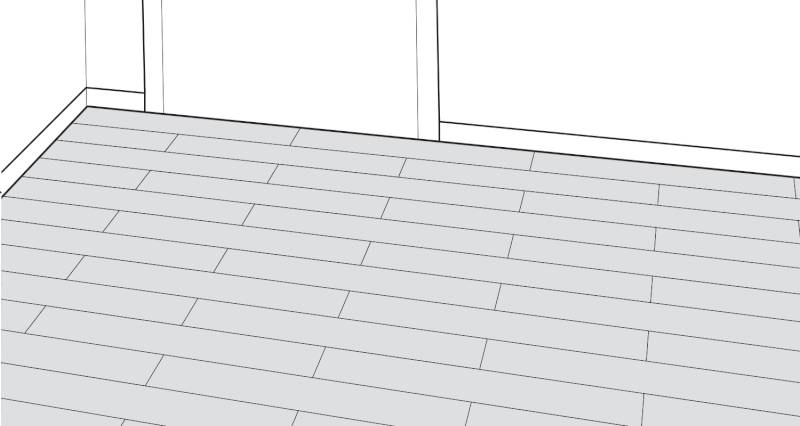 Once your flooring is complete, all you need to do is reinstall your trims or skirting boards as necessary.
Types of Wood Flooring
There are several types of wood flooring. Below is a list of the most popular types of wood flooring in the UK:
Laminate Wood Flooring
Laminate flooring is made up of a compressed fibreboard plank. This plank is covered with a photographic image of wood, giving it the appearance of real wood, and it is covered with a protective overlay.
Engineered Wood Flooring
Engineered wood floor consists of four layers of wood that are all glued together to create a plank that is around 14mm in thickness. It has a real-wood layer on the top that is around 4mm.
Solid Wood Flooring
Solid wood flooring pieces are made completely out of a solid piece of wood. These flooring planks are usually around 18-20mm in thickness. Solid wood flooring has the advantage of being able to be sanded down and restored if any damage occurs. Solid wood floors tend to be much more expensive than other wood flooring types.
FAQs
Which wood flooring is the best for a kitchen?
Laminate flooring is the best type of wood flooring for a kitchen. This type of flooring tends to have a protective layer over the top of it that can prevent it from being prone to damage through spillages. Real wood floors can ruin if they get too wet, so they would work best in rooms where water isn't an issue.
How do you clean a wooden floor?
The best way to clean your wooden floors is to regularly sweep away dust and debris and use a microfiber mop and wooden floor cleaner to lightly mop the surface.
Can I paint my wooden floors?
You can update the look of your wooden floor with a variety of different types of wood floor paint, stains, and varnishes. These will all give your old or worn-looking wood floor a fresh update and could completely transform the look of the room.
Can I put underfloor heating under a wood floor?
Generally, the answer to this question is no, you should use underfloor heating with a wooden floor. However, that doesn't mean it is completely impossible. The only downside to using underfloor heating with a wooden floor is that the warmth could cause the floor to bow or cup, making it uneven and ruining the aesthetic.
How can I install wood flooring over ceramic tiles?
While it's not really advisable to install wood flooring over ceramic tiles, that doesn't mean it's impossible. The flooring would have to be completely glued down all the way along as you won't be able to use nails to drive the wood planks into the floor as this will crack the ceramics underneath and create an uneven surface. You will also have to wary of the height of the floor, as installing wood floor over ceramic tiles could cause the flooring to be too high when it comes to doors and appliances in the room.
How can I stop gaps from forming in my wood floor?
It's fairly normal for gaps the appear in wood flooring during the winter months. This is due to the humidity changes, which can cause the pieces of wood to become dry and shrink slightly. This issue can be fixed by choosing to use a humidifier in the room during the winter months. This will ensure that the wood pieces retain the moisture levels that they need to prevent gapping.
Sources
https://www.youtube.com/watch?v=087n9O21y5k
https://www.which.co.uk/reviews/wood-flooring/article/how-to-buy-wood-flooring/types-of-wood-flooring-anOTD5N95eqj
https://www.reclaimedflooringco.com/top-10-questions-faqs-to-ask-about-wood-flooring

Last updated by MyJobQuote on 28th June 2021.