Cost of Replacing Roof Ridge Tiles
It costs £300 on average to replace roof tiles. To find out exactly how much it will cost you in labour and materials, give our detailed cost guide a read.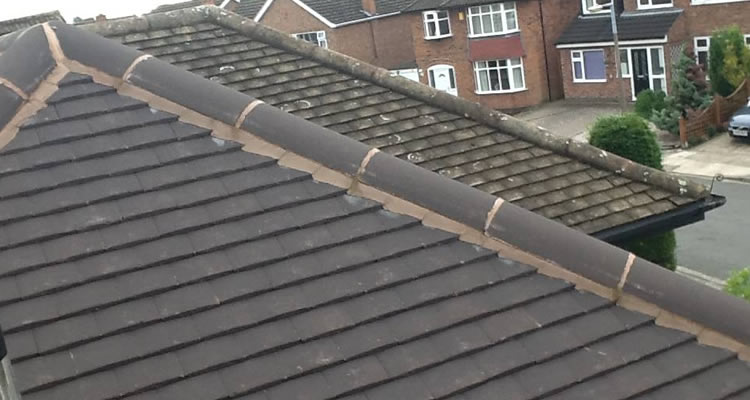 Average Cost of Replacing Roof Ridge Tiles:
Depending on the complexity of the job, it usually takes: 1 day
£300
How Much Does Replacing Roof Ridge Tiles Cost?
Ridge tiles are more susceptible to damage than other roof tiles as the mortar weakens with age and exposure to the weather and changing temperatures.
High winds can also cause ridge tiles to loosen over time and start to let rain in through small cracks which then gradually enlarge as the water freezes and breaks the mortar apart.
Eventually, there will come a time when tiles will need to be replaced or have new cement to fix them back in place properly.
When ridge tiles break, they will need to be replaced with similar colour and profile tiles which can sometimes be hard to find; this is often a real challenge with older properties where you may have to replace the entire ridge.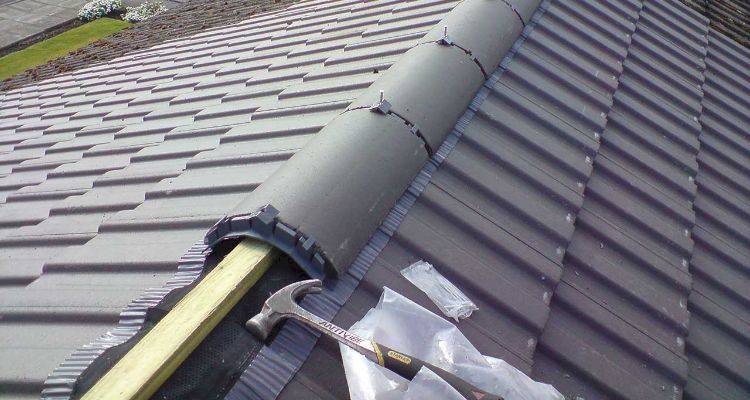 Getting a professional to help with resolving roofing problems is always highly recommended as they can identify and rectify the root cause of the problem and save you money over the long term.
Using the free service on this site can help to ensure you receive competitive quotes from reputable local tradespeople and roofing companies.
On a typical roof with easy access, then fixing 1-3 ridge tiles would cost around £200. This price includes lifting the tiles, removing all the old mortar, then applying a new mortar mix and repointing the tiles for a neat finish.
This price would not include replacing any tiles if broken, but roof standard tiles are relatively cheap.
Ridge Tile Prices
Below is a table with the general prices of the labour and material costs for a roofer to replace roof ridge tiles, including labour and material costs.
| Job Description | Duration | Material Cost | Labour Cost |
| --- | --- | --- | --- |
| Small ridge tile repair (1-3 tiles) | 2 hours | £125 | £100 |
| Medium ridge tile repair (1-6 tiles) | 5 hours | £200 | £150 |
| Replacing 10 metres of ridge tiles | 1 day | £200 | £250 |
| Repointing 10 metres of ridge tiles | 3 hours | £50 | £150 |
| Full roof replacement | 4-7 days | £7,000 | £1,500 |
| Ridge tile repair with roof ladder and cement bedding (1-5 tiles) | 2-6 hours | £225 | £150 |
Supply Costs Only
Below is a table with the general prices of the supply costs for a roofer to replace roof ridge tiles.
| Supply Costs | Avg. Cost per m2 |
| --- | --- |
| Concrete | £25-£30 |
| Clay | £30-£40 |
| Slate | £35-£50 |
Additional Costs
Getting work done on your roof can be a difficult job and one that you shouldn't undertake by yourself, so it's worth getting your roofer to complete several other jobs that may need doing on your roof whilst they're up there anyway.
A lot of these jobs are worth adding to you roofing costs if you have a wide enough budget as they offer peace of mind for safety and an investment for future buyers.
If you want your roof to glisten in the sunlight, see if your roofer also dabbles with roof cleaning or sealing, at an average cost of £450 for a thorough jet wash.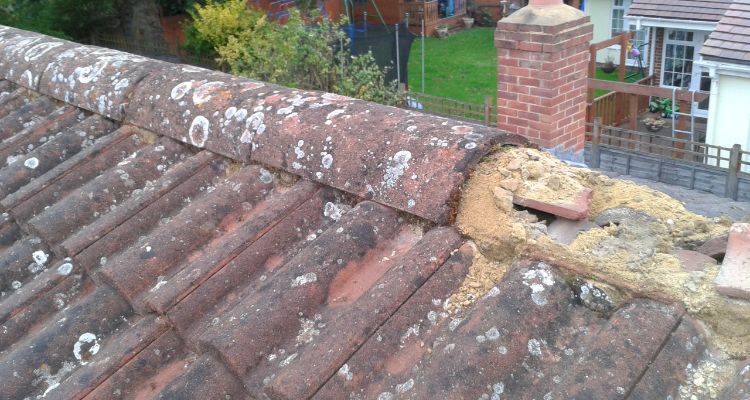 To replace the tile entirely will cost around £200 for three hours of work, whereas hiring a small scaffolding tower for your home can cost between £700-£1,500, with a larger scaffold erection coming in at near £15,000.
Other roofing jobs include removing asbestos for up to £2,500, installing a roof lantern for around £2,500, or installing a full roof insulation for just £450.
Labour Costs and Timescales
Standard labour costs for a roofer to replace your roof ridge tiles range between £100-£200 for around 1-2 days' work, costing about £70 per day.
This is without the cost of materials and parts, purely their time, expertise and how long it takes to fit new tiles. It may take a roofer longer to complete the job if they are completely renovating the entire roof structure or are working on a larger surface area of the roof.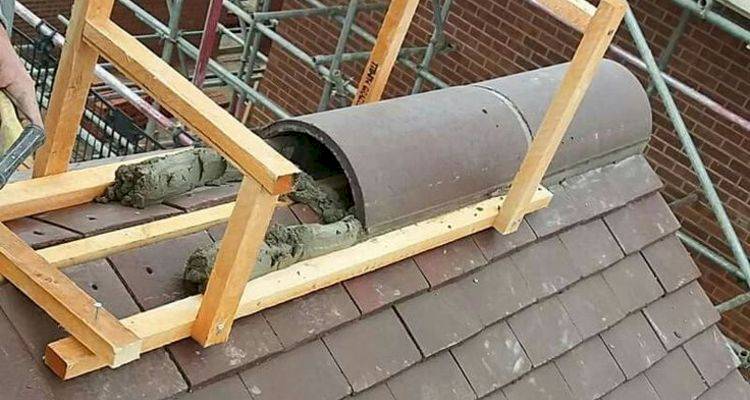 Roofers are more likely to work in pairs due to the nature of health and safety risk from this kind of job, meaning that you're looking at around £250 in labour for one day when including two workers, most of the time this job should only take a few hours.
Cost Factors of Replacing Roof Ridge Tiles
There are many factors that can affect a quotation, the main ones being that the tiles break when removing them from the old cement.
Difficult access can also be a factor, and if the roof overhangs a public right of way or footpath, then scaffold, netting and pedestrian diversions will be required and need to be approved which will greatly add to the cost.
Ease of Access
The ease of access to your roof can affect the cost dramatically depending on the size of your property and how accessible your roof exterior is. It might be that professionals need to place down cement bedding and roof ladders to protect their health and safety, as well as the overall project.
It can cost an extra £200 to use a roof ladder for replacing five tiles alone, and it can cost an extra £500 if you need to erect scaffolding.
Number of Tiles
The number of tiles that need replacing will alter the price as to be expected. Basically, if you only need to replace one tile, then the price will be relatively cheap, but if you have several, then it will increase significantly.
It may be worthwhile to have the entire roof replaced if your budget allows it, rather than continually replacing one tile at a time every few months.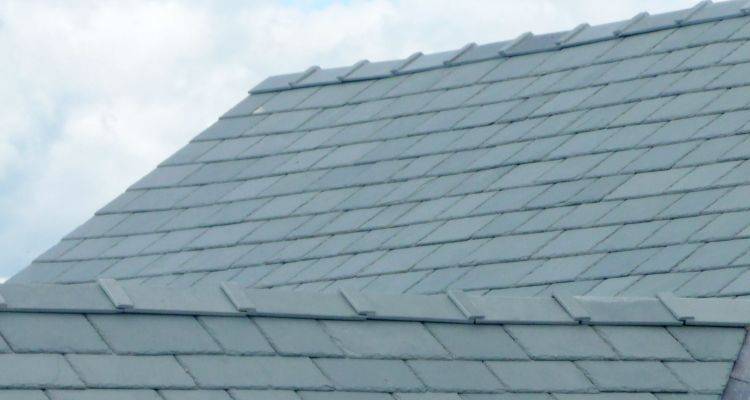 Location
Your location within the UK can alter your labour prices massively; this is the same for most housing jobs. A typical roof ridge tile replacement cost up north is around £300, whereas down south in London areas, this can hike up to £600.
Roof Condition
The roof's initial condition will change the amount of work and replacement needs to be done during a job. Once the tiles protective coating is lost, the entire roof can become weaker due to exposure, cracks, and looseness.
If your roof has several damaged tiles, then replacing them individually may cause further damage to the roof structure, meaning you'll have to fork out £3,000-£5,000 to replace the whole roof.
What's Involved in Replacing Roof Ridge Tiles?
To fix a few loose ridge tiles simply involves lifting the affected tiles and adding a new mortar mix of three parts sand to one part cement to re-bed the ridge tiles.
This sort of job should take no longer than 2 hours. But very few professional roofers will recommend ridge repair work as it is usually a temporary measure that may last a couple of months or a few years if you are lucky – but you can guarantee that the roof ridges will need attention again at some point so no guarantees will be offered.
This is the sort of job people do when moving to a new house and they are not concerned about future problems! Professional roofers will want to do a proper job and either replace the ridge tiles or remove them and also remove all the old mortar before repointing them properly.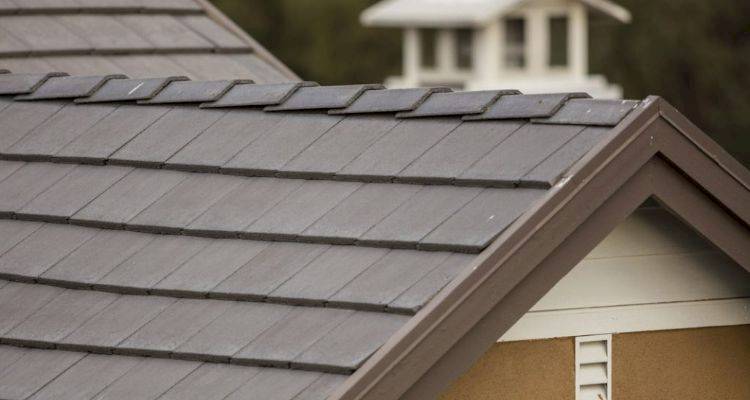 Below is a step-by-step guide to what's involved when a roofer replaces roof ridge tile.
Preparation
To gain access to the roof, a contractor will erect a scaffolding tower or a platform to obtain access to the roof or use a roof ladder to access the ridge, making sure to feel out all of the ridge tiles to locate any loose and wobbly tiles, or finding mortar joints with cracks or splints.
Any tiles that are cracked, split or damaged will be removed by the contractor to ensure your safety.
Remove Old Tiles & Mortar
A tradesperson will remove the ridge tiles safely with cold chisel and hammer, making sure to eradicate as much mortar as possible from the ridge of the roof to allow a fresh application of mortar to be applied for the new tiles.
Mortar and Tile Application
Before any application takes place, check that the tiles which have been removed are ready and clear with all the debris and dirt cleared away. Then, they will mix together sharp sand and cement mortar to the tile's bed to bond the tiles together before dampening the underneath of the tiles in water.
After this, the roofer will spread on a layer of mortar along all four sides of the ridge before adding a dense coat between each gap, laying a broken piece of tile across to hold the tiles in place.
Then, they will drive the ridge tiles down into the mortar and use a trowel to get rid of the excess, carrying this on with each tile until completed.
Waste Removal
Once the job is complete, the roof will be cleared of any tiles and equipment before the scaffold is dismantled.
The company will either have their own waste removal process, or either party can hire a skip to get rid of any surplus tiles, mortar and general debris or wastage.
Can I Replace a Roof Ridge Tiles Myself?
If you have noticed a problem with the ridge tiles on your roof, there are two approaches available. The first is to check the damage yourself and then carry out any necessary repairs as a DIY project.
Typical problems may include loose or damaged ridge tiles which can be taken on by a decent DIY enthusiast as long as they have the necessary safety equipment, as well as the ability to access to top of their roof safely and with ease.
A DIY enthusiast may also want to try repointing ridge tiles which are existing and in good condition.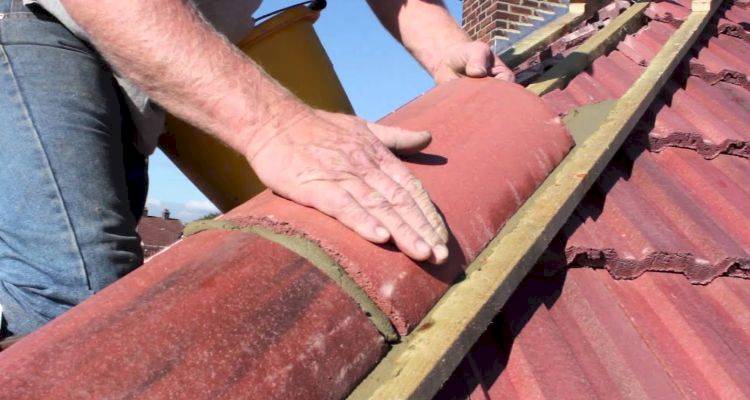 However, the better and safer option is to get a roofing specialist to investigate the problem and prepare a written quotation detailing all the repairs necessary.
This second option is highly recommended as roofers have the experience and skills to better identify the cause of roofing problems and will carry out the repairs to a much higher standard and ensure the repairs will last.
Plus, they will usually do the job much faster because they have all the tools and equipment required. This will ensure that you and your home are safe from any future damages; it's always better to be safe than sorry and will be a sound investment in the long run.
Building Regulations & Planning Permission for Replacing a Roof Ridge Tile
Building regulations are not usually required if you carry out repairs or replacements on re-covering less than 25% of a pitch or flat roof area typically don't need a building regulations application or planning permission.
The cost of a building regulations application is typically around £300-£400 and will be required if you:
Carry out work on more than 25% of the roof tiles.
Implement any structural alterations.
The new roof tiles have an altered fire safety covering to the previous tiles.
The removal or replacement causes a significant effect on the roof structure, including cracks, structure of walls, or potential collapse of the roof.
Choosing Roof Ridge Tiles
There are a variety of different choices available for roof ridge tiles, all varying in manufacturing processes, prices, and sizes. Below is a pros and cons list of the different types of tile choices that you can decide on.
Clay Tile Cost
Clay tiles offer a classic roof aesthetic with a light weight; they are usually slightly more expensive than concrete tiles due to their more complicated manufacturing process. Clay tiles are generally between £30-£40 per m2.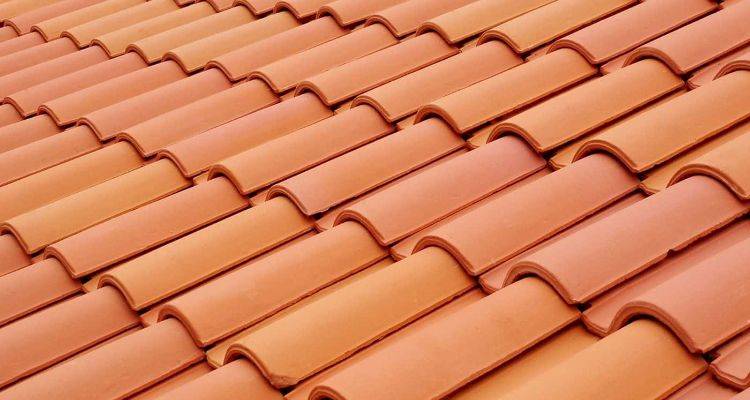 Pros
✔ Durable
✔ Traditional look
✔ Lighter than stone and concrete
Cons
✖ Pricier than concrete
✖ Heavier than slate, fibre-reinforced concrete
✖ Medium price range
Concrete Tile Cost
Concrete tiles are an excellent choice for a low maintenance and cheap roof, costing around £25-£30 per m2 for a typical concrete ridge tiles price.
Another factor for choosing concrete tiles is that they are great protection against fire and won't endure as much damage.
Pros
✔ Fire resistance
✔ Low maintenance
✔ Cost-effective
Cons
✖ Colour fades easily
✖ Age faster than clay
✖ Prone to moss
Slate Tile Cost
Slate tiles are considerably higher in cost compared to other roof ridge tiles, costing around £35-£50 per m2. This can be a good investment as slate tiles can increase your home's value and are incredibly durable to bad weather.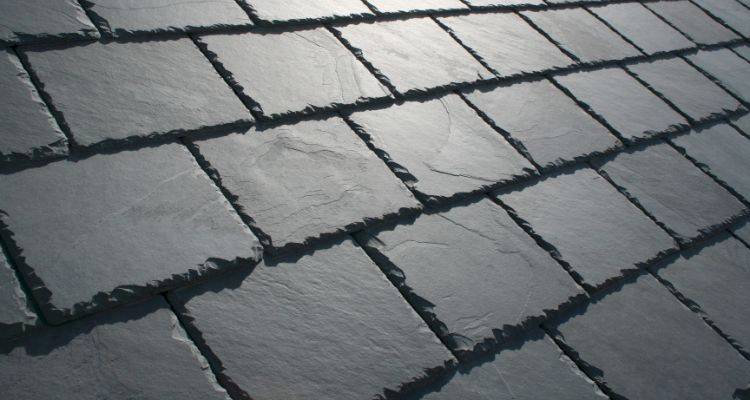 Pros
✔ Low maintenance
✔ Durable
✔ Increases home value
Cons
✖ Heavy
✖ Fragile
✖ Complicated installation
Cost of Roof Ridge Tiles
Problems with the ridge tiles can lead to more severe and more expensive problems if you just stick your head in the sand. Typical issues may include water penetration which will eventually lead to needing an entire roof replacement!
So you are not saving money by simply leaving minor roofing jobs, you are creating much bigger problems. Small repairs like re-bedding a couple of loose ridge tiles and the replacement of a few broken tiles are not too expensive and will save you a lot of money in the long run.
The cost to replace your roof ridge tiles completely depends on how much work is needed from the professionals. Individual roof ridge tile replacement is a lot cheaper than replacing the entirety of the roof's tiles, with the average cost starting at £180 for up to five tiles.
This may completely change depending on access, location, and the roof's prior condition.
It is not advised to complete this job as a DIY project due to the levels of danger that come from working at a high level and with the weight of what your roof can handle.
You can remove your ridge tiles via skip hire, with most hiring companies charging you based on the size of the skip you're after.
Below is an average guide to how much a skip hire will cost depending on the size of skip.
| Size of Skip | Average Cost |
| --- | --- |
| 2 yard | £70-£90 |
| 3 yard | £80-£100 |
| 4 yard | £120-£200 |
| 6 yard | £150-£250 |
| 8 yard | £170-£300 |
| 10 yard | £200-£350 |
| 12 yard | £230-£400 |
Why Would Someone Want or Need to Replace Their Roof Ridge Tiles?
There are several things to look out for on your roof that mean you need to call in a professional to replace the roof ridge tiles, including:
Exposure to the elements causing longterm moisture
Weakened protective coating
Winds dislodging tiles
Hairline cracks from protruding nails or storms
Cracks from water damage
General wear and tear
Change of aesthetic
If you're ever unsure of what to look out for or if your roof is even in disarray, then you can either ask a handy friend or family member who enjoys DIY in their spare time.
Or, enquire with a roofing company, this can be done on the phone, inshop or via email.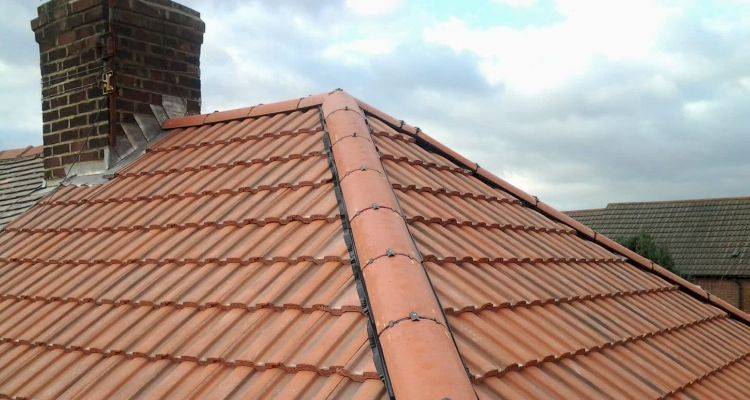 Hiring Contractors for Replacing Roof Ridge Tiles Checklist
Before you hire someone to replace your roof ridge tiles, there are several questions you may need to consider before deciding between different contractors.
It's worth jotting down a checklist to make sure you don't forget anything, but don't worry if they don't fill every box, as long as it's right for you.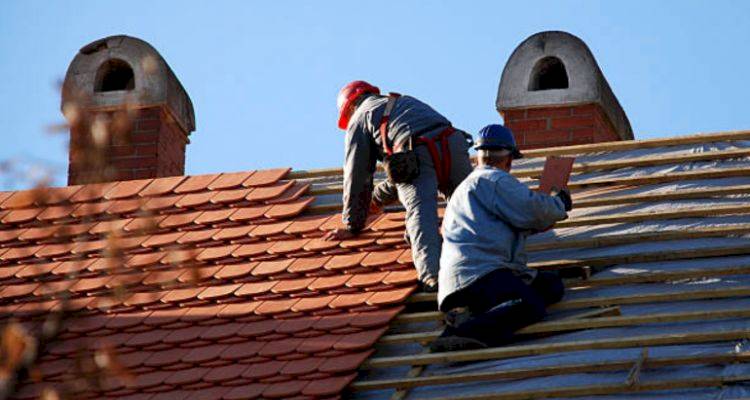 Below is a handy stepbystep guide of what to look out for when hiring a professional to carry out the job.
Search around and talk to several roofers before picking one, it's always best to ask for a handful of quotes and see what other options there are in your area before settling on one company/tradesman. Even if the first person you talk to has a great offer, you should always weigh up other options.
Make sure your roofer has the correct qualifications and is authorised to replace your roof ridge tiles. This includes either a Level 2 Diploma in Roofing Occupations or Level 2 Diploma in Roof Slating and Tiling.
Ensure they have a valid license to work on roofs.
Look for someone who is a part of a trade association for peace of mind.
Make sure they are insured through a legitimate company and offer guarantee for their work.
Ask about their previous experience of similar jobs, with pictures and references from previous clients and work.
Complete a written agreement before any work takes place, ensuring a clear outline of the job specification and what services and materials are to be included on their quotes.
Lastly, agree on a written payment plan and ask for a receipt after work has been paid for to protect you against any potential future disputes (this is unlikely, but better to be safe than sorry).
FAQs
What is a ridge tile on a roof?
Ridge tiles are needed for roofing systems to prevent rain, hail, snow and any bad weather conditions from the house interior. They are crucial for keeping the structure of roofs intact against the elements.

The curved side of the roof tiles are placed down on the roof whilst a circular side is positioned over it to cover any joints and provide waterproofing.
Can I buy the supplies myself?
This is something you'll have to chat with your roofing contractor about. You can choose to buy your own supplies if you do extensive research on how to get cheaper materials and then have your contractor carry out the labour.

Not every company feels comfortable with this, and it may end up being cheaper if they provide supplies and labour, so make sure to do your research.
How long will my roof last for?
This is a difficult question as every roof is different depending on the specific area, materials, weather conditions and home condition; however, a standard time frame for a roof is around 20 years.

Durable materials such as clay and slate can last longer at a higher cost but either way, speak with your contractor thoroughly before choosing your material to ensure a long-lasting roof at the best possible price.

It's also worthwhile to check with your roofing contractor to see if they offer any type of warranty to protect yourself from any future damage or costs.
Can you claim insurance back for roof repairs?
Although you can claim a small part of roof repairs from certain insurance policies, it is not likely to receive full coverage from these types of jobs.

However, it's possible to gain back full coverage from your insurance if the roof was in good condition / decent quality before an immediate effect of damage was done to it.
Can I just patch a few roof tiles or do I need to fix the entire ridge?
Generally speaking, if a few ridge tiles need fixing, then it is probably safe to assume the entire ridge will need to be re-cemented in the very near future.

So, fixing the entire ridge actually makes more sense and is cheaper in the long run rather than getting the roofer to come back again later and do it as two separate jobs.

That being said, if the rest of the tiles are sound and it is just some localised damage, then repairing just the affected tiles makes sense too rather than splashing extra cash out on a perfectly fine roof!
What causes damaged or missing ridge tiles?
Ridge tiles can get displaced in high winds caused by the mortar crumbling over time, or can even get damaged by other debris such as branches or even other roof tiles! But this type of damage typically happens over a long period of time mostly due to weathering (though this can happen over shorter periods if a poor mortar mix is used or misapplied).

In general, a ridge till will wear after a long period of time due to exposure, moisture and potential freak accidents (such as lightning).
If I find a leak in my room, do I have to get the entire roof replaced?
In short, no, not necessarily. A roof leak typically happens when a roof tile is broken, cracked or loose, meaning replacing the specific damaged tiles should do the job and fix your problem.

However, if your entire roof system and structure has failed and offers an unsafe living condition, then it'll be in your best interest to replace the whole roof to save yourself any future damage or incidents.
What are hip tiles?
A roof hip either uses a ridge tile or a hip tile. The difference between the two is that the ridge tiles are mortared into place, whereas the latter uses a hip iron to secure and lay onto the wooden exterior, helping to hold in place at the bottom. A hip iron will stick out above the tile itself.
Sources
https://www.marley.co.uk/blog/guide-to-roof-tile-types

Last updated by MyJobQuote on 15th January 2021.