Cost of Replacing Roof Ridge Tiles
Roof ridge tiles guide and example prices.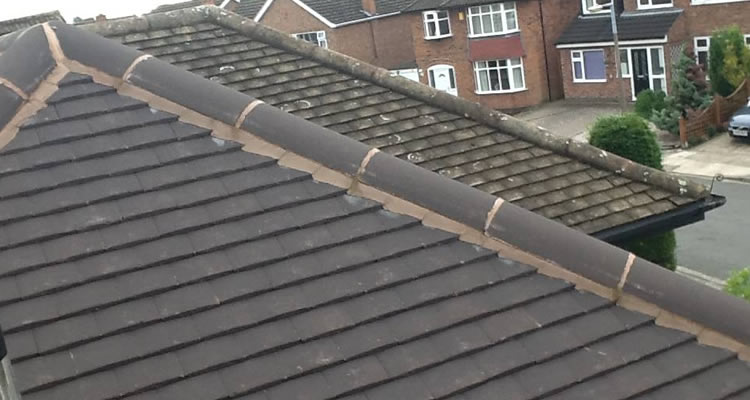 This sort of job typically costs around
Expect this job to take about 1 day
£300
Ridge tiles are more susceptible to damage than other roof tiles as the mortar weakens with age and exposure to the weather and changing temperatures. High winds can also cause ridge tiles to loosen over time and start to let rain in through small cracks which then gradually enlarge as the water freezes and breaks the mortar apart. Eventually, there will come a time when tiles will need to be replaced or have new cement to fix them back in place properly.
When ridge tiles break they will need to be replaced with similar colour and profile tiles which can sometimes be hard to find, this is often a real challenge with older properties where you may have to replace the entire ridge. Getting a professional in to help with resolving roofing problem is always highly recommended as they can identify and rectify the root cause of the problem and save you money over the long term. Using the free service on this site can help to ensure you receive competitive quotes from reputable local tradesmen and roofing companies.
Average ridge tile replacement costs
| Job Description | Duration | Material Cost | Labour Cost |
| --- | --- | --- | --- |
| Small ridge tile repair 1-3 tiles | 2 hours | £125 | £100 |
| 10 Metres of new ridge tiles | 1 day | £200 | £250 |
| Repointing(buttering up) 10 metre ridge | 3 hours | £50 | £150 |
Things to consider with ridge tiles
Problems with the ridge tiles can lead to more serious and more expensive problems if you just stick your head in the sand. Typical problems may include water penetration which will eventually lead to needing an entire roof replacement! So you are not saving money be simply leaving minor roofing jobs, you are creating much bigger problems. Small repairs like re-bedding a couple of loose ridge tiles and the replacement of few broken tiles are not too expensive and will save you a lot of money in the long run.
To fix a few loose ridge tiles simply involves lifting the affected tiles and adding a new mortar mix of three parts sand to one part cement to re-bed the ridge tiles. This sort of job should take no longer than 2 hours. But very few professional roofers will recommend ridge repair work as it is usually a temporary measure that may last a couple of months or a few years if you are lucky – but you can guarantee that the roof ridge will need attention again at some point so no guarantees will be offered.
This is the sort of job people do when moving house and they are not concerned about future problems! Professional roofers will want to do a proper job and either replace the ridge tiles or remove them and also remove all the old mortar before repointing them properly.
Doing it Yourself
If you have noticed a problem with the ridge tiles on your roof, there are two approaches available. The first is to check the damage yourself and then carry out any necessary repairs as a DIY project. Typical problems may include loose or damaged ridge tiles which can be taken on by a decent DIY enthusiast as long as they have the necessary safety equipment.
But the better and safer option is to get a roofing specialist to investigate the problem and prepare a written quotation detailing all the repairs necessary. This second option is highly recommended as roofers have the experience and skills to better identify the cause of roofing problems and will carry out the repairs to a much higher standard and ensure the repairs will last. Plus they will usually do the job much faster because they have all the tools and equipment required.
Ridge tiles checklist
Working at height is dangerous without the required safety equipment
Roofs are not designed to be walked on
Damaged ridge tiles can lead to expensive roof repairs if left untreated
Ridge ties are more exposed than other roof tiles so they tend to fail sooner
FAQ's
How much will it cost to re-point a few ridge tiles?
On a typical roof with easy access, then fixing 1-3 ridge tiles would cost around £200. This price includes lifting the tiles, removing all the old mortar, then applying a new mortar mix and pointing the tiles for a neat finish. This price wud not include replacing any tiles if broken, but roof standard tiles are fairly cheap.
What factors can effect the price?
There are many factors that can affect a quotation, the main ones being that the tiles break when removing them from the old cement. Difficult access can also be a factor and if the roof overhangs a public right of way or footpath, then scaffold, netting and pedestrian diversions will be required and need to be approved which will greatly add to the cost.
Is fixing ridge tiles difficult, can I do it DIY?
This type of work should not be done DIY as it involves working at height with tools and materials that can cause damage or severe injury if dropped. This work is best carried out by a competent and experienced professional with the right skills and safety equipment.
Can I just patch a few roof tiles or do I need to fix the entire ridge?
Generally speaking, if a few ridge tiles need fixing, then it is probably safe to assume the entire ridge will need to be re-cemented in the very near future. So fixing the entire ridge actually makes more sense and is cheaper in the long run rather than getting the roofer to come back again later and do it as two separate jobs. Tha being said, if the rest of the tiles are sound and it is just some localised damage, then repairing just the affected tiles makes sense too!
What causes damaged or missing ridge tiles?
Ridge tiles can get displaced in high winds caused by the mortar crumbling over time, or can even get damaged by other debris such as branches or even other roof tiles! Bu this type of damage typically happens over a long period of time mostly due to weathering (though this can happen over shorter periods if a poor mortar mix is used or applied incorrectly).

Last updated by MyJobQuote on 7th May 2019.