Secondary Glazing Cost
Want to know how much secondary glazing costs? In this article we look at secondary glazing prices for different sized houses so that anyone can calculate how much it will cost them to have the windows fitted.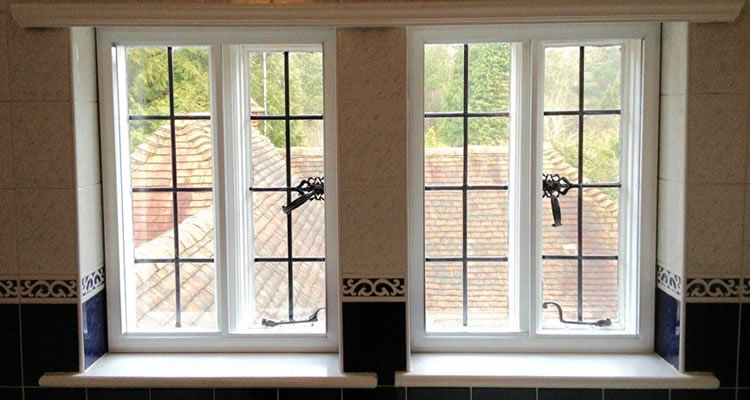 Average cost of supplying and fitting secondary glazing
This type of job normally takes around 1-2 days
£2000
How Much to Fit Secondary Glazing?
Secondary glazing involves installing supplementary glazing on the inside of an existing window and can be permanent or are added as a temporary measure. Secondary glazing is often installed for the same reasons as double glazing, to offer better insulation and soundproofing, but is usually cheaper than double glazing and is the best option if you cannot replace your windows due to living in a listed property.
If you are interested in secondary glazing you could always take a look at a secondary glazing calculator to provide you with another cost estimate.
For listed buildings or conservation areas, the slim aluminium frames used for secondary glazing are unobtrusive and almost invisible from the outside, retaining the external character of your property and thereby avoiding the need for local authority planning permission (local planning authorities class secondary glazing as removable items).
Secondary glazing is easier to fit than double glazing and is far more suited to a DIY installation if you are reasonably handy.
However, most will prefer to have a local tradesman come and fit the glazing professionally so they know it has been done right! To get quotes from local tradesmen and handymen, you can enter brief details about the job you need doing, then post it on this site using the free service to get up to three quotes just by filling in one short online form.
Secondary Glazing Prices
| Job Description | Duration | Material Cost | Labour Cost |
| --- | --- | --- | --- |
| Fit Secondary Glazing to 4 Windows | 1 day | £1200 | £250 |
| Small Terraced House Secondary Glazing To 8 Windows | 1-2 days | £2450 | £400 |
| Fit Semi-Detached House With Secondary Glazing 10 Windows | 2-3 days | £3000 | £670 |
| Detached House Secondary Glazing To 15 Windows | 3-4 days | £4450 | £950 |
Things To Consider With Secondary Glazing
Double-glazing is considerably more expensive than secondary glazing as if you decide to install double-glazing, you need to remove all the old windows and fit entirely new units, whereas with secondary glazing you can simply retrofit a second sheet of glass on the inside. With double glazing, to be effective, the gap between the panes of glass needs to be airtight and filled with an inert gas, whereas secondary glazing simply relies on a bigger gap which does not need to be airtight and can easily be done on a DIY basis using cheap kits.
Double glazing really needs a professional installer but with secondary glazing, you can do it yourself, or pay a much-reduced rate for an installer to do it for you. Both double and secondary glazing are great at cutting out noise but secondary glazing is much better, on the other hand, double glazing is better at reducing heat loss, but not by much.
Just like double glazing, secondary glazing is available in a range of colours including white, silver or brown, plus a number of glass options such as float, obscure, toughened, laminated and acoustic. Secondary glazing can also provide an extra level of security by creating a second barrier of protection that can prevent the most determined thief from smashing through the window. You can also get bullet and blast-proof secondary glazing! Blast mitigation can protect occupants from the effects of an explosion by containing the flying glass from the breakup of the primary window whereas protection from firearms is achieved by using several layers of glass of various thicknesses laminated together – but this is probably overkill, unless you live in a really rough neighbourhood!
Benefits of Secondary Glazing
There are 3 main benefits of secondary glazing; heat loss prevention, noise insulation and draught proofing. Many have started to turn to secondary glazing because it is a cheaper alternative to replacing all your home's windows entirely. Secondary glazing can reduce the amount of heat loss from your windows by up to 40% using the standard glass. If you would like to know how much heat you lose from your windows you could always use an online calculator to get rough estimates on heat loss.
Is it worth installing?
I think secondary glazing is worth installing if you are unable to upgrade your current windows or if you live in a listed building and would like to reduce your window heat loss. To install secondary glazing, you are looking to pay around £300 per window depending on the size. To get new double glazing you are looking at paying around £400-£500 per window depending on the size.
Before making your decision on getting secondary glazing I would recommend getting calculations on the cost of new double glazing compared to secondary to check that you are getting the best value for money. Not all calculators will include labour in their calculation so remember to check when getting an estimate.
Doing it Yourself
One of the major advantages of secondary glazing over double glazing, is the fact that it much easier to fit, so much more suitable as a DIY project. However, you still need some skills and some patience to successfully install secondary glazing, this is not a project for the ham-fisted! To start, like many projects, you need to take accurate measurements so you can order the glazing, specialists are required with this as once you have ordered the units are made to measure and cannot be returned.
Once the secondary glazing units arrive, you can then lift the units into position and pack around the unit until fixed in place and level. Then using the pre-drilled holes, screw the unit securely into place ensuring it is level and centred. The work should be finished reasonably quickly and there is not much to go wrong as long as you measure correctly in the first place and are comfortable using a hammer drill. Unlike with double glazing, there is little chance of having to do plaster repairs after fitting secondary glazing, in fact apart from cleaning up some dust after drilling the holes, there really is no mess whatsoever.
Secondary glazing checklist
Secondary glazing is always cheaper than replacing your original windows
Listed and conservation area buildings do not require planning permission for secondary glazing
Secondary glazing offers excellent sound proofing, it's even quieter that double glazing!
Budget secondary glazing can be made from polycarbonate to further reduce costs
FAQ's
Should I install secondary glazing or double glazing?
There are a number of factors to consider when deciding whether to install secondary glazing or double glazing: first of all, if you live in a period or grade I or II listed building then you will likely not get planning permission for double glazing installation, so secondary glazing is really your only option. Also, if you are on a tight budget, secondary glazing is cheaper to install than double glazing.
Can you get secondary glazing for sash windows?
Yes, if you don't want to replace sash windows with double glazing, then secondary glazing can let you keep your original windows but make your home warmer and reduce the drafts while also reducing noise in the home. Secondary glazing can open using horizontal or vertical sliders or hinges for easy access.

How much noise will secondary glazing cut out?
It is difficult to give exact amounts as every property is different but secondary glazing can reduce noise by up to 80% (or by 50 decibels}, which is as much as 5 times greater than double glazing.
How much warmer will it make my property?
Again this will vary depending on the property and the existing windows, but secondary glazing will definitely enhance the thermal insulation of a single glazed window almost as much as a double glazed window.
Will it stop my condensation?
Secondary glazing should eliminate or at least significantly reduce condensation problems, just like double glazing.
Last updated by MyJobQuote on 10th May 2020.