Cost of Replacing Blown Windows
Replacing misted up double glazed units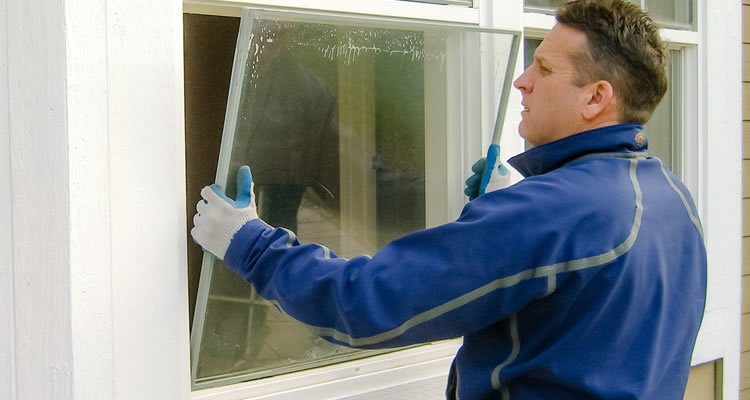 Typical cost for replacing a double glazed unit is around
This type of job normally takes around 40 minutes to complete
£70
Replacing blown double glazed windows can often seem like an expense you could well do without. However, if the problem is simply misted up or cloudy double glazing, then you don't have to replace the entire window, just the double glazed unit itself. You can do this yourself as a DIY project, however, you will have to be very precise with the measuring. Most people will simply get a local joiner or window fitter and to do the job.
A great way to find a reliable local window fitter is through recommendations from friends, family or neighbours. But if this is not possible, then we provide a free and easy-to-use service on this website you can simply enter brief details about the job plus some contact information, then you can have up to 3 local tradesmen get in touch with you to provide written quotations.
Typical quotes for replacing blown windows
| Job Description | Duration | Material Cost | Labour Cost |
| --- | --- | --- | --- |
| 200mm x 400mm unit | 30 mins | £25 | £30 |
| 500mm x 700mm unit | 40 mins | £34 | £40 |
| 800mm x 1000mm unit | 45 mins | £72 | £45 |
| 900mm x 1200mm unit | 50 mins | £95 | £50 |
Things to consider with blown double glazed units
The main reason why double glazed units become misty is that the seal between the two panes of glass has failed. If this happens, then you do not need to replace the entire window including the frame. You can in fact simply replace the double glazed unit itself, alternatively, there are even specialist companies which can repair the double glazed units by removing any moisture and resealing the window.
Replacing a double glazed unit is fairly straightforward and in fact, any local handyman or DIY enthusiasts should be able to do it. However, the difficult part and the part which can often lead to expensive mistakes, as the initial measuring of the window before placing an order with a manufacturer. Any mistakes in this initial measurements can result in a brand-new double glazed unit which simply will not fit properly into the existing window frame.
Doing it Yourself
Removing blown double glazed units is normally fairly simple,  although some modern double glazed windows are fitted with special antitheft blocks which can complicate things. The double glazed units themselves can be held in place using pressure gaskets or double sided tape, but in either case can be removed relatively easily. Before ordering the replacement double glazed unit  you will not only have to be very precise with the measurements, you will also need to know the thickness of the glass panes, whether the glass is toughened, and the type of glass for example is the glass tinted or standard.
With the right skills and tools, DIY replacement of a double glazed unit is certainly possible. But you also have to consider that this is not a terribly expensive job and if you get a professional  in then the job would take as long, one be as messy, will involve much less hassle and frustration, and you can avoid a potentially shoddy job being done and then having to hire a professional in anyway!
Blown double glazing checklist
Blown double glazing is much less energy-efficient so will cost you money
With blown double glazing you do not have to replace the entire window
Misted up double glazing units can also be repaired in some cases
Replacing a double glazing unit is fairly straightforward
Hiring a Tradesman Checklist
Always get at least 2 quotes before hiring.
Never pay the full amount upfront.
Get the quote in writing.
For any payment you make, always get a receipt.
On more expensive jobs, ask for references.
Check if the tradesman is a member of any trades associations.
Make sure the tradesman has public liability insurance.
FAQ's
How much does it cost to replace a blown double glazed window?
Normally, this would simply involve replacing the double glazed unit itself rather than the entire window. So this, in most cases, will be a relatively cheap job, with the bulk of the costs actually being the labour.
How much does replacement sealed double glazing unit cost supply only?
You can buy double glazed units in standard sizes from as little as around £20.
How long should my windows last before they start misting up?
This really depends on the quality of the windows. Many customers report no problems with double glazing after 15 years or more. On the other hand, there are instances of blown double glazing happening within five years of installation.
What causes condensation between the panes of a double glazed window?
In most cases, this is caused by the seal around the window feeling and allowing moisture to get in between the panes. Although, there can be other reasons which mainly relate to any building work going on in the immediate vicinity of the window.
As replacement the only option with blonde double glazing?
No, you can also have double glazed windows repaired in situ by specialist companies. But this is not always possible and depends on the type of glass in the window frame material.
Recent Jobs
To replace glass in a single glazed wooden framed ground floor window. Size of glass is 950mm x 550mm. Glass and putty will be ready on site.
Submitted by Bob
Replace (thin) double glazed pain in the french window with cut out for cat flap.
Submitted by Peter
Safety glass-glazed conservatory roof in need of replacing - some cracked. The roof is made up of 8 panes of 66cm x 37cm. New ones would need to be longer to allow some overhang. Wooden timbers need replacing due to weathering causing leaks approximately 5.5m x 4m at a highest point of 3.2m.
Submitted by Sheila
Replace 4 double glazing unit.
Submitted by Gill
My kitchen window glass has a crack and double glazing unit needs replacing. Kindly advise with regards to quote. Approximate measurement of window glass unit is 65cm x 95cm.
Submitted by Balbir