Cost to Install an EV Charging Station
Electric vehicles are becoming increasingly popular in today's society due to their economic benefits and stylish look, to name a few of its many benefits. Although choosing an electric vehicle and installing your own charger may be pricey at first, you can end up saving up to £1,500 a year on petrol costs.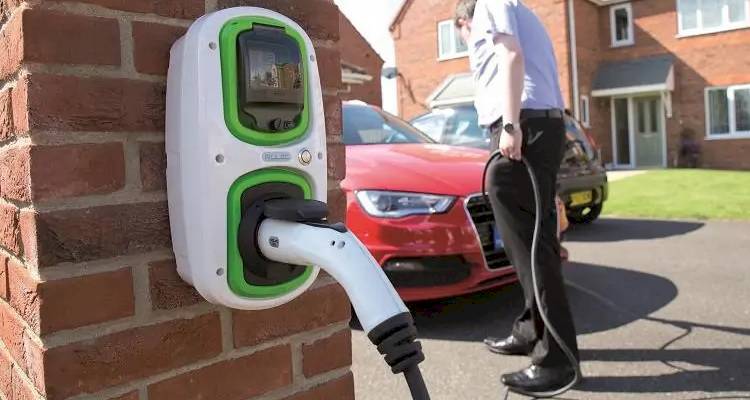 Average Cost of Installing an EV Charging Station
Depending on the complexity of the job, it usually takes: 2-4 hours
£1000
How Much Does Installing an EV Charging Station Cost?
There are a lot of different things that can affect the cost of an EV charging station installation within your home. From the type of charger you choose (3kW, 7kW), the type of cable (Type 1, Type 2) to the power output design, or even the location of the charging port within your property.
It's possible to get government funding reaching up to £500 when using an installer approved by OLEV, allowing your EV charging station cost to be around £1,000 including labour and material costs.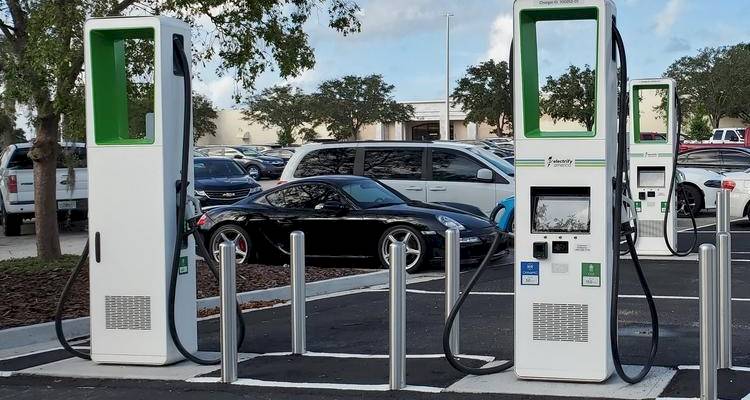 Electric Vehicle Charging Station Prices
Below is a table of the average costs of installing an EV charging point, including materials and labour:
| Charger Type | Power | Average Cost |
| --- | --- | --- |
| Universal socket | 3 kW | £400-£600 |
| Universal socket | 7 kW | £450-£800 |
| Universal socket | 22 kW | £1,020-£1,520 |
| Tesla supercharger | 7 kW | £450-£500 |
| Tethered connector | 3 kW | £400-£600 |
| Tethered connector | 7 kW | £500-£700 |
| Tethered connector | 22 kW | £900-£1,200 |
| UK 3 pin plug | 3 kW | £200-£300 |
Supply Only Costs
If you're choosing to install an EV home charge station, then you'll need to budget your supply costs without the need for labour prices. Below is a list of the average costs you can expect to pay for installing an EV charging station in your home, without the added funding benefits.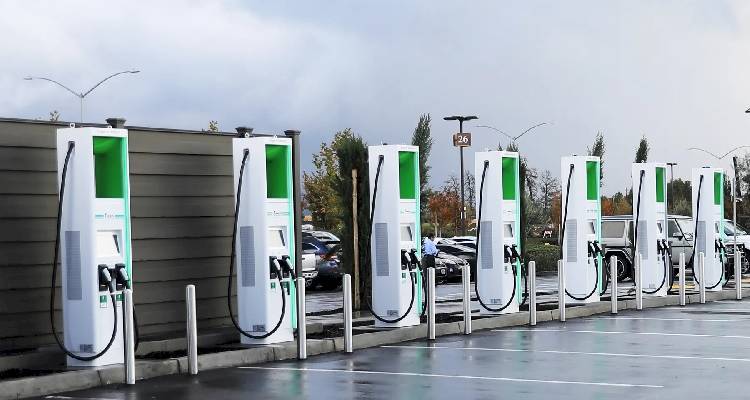 Below is a table of the average supply costs of installing an EV charging point, excluding the costs of labour:
| Charger Type | Power | Average Cost |
| --- | --- | --- |
| Universal socket | 3 kW | £350 |
| Universal socket | 7 kW | ££500 |
| Universal socket | 22 kW | £800 |
| Tesla supercharger | 7 kW | £400 |
| Tethered connector | 3 kW | £300 |
| Tethered connector | 7 kW | £500 |
| Tethered connector | 22 kW | £900 |
| UK 3 pin plug | 3 kW | £200 |
Additional Costs
If you're choosing to install an EV charging station, there are several other jobs you can undertake at the same time whilst having a professional out at your house.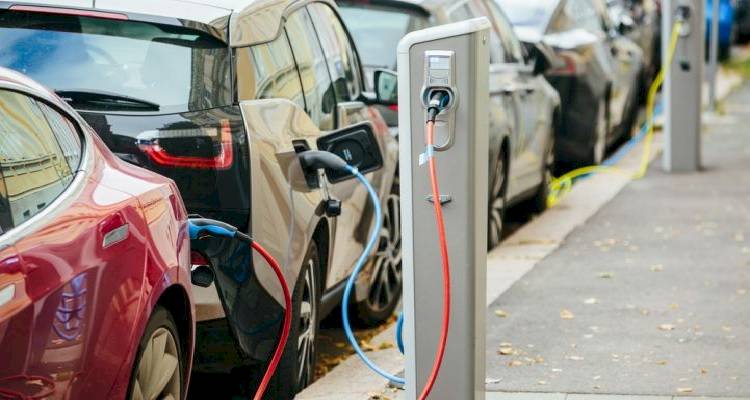 It's important to make sure that you have some form of off-road parking when installing an EV charging station as using a roadside parking space can result in liability issues around public walkways and parking spaces.
The cost to install a new medium-sized driveway in your home is around £3,000 and can take between 3-5 days.
Installing an electric driveway gate is a great way to secure and protect your EV charging station and your property. The cost to install electric garden gates can range between £1,500-£3,000, or you can choose to install wooden driveway gates at a cheaper cost of between £700-£1,000.
Before taking out any electrical work on your home, you should take out an electrical safety report on your house to ensure peace of mind and safety for your household. The cost of acquiring an electrical safety certificate can be between £80-£250 depending on the size of your home.
Labour Costs and Timescales
The labour costs for an electrical vehicle charger installation is around £600 prior to government funding aids. The average cost to install an EV charging station is typically £1,000, which can be lessened to around £500 after aids from the OLEV funding, which is eligible to EV vehicles and charging stations.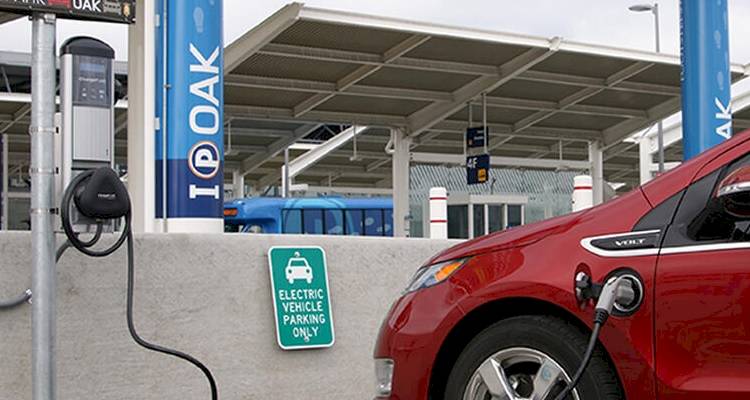 Residents of Scotland can also get an additional £300 of funding from the Energy Saving Trust.
It will take a contractor around 2-4 hours to install an electric vehicle home charger depending on the accessibility of parking, size of the home and any extra jobs that need to be tackled before installing a charger can be completed.
Cost Factors of Installing an EV Charging Station
There are lots of varying factors which can change the electric car charger installation cost, differing from size, type, ease of access, location and more.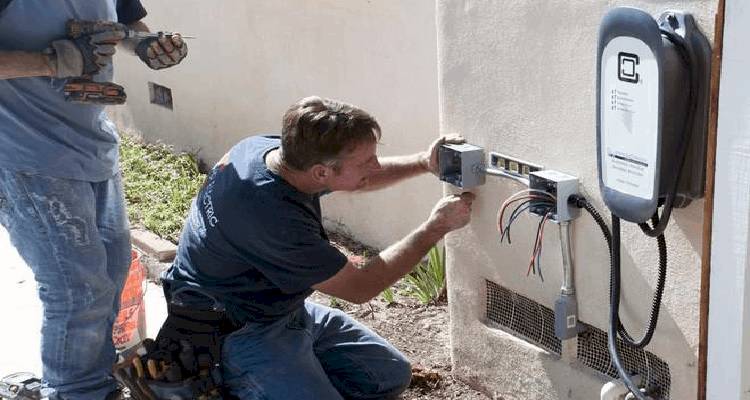 Below is a list of some of the most common factors which can change your pricing.
Type of charger
This can all depend on your output capability, which can change due to charging points. Certain car models and points are only able to hold a 3kW for £800, compared to the more expensive options of 7kW (£869) or 22kW (£1,300).
Location
The location of your charging port will also affect the ease of access for workers; in some cases, charging ports can be installed via a home garage.
Depending on how far away from the car it is and the use of extra supplies, materials, and labour time, this may hike up the costs with an additional fee.
Length of Charger Lead
The length of your charger lead will differ depending on how far away your car/parking spot is from the charging point. It can cost around an extra £0.10p/m for added cable after a standard length, this can differ depending on your contractor, so it's always best to agree on a quote.
Damage Limitation
Or in simpler terms, 'mechanical protection', this is a type of casing which can protect cables from being punctured or infiltrated from outside influences. Certain types of casings or sleeves can start at a cost as little as £0.02p/m.
What's Involved in Installing an EV Charger?
After deciding on a contractor and your preferred type of electric car charger, they will come and survey the area and measure out the area of installation for the charging point.
If you have a consumer unit with the right connections, the first thing that will be done is the attachment of two standard 120-volt buses to a double pole circuit breaker.
However, if your consumer unit doesn't have the specific connections for voltage or the right amount of space, you may get charged more for an isolated circuit to be installed into your home.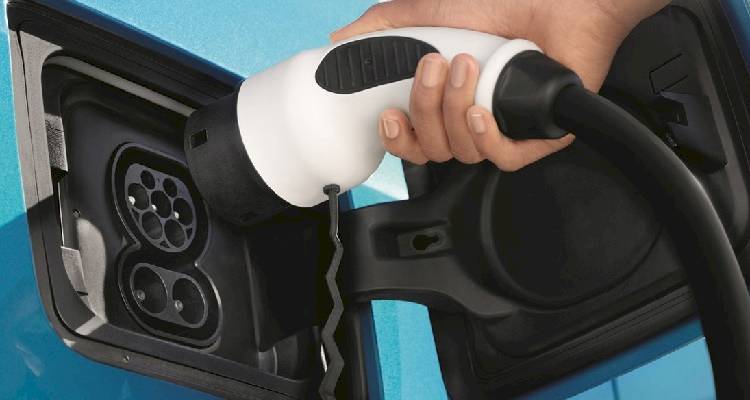 After this, an electrician will connect the cable from the fuse box to the preferred location of the charging station, as well as providing any necessary insulation if the charging station is outdoors.
Then, the charging station can be attached to the wall before being connected to the power after the cable has been secured in the right location.
Finally, the electrician will double-check the wiring and electric currents as well as test the charging station. This is to ensure full safety and protection for you and your home.
Can I Install an Electric Car Charger Myself?
In general, it's not the best idea to install an electric vehicle charger by yourself; however, if you have previous experience in this field or are an avid DIYer, then it is possible.
If you have electrical knowledge or assistance from someone who does, you'll have to adhere to IET wiring regulations 18th edition, part P before starting any electric work on your house.
If you're receiving a government grant, then you won't be able to install your own charger as the terms and conditions state that it needs to be done by an OLEV-approved electrician which can be found here.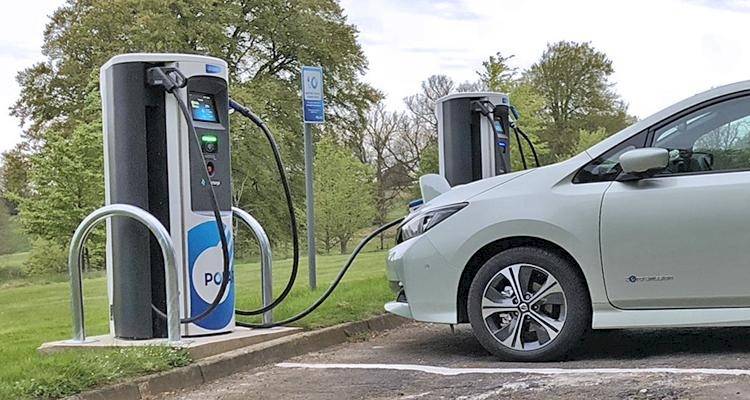 Your work will need to be signed off by a professional after completion to ensure the work complies with regulations and is safe. Many people find it's easier to save all the extra hassle and get the job done by a contractor instead.
It can also be a major risk to yourself and your home to alter electrics. If they're installed incorrectly, then it may cause electric shock, fire, or interior damage.
Building Regulations & Planning Permission for Installing an EV Charging Station
Typically, planning permission is not needed when installing a wall-mounted Electric outlet for EVs or plug-in hybrids. However, this only applies if you have off-road parking or a garage.
However, you may need planning permission if your outlet exceeds 0.2 cubic metres, is close to or within two metres of a highway, is on a site with a Grade II or listed building and/or monument.
Building regulations differ depending on your home and vehicle. Still, usually, all work will need to be signed off and checked by a registered electrician, and if you receive an OLEV grant, the work must be carried out by an approved electrician.
If you don't possess off-road or private garage parking, then you may need approval or permission for your local building authority.
Choosing an Electric Vehicle Charger
There are several choices for your home electric vehicle charger, so it's important to understand each type and pick the right one for your car and home compatibility.
Most residential homes can take a maximum rate of 7.4kW charging rate whilst electric vehicles can either hold a type 1 or type 2 connector, depending on whether you prefer slow or fast charging.
Type 1
This type of charger is commonly used in America and a popular choice for Asian car manufacturers; it offers a fast charging rate of up to 7kW. The cost to install a level 2 charger is typically £1,000.
Pros
✔ Fast charging rate
✔ Easy to find
Cons
✖ More expensive
✖ No locking mechanism
Type 2
This type of charger is most common in the UK and can charge between 3kW-7kW of range depending on how compatible it is with the car, making it a faster speed of level 2 charging. This can also cost up to £1,000 as a standard type 2 charger.
Pros
✔ Versatile
✔ Universal connector
Cons
✖ More expensive
✖ Slower charging rate to others
UK 3 pin plug
A 3-pin plug is a common choice as it can be used for most accessible domestic sockets, with a charging rate of 3kW.
This type is often installed with the EVSE which comes with your car, recommended for a short amount of time. These are often used at public charging stations. The level 1 charger usually costs between £200-£400 each.
Pros
✔ Cheap
✔ Safe option
Cons
✖ Slower charging rate
✖ Limited time usage
Tesla Supercharger
Tesla cars provide special charging points on their cars which can reach up to a whopping 22kW in residential areas, considered a level 2 or fast connection. They can cost between £400-£500 and can only be used with Tesla cars.
Pros
✔ High kW rate
✔ Cheap
Cons
✖ Only eligible for Tesla
✖ Slow charging rate
Where Can I Install an EV Charging Station?
Your EV Charging station is best located in a secure garage or an off-road parking space, ensuring maximum protection and as little cabling as possible, as the units are both water and weatherproof.
Typically, cables run between 15-24ft in length, so make sure to measure out the exact length of where your car will be before any installation takes place.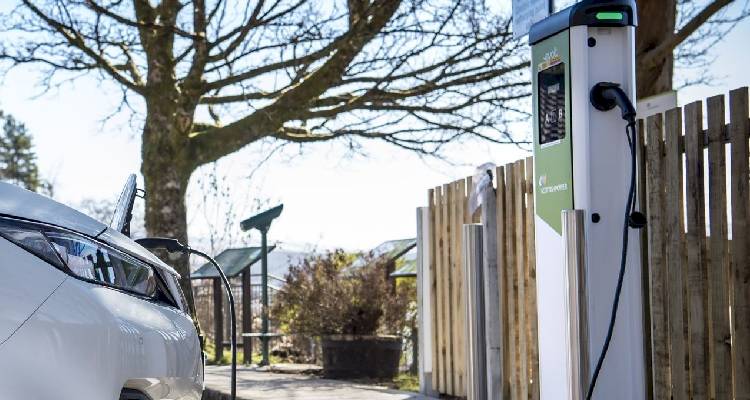 Other options to place your EVCS include a carport driveaway, a covered parking spot, or roadside parking which is found right outside the property (although this may cause some issues).
In some cases, you have to provide a driveaway or a secured spot to be able to receive a grant from OLEV for the installation.
Benefits of an EV Charging Station
There are many reasons to purchase an electric car and the benefits of your own home charging station. Below are a few of the great benefits which come from a domestic EV charging station.
Eco-friendly
One of the most common reasons people have chosen an electric vehicle is due to the environmentally friendly benefits, including zero tailpipe emissions, reducing greenhouse gas emissions and offers a low-carbon choice for the electricity sector.
Convenience
Installing your own charging station at home means you can dedicate specific charging time overnight and don't have to rely on finding an empty public charging station.
You may also be able to travel longer distances as you can fully charge your vehicle before a journey and top up your charge at stations along the way. They are also usually a lot faster at charging up then using a public three-pin plug.
Speed
Most public charging stations offer a slow charging output of around 3kWp/h, reaching up to 6kW at a push. The benefits of a home charging station are that there's a lot more option for faster charging rates and the station won't be as heavily used or in demand by several cars.
Cost-effective
By installing your own EV charging station at home, you'll save heaps of money on the overall costs of running a vehicle. Public charging stations charge a premium rate in comparison, costing around 30p p/kW of energy compared to 15p p/kW using a home charger.
Price wise, public charging is around £11 for a full charge, and home charging is around £5.
Cost of Removing an Electric Vehicle Charger
The most common reasons for removing your home electric vehicle charger is due to moving house, changing car or choosing to upgrade. However, if you've already applied for and used OLEV funding for your previous installation, then you will not be able to receive the grant.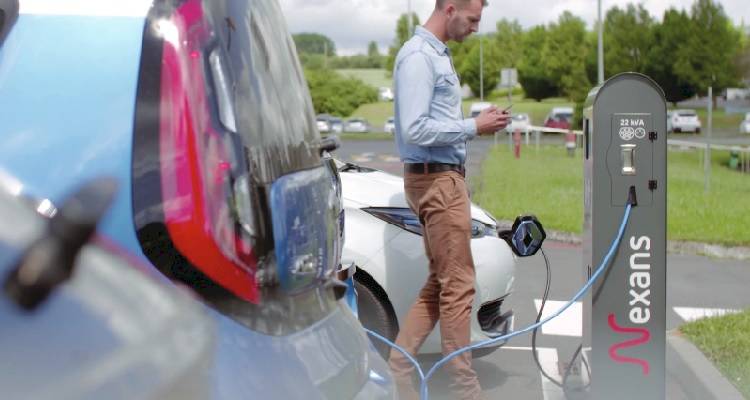 Because of this, most owners find it easier to remove and relocate their existing charging station to their new address. A professional electrician can complete this job for between £200-£350 per day.
The current resale market of an EV home charging station UK is few and far between because the majority of EV owners like to buy their own charging station to suit their exact vehicle's needs.
Hiring Contractors for Installing an EV Charging Station Checklist
When deciding on a local electrician to install your EV charging station, then you can use our free quote system to decide between nearby contractors to get in touch and provide a written quote to suit your budgets and needs.
If you choose to apply for an OLEV grant, then you'll need to find an OLEV-approved installation company.
All you need do is complete one short online form, and then you can sit back and let tradesmen get in touch. Once they have contacted you, then you can also check their profiles online and read reviews from previous customers for additional peace of mind.
Below are some necessary questions that will help with your decision and ensure you pick the right contractor for the job.
Seek out a choice of electricians and be sure to check out a few different quotes before settling on one company/tradesman.
Double-check that the electrician is authorised to install an EV charging station and holds the correct qualifications such as being a Part P qualified electrician and is a part of a government-approved scheme found on the recommendation of BRAC (the Building Regulations Advisory Committee), as well as a trade body.
Make sure that the electrician has completed similar jobs to this beforehand. Always ask for references and pictures from their previous clients.
Discuss and sign a written agreement before any work takes place in your home, making sure that you both have a clear outline of the job specification and what services will be included.
Ask to see if your electrician is insured and offers a guarantee for their work.
Last but not least, remember to ask for a receipt or payment confirmation to protect you against possible future disputes.
FAQs
Can I get funding for installing an EV charging station?
OLEV offers a popular EVHS grant which anyone can apply for as long as they've had their electric vehicle or plug-in hybrid for a minimum of six months, as well as off-road parking/a garage.

OLEV grants can only be provided by installing an approved charging point by an OLEV-approved installer/electrician.
What is an EV charger?
An electrical vehicle charger is a device which supplies plug-in energy for electric cars, plug-in hybrids, and neighbourhood electric vehicles.

The fundamental purpose of a charger is to supply electric energy to the car's battery to ensure smart charging so that the vehicle has the power to drive. It's essentially an alternative to petrol.
Will a home charging station charge my car quicker than a public one?
A standard public charging station generally charges at a slower pace than a home charger as most only charge at 3kWh. Whereas, when deciding on a home charger, you can pick a larger rate of between 7-22kWh for faster charging.

The length of charging time can also depend on the size of the car's battery and how good the connection is. A standard 7kW power charge can typically charge around 3x faster than a 3-pin plug.
Where can I install an EV charging station?
The best place to install a home electric vehicle charging station is in your designated parking spot, preferably in an indoor garage or underneath a carport, or in a private driveway.

Essentially, any form of off-road parking is ideal to place your charging station to ensure maximum safety and protection. However, if your parking space is public and, on the roadside, it may not be the best idea when looking at how to install EV charging stations.
What do the different kWs mean?
The kW (kilowatts) rate refers to the specific power rating of a charging station, with the numbers in front reflecting the maximum amount of power that can be used from a charging socket. Home EV charging stations often hold a power rate of 3kW, 7kW or 22kW.
What is rapid charging?
The term 'rapid charging' is the name given to EV chargers that can reach a power rate of up to 43kW-150kW. This type of charging is not accessible for home stations or domestic households and can be found at public stations including petrol stations, supermarkets, and service stations.

There are two types of rapid charging - AC (alternating current) and DC (direct current), AC chargers have a power usage of 43kW, whereas DC chargers have a power usage of 50kW, and they can both get to an 80% charge in about 45 minutes.
Will an electric car make my electricity bill higher?
Initially yes it will, but in the long run, you will end up saving heaps of money on weekly fuel costs. There's also a variety of EV energy tariffs that can help you save even more money.

You want to make sure that you fit a high-quality charger station to ensure a long life and avoid the need to fix, replace or lay down a new system.
Are electric vehicles good for the environment?
Electric vehicles are a more sustainable choice in comparison to petrol or diesel cars, as the carbon fuels are bad for air quality and EV's produce zero emissions.

Electric vehicles are due to take over the roads as the UK is on track to stop producing power from coal plants by 2025. Manufacturers also aim to recycle car batteries at the end of their car life to become a new storage device.
Sources
https://www.spiritenergy.co.uk/kb-ev-charging-point-install-prices
https://electrical.theiet.org/bs-7671/
https://www.edfenergy.com/electric-cars/home-charger
https://www.drive-electric.co.uk/how-much-does-it-cost-to-get-an-electric-charger-installed-at-home/

Last updated by MyJobQuote on 17th March 2021.