Cost to Replace Gutters
Would you like to find out the cost of new guttering or replacement gutters?
Then have a read of this complete price guide which covers all costs you'll encounter with gutter replacement, including gutter supply and labour fees!
For more information, continue below!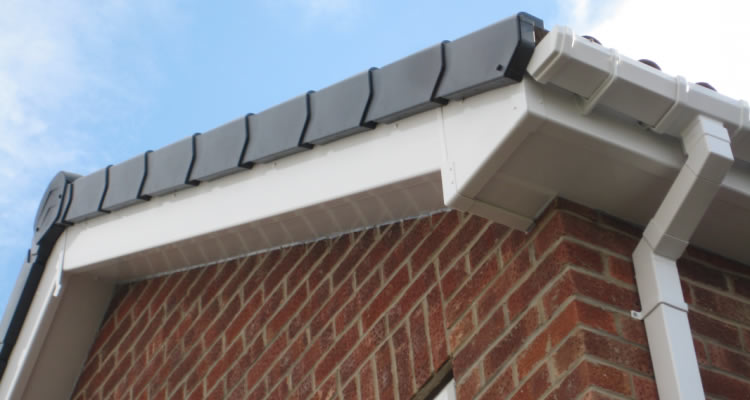 Average Cost of Replacing Guttering:
Depending on the complexity of the job, it usually takes: 5-6 hours
£650
How Much to Replace Guttering?
When it comes to property maintenance, cleaning and maintaining your guttering is arguably one of the most overlooked areas, yet also once of the most cost-effective ways of keeping your home efficient; protecting it from the damp.
Ideally, you should aim to have the guttering cleared twice a year, but there will come a time when it requires an overhaul. Several materials can be considered for your guttering. In essence, plastic tends to be the most common and cheapest option, but other options include cast iron, aluminium and copper, to name a few.
The type of material will affect the price, but you get what you pay for as plastic, the cheapest option, also has the shortest duration. Guttering is sold by the metre, so for a standard plastic (uPVC) gutter, for the supplies alone, expect to pay around £2 per metre.
For the same size half-round guttering in copper, the average price can escalate to approximately £25 per metre. In addition to the gutters, you may also need downpipe which comes in around £3 per metre for plastic, copper in comparison can cost about £38 for the same length.
As with all quotes, you may find they rise if located in London and the South East compared to the rest of the country, but also, if you have a steep roof, the shape of the house or the guttering isn't easily accessible, you could find the price increase.
Cleaning the gutters is a much cheaper job, but if replacing, you might have to pay for the removal of the existing gutters and disposal of waste.
Replace Gutter Prices
Choosing the right guttering mostly depends on your budget and perhaps the aesthetic approach you are going for. Whether it's a case of having guttering to exhibit your dream exterior, or simply to match existing guttering – be it for an older property or pairing with a neighbour's system, there are a variety of options to select from.
The following tables indicate what you can expect to pay for guttering, excluding the labour costs. Guttering is calculated per metre, and the chart below provides an average price for the work based on quotes from around the UK.
| Type of Property | Plastic | Cast Iron | Copper | Steel | Zinc | Aluminium |
| --- | --- | --- | --- | --- | --- | --- |
| Two-bed terrace (26m) | £50-£70 | £460-£580 | £650-£750 | £390-£490 | £490-£590 | £570-£670 |
| Three-bed semi (32m) | £60-£80 | £570-£670 | £800-£900 | £480-£490 | £600-£700 | £700-£800 |
| Four-bed detached (46m) | £90-£110 | £820-£920 | £1,150-£1,250 | £690-£790 | £870-£970 | £1,000-£1,100 |
| Bungalow (28m) | £50-£80 | £500-£600 | £700-£800 | £420-£520 | £530-£630 | £600-£700 |
Labour Costs and Time Scales
completed within the day, on average taking about 5-6 hours' worth of work depending on the size of the property and whether it's one or two people carrying out the work.
A typical hourly rate for the main tradesperson will be around £55-65 per hour, with an hourly rate of £40 for an assistant. Having an assistant will usually be required for larger jobs or whether the property poses a higher risk, i.e. more than two storeys or having a steep roof.
A two-bed terrace will typically take 2-4 hours to complete.
A three-bed semi can take 3-5 hours.
A four-bed detached home can take 4-6 hours depending on size.
A bungalow will usually be completed in 3-5 hours.
Plastic guttering is significantly cheaper than some of the other materials. Still, the timescale usually stays around the same for most materials; it all depends on the complexity of the job, the size of the property, and whether it is easily accessible.
Supply Costs
Ignoring the costs for labour, how much does guttering cost for the supplies alone? First of all, that would depend on the type of material, you require as plastic is undoubtedly the cheaper option, but cast iron and copper will be significantly more.
That said, there are also a variety of guttering systems to choose from. The most common is the half-round (and a variation called Deep Flow, which is essentially a deeper version), plus you have the option of square and Ogee. With the latter, this is a moulded shape that is much more pleasing on the eye.
It has the same function as its counterparts, but for those looking for a more visual appeal – perhaps to a character home, or making a statement to an existing one.
| Type of Material | Half Round Cost per m | Square Cost per m | Ogee Cost per m |
| --- | --- | --- | --- |
| Plastic | £2-£5 | £3-£6 | £3-£8 |
| Cast iron | £18-£25 | £23-£28 | £26-£35 |
| Aluminium | £22-£28 | £24-£30 | £28-£37 |
| Copper | £25-£32 | £26-£32 | £28-£36 |
| Steel | £15-£20 | £21-£27 | £28-£38 |
| Zinc | £19-£24 | £22-£28 | £24-£30 |
Additional Costs
So far, we've covered the costs involved for a simple job of replacing just the guttering, but the guttering itself is often affixed to the fascia board, so there are the added costs of replacing the fascia boards.
The average cost of gutter replacement fascia boards is £100 per metre, supplied and installed in uPVC.
Alternatively, a cheaper method can be to cap existing fascia's with uPVC, and this is for half the price at £50 per metre. This option will cover exposed materials, but they need to be free from damage, i.e. rot.
The sole purpose of guttering is to protect the home from damp and leakages, so it is essential when considering replacement gutter costs to include additional components.
| Type of Material/Equipment | Cost |
| --- | --- |
| Water butt (100l) | £30-£50 |
| Water butt (1000l) | £400-£500 (depending on material/installation) |
| Gutter guard | £1-£2 per metre |
| Channel drain | £7-£8 per metre |
| Soakaway (new installation) | From £750 |
| Soakaway (repair/replacement) | From £500 |
| Rainwater harvesting system (1000l) | Approximately £600 for complete kit |
| Membranes | £10-£15 per m² |
| Gutter realignment | £20-£25 per m² |
| Gutter support bracket | £4-£32 depending on the material |
| Eaves protection | £1-£3 per m² |
Cost Factors of Replacing Guttering
If you're guttering isn't good enough condition for general cleaning and maintenance, then you are likely going to need new gutters, downpipes and the appropriate fixings. Smaller properties can be more cost-effective for obvious reasons such as fewer materials required and faster to complete, but they aren't without their problems.
Terraced homes, for example, may share an existing system with neighbours. Aside from being able to match existing guttering with a like-for-like material, you may need to get your neighbours involved to fix an issue. It is not uncommon for one home a terrace to have blocked gutters, causing damp in their home and eventually their neighbours.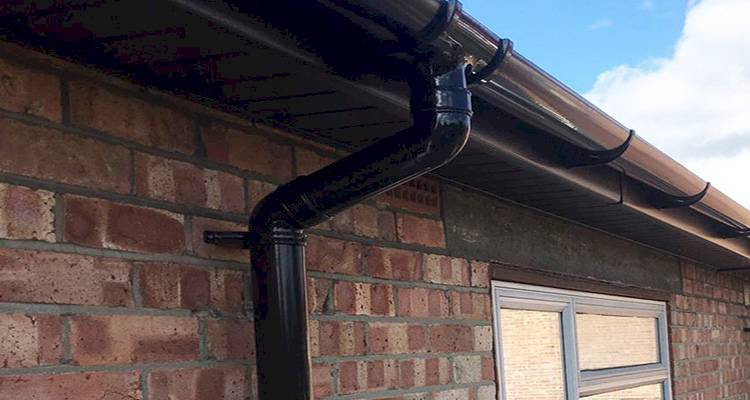 To fix this sort of issue will require planning as scaffolding may be necessary, a specific type of gutter may be required for an older property, i.e. cast iron or in an ogee style to match an existing system. What are the costs of scaffolding a home?
For one side of a home, expect to pay £500 for aluminium access towers.
The whole house could cost around £1,000.
It takes around 2-3 hours to erect the scaffolding, but work can still be completed within a day, and it's not always necessary to have scaffolding. The solution would be to shop around for quotes and have the tradespeople assess your home first, whether scaffolding is needed in the first place.
If you're likely, you may be able to get away with a simple cleaning of your existing gutters. Prices start for a two-bedroom terrace at around £40-£50, but larger homes can cost anywhere to £100-£200. However, in the event you need to have your gutters replaced, there will be a cost for the disposal of the surplus material.
Some contractors will include in their price, but a separate quote could range from £50-£75 on top of the cost of labour and materials for the replacement gutters.
How to Replace Guttering
Planning and Preparation
The first step is to ensure that the working area is fully accessible and is a safe working environment. As the majority of the work will be completed at height, you need to ensure that any ladders are securely installed and that there won't be anybody near the area during work – for example, children or pets.
You or the contractor will then need to measure the area required. Remember that the roof will cover a greater area than the house itself, so measuring around the base of the house won't be accurate enough. Also, you will want to allow yourself around 10% more materials than needed so that they can be cut to size and allow for any errors.
Securing Existing Components
Before removing the guttering, you need to secure it to prevent it falling, i.e. lopsided and potentially knocking either yourself or the tradesperson off the ladder. The second area of securing the work area is the fascia and soffit boards. As the guttering will be attached to this part of the roof, one method is to nail the fascia in place to prevent any movement during replacement work.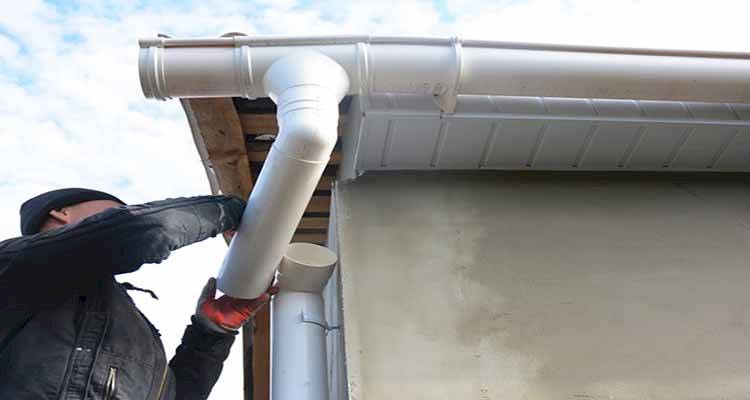 Removal of Existing Gutters and Downpipes
Once everything is secure, the gutters are removed one by one (if required) and safely lowered to the ground. When the piece that needs replacing, or all of the gutter is removed, the downpipes are then disconnected and disassembled.
If working with plastic, the materials will be relatively lightweight and can be placed in a skip. For cast iron gutters it is a hefty material so will be a two-person job. Because of the weight, this can be taken away on the same day or stored in a skip.
Installation of New Parts
The outlet part of the downpipe will need to be installed first and placed directly over the drain, along with any additional downpipes – depending on the size of the property and the suggested flow for downpour. From here, the rest of the gutter can be aligned accordingly.
Your contractors will be able to calibrate to the recommended guidelines as the gutters need to be able to be effective with downpour as this is the primary function of guttering!
This would also be an excellent time to replace the existing facias if required as it can save both time and money to do at the same time. The average cost for a fascia is around £100 per metre supplied and installed. Alternatively, you can have the boards capped (pending they are in good condition and don't show signs of rot) and this can be done for half the price at £50 per metre.
Each step remains the same regardless of the material. Still, the size of the property may have an impact on the above methods should new drainage need to be installed, or perhaps the contractor may suggest using a hardier material such as aluminium or copper as an alternative to plastic.
While plastic is, of course, cheaper, its lifespan is usually around the 10-year mark with frequent maintenance, whereas metal guttering can last a lot longer.
Can I Replace Guttering Myself?
It is possible to replace your guttering yourself. Still, unless you are competent in elevated positions, it is advised to seek the assistance of a professional for properties two stories and over. The immediate risk of DIY work is the height – falls from a ladder can be a critical health risk, and even if the ladder is secure, working around a roof is not without hazards.
Cleaning out a gutter, while still risky, isn't as taxing as replacing guttering as it's a simple case of sweeping out debris and checking for any signs of wear. Of course, wearing safety gloves is a must as you don't know what objects are in the gutter, and if you can replace the guttering yourself, some of the materials like cast iron are very heavy and can also have sharp edges.
Still, you can save yourself a great deal of money as if going for plastic gutters, the supply costs are very low and can be purchased in DIY stores. With an average of £65 per hour for potentially 5-6 hours' worth of work, you could save £325-£390 in labour, and that's on the assumption that one tradesperson carries out the work.
If that's an incentive and you're a competent DIYer, then what else would you need to complete the work? There isn't any specialist equipment required, and most DIY enthusiasts are likely to have the following.
You will need a sturdy ladder – even for a single storey bungalow.
A hammer and nails to secure the existing fascia, so it doesn't drop mid-repair.
A hacksaw is suitable for cutting through the guttering, allowing yourself an extra 10% of material in case of an error.
Securing the existing gutters before removal can be completed with cable ties or rope – this stops the gutter from dropping down during disassembly.
The appropriate fixings and brackets to secure the gutter, so you may need an electric drill and screwdriver to secure.
Health and safety is mostly common sense, but people still risk their health unnecessarily. Other than the ladder and gloves already touched upon, it would be advisable to wear safety goggles. Cleaning the gutter in preparation for removal may cause smaller debris to lift into the air and could potentially get in your eyes.
Building regulations do not apply for repairing guttering. Still, it is worth looking into the guidelines for replacing/installing new gutters as multiple factors need to be taken into consideration. One of the critical areas to adhere to is the flow rate, and it doesn't hurt to check with your local authority for advice on how to setup up the gutters to be efficient.
Benefits of Replacing Guttering
Increases Kerb Appeal
Not necessarily the most important aspect of when it comes to the benefits of replacing guttering, but having an aesthetically pleasing property usually is high on most homeowners' lists.
Plastic is always the cheapest option in the short term, but that doesn't mean you're limited with options as it is available as half-round, square, deep flow and ogee setups. While each one has a significant function, all four styles can provide a visual flair too – if you have the budget.
Speaking of budget, copper is arguably the most sought after material for use in gutters. Aside from the very many benefits in its operation, it is perhaps one of the most visually pleasing styles and can make a statement to a home. The most significant disadvantage of copper, however, is the price – often the most expensive of solutions.
Prevents Hazards
If you have the budget to do so, installing a metal-based system could be better for your wallet in the long run, but also it could reduce the potential hazards associated with guttering.
An excellent example of this is adverse weather. In windy conditions, metals such as cast iron or steel are hardy and show no signs of cracking or flex – even in snow and more torrential rain. Over time, and in particularly poor weather conditions, plastic can warp and become brittle, eventually causing a malfunction with this drainage solution.
Less Maintenance
Depending on your choice of guttering, you should be looking at maintaining it twice a year either by hiring a cleaning service or doing yourself with simple tools and equipment. However, the maintenance required can be significantly less if you choose a product such as copper or zinc.
Not only do these materials last within the region of 30 years, but you can recycle them too when they get to the end of their lifespan, unlike plastic which lasts about 10 years on average.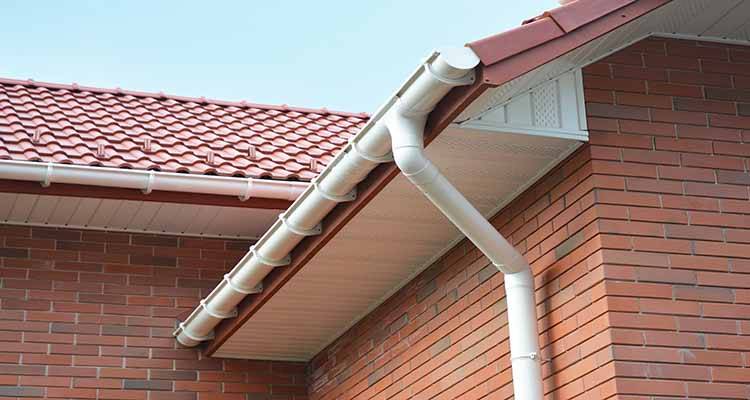 Gives Your Property More Protection Against Water Damage
Over time, even the best system will wear away. More durable materials such as copper, steel or zinc can outlast plastic, but components such as brackets, rubber bushes and even membranes can break down, causing a stoppage in water flow.
If left untreated, various sections will become leaky, breakaway and then the water will then find a new place to go – unfortunately, in places it shouldn't be and causing damp issues.
The best way to prevent this it keeping your gutters updated. While all the materials function more or less the same, if you're able to increase your budget for aluminium or copper pipes, for example, there's the chance it can provide more protection against water damage as the materials last longer and require less maintenance.
Efficient
An efficient gutter system with the correct downpour and drainage managements is a cost-effective system too. There are fewer requirements for frequent maintenance, there's a steady flow of water and sufficient drainage also, and if you have water butts in place, it can be an energy saver too.
Long-Lasting
While you can mostly keep replacing plastic guttering ever so often, if you can invest in a metal-based product, you won't need to replace as often. Plastic on average can last about 10 years – even more with regular maintenance, but it's prone to cracking and warping and not great in extreme temperatures.
A material such as copper, on the other hand, could potentially last you 30 years or more, can handle the elements much better than plastic and therefore doesn't suffer the same floors of becoming brittle or warping, eventually causing breakage.
As long as you don't neglect your gutters and are can use the best materials within your budget, you can be confident in a long-lasting solution. Just remember to carry out regular maintenance – as easy as it is to forget about it until there's a problem!
Can You Repair Guttering Rather than Replacing it?
It is possible to carry out repairs on guttering rather than replacing the whole system, but it will depend on the current condition and will need further inspection. Gutter repair cost is much cheaper than completely replacing the system.
Guttering can be cut out and replaced, as can downpipes without too much difficulty, but there are some circumstances when an entire guttering system is required:
If the gutters are connected to an existing system, sometimes adaptors can be used, i.e. connecting a half round to square, but usually, it will need to match, and a new system is necessary.
When a damp problem has been identified, it is best to replace the whole system to future-proof any further issues.
In cases where the type of material, i.e. plastic, has deteriorated that it can no longer be replaced.
There are cases where the wrong type of capacity pipes has been used for the size of the house. While this can be resolved with additional downpipes, it may be more cost-effective to replace the system, e.g. swapping at half round for ogee as it can handle a higher volume by default (and can look more pleasing on the eye!).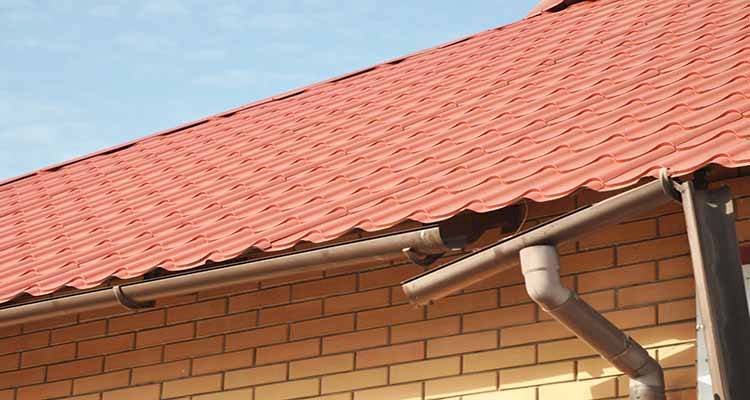 Though plastic parts are cheap to purchase over the counter, to repair rather than replace can be a little more expensive, but it's cheaper to improve a smaller section than to replace a whole system!
The average price to repair plastic guttering and some of the cheaper metals ranges from £20-£30 per metre.
For cast iron, it's a much heavier and dense material so for guttering such as this and copper; prices can range from around £50-£65 per metre.
Replacing a downpipe is more expensive.
For plastic downpipes, a replacement quote for a metre is around £22.
Cast iron is more likely to be £70-£80 per metre.
Additional parts such as repair a support bracket are cheaper, so expect to pay £14 for most repairs.
Common Issues with Guttering
It's easy to forget about the cleaning and maintenance of your guttering, and it's not until a problem occurs that something is down about it. The cost of gutter replacement shouldn't be something to be too alarmed about. However, it can be prevented by regular maintenance. But what exactly are the common issues with guttering?
For a start, it has to do with getting clogged up with various debris and leaves. If your property is in an area close to the trees, there's a high chance that your gutters will be filled with leaves. With the rain accumulating over time, a bottleneck occurs, and the water then has to run elsewhere.
This usually is the outcome for several reasons: if the water cannot flow through the drainpipes into the necessary drainage system, i.e. whether you have water butts or they go into a soakaway, it will pour somewhere else, potentially leading to weak spots and damp problems.
Other issues include:
Sagging – not so common with metal systems and more to do with plastic eroding over time and warping in the weather, there will be little pools of water concentrated in one point. This stops the flow of the drainage and eventually can cause breakage.
Poorly located/fitted – gutters need to follow building regulations meaning that they need to slope correctly and have the correct capacity for collecting water. In some instances, downpipes may not be installed correctly over the current drainage system, or the gutters are installed in a way that they cannot collect the rainwater efficiently.
Missing sections – this can be the outcome of sagging or general wear and tear. The most common issue can be the brackets that hold the gutter in place. Over time, the component breaks down and can no longer support the pipes, causing them to dislodge and eventually fall apart, so you may need to lay new piping.
Holes – these can be hard to notice on visual inspection alone, but if you see areas of damp or puddles forming, chances are it's either a broken section of you have a hole. Thankfully these are easy to repair and doesn't require new parts necessary and you can use a sealant from any DIY store for about £2 that will last for a few applications. Of course, if it is a regular occurrence, then you're going to need to have the part repaired or replaced for the long term.
Leaky sections – leaking parts of the system mostly come down to the gutter joints and the most common cause of damp in homes. Interestingly, it is a straightforward process to rectify, and if you can keep your gutters in check, can avoid this very unwanted issue.
The best way to prevent these issues with regular cleaning and maintenance. Ideally, you should be aiming to have your gutters cleaned twice a year. It's a relatively cheap service starting from £40 for a typical 2-bed terrace, and the cleaners can sometimes pick up any sign of wear with their equipment (some cleaners have cameras attached to their wire tools that clean downpipes).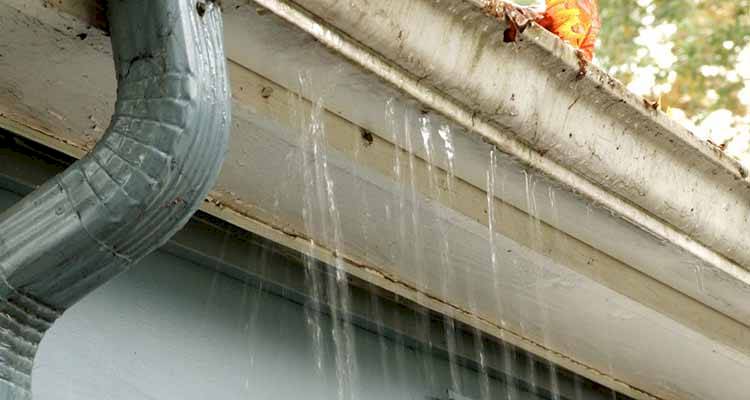 If you catch these issues early on, you can save yourself a good deal of money than replacing a whole system. A basic repair to a plastic gutter costs as little as £20 per metre and sometimes it's not always the gutter that needs to be replaced and a simple rubber bush.
It's usually a 30-minute job, sometimes less so if you're competent enough, it would be worth your while replacing yourself as the cost of the rubber is around £2 each compared to the possible £65 per hour for hiring a contractor.
Type of Guttering
Cheap guttering isn't a shortcut as all forms serve the same purpose, but of course, plastic is the most common form of guttering due to cost. But how about the other various types of material that are available on the market? What are the pros and cons of each one?
Plastic Guttering Cost
£2-£8 Per Metre.
Pros
✔ Low cost.
✔ Easy to install.
✔ Easier to replace than repair.
Cons
✖ Shortest lifespan.
✖ Prone to warping.
✖ Can sag or crack.
✖ Not the best with it comes to bad weather.
Cast Iron Guttering Cost
£18-£35 Per Metre.
Pros
✔ Traditional design and hardy.
✔ Visually appealing.
✔ Unaffected by strong winds, snow and heavy rain.
Cons
✖ Expensive.
✖ Heavy to handle.
✖ Often has sharp edges so hazardous to handle.
✖ Requires regular maintenance to prevent corrosion.
Aluminium Guttering Cost
£22-£37 Per Metre.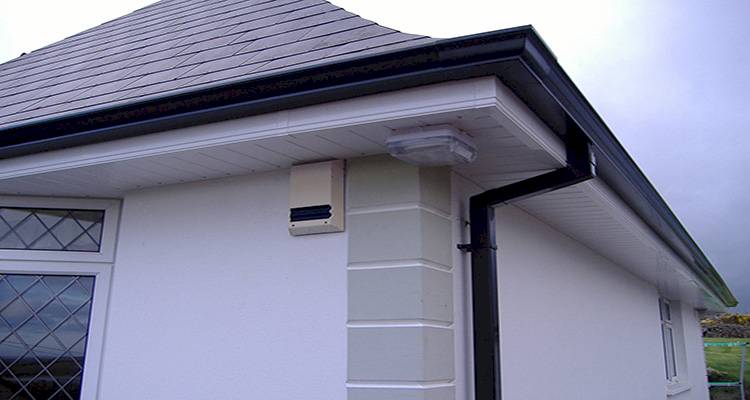 Pros
✔ Lighter than cast iron.
✔ Depending on where you purchase, can be cheaper than cast iron.
✔ Available in multiple colours/coating.
✔ Does not crack or fade.
✔ Rust free.
Cons
✖ Quite expensive, depending on the style.
✖ Commonly found in commercial buildings.
✖ It is easily dented.
Copper Guttering Cost
£25-£36 Per Metre.
Pros
✔ Gives an aesthetically pleasing appearance.
✔ Can be resold or recycled.
✔ Good at deterring moss.
✔ Low maintenance.
Cons
✖ Cost of gutters is expensive.
✖ Challenging to work within terms of installation.
Steel Guttering Cost
£15-£38 Per Metre.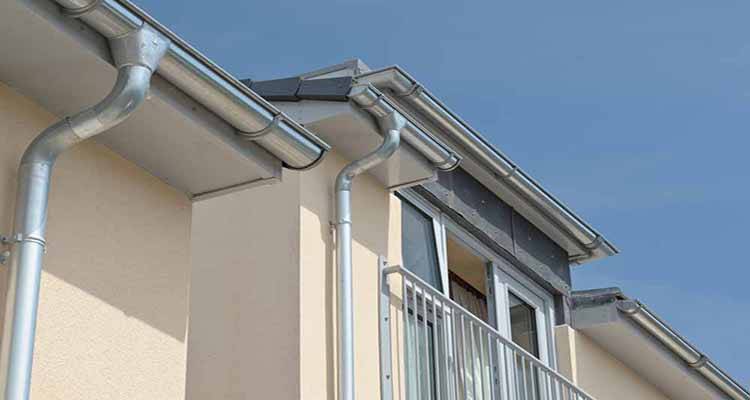 Pros
✔ Cheaper than both cast iron and aluminium.
✔ Can be galvanised.
✔ Available in multiple colours.
✔ Robust.
✔ Does not crack or fade.
✔Can be resold or recycled.
Cons
✖ Cheaper than aluminium but still adds to cost.
✖ Better suited to commercial buildings.
Zinc Guttering Cost
£19-£30 Per Metre.
Pros
✔ Robust
✔ Retains its appearance longer than plastic.
✔ Does not crack or fade.
✔ Can be resold or recycled.
✔ Lightweight.
✔ Long lifespan – up to 30 years.
Cons
✖ Vulnerable to acidic runoff.
✖ Can be damaged by seawater if living nearby to the sea.
With the above options, there are many other choices, too when it comes to the shape. The most popular style used for most homes is the half-round – a half pipe that ranges in depth from 76mm through to 116mm as the most common. Deep flow is a variation on this with a depth of 115mm and therefore processes a high volume of downpour.
Other types of guttering include square and ogee. Apart from the fact that these are often in demand due to their appearance being pleasing to the eye (though usually can be pricier than half-round gutters), they serve a higher capacity for collecting water.
Additionally, these types of systems can be found in older properties. While you can connect newer styles with the old with adaptors, for example, half-round to square, it's usually best to keep the same – especially for systems that are shared with a neighbour.
Each type has a specific capacity for collecting water. While the half round is readily available, it may not be suitable for larger properties or a roof prone to accumulating a heavy volume of water. The following is an example of capacity using one downpipe (using more can increase the capacity):
A half-round can handle 43m².
Square guttering is 70m².
Deep flow 90m².
Ogee 103m².
Cleaning and Maintaining Guttering Cost
The actual cleaning and maintaining of guttering is a relatively simple process that you are quite capable of doing yourself. Of course, safety is paramount, and you would need to ensure that you have the appropriate safety equipment to carry out the work.
Safety goggles are highly recommended as gutters can store a vast amount of debris that could soon be airborne when disrupted when you attempt to remove it.
Good quality rubber gloves are suggested for picking up leaves and any muck that has accumulated over time, but also to protect your hands from certain types of guttering as cast iron often has sharp edges.
An extendable ladder to reach the roof that is secure on the ground and free from any movement such as children or pets running around. Even if the ladder is stable, it is encouraged to have another person present to support that ladder while the work is undertaken.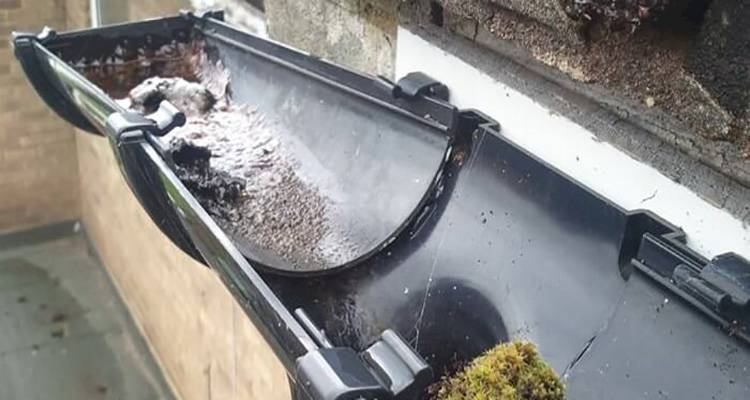 To clean the gutter, a simple garden hose will suffice with an extendable brush to clear out the gutters but avoid using a high-pressure washer.
Apart from it spraying any unseen debris everywhere, potentially causing a health and safety issue, the pressure could damage the material, including brackets. While plastic gutters are relatively hardy, they aren't built for that kind of pressure, so avoid!
The other option is to treat for any sort of moss that can fester on your roof. You can, of course, do this yourself, but a professional will be able to do the work a lot faster and effectively (ideally meaning less maintenance in the future).
Additionally, they have tools you might not have access to such as wire tools equipped with cameras that can clear your downpipes and assess for any unseen damage or wear.
Cost of Removing Guttering
Considering the average cost of gutter replacement is within the region of £550-£750 region, there are many reasons why someone would want to move their guttering, but the main areas are:
Damp problems in the home.
Insufficient capacity to handle rainwater.
Faulty or damaged gutters/downpipes.
A neighbour has updated theirs and is connected to yours, and they have used a different material or style of pipe.
For presentation purposes – updating a home with copper instead of plastic.
It is a relatively straightforward process and removing guttering can be completed within the same day either in a DIY capacity or by hiring professionals. As always, if you have the budget to do so, a professional is encouraged. A professional:
Is more experienced and familiar with guttering systems and building regulations.
Can advise if a repair can be carried out instead of removal, thus saving money.
Usually work in pairs so, from a safety aspect, one will work at height while the other remains at ground level offering assistance.
Has the capacity to swap out materials, i.e. replace a plastic system with a zinc system.
However, you can complete the work yourself if you are competent at DIY and have the recommended tools that can be found in most enthusiasts' toolboxes. You will require a sturdy ladder as a minimum and ensure it's safe to use. Bear in mind if you have a conservatory that accesses to the roof will be difficult, and in many cases, a professional would be able to install scaffolding to complete the job both swiftly and efficiently.
Be aware that costs for scaffolding for one side of a property can cost within the region of £500, or £1,000 for the whole house. This is a safer process, however, and can be completed the same day.
If you do decide to do the work yourself, you will need to ensure that you secure the existing gutters and fascia to prevent them from falling prematurely but hammering into place. Gutters can be removed in sections, followed by the downpipes. Plastic gutters can be handled safely by one person, but for metals, you'll need the assistance of another.
DIY Waste Removal
It's possible to take the refuse to your local tip manually, but you may need to cut the items down to size first. If cast iron, it would be advisable to either have your local authority collect it (prices vary in location, but a lot of councils will collect for free.
Other options available to you for waste removal include:
hiring yourself a skip. For a 4 to 5-yard skip, you could be looking at £110-£240, and this would be more than enough for most gutter systems.
Failing that, you may be able to sell on via eBay or Gumtree – even the local scrap metal company. Prices for the latter may vary according to location, but you can pick up some complete cast iron systems from £50-£100 that could cover the average 2 bed-terrace to 3 bed-semi.
Hiring a Gutter Fitter Checklist
Hiring a gutter fitter doesn't have to be a complicated process as the work can be carried out by most labourers, but in particular, roofers are most suited to the task at hand.
There are no specific qualifications or skilled equipment required, mostly common sense and an understanding of building regulations as they would need to ensure the right material is used (if matching to an existing system), and that it handles downpour with correct drainage in place.
Obtain a minimum of two quotes and get these in writing.
Check out customer reviews, testimonials, and whether there are any properties in your area where you can inspect the company's craftsmanship first-hand.
Ensure that your existing system is visually inspected. You may be able to save money with a repair rather than replacement.
Ask what is included in the quote, i.e. guttering system, disposal of debris, inspection and replacement of drainage if required.
Whether any treatments are part of the work, such as moss treatment.
If you have a conservatory or difficulty accessing the roof, will scaffolding be required and is that included in the price, if not, how much will this be?
Check how long it will take to do the work (for most jobs it will be completed the same day – even with scaffolding). Should the job take longer, what are the daily rates/extra charges?
The contractor doesn't need to have any special qualifications or equipment to look out for specifically; it's more to do with their experience doing the job and understanding of setting up the guttering correctly to prevent any damp problems in the future.
FAQs
How much should gutter replacement cost?
That is always dependent on the size of the job, your location, and what the access is like to the property. What is the cost of new gutters?

Assuming that the task at hand is a 3-bed semi, to replace just the gutters and perhaps one downpipe, for about 5 hours work, you could be looking for £600, again, depending on the complexity of the job but giving the assumption that it would be for the standard plastic fittings without anything extra.
What is a gutter?
The sole purpose of a gutter is to manage water flow from rainwater, ensuring that it is carried away from home into the appropriate drainage facility. Whether that be a water drum or soakaway is dependent on each setup.

Each gutter has a downpour capacity and as long as this is upheld, will allow the continual flow of water off of the roof, into the downpipes and safely away from the property.

Without gutters, homes would be more exposed to the elements and have a higher risk of damp. Gutters that haven't been correctly maintained or faulty parts are the biggest cause of damp problems in the UK.
How long will plastic guttering last?
As a rule of thumb, plastic guttering should last for around 10 years depending on how well it is looked after and the weather conditions.

Ideally, you should be maintaining your gutters twice a year, but this isn't always a high priority for most. Over time, plastic can warp, become brittle and even sag. However, with regular maintenance, some systems can last as long as 20 years, maybe more, but some parts would likely be swapped out along the way due to general wear and tear.
Why opt for a metal gutter is they all serve the same purpose?
All gutter systems will indeed serve the same purpose, but there are arguably three main reasons that could make you change your mind and go for a metal-based product.

First of all, they are much more durable and require less maintenance. Most of these metals handle well in poor weather conditions, maintaining their shape without any sort of corrosion or bowing, as plastic tends to do.

Another aspect is the appearance. Gutters are typically out of sight, so not everyone will pay attention to them other than the odd glaring downpipe. Still, generally speaking, a metal finish gives a much better appearance and often available in multiple finishes, colours and shapes.

The factor that is most likely to be the decider then is the price. Metal is much more expensive than plastic and for that reason can put a lot of people off. Again, they serve the same function so some may argue why spend £25 per metre on copper when you can fix budget plastic gutters for £3 per metre?
Will I need scaffolding outside my property?
Not necessarily – it depends on the number of storeys, the shape of the property and accessibility. A lot of the time, work can be completed with simple ladder access, but taking away the time it takes to install scaffolding, the job can be completed faster and in a safer working environment. It's particularly helpful if using heavy components such as cast iron.

Be advised that if you have a conservatory, it's likely that you will need scaffolding to go over the roof to provide access. A lot of tradespeople already have this equipment and may include in their quote or for slightly more, where others will have to outsource it. Expect to pay £500 for one side of the house and possibly within the region of £1,000 for the whole house for aluminium scaffolding.
Sources
https://www.drainagesuperstore.co.uk/
https://www.guttersupplies.co.uk/
https://www.rainwaterdirect.co.uk/
https://www.aluminiumrainflow.co.uk/
https://www.proguttercleaning.co.uk/
http://gutteringcoventry.co.uk/

Last updated by MyJobQuote on 16th February 2022.