Cost to Replace Guttering
Guttering repair and replacement prices.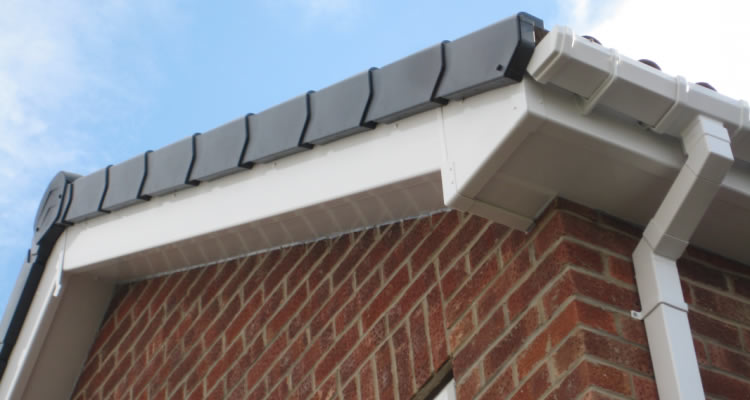 Average Cost of Supplying and Fitting New Guttering
This type of job normally takes around 1-2 days to complete
£600
Guttering is used to protect your home from damp and excess water. The gutters direct the flow of rainwater away from the structure of the building, thereby preventing it running down the walls and pooling around the foundation, which over time will likely cause erosion and rising damp. Gutters can also be used to channel rainwater into storage tanks if you need a source of water for the garden without using the primary water supply, which may be metered. Unfortunately, gutters when working properly are out of sight of mind, so often neglected until they become clogged, fail or break - many never really notice their gutters until they cause problems!
Roof gutter repair and replacement is normally carried out by roofers that are experienced and equipped to work safely at height, though minor repairs can be done as a DIY project. Different roofing contractors will charge different rates, so it is always recommended that you shop around for the best price. Though you should bear in mind that cost is not the only consideration when it comes to choosing a tradesman to carry out work on your home, so don't let cost be the single determining factor!
Choosing an experienced roofer with a proven track record can be just as important as having the cheapest quote. In fact, you should be wary of any gutter repair quotes you receive that are substantially lower than the rest, as they may be scammers or cowboys! The most effective way of getting the best price for gutter repairs is to look online for a tradesman. The free service on MyJobQuote allows you to do this simply by providing a few details to begin receiving up to three quotes.
Typical quotes for gutter replacement
| Job Description | Duration | Material Cost | Labour Cost |
| --- | --- | --- | --- |
| Upvc guttering and rainwater downpipes to a typical 3 bedroom semi-detached property | 1 day | £170 | £350 |
| Upvc guttering and rainwater downpipes to a 4 bedroom detached property | 1-2 days | £200 | £450 |
| Upvc guttering and rainwater downpipes to a detached 3 bedroom bungalow | 1 day | £150 | £200 |
| Cast iron guttering and rainwater downpipes to a typical 3 bedroom semi-detached property | 1 day | £1000 | £395 |
Things to consider about guttering
Installing gutter guards can be a way to prevent gutters from getting clogged up with debris in the first place. Gutter guards can also reduce the amount of gutter cleaning required so can pay for themselves many times over in the long term. If considering fitting new gutters, the extra expense of protecting them with gutter guards could make sound financial sense. In any case, gutter guards or not, regular maintenance can prevent or delay the replacement of guttering and save money.
Guttering should be cleared and cleaned twice a year, or even more often if there are lots of trees overhanging your roof. Blocked gutters can cause serious and expensive problems over time, overflowing gutters will lead to damp inside the house while damaging the walls internally and externally.
Other possible problems caused by simply blocked gutters include mould and rot. Maintaining the gutters is not expensive or difficult, certainly far easier than replacing them or dealing with damp and mould! In most cases the gutters can be accessed with a ladder and debris can be easily removed from the gutters by using a trowel or even by hand, wearing gardening gloves to prevent injury.
Doing it Yourself
If your gutters are on the second storey or higher, it is recommended that you hire professionals to do any gutter cleaning and maintenance, as there is a significant risk of injury at those heights. However, if you have the right safety equipment and are comfortable working at height, then cleaning or replacing gutters is not a difficult job. Please note that although it is certainly possible to patch up gutter leaks with some sort of sealant, these type of repairs seldom last very long, plus if you have leaks currently in one part of guttering, you will probably soon have problems with other areas too, so it's usually best to simply replace all the gutters if you have any leaks or cracks.
If your gutters are sagging make sure they are clear of any debris, then if still sagging you need to fit extra supports so the gutter is fully supported and fits flush to the walls to catch water run-off from the roof and stopping it running down the walls and pooling in the foundations. The supports for the guttering are usually attached to the fascia boards, but if the fascia is rotten, you should replace all the fascia board and the guttering at the same time. When fixing new guttering remember that it needs a constant 1:40 slope to the downpipe outlet to ensure proper drainage.
Guttering is manufactured from many different materials, with uPVC being the cheapest, but cast iron, aluminium and steel guttering is becoming more popular. If your home is listed or in a conservation area it will likely have had lead guttering originally, but local conservation officers will typically recommend cast iron or cast aluminium guttering which is a safer replacement but still in keeping with the period fittings of older houses.
Guttering Checklist
Installing new guttering is a job that will eventually need doing on all properties
Choose a small guttering business, such as a one-man type roofing contractor, then the quote will be cheaper
Plastic guttering is by far the easiest type to fit
Guttering repairs are cheap but only a temporary fix
FAQ's
What are common problems with guttering?
There a few problems which can happen over time and lead to you to having to repair or replace the guttering. Getting choked up with leaves, dirt and other debris is the most common problem. If not cleaned regularly blocked gutters eventually start sagging and don't do their job well in terms of protecting the house structure from water. Other problems include broken or missing sections caused by harsh weather.

How much will it cost to replace guttering?
It really depends on the material the guttering is made of (cast iron, for example, is much more expensive than uPVC), the type of guttering, the total length of guttering and how easy it is to access.

Why should you get your gutters cleaned?
Water constantly overflowing from blocked gutters will eventually damage the building structure and cause damp and mould on the inside of your house.

Why not clean the gutters yourself?
Every year in the UK over 3,000 people end up in hospital as a result of serious accidents involving working up ladders. Don't risk serious injury working at height unless you are very confident. Having your gutters cleaned is not a terribly expensive job so just call in the professionals, as they have all the right tools and safety equipment, plus they are fully insured.

Do I need to be home when the gutters are cleaned or replaced?
No there is no need, most firms will be happy to do the job and leave you an invoice. Unless of course you live in a terraced house and they need to go through the house to get access the back, then arrangements would have to be made and someone would have to let them in.
Last updated by MyJobQuote on 7th May 2019.