Average Cost of Installing uPVC Cladding
The cost of installing uPVC cladding is about £1500. The price of uPVC cladding will depend on the size of the cladded area and the type of cladding you choose. Carry on reading to discover all you need to know about installing uPVC cladding.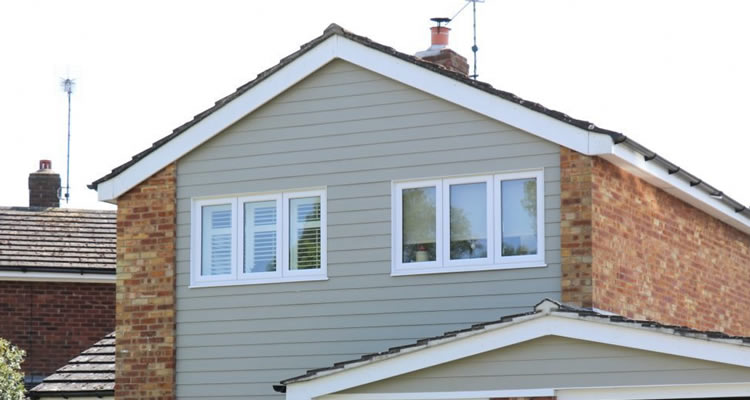 Average Cost of Installing uPVC Cladding:
Depending on the complexity of the job, it usually takes: 2-3 days
£1500
How Much Does Installing uPVC Cladding Cost?
The average cost to have uPVC cladding fitted is £1,500. This is based on the average installation being to one side of two storey home, and the cladding chosen to be white in either shiplap or open V.
The costs are roughly three times higher if you decide to go for rosewood coloured cladding. The same area in rosewood costs on average £5,000. This cladding has the appearance of natural wood, so the supply costs are significantly higher for the materials.
The style of the boards also impacts on the cost. Shiplap boards are more expensive to use, as they are smaller in size. So, more is needed to cover the same area. However, the difference in overall price is not too large.
The area in which you choose to get the cladding fitted will have a big impact on the final cost. The larger the area, the higher the cost. The number of storeys will also increase the price.
This is because it is harder to work at height and also because you will need to hire scaffolding—for example, a single side of a bungalow costs on average £800.
Scaffolding is a factor that you will need to consider. If you need to hire scaffolding, it can cost on average £4,000. This will be on top of the costs for the cladding installation.
You should talk to your installer to see if they have their own cheaper alternative. Otherwise, it is a good idea to get all possible jobs you need doing that will use the scaffolding. This will save you money in the long run.
Installing uPVC Cladding Prices
To total price for installing uPVC cladding will vary based on a few factors. The following tables should give you a good indication of the prices to expect for different situations.
All of these prices include the cost to remove old cladding, disposal of the waste as well as all labour and material costs.
uPVC Cladding Prices
These prices are all based on the cost for each type of cladding to be fitted to the gable end of a standard two-storey home.
| Type of uPVC Cladding | Average Cost |
| --- | --- |
| White Shiplap Cladding | £1,250 – £1,750 |
| White Open V Cladding | £1,200 – £1,500 |
| Rosewood Shiplap Cladding | £4,275 - £5,800 |
| Rosewood Open V Cladding | £4,200 - £5,000 |
Prices Depending on Location
These prices are based on using White Shiplap Cladding.
| Area | Average Cost |
| --- | --- |
| Gable end of a two-storey house | £1,250 – £1,750 |
| 3 sides of a semidetached house | £3,125 – £4,375 |
| 4 sides of a detached house | £4,000 – £5,600 |
| Gable end of a bungalow | £750 – £1,050 |
| 3 sides of a bungalow | £1,875 – £2,625 |
| 4 sides of a bungalow | £2,400 – £3,360 |
Supply Costs Only
When you are calculating the cost of materials for fitting external uPVC cladding you need to consider not only the cladding but the trim as well. The following table gives you the costs of the materials you will need, and the price difference based on type and colour.
| Item | White/Standard | Oak | Rosewood |
| --- | --- | --- | --- |
| Shiplap Cladding – 5m | £8 - £12 | £32 - £37 | £35 - £40 |
| Open V Cladding – 5m | £8 - £12 | £13 - £15 | £20 – £25 |
| Angle Trim – 5m | £15 - £20 | £20 – £25 | £40 -£45 |
| Butt Joint | £1 -£2 | £1 – £2 | £1.50 – £2.50 |
| Edge Trim – 5m | £14 – £16 | £20 - £25 | £25 - £30 |
| Joint Trim – 5m | £8 - £9 | £10 - £15 | £15 - £20 |
| Drip Trim – 5m | £8 - £9 | £8 - £9 | 20 - £25 |
| Cladding Pins, per 250 | £7 – £8 | - | - |
Additional Costs
When you are planning to get external cladding put on your home, there are a few other costs to consider. A major one is scaffolding hire. Due to the high cost of this is can be economical to consider completing other jobs at the same time.
Scaffolding Hire
Scaffolding hire cost is something you will need to budget for. It will not be included in the price you are quoted, but external uPVC cladding installation on a two storey home is not possible without scaffolding.
The cost will depend on how much scaffolding you will need, or in other words, how many sides of your house you will be getting clad. The price can range from £3,000 - £6,000.
So, it is a good idea to combine this job with any other that might require scaffolding as well. Most scaffolding hire is for a minimum of 6 weeks, so there is plenty of time to get other jobs done.
Painting House Exterior Cost
Painting the exterior of your house is a job this is most effectively completed when there is scaffolding in place.
If your home has external timber work, it can be a good idea to get it painted while you already have the scaffolding up for the cladding. The average cost of getting the outside of your home painted is £850.
This is an upper cost as you will likely not need too much paintwork done once you have cladding fitted to the house.
New Window Cost
If you need new windows, it is best to get them fitted before you replace your cladding. This is because the cladding is cut to fit around the windows. If you replace them at a later date, it may affect the cladding.
It is also a good idea to use the scaffolding you need for the cladding if you need to replace second storey windows. This can save you money in the long run.
New Front Door
Like with new windows a new front door is best fitted just before you get cladding fitted. This is because the cladding will be cut to fit the door you have at the time. If you get a new door, you may need to get new cladding around the frame.
Location
Where you are in the country will undeniably have an impact on the cost of getting uPVC cladding. The highest prices will be found in London and the South East, followed by especially rural locations. The lowest prices for the installation of uPVC cladding is in the North West of the UK.
Labour Costs and Timescales
Tradespeople will typically charge around £150 - £200 per day for labour. The length of time the job will take is mostly dependent on the size of your home and how many walls are being clad. A reasonable estimate for the time taken is around 2-3 days per side of a two-storey house.
This assumes that your tradesperson will work as part of a two-person team. For a bungalow, one person should be able to complete the work with no problem.
These costs and timescale include the removal of any previous cladding, replacing the old cladding with new uPVC boards, and disposing of any waste created in the process.
Cost Factors of Installing uPVC Cladding
When you are getting uPVC, cladding installed on your home, there are a few factors that will affect the final price.
Scaffolding Hire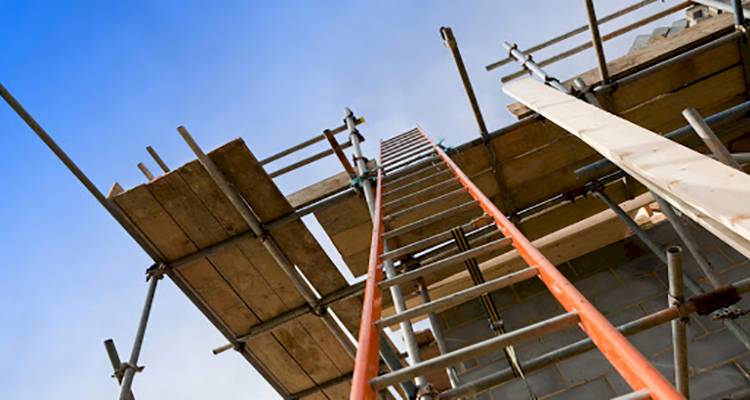 Scaffolding hire can make a huge difference in the cost of this job. If you have a two-storey home, then you will need scaffolding. Some companies may be able to provide their own scaffolding, and this is often cheaper. However, not all tradesmen can.
The more scaffolding you need, the higher the price will be. You should always talk to tradespeople about the scaffolding costs before you hire them.
Area to be Clad
The larger the area, the more it is going to cost. This is not only for material costs but labour costs as well. The biggest factor is how many storeys are involved. This is because it will have an impact on the scaffolding costs.
Type of Cladding
The style and colour of the cladding you choose can affect the cost. Shiplap is more expensive, and Open V is the cheap option. In terms of colour, the standard colour is white. If you want anything different, it will increase the price. Fake timber patterns are often the most expensive option.
What's Involved in Installing uPVC Cladding?
Installing uPVC cladding is a fairly straightforward process. It is very similar to the way that timber cladding is installed.
The first step it to attached treated wooded battens to the external wall. These battens are fitted vertically. If added insulation is needed, then the second set of battens is fitted horizontally to create an air gap that can be filled with insulation.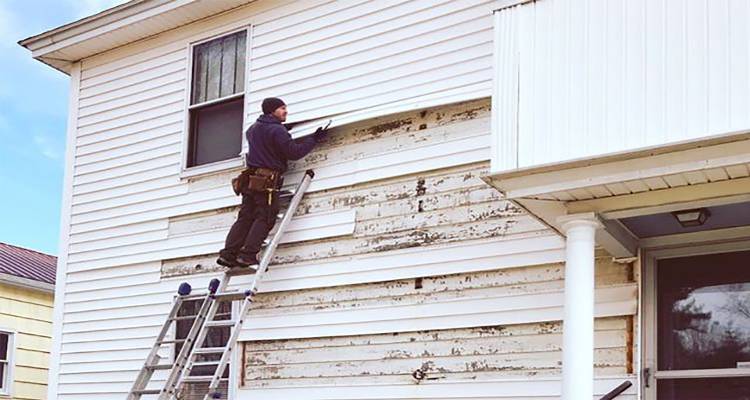 The cladding can then be fitted to the battens. Installation always starts from the bottom and moves up. Each piece of cladding is first trimmed to the correct size and shape and is then nailed into place. The nails start in the centre and then move to the edges.
Once the cladding is in place, the trim can be fitted to seal the joints and create a clean finish. The trim is usually just snapped into place. It is not difficult to fit at all.
Can I Install uPVC Cladding Myself?
Installing cladding is not a technically demanding job. It requires no specialist tools. If you are experienced and confident in DIY, then it is an achievable job.
Getting a good finish is quite easy as the materials have been designed for easy installation. The only exception to this advice is if your cladding will be applied to the second storey of your home.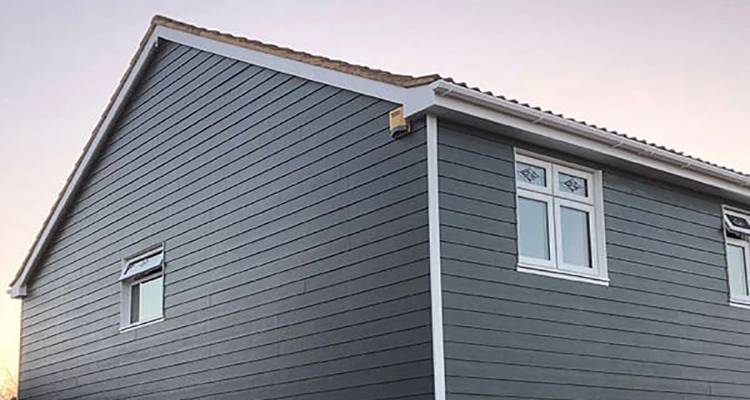 In order to fit the cladding on a second storey or higher, you will need to use scaffolding. This means you will be working at height. If you are not trained to do so, this can be dangerous, so should not be carried out by an unqualified professional.
Planning Permission for uPVC Cladding
For most homes, planning permission is not required for fitting external cladding. However, there are a few cases where you will need it. They are as follows
Listed Buildings
Homes in Conservation Areas or National Parks
Homes in Areas of Outstanding National Beauty
It will drastically change the appearance of the house
If all you plan to do is replace existing cladding with something similar in appearance them this is covered by permitted development. If you the cladding you choose is very different from what you had before as well as other homes in the area then, you may need to seek planning permission.
If you have any doubts, it is a good idea to consult your local planning office before you undertake any work. It is best to check then be forced to undo the work at a later date.
Building Regulations for uPVC Cladding
Building regulations cover a wide range of characteristics about your home. One of the things covered under building regulations is thermal insulation. As the cladding on your home has an impact on this, it can be subject to building regulations.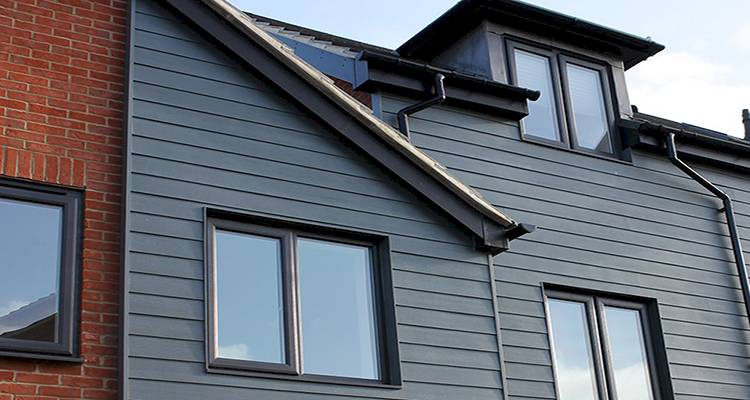 You are most likely to be affected if you already have cladding on your home. If you are replacing more than 25% of the cladding, then you will be subject to building regulations. The requirements are that your home meets a minimum standard of thermal insulation.
Most modern cladding should be of an appropriate level. However, if the thermal insulation in your home is very low and the walls, in particular, are bad, then you may need to install something like cavity wall insulation at the same time to make sure that you home meet the regulations.
Most tradespeople will be able to deal with building control for you to ensure that you do not have a problem. If your home is especially old and draughty, then you might want to consider asking building control to perform an inspection before you undertake any work.
They will do this for a small fee. This will give you all the information you need before you undertake any work.
Types of uPVC Cladding
Once you know that you want uPVC cladding your next decision is about the type of cladding you choose. There are two options to choose from. The difference is due to the shape of the boards.
Shiplap Costs
Shiplap cladding is a form of tongue and groove cladding. The outward-facing side of the board has a slight curve to it. This helps to speed the runoff of water. The average cost of uPVC shiplap cladding is £56 per m2.
Pros
✔ Longer lifespan – a minimum of 20 years
Cons
✖ More expensive
Open V Costs
Open V cladding is shaped to give a unique, open V-shaped appearance. It is quick and easy to install. It is usually made in thinner sizes. The average cost is £29 per m2.
Pros
✔ Cheap
✔ Easy to Install
Cons
✖ Shorter lifespan
Alternatives to uPVC Cladding
If you want to get cladding on your home, then uPVC is not the only choice. There is a wide range of options to consider.
Render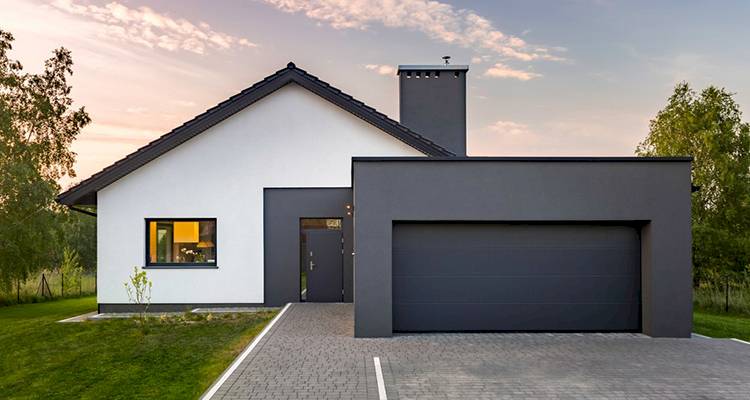 Render is applied in layers to the external wall of your home. It comes in different types and colours so you can get a range of different finishes. The average render cost is £40/m2; this includes labour costs.
Pros
✔ Cheaper option
✔ Provides thermal insulation
Cons
✖ Requires maintenance
✖ Less breathable
Timber cladding Costs
Timber cladding gives you home a very distinctive look. The wood can be applied in different patterns to create very different appearances. The average cost is £5/m2 for softwood and £40 - £45/m2 for hardwoods and treated timber.
Pros
✔ Lots of options to choose from
Cons
✖ More durable options are much more expensive
✖ Requires maintenance
Exterior Painting Costs
Painting the exterior of your home can be another way to provide protection from the elements. The average cost to have a home painted is £850.
Pros
✔ Cheap option
✔ Many colour options
Cons
✖ Needs redoing every 10 years
✖ Offers limited protection from the elements, and no added insulation
Pebbledash Costs
Pebbledash is a technique that starts with a layer of lime and cement render. Then a layer of aggregate or stone is laid into the render to create a decorative and textured finish. The average cost is £60/m2.
Pros
✔ Can cover up flaws in the construction of a building
✔ Wide range of materials to choose from
Cons
✖ Can grow mould if not cleaned carefully
✖ Can't patch pebble dash is part of it is damaged
Fibre Cement Costs
Fibre cement is made in pre-finished boards. These are then hung from the walls of your home to create a seamless and uniform finish. They are low maintenance and last a long time. The average cost is £31/m2.
Pros
✔ Range of colours and designs to choose from
✔ Low maintenance and high lifespan
Cons
✖ Higher installation costs
✖ Can be harder to get hold of
Metal Cladding Costs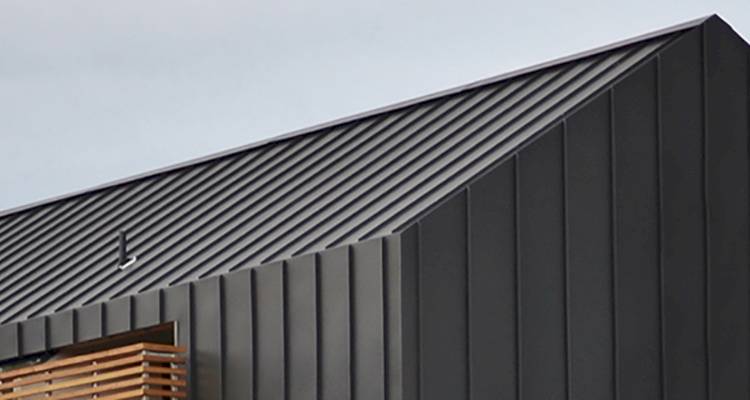 You have four choices of metal cladding material. These are steel, aluminium, zinc and copper. All of these can come pre-treated and powder coated to give you good protection from the elements and a consistent finish. The price of this cladding fluctuates a lot and will depend on the metal you choose. Prices start from £35/m2.
Pros
✔ low maintenance
✔ Distinctive appearance
Cons
✖ Easily dented
✖ Noisy in the rain
Cost of Removing uPVC Cladding
If you have cladding on your home already, it is important that it is removed prior to the installation of new cladding. Some disreputable installers will fit new boards over the old ones. This is called capping, and it should be avoided. Cladding that is installed in this manner does not last.
If you intend to replace the old uPVC cladding with new cladding, then the builder you hire will include this in the price that they quote you. It is not a challenging job, and the cladding from one side of a house can be removed in around ½ a day. The labour costs for this will usually be around £100 – £150.
You will also need to consider how you intend to dispose of the old uPVC cladding. Many companies will take away your old cladding when they fit the new panels. This is because it can be recycled to make new panels again.
If you are not getting new panels, you will need to see if your local tip will accept uPVC. Most will, but a small number will charge a fee to take a large amount.
If you are removing the cladding and not replacing it them, you may need to factor in some money to complete repairs to the exterior of your building. It is not uncommon for minor damage to be done to the outside of your home when the cladding is removed. If there will be no new cladding fitted to protect the wall, it will need to be repaired.
Before you remove existing cladding, you should be prepared to spend money to fix the walls underneath. You have no idea what may lay underneath until you have taken the old boards off.
Hiring Someone to Install uPVC Cladding Checklist
There are not many tradespeople who specialise exclusively in fitting uPVC cladding so you will have to look carefully to find someone you feel comfortable hiring.
It is not a technically challenging job, so most builders and carpenters should be able to carry out the work. Here are some things to look for to help you choose a tradesperson.
Have they done it before? If so, can you see their work and talk to their previous clients. Even if they have not fitted uPVC cladding before experience with timber cladding is still a good sign as the process is essentially the same.
Are they a member of any trade associations? These types of accreditation are not guarantees of quality; however, they can provide you with some protection in the case of a dispute.
What is their reputation like? It doesn't take long to find out about a tradesperson's reputation. Remember that people are often quicker to post criticisms than praise. So, if they have a good reputation online, then that is a positive sign.
FAQs
What is uPVC cladding?
uPVC is a type of plastic. It is a more rigid form of PVC. It is long-lasting and durable. One of the big advantages of uPVC is that it is very low maintenance. The most it needs is a wash every few years. This can be done quickly and easily with a pressure washer.

uPVC cladding is a much cheaper alternative to timber cladding. It is fitted to your home in the same way and performs the same job. It provides added protection from the weather. It is an excellent option for improving the insulation of your home.
Can you paint uPVC cladding?
uPVC is not designed to be painted. It is a low maintenance material, so painting is not something you need to do. You can buy uPVC in a wide selection of colours and styles. This includes fake wood grain options.

If you are determined to paint your uPVC cladding, it is possible. You should be aware that it is difficult to get a good finish, the paint may crack and peel over time and painting you cladding may void the warranty. You will need to buy a specialist uPVC paint, and the best option is to use a paint gun to apply it as any brush strokes will be very visible.
Is uPVC cladding bad for the environment?
uPVC is a plastic product which means that it was originally created using crude oil. However, unlike treated timber, for example, uPVC is completely recyclable.

It is highly probable that any uPVC cladding you buy will have been made from recycled uPVC windows, doorframes or cladding. The high level of recyclability of uPVC coupled with its long life means that is actually quite a good choice in terms of its environmental impact.
How much does uPVC cladding cost per square metre?
The average cost of uPVC cladding, per metre square, is £35. Usually, prices are quoted per board.
What is the standard size of uPVC cladding?
The standard length that you will buy uPVC cladding in is 5m. The height of the boards will vary and largely depends on the style of boards you pick—the size ranges from 100mm to 150mm.
Sources
https://www.homebuilding.co.uk/advice/cladding-a-house
https://www.self-build.co.uk/choosing-external-cladding/
https://ibuiltmyhome.co.uk/wall-render-houses.html
https://homereference.net/fiber-cement-siding-pros-cons/
https://www.planningportal.co.uk/info/200130/common_projects/18/external_walls/2

Last updated by MyJobQuote on 19th August 2020.