Cost of Hiring Scaffolding
Everything you may want to know about hiring scaffolding, including the costs involved and the time frames you should expect.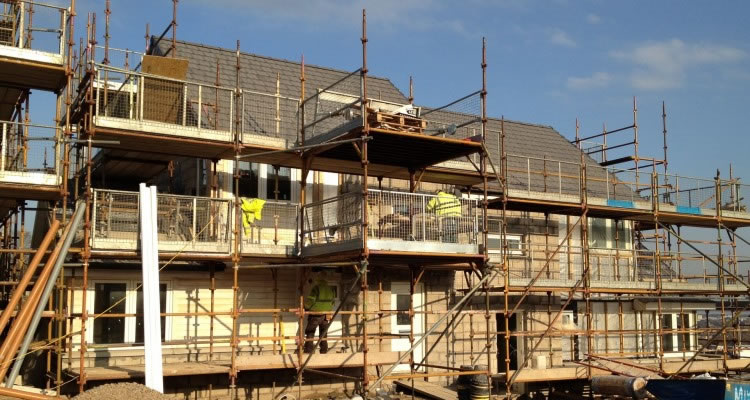 Average cost of hiring scaffolding
Depending on the size and complexity of the scaffolding, it usually takes: 4 hours
£625
Table of Contents
The current health and safety legislation in the UK insists that tradespeople must now use scaffold or platforms for access when working at height. The use of ladders is only approved for quick jobs, but for any prolonged work at height, the use of ladders is now discouraged through legislation. So for many jobs, such as roofing work, chimney restoration, exterior painting of upper levels, replacement windows and fascia etc, scaffold will be required. Typically, if you are getting quotes for a job that requires scaffolding, the tradesman will include the cost in the price, even though they will likely be using a scaffolding company, rather than erect the platform themselves.
So in most cases, householders do not have any actual contact with the scaffolding company, unless they are project managing a bigger job themselves. But if you do need to hire scaffold, then you need to ensure you get a professional and reputable firm. The best way to do find such a company, is through personal recommendation from those you trust. However, if this is not possible, then the free service on this website can be used to help you connect with local reliable trades people. All you need do is enters your details with a brief outline of the job you need doing, then tradesman then get in contact with a quote and further information. You can then compare prices and choose the tradesmen or company that you feel is best for the job.
Average Scaffold Costs
| Job Description | Duration | Material Cost | Labour Cost |
| --- | --- | --- | --- |
| To scaffold three sides of a typical two-storey semi-detached house | 1 day | £0 | £900 |
| A single side scaffold of up to 10 meters long with one or two lifts | 1 day | £0 | £565 |
| A single tower scaffold/gantry over a conservatory | 1 day | £0 | £420 |
| High-level scaffold for chimney work in middle of roof | 1 day | £0 | £820 |
Things to consider with scaffolding
Modern scaffolding is constructed of tubes, couplers, and boards. The tubes are usually steel or aluminium in standard sizes which can be cut to any desired length. The choice of metal depends upon the height and weight requirements. Steel is much stronger than aluminium, so tends to be used when they need to handle more weight. The boards used are usually seasoned wood in a variety of thicknesses depending again on the weight requirements. The coupler holds the entire system together. A scaffold is essentially made up of interlocking squares or rectangles which will be attached to the building with a tie.
The cost of scaffolding a house will depend on how many sides you need to cover, the height, and the type of scaffold. Single pole scaffold with one row of uprights is the cheapest, whereas independent or birdcage scaffold has two rows of uprights and is more expensive but great for ceiling work. A suspended or swing-stage scaffold is mostly just for window washers on tall buildings, but it can be used for other jobs. When hiring scaffolding you should speak to a local scaffolding company that is adequately insured with a valid training and competency certificate.
The HSE (Health and Safety Executive) has strict guidelines about the erection, supervision, modification, inspection and dismantling of all scaffolding. In the majority of cases, the tradesman you hire will discuss the scaffold needs with a specialist scaffold company and all you need to do is pay for it! It really is up to your tradesmen to assess the level of risk and use the appropriate equipment for the job. Fixing a single broken tile on a low roof may well be a job that can be done safely with ladders, but replacing an entire roof would not be the same, it really depends on the type and amount of work you are doing and the level of risk it involves.
Doing it Yourself
There are DIY Aluminium scaffold tower kits which use quick release clamps for easy assembly. When compared to working on ladders, these DIY towers are safer and more stable, and versatile enough to be used on a variety of jobs such as exterior painting or pruning tall bushes or trees. Generally, there are no tools required and the use of aluminium means they are strong but lightweight for ease of use can be moved by one person. They easily pack away and will usually fit comfortably into a small van or even an estate car. These DIY scaffold towers are available in heights ranging from 2m to 7m, with telescopic outriggers for extra stability.
However, while these DIY towers are much safer and far less tiring than working on a ladder all day, they will not be as stable and versatile a professional scaffolding erected for a specific job. They will of course usually be a lot cheaper, plus they can be reused time and time again for other jobs, whereas with professional scaffolding you are only paying for the erection and dismantling of the scaffold, along with a cost for the hire. So with a conventional scaffold, you would have a cost for every job, whereas with DIY scaffold you only have to buy it once! However, a DIY scaffold is only good for doing DIY jobs. If you need a tradesman to carry out some work for you, it is unlikely they will be happy using your own DIY scaffold!
Scaffolding Checklist
Scaffolders prefer large jobs, so don't expect small projects to be much cheaper!
Try to always use an NASC registered scaffolding company
Local scaffolding companies will usually cost less
Always check that the scaffolding company you hire has valid Public Liability insurance
FAQ's
Do I need a permit for scaffolding?
Many communities in the UK will require a permit before you can erect scaffolding to ensure that all safety standards are met and thereby reducing the potential for injuries. The scaffolding company should obtain the permit on your behalf, but it is your responsibility to check that they do.
Can scaffolding be moved?
Standard scaffolding units cannot and should not ever be moved. They are designed to be erected for a specific job and then to be dismantled. However, you can get special mobile scaffolding towers which can be used in more than one location. These mobile units have castor wheels so they can move them to any location as and when required.
What is the scaffolding minimal rental time?
Most scaffolding firms will require an initial rental period of six to eight weeks to make it worth their while, but there are scaffolders that will do a short-term projects.

Can Scaffolding be used on uneven ground?
Yes, uneven ground does not cause a problem for experienced scaffolding companies. The scaffold can be designed to ensure that the top of the scaffolding is completely level and safe, no matter how uneven the ground.
What are the payment terms for scaffolding?
In most cases, payment will be required when the scaffold is erected.
Last updated by MyJobQuote on 5th February 2020.