Boarding and Insulating a Loft
Cost guide for boarding and insulating a loft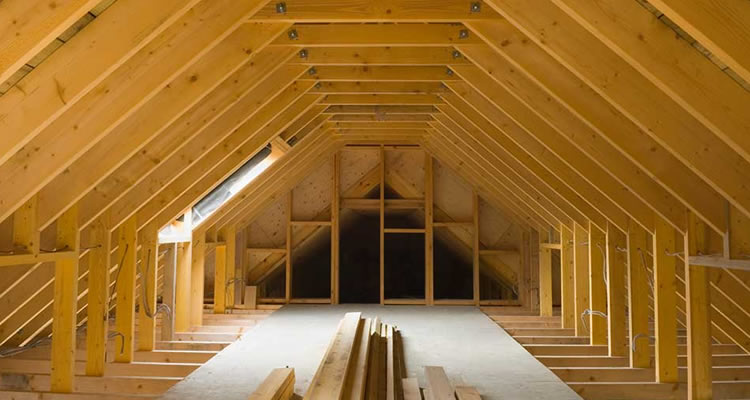 Average cost to board and insulate a loft
This job would normally take around 1 day
£900
Boarding and insulating a loft is a simple way to add extra usable space for storage. But bear in mind simply adding boards to the loft does not mean you can walk safely in the loft space or even store very heavy items. Your loft or attic is not designed to carry loads heavier than typical domestic storage items, in most houses, the upstairs ceiling was designed to be able to carry only 25kg per square, or around the weight of a very small child! The parts of the loft which were designed to take heavier weights such as water tanks are specially strengthened and reinforced for this purpose. Note also that you cannot simply insulate and board a loft and use it as living space, converting a loft into living space is a much bigger project.
Insulating and boarding out a loft can be done by anyone with some basic DIY experience, it is not a complicated job, though it is dusty and a bit awkward, requiring some dexterity and physical fitness. So, if you would rather have someone else take care of this on your behalf, a good handyman should be able to help at a reasonable cost. Myjobquote finds tradesman service for you and they make it quick and easy to find local contractors that can help you with boarding and insulating a loft. Just complete the simple form (only takes around two minutes) to get up to 3 quotes from local tradespeople. There is no need to contact multiple tradesmen by trawling through the local classifieds, just fill in one easy quote form and we'll do the rest!

Typical Costs Of Insulating And Boarding Out A Loft
| Job Description | Duration | Material Cost | Labour Cost |
| --- | --- | --- | --- |
| Partially board out the loft with chipboard decking around the hatch with no additional insulation | 4 hours | £100 | £120 |
| Board out the whole loft with chipboard no added insulation | 1 day | £220 | £245 |
| Board out complete loft raising joist height and adding some loft installation | 1.5 days | £550 | £320 |
Things to consider when boarding out your loft
Building Regulations are in place for good reasons and they specify a minimum depth of loft insulation to make sure you do not lose too much energy from your home through your ceilings and then into the loft space. But this loft insulation cannot be squashed down and will sit above the level of the rafters, this means you need to raise the height of your loft floor to board it out while keeping the level of insulation required. You can buy kits which lift the floorboards up above the joists far enough to get plenty of insulation down but still allow an air gap for good ventilation to avoid condensation. Once the loft is boarded out properly you can make much better use of the space for storage.

But if you want to convert your loft into living accommodation (an office or study still counts as living accommodation in regards to building standards) then you need to check to see if you need planning permission from your local Council and you will certainly need Building Regulation approval. However, to simply board out an existing loft to make it a more useful storage space, requires no planning permission or building regulation approval.
Doing it Yourself
Boarding out your loft is not a difficult job and is well within the remit of a competent DIY enthusiast. It is made much easier by the availability of kits from DIY stores with special loft panel flooring panels designed to fit easily through the average loft hatch and are just the right size for all common rafter layouts. When laying these panels you should ensure you have at least 270mm of loft insulation down first. But don't lay the boards right up to the edge of the floor space as you want to let the air circulate freely in the loft to avoid condensation.
Most lofts are dirty and very dusty, all in all, a pretty unhealthy environment. To work in lofts safely make sure you can breathe properly by wearing a filter mask. In addition, many find the insulation fibres may be irritating to the skin and eyes, so wear protective goggles and overalls too. The loft boards should be laid at 90 degrees to the joists and the ends should meet on a joist. Fix the boards by screwing them down rather than using nails as the disturbance caused by hammering can loosen the fixings on the plasterboard ceiling below. You should also take care to countersink all the screws so they do not protrude and damage items when sliding them into the loft.
You should note that getting insulation fitted up to the recommended 270mm is free from many sources, so fitting insulation to the loft as a DIY project does not make financial sense – get the insulation up to the recommended 270mm, then you can board the loft out yourself (or even better, pay a handyman to do it for you!
Boarding out your loft tips
Laying chipboard directly on the joists is cheap and easy but doesn't leave room for the recommended insulation depth
The loft can offer the ideal solution for extra storage space if you use the space to its best advantage
Loft boarding is fiddly and you'll be working in a cramped and dusty environment, not the most popular DIY project
Before you even think about laying boards, ensure that the insulation meets current Government depth guidelines of 270mm minimum
Hiring a Tradesman Checklist
Always get at least 2 quotes before hiring.
Never pay the full amount upfront.
Get the quote in writing.
For any payment you make, always get a receipt.
On more expensive jobs, ask for references.
Check if the tradesman is a member of any trades associations.
Make sure the tradesman has public liability insurance.
FAQ's
How can I get the 270mm of loft insulation material required and still board the loft to use as storage space?
You use a loft boarding system that allows you to have the recommended 270 mm loft insulation by raising the loft boards over the increased loft insulation, leaving an air gap to prevent condensation, while providing a secure storage area for your boxes, suitcases, Christmas tree and decorations, old photo albums and all the other assorted stuff that lives in the loft! These loft boarding systems allow you to board out your loft yourself as they are fairly simple to use.
How much loft insulation do I really need?
The required amount of loft insulation of 270mm is required on any new builds or extension projects under building regulations. However, owners of existing buildings are not required to increase their loft insulation, but it obviously makes sense to do so for the increased savings. Loft insulation is very cost effective and will soon pay for itself in savings on your heating bills.
Can I just board out my loft and use it as an extra bedroom?
No! A loft floor is not sturdy enough to be walked on, the rafters in your loft are there just to hold up the ceilings for the rooms below. Anything heavy in the loft will require the floor to be reinforced to take the extra weight. In addition, if you want to convert your loft into living accommodation, then you need to contact the Local Council to find out whether or not you need planning permission. Regardless of the planning requirements, you will certainly need Building Regulation approval.
Recent Jobs
I would like a loft insulated. I can supply materials if I know what I need.
Submitted by Belinda
Loft insulation for a community centre.
Submitted by Tim
We are looking for someone who is experienced in supplying & fitting loft insultation in a property in Saltdean.
Submitted by Jane
I would like my loft insulated and then boarded properly.
Submitted by Peter
Price per m2 to supply and fit 300mm loft insulation to two houses with good access.
Submitted by Mark