Average Cost of Pebble Dashing a House
Pebble dashing a home can give it a new look and curb appeal..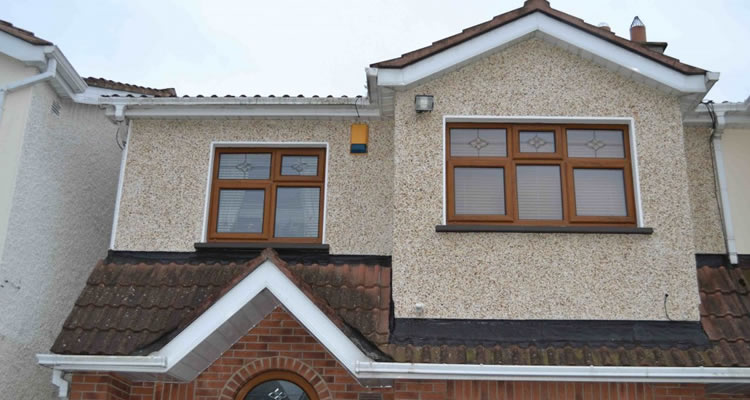 For a single-storey home, pricing can run between £2000-3500.
Duration for installation will take between 4-7 days.
£3500
Pebble dashing the home will give it an entirely new look. Whether there is damage to the siding, you are tired of the appearance or simply are ready to sell the property this is a great way to improve the aesthetics and also for you to increase the resale value of the property for sale.
It is important to hire the right specialists. From the right equipment being used to the appropriate steps being taken and best materials being used only those who are trained in this type of work are going to do it properly. This is not a project you should DIY over the weekend.
Removing rubble, rendering the siding, improving the roof and side appearance and cleanup work are all included in the cost you are going to pay for services. So, taking the time to find the best local contractor, ensures you find the most affordable pricing and also the most qualified specialists for the job.
No matter why you are ready to change the home, pebble boarding is a great way to improve the home's appearance. These are a few of the costs you will be expected to pay for services when the time comes for you to hire a local contractor to do the job.
Cost for pebble boarding the home.
| Job Description | Duration | Material Cost | Labour Cost |
| --- | --- | --- | --- |
| Semi Detached | 3-7 Days | £500 | £150 Per labourer per day |
| Detached Bungalow | 6-8 Days | £500-700 | £150 Per labourer per day |
| Terraced House | 6-8 Days | £500 | £150 Per labourer per day |
| Detached House | 1-2 Weeks | £600-800 | £150 Per labourer per day |
| Add Scaffold Cost To Above | N/A | £750-£1000 | £150 Per labourer per day |
What to consider before pebbling application.
Hiring a contractor. This is the most important step you have to take. This is not an easy DIY project so you have to hire a specialist. Taking time to find the most qualified and capable team will make a difference in outcome and the quality of their work.
Consider materials and finishes. Not all materials are equal in terms of quality. So, make sure the team you hire only uses the best material finishes and guarantees the work they perform when they are going to do this type of detail work on your home.
Consider the clean up, removal, preparing the property and all aspects which go into this type of service. Make sure your quote includes these costs as well as all labour costs so you don't have any surprises once the project is completed.
Make sure you ask all questions before starting any work and make sure you understand all guarantees and warranties so you aren't stuck with lackluster work and paying the full price for something which you are not happy with.
Doing it Yourself
No, this is not a simple project. Nor is it the type of job you can do over a long weekend. It is a job which you should hire a contractor to perform. Homeowners should not attempt a DIY project when it pertains to pebbling or doing any work with siding, the roof or exterior surfaces of the home. They are complex in nature and they are difficult to complete.
Hiring a contractor
Choose companies specialising in siding/improvement work.
Find out what materials they use, to ensure quality finishes.
Learn about the technique used when pebbling the home.
Inquire about guarantees and warranties for services.
FAQ's
How much will this work cost?
On the lower end, for a single-storey home, you should expect to pay a minimum of £2000-2500. So, budget accordingly when the time comes to hire a local contractor.
How long will it take to pebble the home?
Set aside a minimum of 3-7 days for a single-storey home. Make sure you inquire about setbacks or possible complications, in the event something does go wrong when the contractors are working, so you know how long these setbacks typically last.
Can I do this myself?
No, it is very difficult work to complete. It also requires use of commercial grade equipment and supplies. Most homeowners simply do not have the skill, knowledge or time to do a job of this magnitude on their own.
Last updated by MyJobQuote on 18th December 2019.