Cost of Removing Asbestos from a Roof
Guide to domestic asbestos removal and typical prices.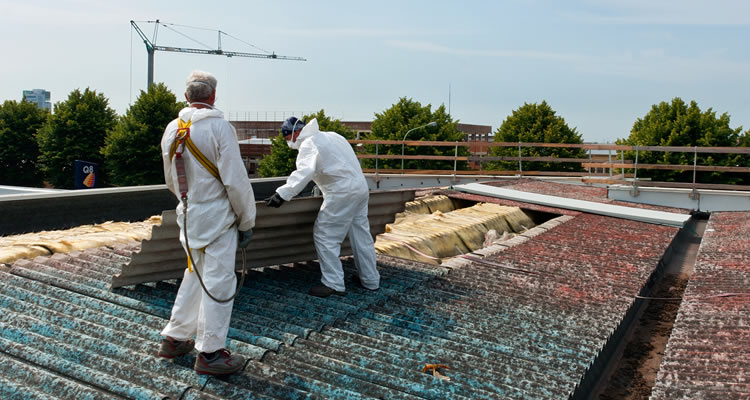 Average cost of asbestos removal from roofing
This job normally takes around 3 weeks
£2,500
Asbestos used to be one of the most popular building materials due to its ability to absorb sound and to provide thermal insulation. Unfortunately, the dangerous side effects were not known until much later. Today we understand the many dangers of asbestos which far outweigh any possible usefulness of the material. However, asbestos is still to be found hidden in many buildings around the UK, though it hasn't used in construction since around 1980. Asbestos was often mixed with other materials when used in building so can be hard to identify unless you are an expert, which makes it all the more important to understand just how dangerous this material is, and why you need a qualified professional to safely remove it.
If you even suspect that asbestos may be present in your property, then make sure you find a professional in your local area with the necessary qualifications and experience to assess the safety impact and carry out the safe removal if required. Ideally, you should always try and get a minimum of three written quotes. This is easy to do with Myjobquote by filling in one simple form and letting local tradesmen get in touch with you to offer more information including written quotations. But when it comes to asbestos, make sure everyone you approach has the experience to safely remove and dispose of the material, and also check they have the necessary insurance cover for this type of work.
Typical prices for asbestos removal
| Job Description | Duration | Material Cost | Labour Cost |
| --- | --- | --- | --- |
| Professional surveyor to accurately assess presence, quantity and risks | 4 hours | £0 | £200 |
| Cost of Asbestos Encapsulation is per square metre | NA | £2 | £6 |
| The cost of completely removing asbestos per square metre | NA | £10 | £40 |
| Typical asbestos roof removal costs | 2-3 weeks | £1000 | £1500 |
Things to consider regarding asbestos and its safe removal
There have been many cases of people who worked with asbestos decades ago only to be diagnosed with lung cancer much later. Asbestos is one of the major causes of mesothelioma, a particular type of lung cancer, it can also cause asbestosis or scarring of the lungs. Asbestos causes damage to the lungs when it is breathed in, the body cannot remove all the fibres and over years more and more particles of asbestos become trapped in the lungs causing damage. Some types of asbestos constitute more of a danger to health than other types, but all types of asbestos need to be handled professionally with the utmost care. If you think your property may have asbestos do not try to remove it on your own. The safest option is to leave it where it is and contact a qualified professional to investigate. If asbestos is found there is no need to panic, provided you stay away from it and don't disturb it you should be perfectly safe.
Asbestos encapsulation is an alternative method for dealing asbestos where the material is sprayed with a resin coating that will protect the asbestos from degradation and prevent the dangerous fibres being released into the atmosphere where they can cause damage. Asbestos encapsulation services are typically guaranteed for 25 years or more and they are a particularly safe choice when the asbestos is difficult to access. Asbestos encapsulation is also a quicker process and usually much cheaper.
Doing it Yourself
This DIY section for asbestos removal is going to be pretty short – don't do it! This is one job that really is best left to the professionals, mistakes made dealing asbestos can have potentially fatal consequences even decades later. It is hard to identify asbestos if you are not trained to do so, so if you think that you may have seen some, do not to go prodding around at it or disturb it in any way, as it is safe as long as it is not disturbed and the fibres have not been released into the air. You should contact a professional for advice even if you just think you MAY have any asbestos (if your property was built between 1950 and 1990 you may well have). If you do have asbestos materials in your home, never ever try to remove them yourself, you will need a qualified contractor who has been licensed by the HSE (Healthy and Safety Executive).
If you really want to save the money and are determined to remove the asbestos against all advice. Then you should take all possible precautions including wearing a face mask and overalls. Soaking the asbestos can help to prevent the fibres escaping and when finished the asbestos, along with any gloves and overalls used, should be double bagged in thick plastic and disposed of properly at your local waste recycling centre.
Asbestos removal checklist
The cost of asbestos removal in the UK depends on where you live and the quantity of asbestos that needs to be removed
Many houses in the UK built before the late 1990s, will likely have some asbestos present
Undamaged asbestos is not harmful, but if damaged the dust can be inhaled and cause serious diseases of the lungs that are often fatal
It can be difficult to identify asbestos as it is often mixed with other materials
FAQ's
Is it required by law to have a full asbestos survey?
No, there is no law that says you have to have a survey done, but if you think your property might contain asbestos it makes sense to go ahead and have a survey done for safety reasons. If you are responsible for a commercial property, you do need to find out whether or not any asbestos is present ad what condition it is in. Specialised surveyors are trained and experienced in surveying for asbestos containing materials and identifying the type of asbestos, the location and the quantity.
What materials can contain asbestos?
Asbestos can be found in the materials used in roofs, ceilings, walls and floors. You can also find it in pipe lagging, insulation boards, cement products, textured coatings and even brake linings.
What types of asbestos are there?
Asbestos can be broadly categorised into six different types, each of which is a particular colour: chrysotile (white), amosite (brown), crocidolite (blue), tremolite, anthophyllite and actinolite. Only chrysotile, amosite and crocidolite were used commercially in the UK.
Asbestos has been found in my building, what should I do?
Asbestos is usually non-threatening to health if undamaged as it is the fibres becoming airborne which cause health problems, but the location needs to be recorded and regular safety checks are required on the condition of the material. Alternatively, asbestos can be encapsulated by coating it in a special sealant to prevent any fibres from escaping, or it can be removed completely by a licensed contractor with a current asbestos removal license.
Last updated by MyJobQuote on 7th May 2019.