New Bath Installation Cost
Want to know how much a new bath costs to install? In this article we look at bathtub prices for different styles and quality, as well as the cost to hire a bathroom fitter to install one.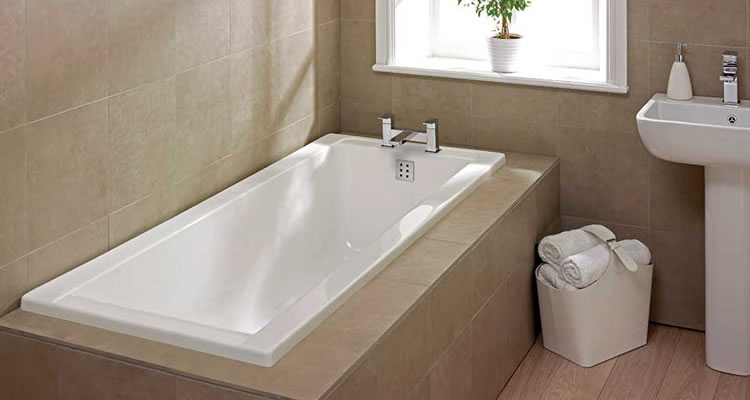 Average Cost of Supplying and Fitting a New Bathtub
This job normally takes around 4 hours to complete.
£850
How Much to Fit a Bath?
Usually, the bathtub is replaced at the same time as the rest of the bathroom furniture as a set, but sometimes the bath will need replacing sooner than the basin or toilet due to leaking or damage and the budget may not be available to refit the entire bathroom at the same time.
Bathtubs come in various shapes and sizes and are made from various materials. The cheapest type of baths are rectangular baths made from acrylic, which are often sold as a set with a matching basin and toilet. Acrylic bathtubs can be sturdy, but the cheaper ones are almost always thin and easily damaged. Steel baths are far more sturdy and cast iron baths are by far the most preferable, however, they cost considerably more than almost any other type of bath.
When looking for a bath bear in mind that if you plan to use a bath seat and hoist, these can usually only be used with stronger metal baths, whereas plastic baths are available in more styles and sizes, plus many already have built-in handles and/or seats.
Shallow baths are handy if you have limited strength or mobility, but you'll still have to lift your legs over the rim. Walk-in baths are much easier as they have a door so you can walk right in without stepping over anything, then simply close the door and run the water - but they are also much more expensive. Whirlpool/jacuzzi baths are even more expensive but can help to soothe aches and stiffness.
Fitting a bath as a DIY job is relatively straightforward if you are comfortable with simple plumbing and are physically fit, otherwise, best to hire an experienced local tradesman. The free service on this website is simple to use and will allow you to receive up to 3 quotes from one single enquiry form. Simply enter details of the job you need doing along with your contact details, then sit back and let tradesmen get in touch with you to offer quotes and advice!
Average Costs for Having a New Bath Installed
The cost of installing a bath can change depending on the style you are going for. There are loads of types of bath tubs to choose from for example standard, corner, freestanding, shower baths and whirlpool baths. Prices range from £300 to £1000 depending on which you decide to opt for.
| Job Description | Duration | Material Cost | Labour Cost |
| --- | --- | --- | --- |
| Budget range acrylic bathtub supplied and fitted | 4 hours | £110 | £200 |
| Steel bathtub supplied and fitted | 4 hours | £170 | £200 |
| Cast iron bathtub supplied and fitted | 4 hours | £800 | £200 |
| Walk-in bath bathtub supplied and fitted | 4 hours | £1000 | £200 |
Things to consider when replacing a bath
The bath is probably the biggest and most expensive piece of furniture you'll install in your bathroom – so it's crucial that you get it right! Starting with the easy, practical stuff, make sure you know exactly how much space you have available for your bath. But even if you have plenty of room, remember that a bigger bath will take longer to fill and won't stay as hot for as long. That being said, you definitely want the bath big enough to stretch out in if at all possible, but not so big that some may struggle to get in or out! Once you have decided on the size, next you have to choose the style. There are many styles and types to choose from including an alcove-style tub, the classic claw-footed free-standing tub, a drop-in or under-mounted bath. You should easily be able to find your design in a colour that matches your bathroom, or of course, you could restyle your bathroom around your new tub! Finally, there are probably more options for bathtub material than you knew.
Acrylic tubs are popular because they're cheap and easy to install, whereas enamelled cast iron or porcelain tubs are strong and sturdy classics (but are heavy and may require underfloor support). You can also get tubs made from cultured marble, fibreglass, brass, granite and steel – each with their own advantages and disadvantages.
Whatever style, size and material you choose, don't be tempted by the cheapest price, there are lots of good deals available but make sure you're getting a bath that's high-quality enough to last for many years. That ideal bathtub is out there, but it may take some time to find! Another important choice is the cost of removing the existing bath and disposing of the waste, depending on the type of bath and the fixtures, there may be scrap value to them, but if not, check with your tradesman about waste disposal.
How to Fit a Bath
One of the biggest decisions you need to make when it comes to a bath upgrade is whether you will do the job yourself, or hire a tradesman. Unless you are well versed with plumbing and tiling, finding a local expert may be the best bet. An expert installation offers a number of advantages such as a single price for the job covering all aspects of the installation agreed up front, plus peace of mind knowing that an expert will be doing the job properly for you!
But if you really want to do the job yourself to save some cash, then ensure you use a cable/pipe/stud detector to find safe and secure fixing points, ensure the taps you choose are compatible when ordering a bath, and remember to isolate the water supply before you start! Try and choose a bath that is similar to the old tub so you can use the existing pipework and there is less plumbing work to do and less chance of leaks afterwards! Finally, always ask a qualified electrician whether or not the bonding and earthing arrangements in your bathroom will need to be improved when you remove the old bath for safety reasons.
Getting a new bath checklist
Bath prices vary considerably depending on size, design and the material
Baths are generally the most expensive fitting for your bathroom
If you have a separate shower you can indulge in a bath which is more stylish than functional
Free-standing baths are incredibly popular but you do need plenty of space
FAQ's
What accessories and fittings do I need to buy for my new bath?
There is a wide range of bath accessories that you can choose from to add an elegant finish to your bathroom. The most obvious being the taps, shower attachment and side panels.

What different types of taps are available?
There are too many to list, but the most popular types of taps include mono mixer, pillar, wall mounted, deck mounted, shower mixer and floor standing.

What to consider when choosing my new tub?
Your bath should last you a very long time so you should splash out (pun intended) and make sure your new tub meets your every need in terms of both comfort and style. The most important practical consideration is the available space, but other things you should keep in mind include the location of your current drain or waste pipe, the width of the bathroom door, the weight of the new bath, the material (cast iron, steel, acrylic) and the accessories you may like.
Bath or a shower?
There's nothing quite like a relaxing bath at the end of a long day when you need to unwind. But a bath is something of a luxury in smaller homes. Having a bath and a shower is obviously the best solution, but this is not always possible. But there are a few points to consider before choosing a bath or a shower. First of all, baths typically use more water (around twice as much), baths make you cleaner as soaking removes dead skin cells, plus baths are more relaxing.
Last updated by MyJobQuote on 15th June 2020.