Cost of Having Solar Roof Tiles Installed
Prices and information on solar tiles.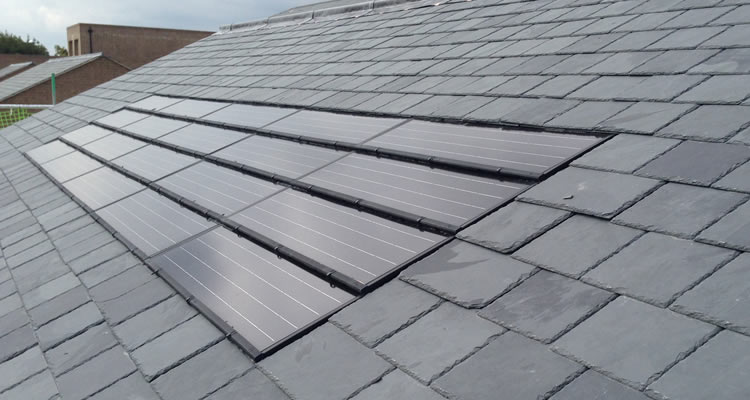 Typical cost for supplying and installing solar roof tiles is around
This job would take around a weeks to complete
£12000
Solar Panels are now becoming almost a familiar sight on roofs in the UK, solar energy has evolved over the last few years and the prices have decreased tremendously, making them affordable for almost all homeowners to install them. New and improved technologies have also made them more efficient with a higher power output and lasting much longer. Solar panels even look better than they used to, sleeker and more futuristic. You can even now buy solar roof tiles which have a similar appearance to conventional roof tiles, but even though these are less obtrusive they cost a lot cost more than solar panels and are less efficient too.
But after taking the USA by storm with the involvement of the Tesla company, they are becoming more popular as an alternative in the UK. With an integrated Powerwall battery, energy collected during the day is stored and made available anytime, effectively turning your home into a personal utility. the Tesla glass solar tiles are warranted for the lifetime of your house, they are incredibly durable, over three times stronger than standard roof tiles. If you decide to go ahead and fit solar tiles to take advantage of this renewable energy source, you will need the services of a professional installer to make sure you get the most from this technology.
Use the free service on MyJobQuote.co.uk to post details of the job you need doing and leave your contact information, then you will have up to three local contractors get in touch with you to offer quotations and advice. With solar tiles all the roof tiles are replaced but not all need to be solar ties, the actual amount of solar tiles required will vary depending on the power requirements, but all tiles are replaced so the roof looks uniform.
Typical solar tiles supply and installation costs
| Job Description | Duration | Material Cost | Labour Cost |
| --- | --- | --- | --- |
| Roof tiles replaced with 1kW solar tiles | 7 days | £7000 | £1800 |
| Roof tiles replaced with 2kW solar tiles | 7 days | £9000 | £1900 |
| Roof tiles replaced with 3kW solar tiles | 7 days | £12000 | £2000 |
| Roof tiles replaced with 4kW solar tiles | 7 days | £14000 | £2200 |
Things to consider with solar tiles
The price of a solar tile system will depend on the size or amount of power required, and the quality of the tiles. The best solar tiles are the ones that produce the highest percentage of usable electricity, in other words, the most efficient. As with most things in life, you get what you pay for when it comes to solar technology. So if possible choose a well-known brand which has a good reputation for reliability and quality. The most well-known brand in the solar tile industry right now is without doubt Tesla, their solar roof product has recently launched in the USA and is already incredibly popular, so popular that they have started taking deposits from UK customers to hopefully begin fitting in 2018!
Other top solar tile brands worth a mention are Solarcentury and Solar Slate. Solar panels are already the most popular type of renewable energy in the UK over half a million homes already equipped with panels, but the uptake of the new solar tile products is expected to surpass this within a few years. The government incentives for solar have had a lot to do with the huge popularity, but the money is starting to dry up now and the benefits have been reduced. However, it still possible to make money from solar power even after all the government cut-backs, so you can still eventually recoup your entire investment and also start to profit! Payments are tax-free and index-linked for 20 years, plus of course, any electricity you generate but don't use can be sold back to your electricity company.
With UK energy bills expected to double by 2020, even with the high cost of the initial investment in products like solar tiles, making the switch to solar energy is still a great idea financially and environmentally. Soar tiles make perfect financial sense for new builds and for those who need a new roof in any case, as these tiles are built into the roof just like normal tiles, so the best (and cheapest) time to install solar tiles is during the construction of the (new) roof.
Doing it Yourself
The main problem with installing solar roof tiles is their initial cost. The tiles are more expensive, up to double the price of solar panels, with the labour costs for installation a big chunk of that cost. So a DIY installation seems to make perfect sense. This means you can have discrete solar power from a conventional looking roof. However, installing solar roof tiles must be done by a certified installer otherwise you cannot take advantage of the government incentives.
Your installation has to be certified by an MCS installer otherwise you cannot claim the tax-free payments from the government Feed-in tariff, which are index linked for the next 20 years! So you need to carefully work out how much you are saving on installation costs, then balance that against the loss of government tax-free payments from the Feed-in Tariff scheme. To get the tax-free payments both the manufacturer and the installers have to be MCS (Microgeneration Certification Scheme) certified. You will then be issued with an MCS certificate once your installer has registered your completed installation and you can begin the process to claim the payments.
Solar roof tiles checklist
Solar roof tiles are as much as double the price of solar panels
Solar roof tiles are are also less efficient with an efficiency rating between 10% and 20%
Tiles are more complex than panels so are not a suitable for DIY installation
The small size and discreet appearance of solar tiles means they look just like conventional tiled roofs
FAQ's
Do solar tiles look just like slate tiles?
They do not have quite the visual appearance of slate as solar tiles still have a blueish crystalline surface, but they do look much less conspicuous than solar panels.
Will I be better off with traditional solar panels?
Whether solar tiles or solar panels are best for you depends on your circumstances and budget. If you are replacing your roof in any case then you should seriously consider solar roof tiles as the cost will be comparable to having the roof replaced, or often less, plus you get free electricity for over 20 years. In addition, if you are in a house with a listed status or within a conservation area, often you cannot install solar panels, but solar tiles may be OK.
How do solar slates work?
Solar slates (aka solar tiles) work just the same as traditional solar panels, they are made up of photovoltaic cells that produce electricity when exposed to light. The solar shingles are attached by electrical leads to a connection point where the electricity is stored for use. So they are just small solar panels which look like roof tiles.
Do solar tiles need any maintenance?
There are no moving parts and nothing to rust or wear, so solar tiles require minimal maintenance. They really just need to be kept clean and clear to keep them in good working order.
What are the advantages and disadvantages of solar tiles?
Advantages of solar tiles are they look better and can be installed in listed buildings and in conservation areas. The disadvantages are they are more expensive and a bit less efficient than solar panels. Plus you have more choice as there is a wider range of manufacturers and installers selling solar panels, whereas roof tiles are so new there are only a handful of companies involved right now.
Last updated by MyJobQuote on 7th May 2019.