Composite Decking Prices
Want to discover the price of composite decking?
On average, it'll cost £1000 to install composite decking in your garden. It will depend on the size and type of composite decking you choose.
So, how can this cost guide help?
This handy guide will give you a clear look at how much composite decking will cost overall.
Let's continue below...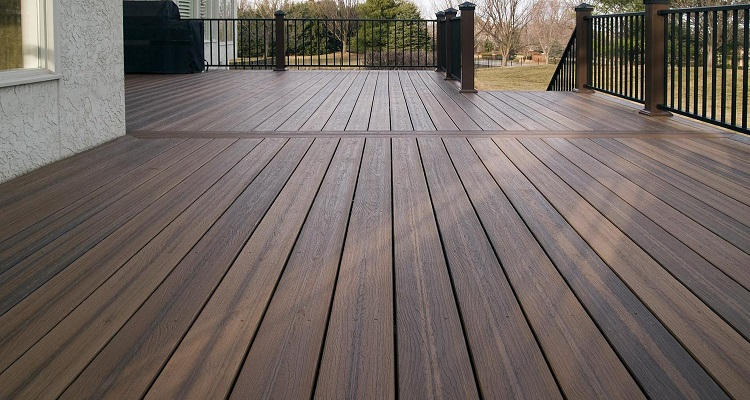 Average Cost of Installing Composite Decking:
Depending on the complexity of the job, it usually takes: 1-3 Days
£1000
How Much for Composite Decking?
Composite decking is quickly becoming the most popular timber-alternative for garden decking for a wide variety of reasons stemming from price to maintenance, and we'll explore all of those reasons throughout this article.
Composite decking is an artificial material made from wood and plastic fibres that are held together with a bonding agent. The materials are heated and bonded together to ensure a sturdy core that outlasts timber by an astounding amount of time.
Now, the initial outlay for composite decking is a little more expensive than your standard timber material, but it lasts twice as long, making it a far better investment than timber.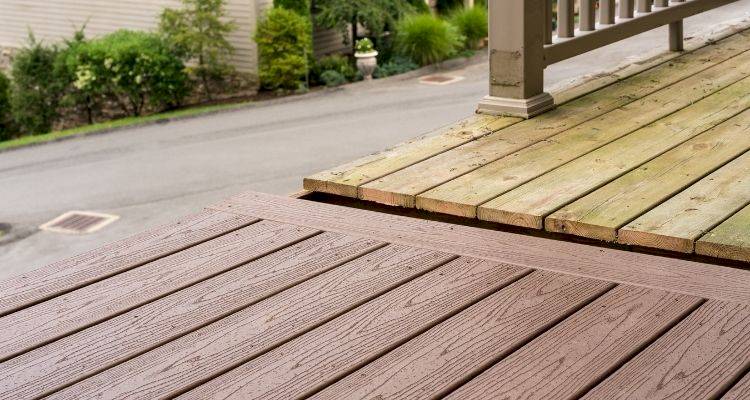 You have a few options with composite decking, and they vary quite widely in price. Firstly, you can install uncapped hollow core composite decking, the cheapest but weakest option, with an average price of around £925 for 15 sqm.
Secondly, you can choose the stronger and more expensive uncapped solid core composite, costing around £1,300 for the same surface area. Lastly, you can select a capped solid core composite, costing £1,600 for 15 sqm.
There is another material called PVC decking that has proven to be an excellent alternative to timber as well; however, it can be a little flimsier than composite.
Composite Decking Prices
| Job Description | Duration | Materials Cost | Labour Cost |
| --- | --- | --- | --- |
| Hollow Core Uncapped Composite Decking 15 sqm | 2 Days | £525 | £400 |
| Solid Core Uncapped Composite Decking 15 sqm | 2 Days | £900 | £400 |
| Solid Core Capped Composite Decking 15 sqm | 2 Days | £1200 | £400 |
| PVC Composite Decking 15 sqm | 2 Days | £600 | £400 |
Supply Only Costs
Focusing solely on the material cost aspect of the job, the price varies quite considerably depending on the material you choose. You can actually get some great deals on your supplies by shopping for them yourself instead of instructing the contractors to purchase them on your behalf.
You also get a much better idea of the different styles, colours and designs available before settling on one.
Uncapped hollow core composite decking will cost around £35 per sqm, with a standard 15sqm area costing £525 for the materials.
Solid core composite is much stronger and is available in both capped and uncapped versions. The capping is an added piece of protection to keep out mildew and mould from affecting the boards and naturally costs a little extra.
Uncapped solid core composite costs about £60 per sqm and capped solid core composite costs around £80 per sqm.
PVC decking is the cheaper than the solid core, but more expensive than the hollow core, coming in at around £40 per sqm.
Additional Costs
When you're planning a composite garden decking installation, think about any additional costs that could take money away from your budget. Once your decking has been installed, your garden may all of a sudden look past its prime next to a brand-new garden decking feature.
In this case, you could consider the possibility of laying new garden turf to complete your garden's transformation. You can discover more about laying garden turf in our article here, including a price guide.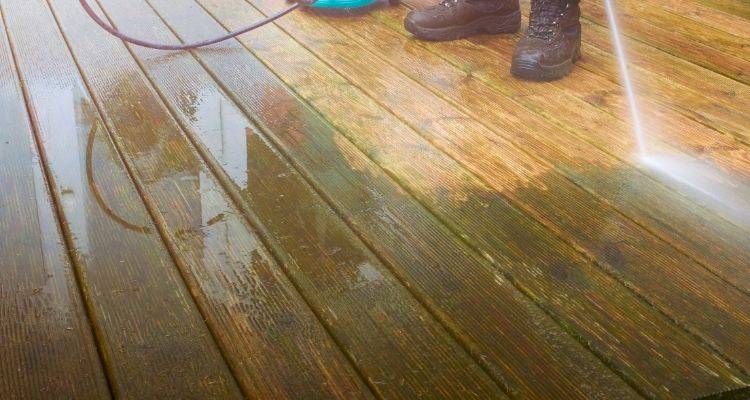 Another ongoing cost could be the maintenance of your garden. Most people are guilty of neglecting the maintenance on their garden with the exception of quarterly lawnmowing.
Still, your property will be in a much better state if you regularly maintain this area. Take a look at our article on garden maintenance to find out how regular maintenance might be more affordable than you think.
Labour Costs and Timescales
Contractors will typically charge around £200 per day for installing composite decking, which will cover the labour aspects of their workforce.
A lot of the time will actually be spent preparing the area on the first day, by digging and levelling out the ground ready for the supports to be put in place for the decking. This can be a lengthy process as any mistake at this point can really impact the accuracy of the final job.
We'll explore the process of installing the decking later on in this article to give you an idea of what you can expect from the contractors working on your decking.
Cost Factors of Installing Composite Decking
The first major cost factor for installing composite decking is the materials you choose. Hollow-core and solid care have widely differing prices due to the massive chasm in quality between the pair.
Similarly, there's a huge difference in price between capped and uncapped composite decking, even though it's more than a worthy investment, it still certainly adds to the final cost.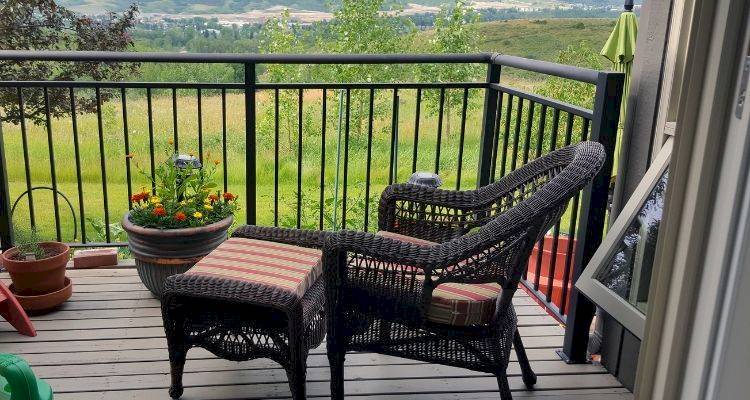 The quoted price can also differ depending on the state of your garden, particularly where you're hoping to have the decking laid. If there's a lot of work required to bring the area up to a standard of which the decking can be safely laid, this will be added to the labour costs.
The same can be said if there are accessibility issues with where you want the decking installed, especially if you have small corridor-like areas leading to a wider decking area. The price will alter your personal situation.
Lastly, the price will alter depending on whereabouts in the country you are. Big cities like London and Manchester have a higher cost of living, meaning the cost of trade jobs increase in tow. So, in those areas, you can expect to pay higher than the national average for trade jobs.
What's Involved in a Composite Decking Installation?
Here's a step-by-step guide to give you an idea about hoe your decking will be installed:
The composite boards of your choice will be lay on the floor in order to ensure everything is on hand.
The deck frame will be built, with the structuring feet embedded into the ground and joists ran throughout the frame to ensure complete stability.
After that, a start/stop clip will be screwed into place to hold the first panel firm for the other panels to be lined up with.
The first panel will be secured in place with screws and clips to ensure it's fixed completely with no chance of it sliding or slipping.
After all of the boards have been lay and secured, there will be holes cut into the boards to allow for the posts and railings.
Centre boards will be lay in the centre, in an adjacent direction to the other boards to help them stay in line further.
There are more structural and alignment technicalities that the contractors will install, but the guide provides a good clue as to how you can expect to see your decking take shape.
Can I Install Composite Decking?
Decking installation requires an enormous amount of careful measuring, balancing and levelling, something which professionals are best suited at carrying out themselves.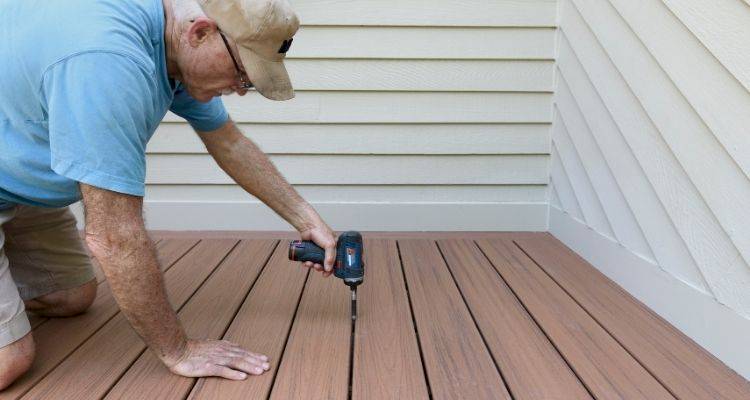 There are some risks with installing the decking yourself, and not doing it correctly. For instance, an unbalanced decking can put too much stress on certain support points, causing them to topple and bring the entire decking structure in a mess.
If anyone is stood on the decking at the time, it could cause some injury. Poorly constructed decking can also reduce the value of your home when you come to sell it, and in some cases, can prevent people from buying your home. This isn't a job for a DIY enthusiast, as the risks are too high, both for personal injury and of a poor end product.
Building Regulations & Planning Permission for a Composite Decking Installation
Garden decking, along with other raised platforms, are permitted to be built in your garden without the need to apply for planning permission providing that it's no higher than 30cm from the ground and doesn't cover more than 50% of the garden.
Choosing Composite Decking
There are three main types of composite decking to choose from:
Hollow Core Decking Cost
Hollow core decking is most probably the cheapest option, if you're on a budget. For 15m2 it'll cost around £925.
Pros
✔ Cheapest composite decking material
✔ Available in a wide array of styles, colours and designs
✔ Resistant to mildew, mould, algae and other ailments typical with timber decking
Cons
✖ Not as strong as solid core decking
✖ Still more expensive than timber despite being the cheapest composite
✖ Composite designs and colours are permanent
Solid Core Decking Cost
Solid core decking is the expensive option for composite decking and for 15m2 it'll cost around £1300 to £1600.
Pros
✔ Available in a wide array of styles, colours and designs
✔ Resistant to mildew, mould, algae and other ailments typical with timber decking
✔ Extremely strong and hard-wearing
✔ Requires next to no maintenance
Cons
✖ The most expensive composite material
✖ Composite designs and colours are permanent
PVC Decking Cost
PVC composite decking is a mid-range option and costs £1000 for 15m2.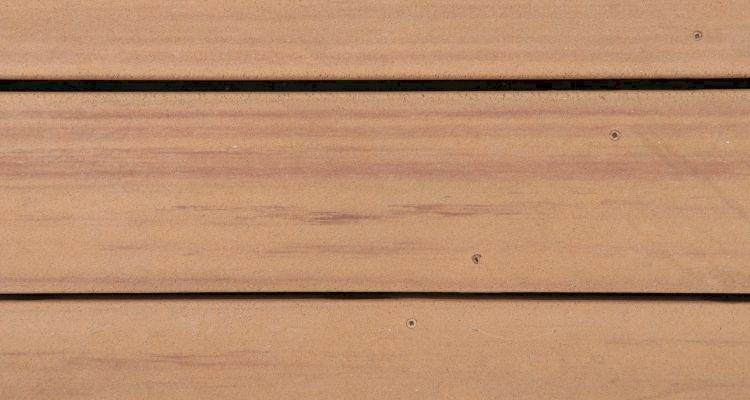 Pros
✔ Clean, shiny finish in a variety of colours and designs
✔ Resistant to mildew, mould, algae and other ailments typical with timber decking
✔ Requires next to no maintenance
Cons
✖ Shows scratches and scuffs quite easily
✖ Composite designs and colours are permanent
✖ Can look a little cheap and flimsy
Benefits of Installing Composite Decking in Your Garden
Durability
The durability of traditional timber decking leaves a lot to be desired. The constant barrage of bad weather, wind and, of course, regular use eventually leads to a breakdown of the timber resulting in splintered, worn and damaged decking that looks far past its best.
Composite decking takes all of these worries away, as the material is incredibly hard-wearing, and repels algae, rot and scum invading the decking area.
Low Maintenance
Timber decking usually requires pretty strong jet washing to clean properly, in conjunction with costly and harmful chemicals.
However, composite requires little to no maintenance, with just a simple hose down on occasion serving as enough to keep it in great shape.
Sustainable
Composite materials are man-made, and therefore very sustainable. Made up of a combination of wood and plastic, old recycled materials can be used to create a composite, and old composite can be recycled and used again.
This is a wonderful feature and the real future of materials that requires very little energy and natural resource consumption.
Aesthetics
Timber is fairly limited in the sense of colour and design. Even painted wood absorbs and shows colours very differently depending on its natural colour.
In addition, you're pretty much stuck with a wood grain design or no design at all. With composite, the options are pretty much unlimited, with a whole array of colours and designs available to suit your décor and design plans.
Value
Timber degrades, and it degrades pretty quickly, meaning you could be replacing your decking every 4-5 years depending on how much use it has had. In comparison, composite will last about 15 years regardless of use or weather.
Now, it may be a little more expensive in terms of the initial layout, but the value for money is three times what it is for timber materials, making it more than a sound investment.
Cost of Removing Composite Decking
If you've moved into a home with composite decking, or you simply want to give your garden a new look, you may want to remove some existing composite decking from your garden.
Naturally, it's far easier to tear something down, than it is to build it correctly, so this could be done as a DIY project if some steps are followed. Firstly, don't try to rip the structure away; it will have been built to be strong and withstand some pressure.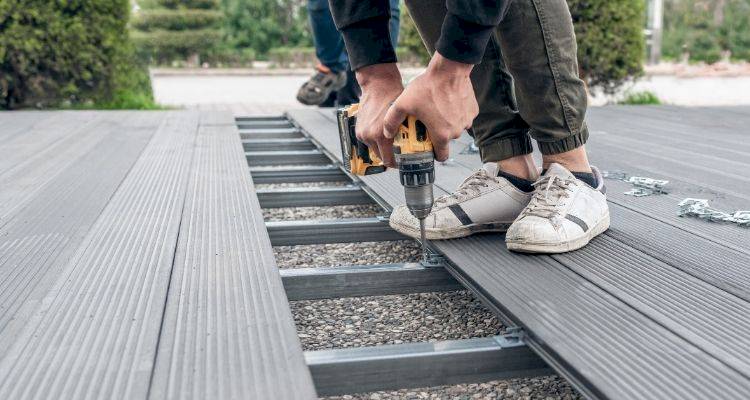 So instead of wasting time, energy and possibly an injury, take the time with a drill to unscrew all the screws that keep the structure in place, removing the materials and safely setting them aside.
Once the structure has been taken down, dispose of the materials correctly either by way of a skip or a recycling centre. If you wanted someone to complete this job for you, you should look to pay around £100 for half a day's labour.
Hiring Contractors to Install Composite Decking Checklist
The key to hiring a great contractor is to conduct plenty of research before hiring them by looking at reviews and ratings from previous customers that utilised their services.
You can find this information online by checking out websites like Google and Yell, but if you can't find them online, ask them for examples of their work.
You should always ensure that they are properly accredited, qualified, experienced and insured before hiring them to work on your home.
FAQs
Can you lay composite decking on top of grass?
You can lay composite decking on dirt and grass, provided that it's perfectly level and flat enough to serve as a support for the decking structure.
How do you clean composite decking?
The key to keeping your composite decking clean and well-maintained is to sweep it regularly to keep it clean and to remove stagnant standing water regularly to prevent the build-up of any scum or algae.
Does composite decking have weight limits?
On average, decking is designed to support up to 50lbs per square metre. So, try to keep the weight far below that to avoid any issues.
Can I upgrade my timber decking to composite decking?
You can certainly use the current supporting structure, providing it's still in a good state, to serve as the base for a composite material upgrade. This should save you some money on the overall cost.
What different features can composite decking come with?
Composite decking not only comes in a range of colours, designs and styles, but composite decking boards can also come with inbuilt LED lights that make for excellent decoration, particularly during summer evenings.
Sources
https://trustedpros.ca/articles/decks/pros-and-cons-of-composite-decking
https://www.ultradecking.co.uk/
https://www.edecks.co.uk/blog/index.php/decking-advice/the-ultimate-decking-guide-types-of-decking-how-to-pick-the-right-one/
https://www.planningportal.co.uk/info/200130/common_projects/11/decking
https://sherwoodlumber.com/pvc-vs-composite-decking/

Last updated by MyJobQuote on 4th August 2022.