Roof Tile Replacement Cost
Want to know how much it costs to replace a roof tile? In this article we look at roof tile prices and the cost of fixing or replacing different types of tile.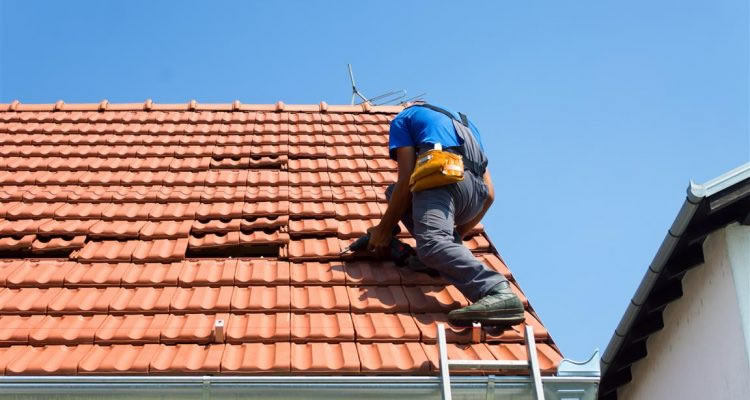 Typical cost of replacing roof tiles
This type of job normally takes around 3 hours to complete.
£200
How Much to Replace Roof Tiles?
Slate roofs are popular due to their beauty and durability, commonly found on older properties, they can sometimes last over a century. Today there are many more options in terms of materials for tiled roofs, but like slate roofs, all tile materials may crack or deteriorate over time as a result of ageing or weathering. When this happens, water can get through the roof and possibly cause extensive structural damage to the building. Homeowners can either replace the entire roof, which is a major expense, or they can simply replace any damaged roof tiles. Roofing contractors will be happy to give you a quote to remove and replace any broken roof tiles, but their prices will depend on ease of access to the roof, whether or not the tiles are cemented in place, how easy it is to source matching replacement tiles, your location, plus of course the number of damaged tiles which need to be replaced.
It is possible to replace a few tiles as a DIY project, but you do need to be careful about working at heights. For most of us, a roofing specialist will be required to replace tiles and also to check the roof for any other damage. Finding a good roofer can be difficult if you have no previous experience or recommendations to go on, but using the free service on this website makes finding a reliable tradesman quick and easy. Just fill in one short form online to have up to three local roofers get in touch with you with a view to arranging an inspection then providing a written quotation.
Roof Tile Replacement Prices
| Job Description | Duration | Material Cost | Labour Cost |
| --- | --- | --- | --- |
| Up to five broken tiles easily sourced and no access issues or scaffold | 2 hours | £20 | £150 |
| Up to five broken tiles which require a roof ladder and some cement bedding | 3 hours | £25 | £200 |
| Up to five broken tiles with difficult access requiring scaffold plus hard to find tiles | 5 hours | £100 | £400 |
| Replace complete tiled roof | 2 weeks | £8000 | £2000 |
Things to consider when replacing tiles
When asking for quotes from roofing contractors, there are a number of factors which they will take into consideration when working out a price. The number of tiles obviously makes a difference, if more than five or so need replacing, they may be looking at scaffolding which will greatly increase the price, whereas replacing two or three tiles can often be done using a ladder. The type of tiles does not usually make a huge difference to the price, but it can do if you have very old or unusual tiles which are difficult to source. Non-standard or reclaimed tiles are hugely expensive.
The method used to fix the tiles makes a difference too, some tiles can be replaced in seconds, whereas others are cemented in place and will take much longer. The condition of the roof could have a huge impact on the price too, if the roof is old and rotten, you will not find a professional contractor that is happy to make small repairs to it, compromising their safety and reputation. if the roof is old and shows signs of rot, it may be time to bite the bullet and get the entire roof replaced (bear in mind many of the old tiles can be reused if in good condition).
The remaining price factors and your location and the size of the roofing company. If you are located in London or the Home Counties, expect to pay considerably more than someone in the North of England or Wales for exactly the same job! Also, if the contractor is VAT registered, then the price will automatically be 20% more expensive when compared to a smaller firm which is not VAT registered.
How to Replace Roof Tiles Yourself
Fixing or replacing roof tiles requires working at height which demands extreme caution. When replacing or fixing damaged tiles, it's important to use safety and access equipment like cat ladders and crawl boards to spread your weight over the roof to avoid damaging any more tiles or putting yourself in danger. If you do not have access to the right equipment, better to call a professional roofing service to ensure that the job is done properly and safely. It's well worth the extra cost of having a professional tradesman complete the job if you don't feel confident in your skills or experience. if you think you may have problems with your roof tiles, try and inspect the damage from ground level using binoculars if possible, to minimise time spent working at height.
Replacing just a few roof tiles is usually a small repair job that you can do yourself if they are easy to access and you have a safety ladder with a secured base. Once you have sourced proper replacement tiles, then remove the damaged tiles and cut the new tiles to size if required. Then secure the replacement tile(s) using either slate hook or copper nail fixings. If the tiles are cemented in place this will involve more time spent working at height and should probably be done using a scaffold or access tower.
There are many unfortunate cases of homeowners working on roofs and causing hugely expensive further damage to the roof and causing themselves serious life-changing injuries and even death – all just to save a few pounds! If in any doubt whatsoever regarding your ability to work safely at height, or if you do not have the necessary safety equipment and are planning to do the job just with an ordinary ladder – please reconsider your options and contact a local roofing contractor for more advice.
Roof tiles checklist
The choice of roof tiles can have a significant impact on the appearance of the home
Roof tiles are traditionally made from clay, terracotta or slate
Modern tile materials such as concrete and even plastic are available
If scaffold is required the costs will increase considerably
FAQ's
Do I need to erect a scaffold to replace a few roof tiles?
For anything other than a quick job lasting a few minutes then it is advisable to erect some form of scaffolding or platform to work on a roof. If just a handful of roof tiles need replacing and all are easily accessible and are not cemented in, then an experienced roofer may decide to do the job using a safety ladder. But if the work involves replacing a substantial part of the roof, then a scaffold should be erected around the working areas.
Do I need Building Regulations approval if I am only replacing some roof tiles?
Yes, new rules were introduced in 2008 to improve the thermal insulation of any properties having building work done. This includes replacing roof tiles and is part of the government's drive to lower carbon emissions. You will be required, as a condition of granting approval for the works, to ensure your loft insulation meets the current legislation requirement of a minimum 270mm.

How often should I inspect my roof?
You should inspect the inside of your roof at least once every year to make sure it's still weatherproof and there is no evidence of woodworm. It's best to check after heavy rain as it will be easier to see any water ingress. To inspect the roof from outside try using binoculars to avoid having to use ladders to look for slipped, broken or missing tiles. if you cannot check the roof from ground level, get a roofer to carry out an inspection.
Can I carry out roof repairs myself?
Most work should be done by professionals for safety reasons. Even simple jobs like cleaning the gutters can be dangerous. Professional roofing contractors are trained to work at heights safely and effectively so they can repair or replace roofing systems. Attempting a DIY job could lead to further damage on your roof and possibly causing yourself an injury.

Last updated by MyJobQuote on 25th August 2020.