Bifold Doors Cost
Guide to choosing bi-fold doors and how to fit them DIY, or choose a local tradesman.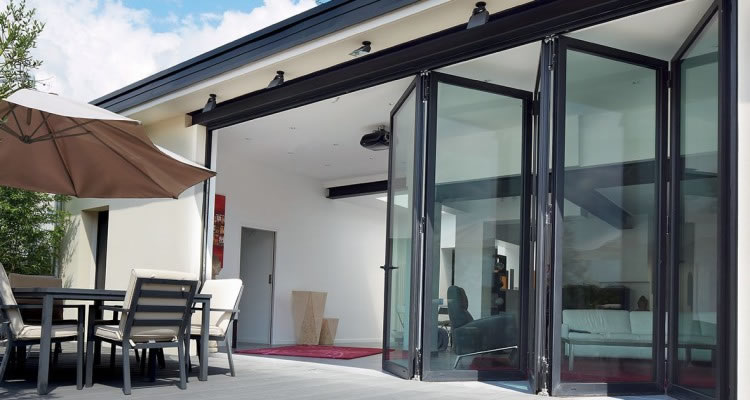 Typical Costs of Supplying and Fitting Bi-Fold Doors
This will typically take 2 men ~ 1-2 days
£3,000
Bi-fold doors are a popular feature in contemporary homes, particularly in the UK. These doors can help to create a seamless transition between indoors and outdoors. Typically, these bi-fold doors have 2 or more standard size glass doors that are connected and open in a concertina style, folding flat when fully open. Bi-fold doors fully open, unlike sliding patio doors, so open up your living space, connecting with your terrace or patio while flooding the interior with natural light. But bi-fold doors are not cheap, there is quite an investment involved and the choice can be confusing. There is a wide range of materials and many other options to be considered. Bi-fold doors are not a typical DIY project, you really should seek professional advice on the products available, as well as dealing with planning and permission issues.
You will probably want to speak to an architect, double glazing company or other specialist and organise a home survey of your property, to provide various configuration options and advise you on the frame size and number of doors required. The easiest way to find a reputable company to help with your bi-folding door project, is to simply complete the quick form on this website, to leave brief details of your project along with your contact information. Then you can sit back and wait for local tradesman to get in touch with you! You can also read real customer reviews on these same local tradesman online for additional peace of mind.
Costs for having Bifold doors fitted
| Job Description | Duration | Material Cost | Labour Cost |
| --- | --- | --- | --- |
| To fit standard bifold doors into existing opening |  1.5 days | £2000 | £500 |
| To fit bespoke bifold doors into existing opening | 1.5 days |  £3000 | £500 |
| To fit standard bifold interior doors into existing opening | 1 day | £650 | £250 |
| To fit bespoke bifold interior doors into existing opening | 1 day | £3000 | £250 |
Things to consider when choosing bi-fold doors
When it comes to bi-fold doors there are a number of things to consider in terms of type, size and materials used in the construction. Timber bi-fold doors look fantastic in a traditional home or period property. But the cheaper timber doors do not last well exposed to the UK weather, whereas the engineered timbers and hardwood products are more durable but also pretty expensive. Though timber does offer that traditional appearance and natural beauty of wood, the downside is timber bi-fold doors will require regular painting or varnishing over the years. However, they do also offer the best thermal performance. Aluminium is a stronger material so can offer much slimmer profiles, in addition the powder-coated finish requires virtually no maintenance, so no varnishing or painting every few years. Aluminium bi-fold door panels can also be made wider than timber doors so you can sometimes need fewer doors within the same frame size, which saves money.
Other options when choosing bi-fold doors include choosing between top hung or bottom rolling doors. This simply refers to how the weight of the door is supported. Top-hung doors conceal the bulk of the operating mechanisms in the upper frame and dirt and leaves are much less likely to become lodged in the track, whereas on bottom hung doors the track does often suffer from this problem and it can affect the operation. The downside to top-running door systems is that they do require a strong lintel or support beam above the door opening to take the weight of the doors.
One of the most important features when choosing bi-folding doors rather than the traditional patio or French doors, is the threshold. Most external door thresholds have a rebate, which is a raised lip that is designed to create a physical barrier against any water ingress and helps to keep the doors sealed. Usually, there will be some, are rebated and the flush or low threshold. The standard rebated threshold provides a good weather rating and can still mostly be sunk below floor level to create a reasonably flush threshold. A completely flush threshold with no rebate offers no weather rating so need to be fitted in a sheltered location with little exposure to driving wind and rain, or with some sort of canopy above.
Typically, other options on offer include various glazing choices including triple glazing from most manufacturers, plus accessories such as blinds which can be supplied pre-installed.
Doing it Yourself
Bi-fold doors (aka folding sliding doors) are a relatively new option in the UK. They are in fact only possible thanks to recent technical improvements in structural materials and glazing, so it's now possible to completely open up the back of the house with mostly glazing, while still being able to meet current building regulations. These doors allow for great views and on nice days extending your living space out into the garden, or onto a deck or patio. But bi-fold doors are more complex than traditional sliding doors, plus there are structural concerns due to the sheer size and weight, which can often mean expert calculations will be required to specify some structural steel to ensure the building is safe and the door frame will not be overloaded or distorted. This is obviously beyond the scope of a typical DIY project. However, in some cases the wall can be prepared by a builder to an architects specification, just leaving the fitting of the doors into the cavity. This is possible on a DIY basis for those with the right experience.
Before fitting the doors into the opening, you must, of course, ensure that the opening is perfectly square and free of loose debris. In addition, it is absolutely that door frames are installed level, true and plumb, for reliable operation. To ensure that the frame is fitted correctly you must first remove the sashes from the hinges, but once the frame has been fitted and is level and is perfectly square, the sashes can be refitted. To fit the frame into the aperture fixing lugs should be sued on both the head and jambs, plus corner fixings between 150mm and 250mm from the external corner. Each jamb and head section needs a minimum of two fixings no greater than 600mm apart.
Planning Bi-Fold Doors Checklist
Bi-fold doors are usually made of aluminium or timber, but you can have a combination of both
Bifold doors are quick to install and can usually be installed in a single day
When buying bi-fold doors always insist on insurance backed weather guarantees
Don't buy a bi-fold door purely on price, when buying bi-fold doors you really do get what you pay for!
FAQ's
What's the difference between Aluminium and UPVC Bi-folding doors?
Aluminium doors are stronger so can be made with thinner frames, whereas UPVC Bi-fold doors are a bit cheaper but with thicker frames than the Aluminium doors. UPVC bi-fold doors, particularly cheaper models, often also have exposed hinges on the outside, which is an obvious security risk. Aluminium doors are also available in much greater maximum width, again due to the inherent strength of the material. Aluminium bi-fold doors are also available with lower thresholds and can be ordered in a multiple places.
Do I have to slide all the panels in a bi-fold door to open to use the doors?
No. A traffic door is available which allows you to use just one door without moving the other panels. A traffic door is a worthwhile option in the UK as it allows you to operate the door during the winter months without letting in all the cold air!
Will bi-fold doors increase my heating costs?
Knocking a huge hole in the wall and putting in mostly glass bifold doors does sounds like you would lose a lot of heat! But in reality, modern bifold doors often actually improve your home's energy efficiency thanks to the materials used, especially energy efficient glass. Bifold doors which are installed as a replacement to patio doors will also increase the energy efficiency as older patio door systems don't perform as well as the latest bifold door units.
Can I install bi-fold doors myself DIY?
If you're a DIY expert it is possible and tempting to install bifold doors yourself to save some money. But unless you have previous experience installing these doors, it is not recommended. You would be better to find a professional installer to do it for you. Bifold doors are more complex than a regular patio or French door. In addition, if you encounter problems at a later date, there can sometimes be issues with the door manufacturer claiming the faults are due to installation rather than a manufacturing problem.
Last updated by MyJobQuote on 18th May 2018.