Timber Decking Cost
If you're considering new timber decking, then our guide contains everything you need to know, including costs of materials and labour, different timber options and what you need to consider if you want to install the decking yourself.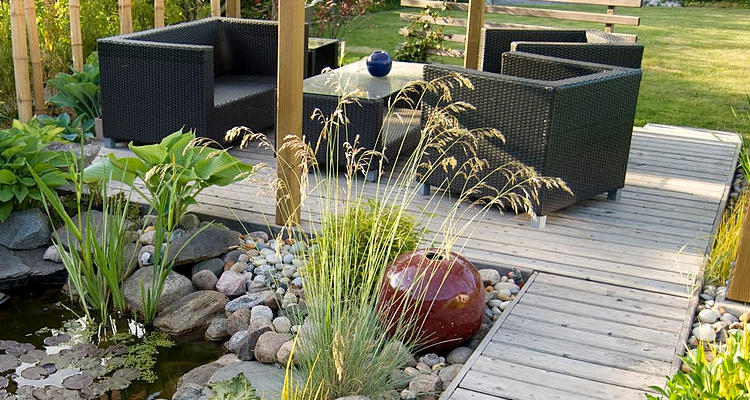 Cost of Supplying and Fitting Timber Decking (30sqm):
Depending on chosen timber decking, it will usually take: 1-2 days
£2600
How Much Does New Timber Decking Cost?
Many things contribute to the price of having wooden decking installed. In particular, there are three main factors that you will need to consider in order to budget for your new timber decking. These are, the area that needs covering, the total cost of all materials you will need and the hourly or daily charges of your tradesperson.
Consider that the size of your space will significantly impact the overall expense of the installation, as your contractors will likely be working for a more extended period of time. On average, the cost of installing new timber decking to an area of around 30 square metres, using medium quality materials is estimated at £2,600.
Before hiring a professional to install your new timber decking, you will need to think about the quality and style of decking you would like. There are many different types of timber decking available on the market today to suit almost every budget. You can select whether you would prefer soft or hardwoods, untreated or treated woods, as well as average or premium quality boards.
Remember, each of these variations will likely affect the cost of your project. A professional decking fitter will be able to advise you on which products would be better suited for your area and requirements.
When getting a quote for new timber decking, the price commonly will include both the supply and installation of your deck. Rest assured that you will not always have to source materials yourself. However, it would be helpful if you queried this with your tradesperson before going ahead with the work, as this depends on the contractor's discretion.
New Timber Decking Prices
Timber decking costs range from budget-friendly to more premium, extensive projects. You have the freedom to alter the cost of your project, depending on the materials and contractors used. Below is a table for you to get an estimated guide of how much new timber decking would likely cost. Please note, the prices shown are estimates.
| Timber Used | Decking Quality | Area Covered | Average Cost |
| --- | --- | --- | --- |
| Pressure Treated Softwood | Budget | 10 Square Metres | £600-£800 |
| Pressure Treated Pine | Budget | 10 Square Metres | £600-£800 |
| Redwood Decking | Standard | 10 Square Metres | £700-£1,000 |
| Cedar Decking | Standard | 10 Square Metres | £800-£1,100 |
| American Hardwoods | Premium | 10 Square Metres | £900-£1,200 |
| Teak Solid Wood | Premium | 10 Square Metres | £1,100-£1,400 |
| | | | |
| --- | --- | --- | --- |
| Pressure Treated Softwood | Budget | 30 Square Meters | £1,200-£1,700 |
| Pressure Treated Pine | Budget | 30 Square Metres | £1,200-£1,700 |
| Redwood Decking | Standard | 30 Square Metres | £2,000-£2,500 |
| Cedar Decking | Standard | 30 Square Metres | £2,100-£2,600 |
| American Hardwoods | Premium | 30 Square Metres | £2,600-£3,100 |
| Teak Solid Wood | Premium | 30 Square Metres | £3,800-£4,300 |
| | | | |
| --- | --- | --- | --- |
| Pressure Treated Softwood | Budget | 60 Square Meters | £2,000-£2,300 |
| Pressure Treated Pine | Budget | 60 Square Metres | £2,000-£2,300 |
| Redwood Decking | Standard | 60 Square Metres | £2,800-£3,100 |
| Cedar Decking | Standard | 60 Square Metres | £2,900-£3,200 |
| American Hardwoods | Premium | 60 Square Metres | £3,400-£3,700 |
| Teak Solid Wood | Premium | 60 Square Metres | £4,800-£5,100 |
Timber Decking Only Costs
If you're contemplating laying timber decking DIY, then you may need to know the cost of timber decking only, without any labour fees or installation charges.
| Type of timber | Supply cost |
| --- | --- |
| Pressure Treated Softwood | £10-£20 per metre square |
| Pressure Treated Pine | £10-£20 per metre square |
| Redwood Decking | £20-£30 per metre square |
| Cedar Decking | £30-£40 per square metre |
| American Hardwoods | £40-£55 per square metre |
| Teak Solid Wood | £50-£70 per square metre |
If you're looking for cheap timber decking, pressure treated softwood is the cheapest option available. It is also likely that the price per metre will drop if you are buying in bulk. Composite WPC decking is also a great alternative to timber as it's long lasting but arguably not as attractive.
Labour Costs and Time Scales
The labour price of timber decking is around £150 to £200 per day, depending where you are within the country. On average, it'll take between 1 to 2 days to complete, this heavily depends on how big you want your decking area. You may need to add an extra day if your current decking needs removing and disposing of.
| Area Covered | Install Time |
| --- | --- |
| 10 Square Metres | 1 Day |
| 30 Square Metres | 1-2 Days |
| 60 Square Metres | 1-2 Days |
What's Involved with Installing New Timber Decking?
Wooden decking is an excellent way of quickly updating any garden. In some cases, the installation of timber decking can even add value to your property, creating a family-friendly space. Timber decking can be completely customisable, giving you the freedom to select the style, quality and colours of the deck. Before installing new timber decking to your garden, there are first steps you must take to achieve the best results.
Consider when you would like to install the decking. Most decking installations are best carried out during the Autumn and Winter months. It is a common misconception that timber decking should only be installed during the Spring and Summer months. However, most professionals will recommend considering having the decking fitted during the Winter, as this allows the boards to stabilise correctly for use.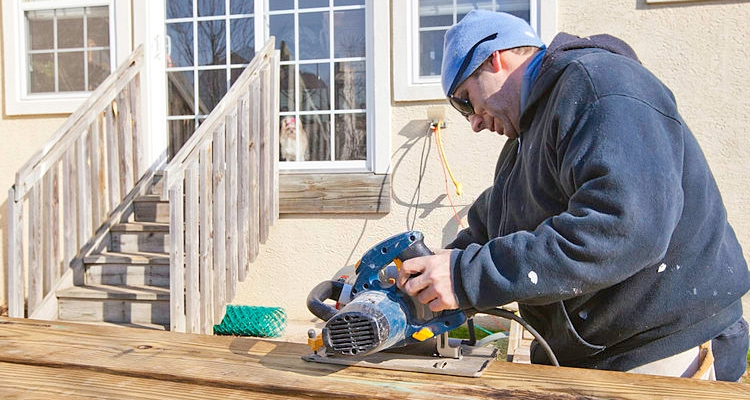 During the summer and hotter seasons, decking boards tend to expand, making installations trickier. The expansion can even cause a warping effect, which in some cases may leave your new decking prone to damage. Another advantage of having your new timber decking fitted during the Winter is that you will eliminate the mess and disruption to your garden, ready for use during the Spring and Summer months.
Before you hire a contractor to carry out the installation of your new garden decking, you will want to create a plan or design of how you would like it to look. Think about where you would like to have your decking fitted, the area which it will cover and the colour and style you are aiming for. If you are stuck, you can seek the advice of a professional to design a plan for you.
The installation itself is generally straightforward and requires little preparation. Your professional landscaper will determine the ground quality, checking for obstructions and underground services such as pipes, before removing any debris or obstacles that may interfere with the installation. They will then construct a frame on which the decking will be fitted to. The structure is commonly built using timbers and will provide support for the decking boards to attach to. The decking boards will be secured to the frame with screws and nails and in some cases special wood adhesives.
To accompany your new timber decking you may want to replace your perimeter fence to add some extra protection and complete the renovation.
Installing New Timber Decking Yourself
While the installation process of new timber decking may seem easy, we always recommend hiring an expert to carry out the job for you. Hiring a professional landscaper to install your decking will ensure that you receive the best possible finish and quality results. Many homeowners are unaware that planning permission may be required for decks that exceed 30cm in height or cover more than 50% of your property. All new timber decking installs must abide by The Timber Decking and Cladding Association's (TDCA) code of practice. These regulations state the correct methods of installation and materials that are fit for purpose. An experienced, qualified landscaper will be able to provide you with more information for complying with the TDCA's code of practice.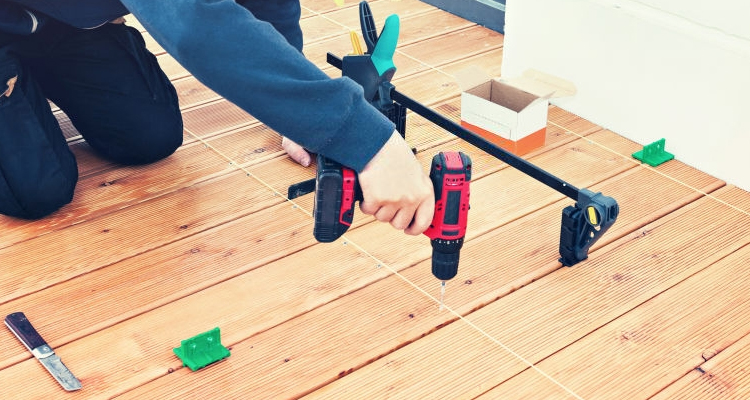 That being said, it is not impossible to install your timber decking yourself, providing you feel experienced and safe to do so. However, as with any other home improvement project, we always advise you to seek the assistance of a licenced professional. Any unqualified or inexperienced person who attempts to install or use power tools and other equipment face the risk of serious injuries and costly property damages. Raised and elevated decks, in particular, can become quite dangerous if installed incorrectly, posing a threat to you and your family's well-being. For safe, professional results, we always recommend leaving the job to the professionals. Your professional landscaper will provide you with the best possible aftercare advice to prolong the lifespan of your new timber decking.
The Different Types of Timber Decking
As we mentioned earlier, there is a range of different type of decking to choose from when considering an installation, depending on the look and level of use that you would like your decking to have. The most popular choice for decking boards amongst homeowners tends to be pressure-treated, softwood boards. Timbers like pine are usually treated to withstand weathering, wood-rot and decay. Treated pine decks are generally much easier to cut and install, compared to hardwood boards. Softwood decking boards are readily available and easy to source, making them cheaper than other timber decking options. On average, the cost for pressure treated softwood decking is around £16 per square metre. While softwood decking is much cheaper than hardwoods, it is important to remember that they will require more maintenance, such as oiling and treating, ideally once a year. The cost of this upkeep may work out more expensive in the long run, than the initial expense of a hardwood deck. If cared for correctly, your softwood decking can last you up to 15 years.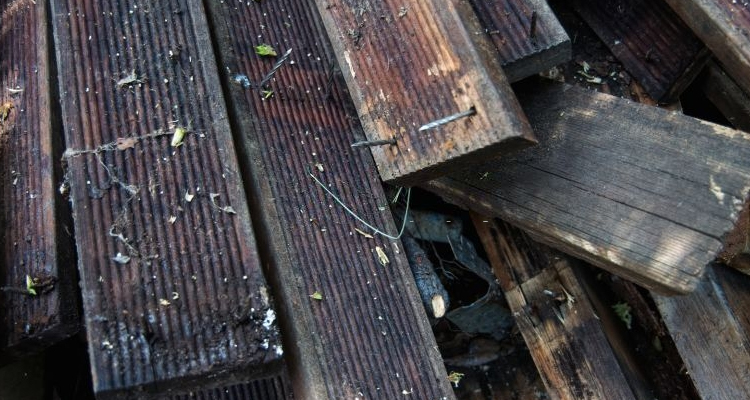 Hardwood boards have a longer lifespan, thanks to their incredible durability. They require little maintenance and aftercare, thanks to their natural resistance against rot and warping. American Hardwood's such as Brazilian Walnut and Teak are naturally resistant to weathering and will cost around £48-£60 per square metre. Compared to softwood, hardwood decking boards are much more expensive and can be more challenging to install. However, they require less maintenance which may work out more cost effective in the long run. Hardwood decking boards are commonly sourced from exotic trees and are more desired for their aesthetic properties. Their natural warmer tones give an organic finish, eliminating the need for oiling and treating. With proper aftercare, your hardwood decking is expected to last up to 50 years.
Although timber is a great option for your garden decking, bare in mind that other garden decking options are available, like Composite, IPE, Trex and PVC which all offer benefits that timber decking may not.
Hiring a Timber Decking Installer Checklist
Before hiring a timber decking specialist, there are some things you should consider. Below is a checklist for you to follow when you're searching for a timber decking installer.
Research local timber decking installers within your area, be sure to read reviews and ask to see examples of previous work.
Acquire multiple quotes from a few different contractors in order to compare the best price.
Always be sure to check that the quote includes the supply of all decking and materials.
Ask your landscaper to produce a plan or design for your new timber decking.
Never pay the full amount upfront. Instead, pay the deposit that most tradespeople require.
Always ask for a written summary and cost breakdown of your total project price.
Ask for instructions for aftercare and any necessary maintenance.
FAQs
What Is The Best Timber For Decking?
In terms of durability and longevity, Hardwood decking boards are unbeaten on their performance. While they may initially be more costly to install, they may work out cheaper in the long run, requiring little to no maintenance at all.
How To Remove Wood Decking?
In the UK, on average, the typical landscaper would charge between £400-£1,000 to remove an old decking. This price will vary depending on the scale and complexity of the deck that you require to be removed.
How Long Does Timber Decking Last?
Providing that you follow the recommended aftercare and maintenance, a Softwood deck is expected to last you up to 15 years. In some cases, even longer. Hardwood decks are estimated on average to last a person up to 50 years before renewing.
Which Is Cheaper, Decking Or Paving?
Decking materials tend to be more affordable when compared to alternative options like paving. However, it is essential to recognise that depending on the type of wood used. You may need to carry out regular maintenance and aftercare treatments in order to keep your deck performing at its best. Over time, the additional cost of aftercare could work out more expensive than installing paving in the first place.
Will Timber Decking Add Value To My House?
Decking is an affordable way to revamp your garden space without breaking the bank. When selling your home, buyers may be attracted to an outdoor decking area, as it is a family-friendly alternative to paving. Decking can also level off uneven spaces, creating a space for entertaining and relaxing. Installing decking to your garden is estimated to increase your property's value by up to £7,000.
Sources
https://www.gripsure.co.uk/blog/post/which-type-of-wood-is-best-for-timber-decking
https://blog.fantasticgardeners.co.uk/wood-vs-composite-decking-which-works-better/
https://deckingnetwork.com/how-much-does-decking-cost/
https://www.homebuilding.co.uk/20-sure-ways-to-add-value-to-your-home/
https://www.diy.com/departments/outdoor-garden/decking/decking-boards/DIY585087.cat
Last updated by MyJobQuote on 26th October 2020.