Loft Vent Installation Cost
In this guide, we're going to explore everything you need to know about loft vent installation costs, the different types of loft vents available and all the costs associated with these types of jobs.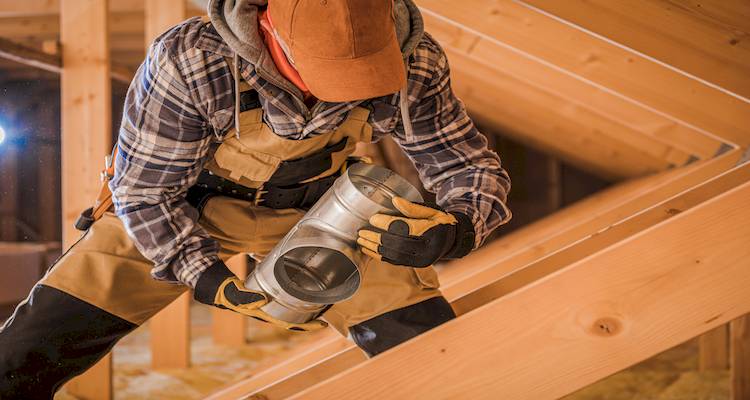 Average Cost of Installing Loft Vents:
Depending on the complexity of the job, it usually takes: 1 day
£285
How Much Does It Cost to Install Loft Vents?
The cost of installing loft vents will depend on several factors, including the type, size and number of loft vents to be fitted and the property location and ease of access.
There are loft vents that sit on the roof plane and blend in with the tiles or slates. Some vents are fitted along the soffit line, and others sit on the roof's ridge. The type also depends on the pitch of the roof, the roof covering and the particular issue with ventilation.
The cost of the loft vents will vary according to which type you choose. Single circular soffit vents will cost very little, on average between £0.50-£1.50 each and typically come in packs of ten. The continuous soffit vents are strips fitted to the underside of the eaves and cost between £5-£10 per 2.5-metre length.
Tile or slate vents are more expensive and normally are made to blend in with the existing roof covering. Depending on what type you need, they can cost between £15-£90 each.
Ridge vents come in different styles and sizes and will typically cost between £5-£10 per linear metre for some systems or between £35-£55 for individual ridge vent tiles.
The number of vents that you install will depend on the size of your property and the extent of the condensation problem that you are trying to resolve.
Unless you intend to fit the vents yourself, you will need to add the cost of hiring a roofer to carry out the work.
The average price of hiring a roofer is between £150-£250 per day, and if you hire by the hour, the cost will be between £20-£30 per hour. These prices depend on your location as the cost of roofers in London will be much higher than in other parts of the country.
The cost may also reflect how difficult access to the roof is, and you may need to consider the cost of scaffolding.
Loft Vent Installation Prices
The cost of installing loft vents will depend on the size of the roof, as this will determine the number of vents required.
| TYPE OF LOFT VENT | COVERAGE FOR 5 METRES INC LABOUR | COVERAGE FOR 10 METRES INC LABOUR |
| --- | --- | --- |
| Over Fascia Vents | £215 | £275 |
| Single Soffit Vents | £205 | £225 |
| Continuous Soffit Vents | £215 | £230 |
| Tile & Slate Vents | £350 | £480 |
| Ridge Vents Kits | £240 | £280 |
| Ridge Vent Tiles | £470 | £695 |
Supply Only Costs
Different types of loft vents work in slightly different ways but with the same intended outcome; to improve the ventilation and air circulation in your roof space, prevent moisture accumulation from condensation, and protect the loft's contents and structure.
The cost of installing loft vents will vary according to which you choose, but if you decide to fit them as a DIY task, the table below gives an idea of how much you can expect to pay for each type.
| TYPE OF LOFT VENT | COST RANGE | AVERAGE COST |
| --- | --- | --- |
| Over Fascia Vents | £1.00-£3.00 per metre | £2.35 per metre |
| Single Soffit Vents | £0.30-£1.50 each | £0.50 each |
| Continuous Soffit Vents | £2.00-£4.00 per metre | £3.00 per metre |
| Tile & Slate Vents | £15.00-£90.00 each | £35 each |
| Ridge Vents Kits | £5-£10 per metre | £8 per metre |
| Ridge Vent Tiles | £35-£55 each | £45 each |
Additional Costs
If you hire a roofer to install loft ventilation, then the average cost of this service will be between £200-£250 per day or £20-£30 per hour. You may also be given a fixed price for the work.
Scaffolding Hire
To work safely at height, hiring a scaffolding tower will usually be necessary, and this price needs to be added to the loft vent installation cost. Of course, how much you pay will depend on where in the UK you live and the duration of the hire.
The average cost to hire a scaffold tower to install roof ventilation is £75-£100 per week, and this is particularly useful if you fit DIY loft vents.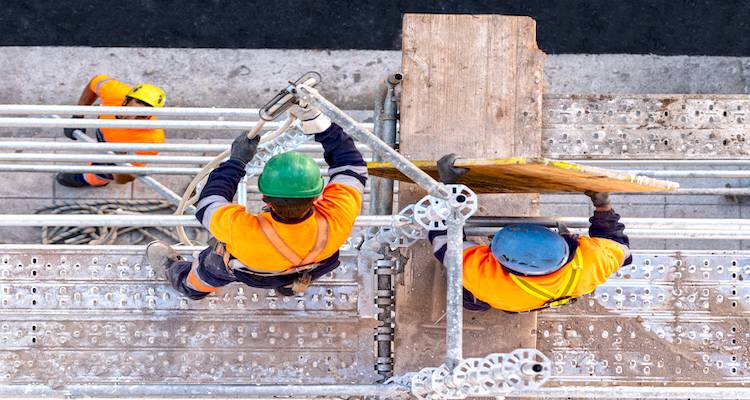 Skip Hire
If the problem with condensation in your loft has resulted in your roof insulation becoming saturated, then it will not be effective and will add to the moisture problem in the roof space. Therefore, it will need to be removed and disposed of.
There may also be other materials or possessions that have become damaged or unusable, and the best way to dispose of a large amount of material is to hire a skip.
Depending on your location, the average cost of hiring an 8-yard skip will be approximately £170-£360.
If you intend to keep the skip on your own property, there will be no need for a skip licence, but if it is going on the road, then this will be required. The price of a skip licence is set by each local authority, so you will need to contact them to find out the cost if you think you will need a licence.
Roofer Services
Most people will hire a roofer to fit their loft ventilation, and there may be additional work needed if there has been damage to the insulation, felt underlay or even the roof timbers from condensation in the loft.
The cost of removing and replacing any damaged elements in the loft space will depend on the size of the loft and the extent of the damage.
On average, the cost to hire a roofer in the UK is between £150-£250 per day, depending on the area of the country that you live in.
Insulating a Loft
Another factor that you may need to consider and add to your budget is the replacement of loft insulation. You may need to remove your existing insulation because of condensation related problems or install insulation for the first time, having successfully fitted roof ventilation.
The cost to insulate a roof varies according to the product that you use, the size of your roof space and your location.
The average cost is around £400-£600 and typically takes 1-2 days to complete.  It is important that you fix any issues with moisture in your loft space before laying new roof insulation.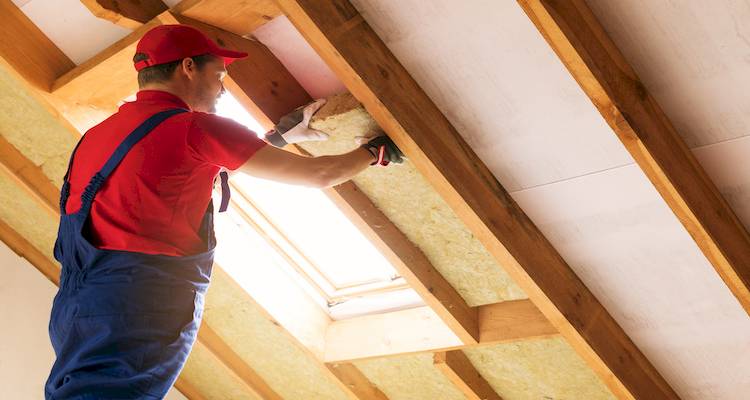 Labour Costs and Timescales
The labour cost will be dictated largely by where you live and the type of roof ventilation that you have installed. Some vents are easier to install and cheaper than others to purchase.
On average, in the UK, a roofer will charge between £150-£250 per day according to the location with London and other large cities commanding high labour costs.
If you hire someone to supply and fit your roof ventilation, then the price for labour will be included in the overall cost. However, if you purchase the vents yourself and pay someone to fit them, then the labour cost will be separate.
The timeframes for the installation of roof vents will depend on the type that you choose as well as the size of your roof.
An initial survey to establish the need for roof ventilation, including the best positioning, may take a couple of hours depending on access and the scale of the problem.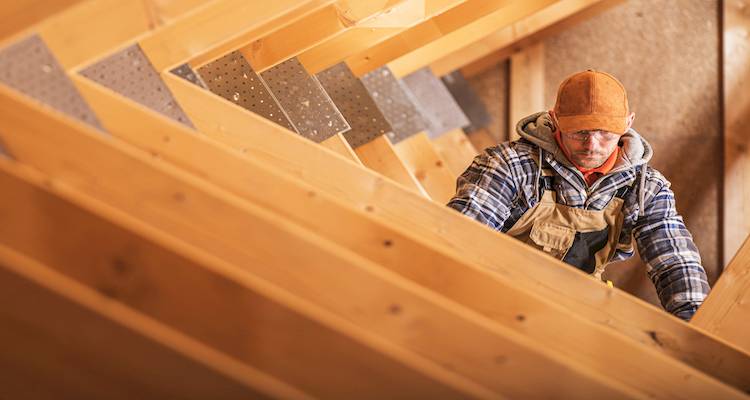 Installing your loft vents should take no more than a day or two. However, if the installation is being done in conjunction with repair works to some roof elements, or you need to lay new insulation, then it could take longer.
If, when the time comes to install your loft vents, more extensive damage from condensation is found, then this may extend the timeframe for the overall job.
Quite often, it is not possible to assess the true extent of a ventilation problem until you start to remove elements from the loft space. This can impact the amount of labour involved and could increase your budget.
Cost Factors of Installing Loft Vents
There are several considerations involved in fitting roof ventilation, and most of them will depend on the issues caused by a lack of airflow.
Type
Most condensation issues can be rectified by installing roof vents at a low level, such as the soffit in conjunction with higher-level ventilation on the ridge. This allows the cooler air from outside to enter the loft space, circulate and push the stale warm air out through the higher outlet.
Combining soffit and ridge ventilation will mean purchasing two types of roof vents. The ridge vents can be expensive if you use single vent tiles rather than the ridge venting kits though this may depend on your type of property.
Single circular soffit vents are cheap to buy, but they will only allow air into the roof at a low level and will not be as effective as the combination of soffit ventilation with ridge vents. Soffit strips are also reasonably cheap but used alone will have the same limited effect, although some ventilation is better than none.
Over fascia vents do exactly what the name suggests, they fit over the fascia and provide an entry point for fresh air into the roof space. This type of roof ventilation system is normally fitted when the roof is being constructed and is difficult but not impossible to retrofit.
Individual tile or slate vents are often used when a loft conversion has been built to allow airflow into the now occupied roof space. The cost will depend on whether you have slate or tiles on your roof.
Size
Of course, costs will also depend on the size of the vent that you want to install. A typical round soffit vent is around 80mm in diameter and quite cheap to purchase, but you will need a minimum of four on an average property. The average cost of circular soffit vents is £0.50 each.
Continuous soffit vents come in strips that are around 2.4 metres in length and are typically suitable for soffit boards of between 6mm-9mm. They are normally around 50mm wide, with fixing holes every 150mm. A 2.4-metre length of continuous soffit vent will cost between £5-£10.
Over fascia, vents come in lengths of approximately one metre and are typically around 45mm-50mm wide, costing on average £2.35 per metre.
Tile and slate vents come in different colours and sizes to match most roofs and cost on average around £35 each. Ridge vents can be more expensive, with kits costing around £8 per metre and individual clay vented ridge tiles costing on average £45 each.
Ridge vent kits typically come in 6-metre lengths, costing an average of £8 per metre. Individual ridge vent tiles cost between £35-£55 each and can be made from concrete or clay.
Number of Vents
According to your roof construction and the extent of the ventilation problem, you or your roofer will decide how many loft vents to install or how much meterage of ventilation will provide a solution.
Of course, the number of loft vents that you fit will affect the loft vent installation cost, as will the amount of labour needed to fit them. Obviously, the more vents you install, the longer it will take, and this will have a knock-on effect on your labour costs.
Location
Where you live in the UK can have a significant impact on how much you pay for labour in any building work. Prices for labour in London can be almost double that in other parts of the country although most big cities will be more expensive than other parts of the UK.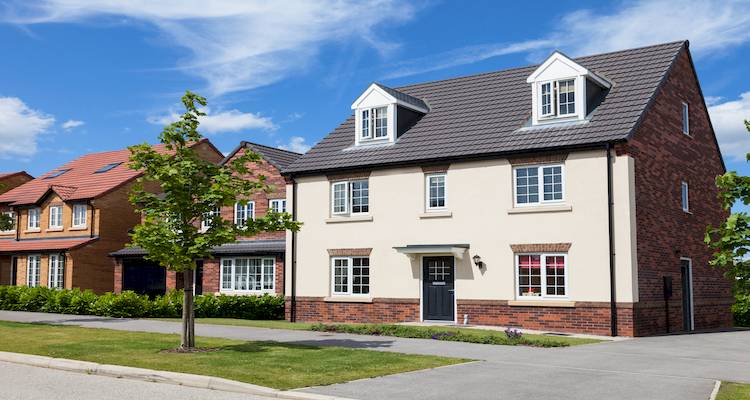 The average cost of a roofer in London is around £200-£250 per day, while in other parts of the UK, the average is between £125-£175 per day. This is due to the higher cost of living in the capital and surrounding areas.
Access
The ease with which the loft vents can be fitted will also have an impact on the price that you pay. If access is difficult, then the labour cost will most likely go up. Similarly, if there is a need for a scaffold tower, then this cost will also need to be added to your budget.
What's Involved in Loft Vent Installation?
There are a few reasons why you may discover that you need to install loft vents. Most people only go into their lofts a handful of times every year to retrieve suitcases or Christmas decorations or to put things into storage.
This will typically be when an issue with the lack of ventilation may be noticed. Suitcases may be mouldy, insulation may be wet, or your roofing felt may covered in mildew.
Reasons to Install Roof Vents
Condensation is the main culprit behind damage to elements in your loft, such as the insulation, felt or, in worse cases, the roof timbers as well as to the contents stored in your loft.
With pressure on homeowners to better insulate their homes, conserve energy and reduce carbon emissions, most people have insulated and sealed their living areas to reduce drafts and maintain internal temperatures.
The downside of this is that there is severely reduced airflow meaning the warm air in the home just gets warmer and isn't recycled by cool air coming in from outside.
This trapped warm air then rises, and when it hits the cold surfaces in the loft, condensation forms. If left unchecked, this can cause the insulation to become saturated, roof timbers to rot and items stored in the loft to be ruined.
Having good airflow through your loft will not only prolong the life of the roof and your attic contents. Better air quality will prohibit the growth of mould in the home and so protects your health. Mould spores can be very dangerous for the very young, elderly or those with respiratory conditions.
A well-ventilated loft will also discourage pests such as rodents or insects from seeking a warm, humid environment in which to live and breed.
Inadequate ventilation in the loft can cause trapped warm air to melt any snow on your roof. This then runs down to the guttering and can freeze again, causing ice damming. Further melted snow runs off this ice dam and back underneath your tiles and into the roof space.
Preparation
The preparation for installing loft vents will differ according to whether you are fitting them on a new roof or retrofitting them into an existing roof.
For a new roof, installing a vapour barrier and sealing around loft hatch, pipe entry, light fittings, or fitting foil-backed plasterboard is the best way to prevent moist air from the house migrating into the loft space.
However, some water vapour will still penetrate, and this is where roof vents will be very useful. Preparation on a new roof will be much easier to achieve as it is a blank slate, so to speak.
On an existing roof retrofitting loft vents may be more difficult, time-consuming and potentially expensive if tiles and underlay have to be removed to fit them. Circular soffit vents, however, should be relatively simple to install in an existing roof as they simply require a hole to be cut and the vent fitted.
However, if you have an older house, make sure that your soffits are not made from asbestos, as these should under no circumstances be cut. If you find that you do have asbestos soffits, then you should arrange to have them changed for timber or PVC.
Installation
As new builds have to abide by Building Regulations, the necessary ventilation should be included during the construction phase.
However, it is typically older properties that were not designed for the high level of insulation and airtightness that we now strive for, which will suffer from condensation in the roof and require some kind of ventilation.
Older properties may also have the older type of bitumen felt underneath the tiles or slates, and this is impermeable to moisture from inside as well as from outside. The consequence is that the warm air rises into the loft, hits the underside of the felt and condenses as water droplets.
Newer types of underlay are breathable or permeable and allow moisture to pass through the membrane while still repelling water from outside.
How to Install a Vent Tile
One of the easier roof vents to install retrospectively is a vent tile. It will be necessary to remove a few tiles surrounding the installation site, but a competent roofer will be able to do this without difficulty or causing damage.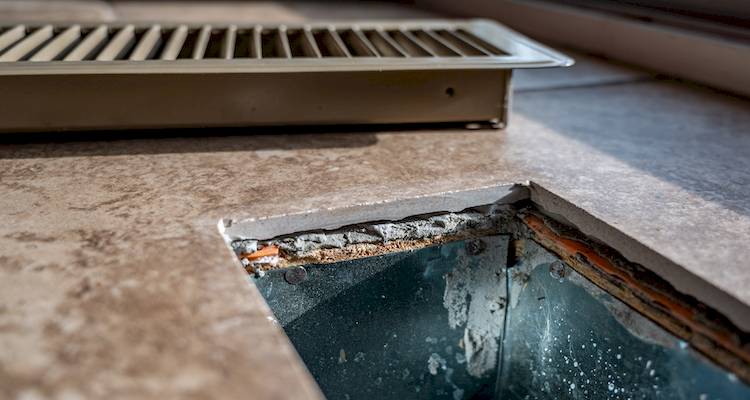 A vent tile is best fitted in the bottom third of the roof just above the insulation, as fresh air circulating at this height will draw any trapped moisture out of the insulation.
Most vent tiles come with an underlay seal which should be placed where the vent tile is going to be fitted. This acts as a template for marking where the underlay must be cut for the vent tile to access the roof space.
A cut the shape of an X is made in the membrane, and the top of the four flaps of the membrane should be nailed back into place.
The vent tile is placed over this aperture and fixed into place, usually with galvanised clout nails as would be used for normal roof tiles.
The surrounding roof tiles can then be placed back and re-nailed.
How to Install Soffit Vents
Soffit vents are quite straightforward to install. A hole is made in the soffit using the correct sized hole saw.
The vent is then pushed into place and is held in place by nubs on the sides of the rim. Most are made from PVC and, as such, are resistant to decay and very durable.
The diameter of the circular soffit vents will dictate the rate of airflow into your loft space.
How to Install Over Fascia Vents
These are best installed at the same time as the roof is being constructed or replaced. However, they can be fitted retrospectively by removing the bottom line of tiles.
The vent is attached to the top of the fascia board and can be installed in a warm or cold roof, that is, in roofs that have insulation either above or below the rafters.
It is also not necessary for a soffit board to be present in order to install an over fascia vent.
The pitch of your roof may determine which loft vents are best for your property, and some vents will not be suitable for flat roofs. For example, ridge vents will only work on a pitched roof.
Can I Install Loft Vents Myself?
Probably the biggest percentage of the loft vent installation cost will be the labour, so if you want to save some money, you could install them as a DIY project. Some loft vents are easier to install than others, and some are difficult to retrofit.
For more complicated installations such as ridge vents or continuous soffit vents, then it may be best to leave the work to a professional roofer who will be better equipped to do the work safely. This may include scaffolding and working in a safety harness.
There is no requirement for the installation of loft vents to be officially signed off.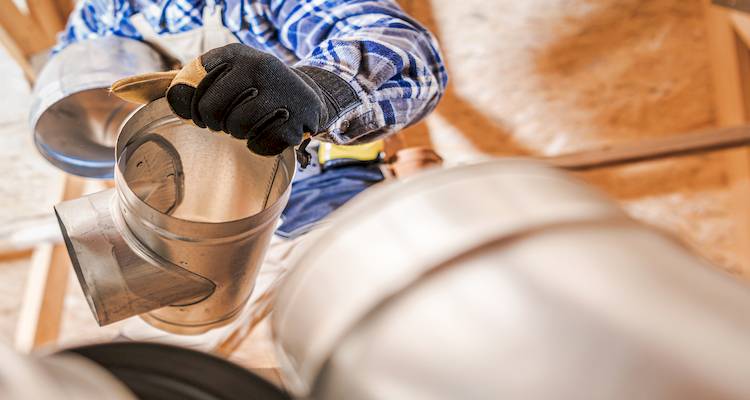 The more straightforward installation of individual circular soffit vents will be easy for a competent DIYer and will only require a hole saw to cut the aperture for the loft vents.
However, the pitch of the roof will determine the best size soffit vent, so this is something that should be researched before installation.
DIY Hazards and Dangers
The most obvious danger of installing DIY loft vents is that you will be working at height. For this reason, it is advisable to have someone working with you if only to hold a ladder or to hand things to you so that you are not moving around too much at height.
The use of power tools such as a hole saw should be done with care, and the appropriate safety clothing worn such as goggles, dust masks and gloves.   
Working on a roof should only ever be done by a professional such as a roofer for safety reasons. If you suspect that any part of your roofline contains elements made from asbestos, you must not cut it.
Hire a professional asbestos removal company to take it down and dispose of it in a safe and legal way. Soffits and fascia in some older properties can be made from asbestos, but these are best replaced with PVC or wood.
Types of Loft Vents
There are various types of loft vents available in different sizes and colours to suit most properties. The type you choose may depend on the pitch of your roof or whether you intend to fit DIY loft vents or hire a roofer.
Over Fascia Vents
Over fascia, vents are a continuous run of ventilation that allows airflow into the roof space. Some provide multiple functions such as eaves protection via a grill as well as felt support when it is installed as part of a new roof system.
The approximate cost of over fascia vents is around £1.00-£3.00 per linear metre.
The advantages of over fascia vents are that they are relatively cheap, typically easy to install and can provide a multi-purpose function such as felt support and eaves protection.
One of the disadvantages of over fascia vents is that they are difficult to retrofit, and if you do want to install them in an existing roof, then the bottom row of tiles or slates would need to be removed. They also take longer to fit than something like individual soffit vents.
Single Soffit Vents
There are many different styles, sizes and colours of circular soffit vents, so it is easy to find the right type to blend in with your soffit board. Some come with integrated insect mesh to prevent ingress by bugs. They are very easy to install as a DIY project, only requiring a hole saw to cut the aperture.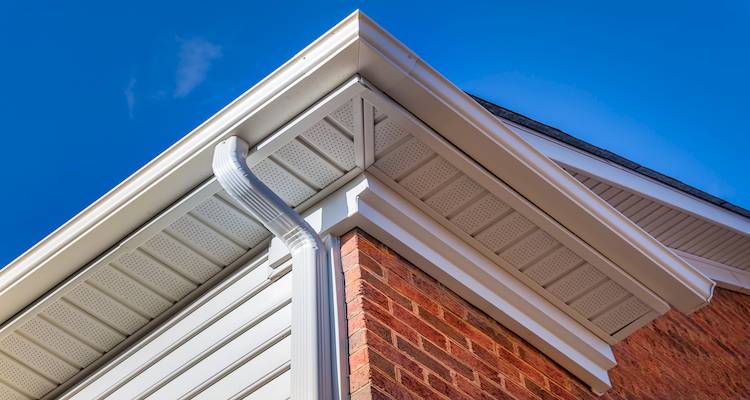 As there are so many different types of circular soffit vents available, the prices range from £0.30-£1.50 each for the plastic variety, which is what most people install.
The ease with which the individual soffit vents can be installed is a definite advantage and can be done by most competent DIYers. They are also very quick to install and do not normally require fixing, as most come with nubs on the sides to hold them in place.
The downside is that depending on the amount of ventilation that your roof space needs, you may end up drilling several holes in your soffit board. It is important to check that your soffit boards are not made from asbestos before drilling holes in them.
Also, soffit vents need to be used in conjunction with ridge vents for best ventilation, and while soffit vents are inexpensive, ridge vents are not.
Continuous Soffit Vents
Continuous soffit vents run the length of the soffit boards on the eaves of your roof. They are effective as fresh air from outside enters the house at low points such as the soffit and fascia.
Combining continuous soffit vents with ridge vents give the best outcome for ventilation in the loft as the cool air entering via the soffit pushes the warm, moist air out through the ridge vent higher up.
The average cost of continuous soffit vents is around £3.00 per linear metre.
For many newly built houses, continuous soffit vents are integrated into the eaves providing adequate airflow into the roof space. If your house needs new soffit boards, then you can also buy them with built-in ventilation. 
 One of the disadvantages of continuous soffit vents is that the grill can get clogged up with dirt and debris as air is drawn into the vent. Over time this can make them less effective unless regularly cleaned.
Continuous soffit vents are also difficult to retrofit to an existing roof without replacing the existing soffit and potentially the fascia as well.
Tile & Slate Vents
Tile vents or slate vents are easy for a professional roofer to install and simply take the place of one of your roof tiles or slates. They come in various colours and profiles to match existing roof coverings.
The average cost of tile and slate vents is around £35 each.
One of the obvious advantages of these roof vents is that you simply replace an existing tile or slate with a vented one which is designed to blend in with the rest of the roof. They can either be installed as part of a new roof or retrofitted to an existing roof without too much trouble.
Tile and slate vents come in a variety of profiles, from quite bulky models to low profile, slim-fitting ones.
While many tile and slate vents are designed to blend in with the surrounding roof covering, they will never be an exact match. The material that they are made from will probably not weather in the same way as the existing roof tiles or slates, making them stand out.
Ridge Vents Kits
Ridge vent kits are also referred to the as dry ridge. It is so-called because, unlike traditional fitting of ridge tiles, there is no mortar or cement used in the installation. With the introduction of BS 5534, dry ridge fitting is now a requirement for new roofs under building control but not on existing roof repairs.
The average cost of a ridge vent kit is around £8 per linear metre.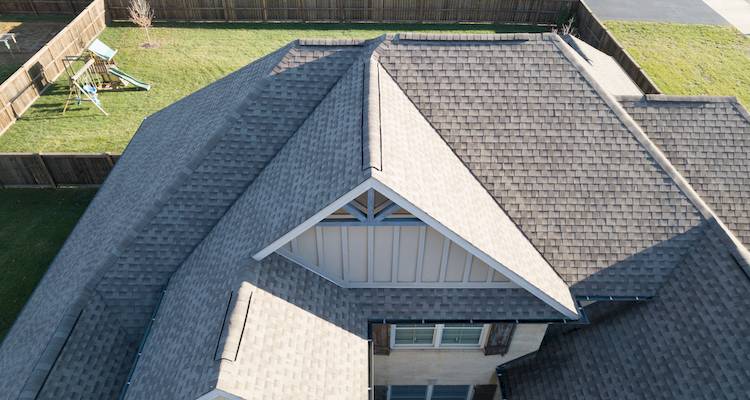 The main benefit of a ridge vent system is that it is mechanically fixed to the roof without the use of mortar. Although it has been the standard way of fixing ridge tiles, a mortar mix is prone to cracking, thereby making the ridge tiles susceptible to movement.
Extreme cold will adversely affect mortar, whereas a mechanically fixed ridge system is better able to withstand weather conditions.
Ridge vent kits also come in a variety of colours, so there is a wider choice available to suit most roof styles. It is also a very low maintenance system.
If you intend to have a ridge vent system, it will normally need to be fitted to the entire length of the ridgeline. Scaffolding will typically be required for a project of this size, adding to your costs.
Ridge vent tiles on their own will not provide the best ventilation solution and need to be paired with soffit vents to allow air to enter and leave the roof space.
Ridge Vent Tiles
Ridge vent tiles can be used to provide ventilation to a roof without the need to replace the entire ridgeline.
They are suitable for older properties and come in various profiles and shapes to suit different roof types. Most are made from dense massed concrete and have zinc fixings to secure them in place.
The average cost of a ridge vent tile is around £45 each.
For properties where it is not appropriate to replace the entire ridgeline with a ridge vent kit, an alternative is a ridge vent tile. This allows air circulation in the loft space and helps to reduce condensation and damp issues.
As there are no plastic components in these ridge vent tiles, there is less likelihood of part of the ridge becoming brittle and failing.
For longer roofs, several ridge vent tiles may need to be fitted to provide the necessary ventilation.
These vent tiles are not suitable for an average DIY project and should be left to a professional to install.
Building Regulations & Planning Permission for Loft Ventilation
Most people are aware that some construction or improvement works in their home may be subject to Building Regulations, planning permission or both.
So, you need to be sure before commencing any work on your home whether you need to conform to any Building Regulations or apply for planning permission.
Building Regulations
Part F of the Building Regulations deals with ventilation requirements for buildings.
Most refer to the provision of ventilation in new buildings but also to the provision of natural and mechanical means of ventilation in existing buildings.
The installation of static vents such as over fascia, soffit or tile vents is not notifiable works and does not need to conform to any specific part of the Building Regulations.
You also do not need to pay any fees to the building control department of your local authority.  For more details, you can check the Planning Portal.
Planning Permission
There is no need to apply for planning permission to install loft vents unless you live in a listed building. If this is the case, you should contact your local authority's building control department and seek advice.
You can also find information on the Planning Portal or from Historic England Advice Note 16 regarding Listed Building Consent.
Most people will not need to apply for planning permission, but if you do, the waiting period is approximately eight weeks and costs around £200 with slight variations between England, Scotland and Wales.
Hiring Contractors to Install Loft Vents Checklist
When deciding to hire a contractor for construction or improvement work in your home, you need to have a list of questions and requirements in mind to ensure you hire the right person for the job.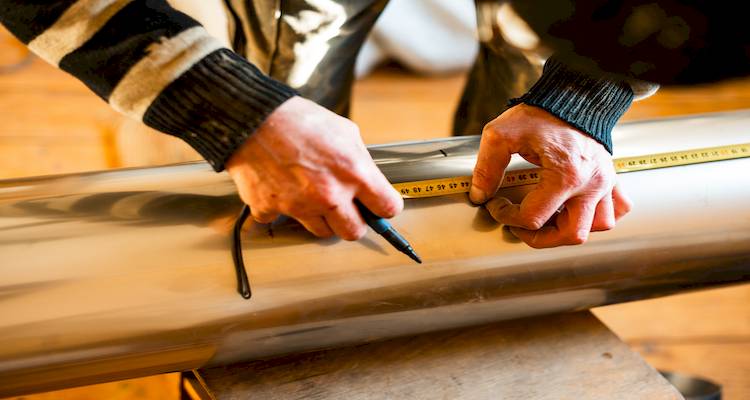 Qualifications
You can ask what qualifications the contractor has; most roofers will have completed some academic training as part of their apprenticeship. This may be a City & Guilds course or an NVQ that goes up to a Level 3. Following completion of an apprenticeship, most will work with an experienced roofer and learn their trade on the job.
Experience
While you may find a roofer with experience in various types of roofing, you will want to know that they are familiar with installing loft vents and, in particular, the vents that you want to have fitted.
As there are many different types available, your contractor may not have experience of fitting every kind of loft vent so check beforehand that they are familiar with the type you want.
Previous Work
Finding a roofer through recommendation is one of the best ways to ensure that you will get the quality of work that you want.
If you have family, friends, neighbours or work colleagues that have had loft vents installed, it may be possible for you to see the quality of the work and get feedback on the process, including reliability and workmanship.
Previous Customer Rating
You can also find a roofer through rating websites that offer feedback from previous clients that rate their experience and the finished work. Some roofing contractors may have their own websites, and you can read customer feedback there.
Accreditation
Many professional tradespeople will have accreditation with either specific trade bodies such as the National Federation of Roofing Contractors (NFRC) or general construction associations such as the Federation of Master Builders (FMB).
You can ask for their accreditation, and you can also search the NFRC website to find a roofer.
FAQs
Do I need to ventilate my loft?
If you find that items stored in your loft or the underside of the felt are becoming mouldy, then it is most likely due to a build-up of condensation and lack of ventilation in the roof space.

If left unchecked, the moisture build-up can cause damage to the elements of the roof, such as the timbers, which could affect their structural integrity over time. You may also have staining on the first-floor ceiling from an accumulation of moisture above.
What do loft vents do?
Loft vents allow a flow of air to circulate through the roof space removing the warm, stale air and the moisture that it holds. This prohibits the growth of mould by preventing the accumulation of condensation through warm air hitting cold surfaces in the roof space, thereby protecting the loft and its contents.
Which type of loft vents should I use?
The type of loft vent that you use will depend on your roof covering, e.g., tiles, slates or felt on flat roofs. It also depends on the extent of the issue that your roof is experiencing with condensation and how much airflow is required.

If you have wooden soffits, then you can install circular soffit vents as a DIY job but not if the soffit is made from asbestos. New roofs are fitted with either continuous soffit vents or over fascia vents. Tile or slate vents can be used on new or existing roofs, and ridge vents are common on most new roofs.
Can all loft vents be retrofitted?
In theory, yes, all loft vents can be retrofitted, but the extent of the work required for each type will vary hugely. While single soffit vents are simple to install, an over-fascia continuous vent will require the roof to be partially stripped back. Tile and slate vents are easily retrofitted, and even ridge vents are not that difficult for a professional roofer.
What happens if I don't install loft vents?
Without adequate ventilation in the loft, the warm air that is produced in the house through the normal activity will rise up into the roof space, passing through timber and plasterboard until it hits the cold surface of the underside of the roof.

This will cause it to condensate and form water droplets. This moisture will encourage the growth of mould, mildew and eventually can cause the roofing elements such as the felt and timbers to rot.
Sources
https://www.carryduffdesigns.co.uk/contents/en-us/types-of-loft-ventilation.html
https://www.diydoctor.org.uk/projects/loft-ventilation.htm
https://www.roofinglines.co.uk/blog/eliminate-condensation-in-loft-with-roof-ventilation
https://www.roofingsuppliesuk.co.uk/collections/roof-tile-vents-extraction
https://www.hss.com/hire/c/access/access-towers-and-platforms
https://www.nationaltoolhireshops.co.uk/product/alloy-scaffold-tower-hire/
https://www.roofingmegastore.co.uk/blog/how-to-install-roof-vents.html
Last updated by MyJobQuote on 9th March 2022.